With the first antibody-drug conjugate (ADC) approved in the early 2000s, the role of ADC in oncology has been solidified with each passing year. Indeed, we have come a long way ever since. Currently, there are more than ten ADCs approved in the market, while approximately eighty in the pipeline for solid and hematological tumors.
Rising demand for ADC's?
ADCs have proved to be one of the potent drug classes allowing targeted approach into action with a combination of monoclonal antibodies and a cytotoxic chemotherapy agent connected with a chemical linker. Consequently, ADCs are drawing interest because of their potential to hit tumors more selectively than classical chemotherapy drugs, resulting in growing enthusiasm amongst big investors. Now, the market of this class is at full expansion, with companies concentrating more on this scientific approach, spending at least billions of dollars on acquisitions to strengthen their ADC pipeline. This excitement has nowhere abated as 2020 saw numerous acquisitions of ADC companies and licensing deals.
Last year, Gilead acquired Immunomedics for approximately USD 21 billion, gaining all rights over Trodelvy (sacituzumab govitecan-hziy), which was recently approved for metastatic triple-negative breast cancer and urothelial cancer. In addition, it is now being investigated in non-small cell lung cancer, HR+/HER2- metastatic breast cancer, and other indications. Read for more insights on Trodelvy: Triumph of Trop-2 in Antibody-Drug Conjugate (ADC) Space. Major game-changing collaborations expected to elevate the ADC market to the next level are AstraZeneca and Daiichi Sankyo, Seattle Genetics and Merck, Boehringer Ingelheim and NBE-Therapeutics, and the list still continues. Hence, there has been an increased demand in ADC manufacturing, considering that many pharma companies have realized the importance of this cutting-edge treatment in oncology.
As ASCO 2021 is just a week away, few companies have already released some insights from their preliminary studies investigating ADCs in various cancers. AstraZeneca/Daiichi Sankyo, Sutro Biopharma, ImmunoGen, ADC Therapeutics, MacroGenics, and Roche and Astellas are all set to unveil data from their respective clinical trials, which is a strong indicator of how the upcoming years of oncology might observe a boom of ADCs.
AstraZeneca/Daiichi's Enhertu (trastuzumab deruxtecan), a HER2-directed ADC, is being evaluated in colorectal cancer and lung cancer after successful approvals in HER2+ breast and gastric cancer. We already know Roche is the biggest competitor to beat in the HER2 breast cancer market with its blockbuster standard of care therapies such as Herceptin, Perjeta, and Kadcyla (ADC). The question that arises is that how can the joint forces of Astra-Daiichi carve out its market share amidst the presence of such a leading player? Interestingly, although both Enhertu and Roche's Kadcyla use the same HER2-targeting antibody—trastuzumab, they use different payloads and linkers, which makes a lot of difference. Earlier this year, Enhertu received approval in HER2+ gastric or gastroesophageal junction (GEJ) adenocarcinoma for patients who have received a prior trastuzumab-based regimen. The company is working very hard in broadening its current clinical pipeline and is all set to present its clinical development data at the ASCO 2021.
Besides HER2, Daiichi is also evaluating its novel HER3-directed ADC, patritumab deruxtecan, which has also demonstrated antitumor activity across various EGFR TKI resistance mechanisms in heavily pretreated metastatic/locally advanced EGFR-mutant NSCLC. Based on this, the company has recently initiated dosing in the Phase II HERTHENA-Lung01 study and is all set to present its results. After a median treatment time of 5.5 months, 39% of the participants had a confirmed clinical response to the conjugate, reducing tumor size or extent. The company is also trying combination testing of this ADC along with AstraZeneca's Tagrisso in EGFR-mutated NSCLC. We believe that lung cancer is just the beginning for Daiichi Sankyo; they are quite enthusiastic about testing this ADC in other cancers, which frequently overexpress HER3.
Following the approval of Zynlonta in April 2021, the first single-agent CD19-targeted ADC against diffuse large B-cell lymphoma (DLBCL), ADC Therapeutics is excited to present early phase data for its another ADC, camidanlumab tesirine, in the upcoming conference.
Furthermore, Astella and Seattle Genetics' already approved Nectin-4 directed ADC, Padcev's (Enfortumab Vedotin) updated efficacy and safety data from EV-201 cohort 2 will be presented at the upcoming conference. Padcev received its first approval in 2019 for metastatic urothelial cancer in patients who have previously received PD-1/PD-L1 inhibitor and platinum-containing chemotherapy in the neoadjuvant/adjuvant, locally advanced, or metastatic setting. Additionally, the company will also present an update on durability results and the long-term outcome of the Padcev-Keytruda combination in first-line metastatic urothelial carcinoma.
Despite the failure of its FORWARD I trial, Immunogenics refused to give up on its ADC, Mirvetuximab soravtansine. Like last year's ASCO, the company will actively participate in the upcoming conference and present strong and reliable matured data from its FORWARD II study evaluating the Mirvetuximab-Avastin combination in medium and high folate receptor alpha (FRα)-expressing recurrent ovarian cancer patients. Moreover, the company has already planned to share topline Phase III SORAYA data in the second half of the year, which would pave the way to an FDA BLA submission by 2021.
A crisp summary of all the ADC presentations in the upcoming ASCO 2021: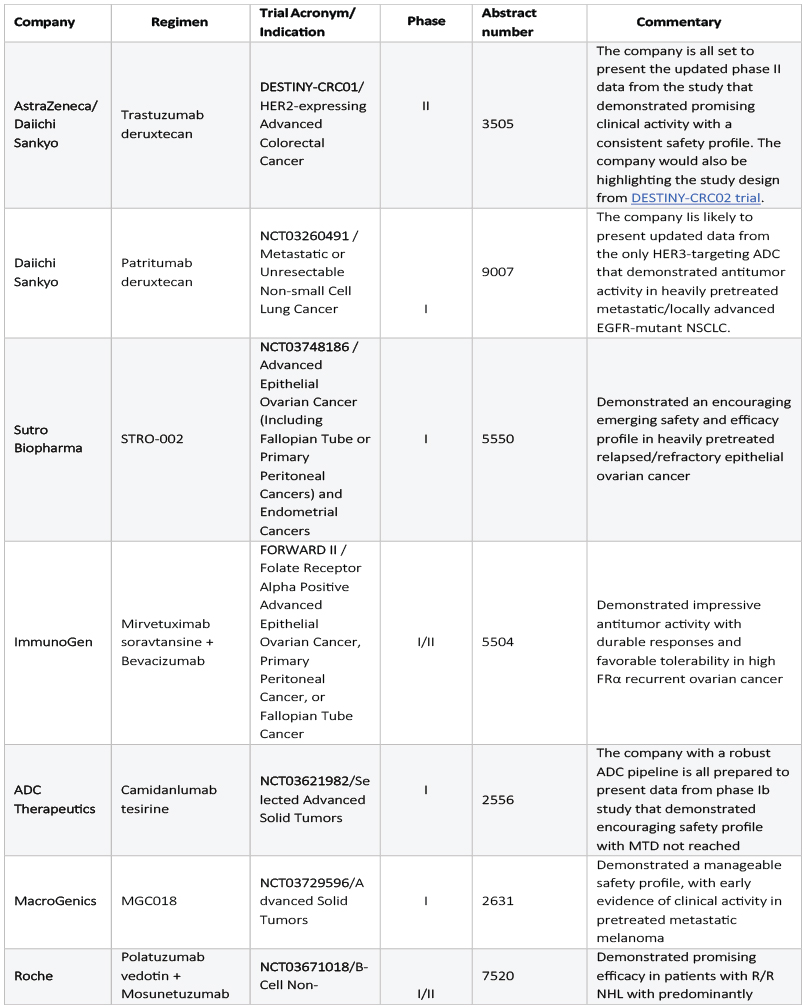 Although ADCs have shown much progress over the few years, what really pulls them back is their safety profile, halting their process to the market. Severe cases of neutropenia, interstitial lung disease (ILD), diarrhea, and hepatotoxicity have been seen with various ADC molecules.
An ongoing effort to overcome the safety issue?
To overcome these safety issues, Pfizer has taken the next step and has licensed two of its new generation ADCs to Pyxis Oncology, which is now focusing on a better way to attach the payload so that it does not come off the antibody early on its trip to the tumor site, making it a precision medicine with minimal side-effects. However, Pfizer/Pyxis's ADCs are in the early stage of evaluation, and we cannot expect them to be available anytime soon.