Degenerative Disc Disease Pipeline Insight
DelveInsight's, "Degenerative Disc Disease- Pipeline Insight, 2023," report provides comprehensive insights about 15+ companies and 15+ pipeline drugs in Degenerative Disc Disease pipeline landscape. It covers the pipeline drug profiles, including clinical and nonclinical stage products. It also covers the therapeutics assessment by product type, stage, route of administration, and molecule type. It further highlights the inactive pipeline products in this space.
Geography Covered
Degenerative Disc Disease Understanding
Degenerative Disc Disease: Overview
Degenerative disk disease is when the spinal disks wear down. Spinal disks are rubbery cushions between your vertebrae (bones in spinal column). They act as shock absorbers and help to move, bend and twist comfortably. Everyone's spinal disks degenerate over time and is a normal part of aging. When the cushions wear away, the bones can start to rub together. This contact can cause pain and other problems, such as: Adult scoliosis, where the spine curves, Herniated disk, also called a bulged, slipped or ruptured disk, Spinal stenosis, when the spaces around spine narrow and Spondylolisthesis, when vertebrae move in and out of place. Almost everyone has some disk degeneration after age 40, even if they don't develop symptoms. It can lead to back pain in about 5% of adults. Degenerative disk disease is most common in older adults. The most common symptoms of degenerative disk disease are neck pain and back pain. Spinal disks wear down as a normal part of aging. Especially after age 40, most people experience some disk degeneration. However, not everyone experiences pain.
"Degenerative Disc Disease- Pipeline Insight, 2023" report by DelveInsight outlays comprehensive insights of present scenario and growth prospects across the indication. A detailed picture of the Degenerative Disc Disease pipeline landscape is provided which includes the disease overview and Degenerative Disc Disease treatment guidelines. The assessment part of the report embraces, in depth Degenerative Disc Disease commercial assessment and clinical assessment of the pipeline products under development. In the report, detailed description of the drug is given which includes mechanism of action of the drug, clinical studies, NDA approvals (if any), and product development activities comprising the technology, Degenerative Disc Disease collaborations, licensing, mergers and acquisition, funding, designations and other product related details.
Report Highlights
The companies and academics are working to assess challenges and seek opportunities that could influence Degenerative Disc Disease R&D. The therapies under development are focused on novel approaches to treat/improve Medullary Thyroid Cancer.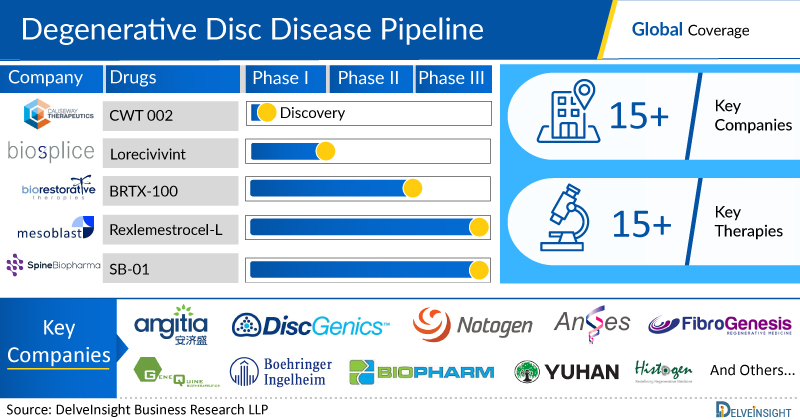 Degenerative Disc Disease Emerging Drugs Chapters
This segment of the Degenerative Disc Disease report encloses its detailed analysis of various drugs in different stages of clinical development, including phase II, I, preclinical and Discovery. It also helps to understand clinical trial details, expressive pharmacological action, agreements and collaborations, and the latest news and press releases.
Degenerative Disc Disease Emerging Drugs
SB-01: Spine BioPharma, Inc.
SB-01 is a 7-amino acid peptide that binds to and antagonizes TGFβ1 activity. TGFβ1 is an inflammatory cytokine which is often highly expressed in the degenerated discs. High TGFβ1 levels within a diseased disc is associated with inflammation, pain mediation, and the degradation of extracellular matrix, causing the disc to lose structural integrity. SB-01 treatment consists of a single intradiscal injection of the diseased disc and antagonizes the overexpression of TGFβ1, which decreases inflammation, pain mediation and promotes the production of extracellular matrix, which improves the structural integrity of the diseased disc. Currently, it is in Phase III stage of clinical trial evaluation to treat Degenerative Disc Disease.
BRTX-100: BioRestorative Therapies
BRTX-100, is a product formulated from autologous (or a person's own) cultured mesenchymal stem cells collected from the patient's bone marrow. The Company intends that the product will be used for the non-surgical treatment of painful lumbosacral disc disorders. The BRTX-100 production process utilizes proprietary technology and involves collecting a patient's bone marrow, isolating and culturing stem cells from the bone marrow and cryopreserving the cells. In an outpatient procedure, BRTX-100 is to be injected by a physician into the patient's damaged disc. The treatment is intended for patients whose pain has not been alleviated by non-invasive procedures and who potentially face the prospect of surgery.
Further product details are provided in the report……..
Degenerative Disc Disease Therapeutic Assessment
This segment of the report provides insights about the different Degenerative Disc Disease drugs segregated based on following parameters that define the scope of the report, such as:
Major Players in Degenerative Disc Disease
There are approx. 15+ key companies which are developing the therapies for Degenerative Disc Disease. The companies which have their Degenerative Disc Disease drug candidates in the most advanced stage, i.e. phase III include, Spine BioPharma, Inc.
Phases
DelveInsight's report covers around 15+ products under different phases of clinical development like
Late stage products (Phase III)
Mid-stage products (Phase II)
Early-stage product (Phase I) along with the details of
Pre-clinical and Discovery stage candidates
Discontinued & Inactive candidates
Route of Administration
Degenerative Disc Disease pipeline report provides the therapeutic assessment of the pipeline drugs by the Route of Administration. Products have been categorized under various ROAs such as
Oral
Parenteral
Intravenous
Subcutaneous
Topical.
Molecule Type
Products have been categorized under various Molecule types such as
Monoclonal Antibody
Peptides
Polymer
Small molecule
Gene therapy
Product Type
Drugs have been categorized under various product types like Mono, Combination and Mono/Combination.
Degenerative Disc Disease: Pipeline Development Activities
The report provides insights into different therapeutic candidates in phase II, I, preclinical and discovery stage. It also analyses Degenerative disc disease therapeutic drugs key players involved in developing key drugs.
Pipeline Development Activities
The report covers the detailed information of collaborations, acquisition and merger, licensing along with a thorough therapeutic assessment of emerging Degenerative disc disease drugs.
Degenerative Disc Disease Report Insights
Degenerative disc disease Pipeline Analysis
Therapeutic Assessment
Unmet Needs
Impact of Drugs
Degenerative Disc Disease Report Assessment
Pipeline Product Profiles
Therapeutic Assessment
Pipeline Assessment
Inactive drugs assessment
Unmet Needs
Key Questions
Current Treatment Scenario and Emerging Therapies:
How many companies are developing Degenerative disc disease drugs?
How many Degenerative disc disease drugs are developed by each company?
How many emerging drugs are in mid-stage, and late-stage of development for the treatment of Degenerative disc disease?
What are the key collaborations (Industry–Industry, Industry–Academia), Mergers and acquisitions, licensing activities related to the Degenerative disc disease therapeutics?
What are the recent trends, drug types and novel technologies developed to overcome the limitation of existing therapies?
What are the clinical studies going on for Degenerative disc disease and their status?
What are the key designations that have been granted to the emerging drugs?