Ewing Sarcoma Market
More than 80% of incident cases were observed in below 18 years old and only 20% of the cases were found in adults.
A molecular-targeted therapy with minimal risk of late toxicities would be beneficial because the majority of Ewing sarcoma patients are under 20 years old.
There are no standardized second-line treatment plans for relapsed or refractory Ewing sarcoma. Considerations need to be made depending on the site(s) of disease recurrence and prior therapy.
The adoption of the VDC/IE regimen has significantly increased survival. Patients with metastatic ES continue to experience negative outcomes, which will increase the demand for future therapeutics.
The prognosis for Ewing sarcoma has improved over the years due to advances in treatment. The five-year survival rate for localized Ewing sarcoma is around 70-80%, while the survival rate for metastatic disease is lower, around 30-40%. However, it's important to note that survival rates can vary depending on individual factors and the response to treatment.
In the updated version 2.2023 of the NCCN guidelines lurbinectedin has been added as a second-line therapy option for Ewing sarcoma (for R/R or metastatic disease). Under category 2B, this is useful in certain circumstances recommendation.
Since no therapies are approved for Ewing sarcoma, there is a significant market opportunity for the companies to enter this space and get the first-mover advantage
In 2022, the US accounted for the maximum share of the total market in the 7MM, i.e., 53%, followed by EU4 and the UK.
The usage of off-label therapies may hamper the uptake of new therapies
Due to a potential unexpected significant adverse reaction (SUSAR), Salarius voluntarily stopped enrolling new patients in its Phase I/II trial of seclidemstat as a therapy for Ewing sarcoma last year. The FDA ended its examination of the company's application for seclidemstat in May 2023 and declared that the clinical trial might be restarted.
Request for unlocking the CAGR of the Ewing Sarcoma Market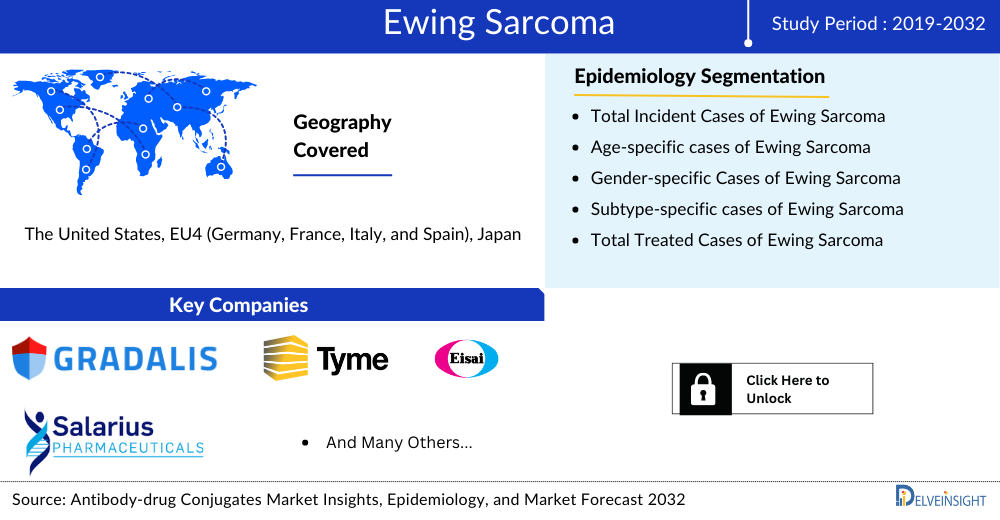 DelveInsight's "Ewing Sarcoma – Market Insights, Epidemiology and Market Forecast – 2032" report delivers an in-depth understanding of Ewing Sarcoma, historical and forecasted epidemiology as well as Ewing Sarcoma market trends in the United States, EU4 (Germany, France, Italy, and Spain) and the United Kingdom, and Japan.
The Ewing Sarcoma market report provides current treatment practices, emerging drugs, market share of individual therapies, and current and forecasted 7MM Ewing Sarcoma market size from 2019 to 2032. The report also covers current Ewing Sarcoma treatment practices/algorithms and Ewing Sarcoma unmet needs to curate the best opportunities and assess the market's underlying potential.
Study Period

2019 to 2032

Forecast Period

2023-2032

Geographies Covered

The US, EU4 (Germany, France, Italy, and Spain) and UK, and Japan

Ewing Sarcoma Market

Total Market Size
Market Size by Therapies
Market Size by Class

Ewing Sarcoma Market Size

Ewing Sarcoma Companies

SALARIUS PHARMACEUTICALS
Jazz Pharmaceuticals
Eli Lilly
Pfizer
Bioatla
Cellectar Biosciences
Sumitomo Pharma Oncology
INHIBRX
Ewing Sarcoma Treatment Market
The Ewing Sarcoma Treatment Market encompasses a dynamic landscape of medical interventions aimed at combating Ewing sarcoma, a rare and aggressive form of bone cancer that primarily affects children and young adults. As researchers continue to deepen their understanding of the disease's molecular mechanisms, treatment strategies have evolved to incorporate a multidisciplinary approach.
Ewing sarcoma (also known as Ewing's sarcoma) is a cancerous tumor that usually begins growing in a bone. It occurs primarily in children and young adults, often appearing during the teen years. Although Ewing's sarcoma can develop in any bone, it usually affects the long bones, such as the thighbone (femur), shinbone (tibia), and upper arm bone (humerus). The bones of the pelvis are also often affected. Occasionally, the tumor begins in the muscles and soft tissues. The most common symptoms are stiffness, pain, swelling, or tenderness in the bone or the tissue surrounding the bone.
Ewing Sarcoma Diagnosis
The patient's journey begins with symptoms such as persistent bone pain even at rest, swelling, and a large palpable mass on the affected bone. Followed by a visit to the orthopedist, where the patient is suggested diagnostic tests such as MRI, CT scan, and plain radiography. After the diagnosis patient is referred to an oncologist for further treatment. A tissue biopsy is performed of the mass removed from the most aggressive portion of the cancer as determined by imaging for confirmatory diagnosis. Once Ewing Sarcoma is confirmed, relevant treatment is given to the patient.
Further details related to diagnosis are provided in the report…
Ewing Sarcoma Treatment
The treatment of Ewing sarcoma typically involves a multidisciplinary approach, including surgery, chemotherapy, and radiation therapy. NCCN recommended different chemotherapy combinations for the treatment of localized and metastatic Ewing sarcoma. VDC/IE (vincristine, doxorubicin, and cyclophosphamide alternating with ifosfamide and etoposide), VAIA (vincristine, doxorubicin, ifosfamide, and dactinomycin), and VIDE (vincristine, ifosfamide, doxorubicin, and etoposide) are recommended by NCCN in the first line and as primary therapy for metastatic disease at initial presentation. For second-line treatment Cyclophosphamide and topotecan, Irinotecan + temozolomide ±
Vincristine, Ifosfamide, carboplatin, etoposide, and Lurbinectedin are recommended by NCCN.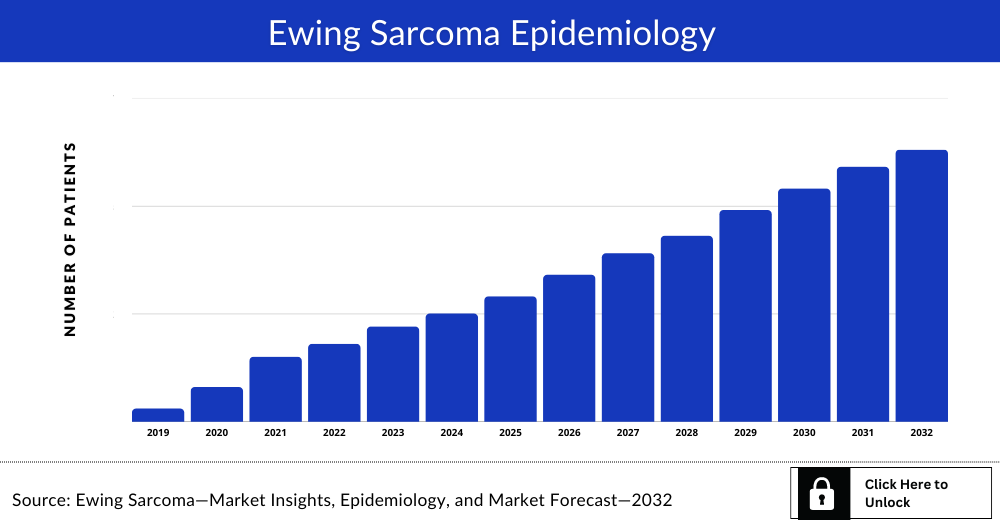 Ewing Sarcoma Epidemiology
As the market is derived using a patient-based model, the Ewing Sarcoma epidemiology chapter in the report provides historical as well as forecasted epidemiology segmented by total incident cases of Ewing Sarcoma, gender-specific cases of Ewing Sarcoma, age-specific cases of Ewing Sarcoma, stage-specific cases of Ewing Sarcoma in the 7MM covering the United States, EU4 countries (Germany, France, Italy, and Spain), United Kingdom, and Japan from 2019 to 2032. The total incident cases of Ewing sarcoma in the 7MM comprised approximately 1,250 cases in 2022 and are projected to increase during the forecasted period.
In the 7MM the highest incident cases of Ewing Sarcoma were seen in the United States, followed by EU4 and the UK.
Among the EU4, Germany accounted for the highest number of Ewing sarcoma cases, followed by France, whereas Italy accounted for the lowest cases.
In age-specific cases of Ewing sarcoma in 2022, the maximum number of cases were observed in 10-14 years of age group.
Males than females are more likely to get Ewing Sarcoma. In the United States in 2022, ~300 incident cases of male Ewing Sarcoma were found.
Ewing Sarcoma Drug Chapters
The drug chapter segment of the Ewing Sarcoma report encloses a detailed analysis of the Ewing Sarcoma late-stage (Phase II) pipeline drug. There are currently no approved therapies for Ewing Sarcoma. It also helps understand the Ewing Sarcoma clinical trial details, expressive pharmacological action, agreements and collaborations, approval and patent details, advantages and disadvantages of each included drug and the latest news and press releases.
Emerging Drug
Seclidemstat: Salarius Pharmaceuticals
Seclidemstat (SP-2577) inhibits LSD1's enzymatic activity and its scaffolding function. SP-2577 is being studied in an ongoing Phase I/II trial in Ewing sarcoma. Salarius is studying the combination of SP-2577 with topotecan and cyclophosphamide (TC), two agents that are commonly given as second or third-line therapy, to improve patient outcomes over TC alone. In October 2022, the company voluntarily paused new patient enrollment in its Phase I/II trial of seclidemstat as a treatment for Ewing sarcoma and FET-rearranged sarcomas per protocol design. The pause in new patient enrollment was due to a metastatic FET-rearranged sarcoma patient death classified as a suspected unexpected serious adverse reaction (SUSAR). Later on May 5, 2023, the company was notified by FDA that they had completed the review of the company's submission and had concluded that the clinical trial may be resumed. The Company plans to restart enrollment of Phase I/II trial and anticipate data update by 2H 2023 and also plans to meet with FDA to discuss future development and potential registration pathways for SP-2577.
ZEPZELCA (lurbinectedin): Jazz Pharmaceuticals and PharmaMar
Lurbinectedin (PM1183) is a synthetic compound currently under clinical investigation. It is a selective inhibitor of the oncogenic transcription programs on which many tumors are particularly dependent. In December 2019, PharmaMar and Jazz Pharmaceuticals announced that PharmaMar and Jazz Pharmaceuticals had entered into an exclusive license agreement for lurbinectedin in the United States. In the updated version 2.2023 of the NCCN guidelines lurbinectedin has been added as a second-line therapy option for Ewing sarcoma (for R/R or metastatic disease). Under category 2B this is useful in certain circumstances recommendation
Note: Detailed emerging therapies assessment will be provided in the final report.
Drug Class Insights
CDK inhibitors: Proteins involved in RNA transcription, processing, and translation, such as CDK9, CDK12, and CDK13, have shown preclinical promise either alone or in combination with oncoprotein or growth factor targeting, with ongoing trials. Furthermore, CDK4 and CDK6, cell cycle proteins with different functions, have been identified as potential targets unrelated to the fusion oncoprotein in several screens. Trials testing CDK4 and CDK6 inhibitors combined with relapsed Ewing sarcoma chemotherapy regimens are underway.
The upcoming treatment landscape is poised to expand further after new classes, such as tetravalent death receptor 5 (DR5) agonist antibodies, CDK inhibitors, LSD1 inhibitors, AXL inhibitors, and others. Designed to overcome the limitations of earlier-generation agonists and exploit the tumor-specific cell death induced by DR5 activation. DR5 is one of two pro-apoptotic receptors for the trimeric tumor necrosis factor-related apoptosis-inducing ligand (TRAIL).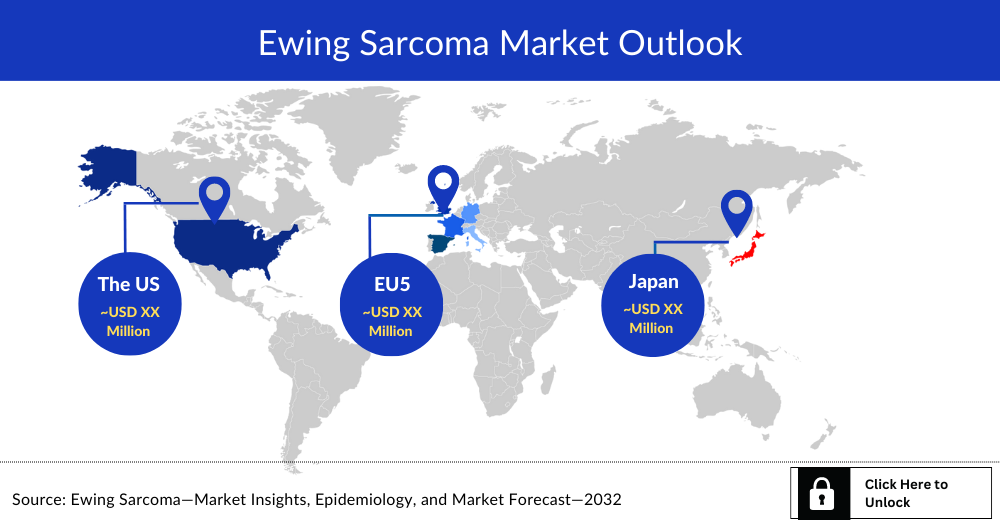 Ewing Sarcoma Market Outlook
While advancements in the treatment of Ewing Sarcoma, such as chemotherapy and surgical procedures along with radiation therapy, have resulted in better survival rates for some patients, progress has been stagnant for others. The management of high-risk Ewing Sarcoma and other related sarcomas remains controversial, primarily due to an incomplete understanding of their high-risk biological characteristics and relatively low occurrence. These factors have made it challenging to conduct comprehensive clinical trials for the smaller populations of high-risk Ewing Sarcoma patients and the rarer subtypes of sarcomas.
Although there is no standardized second-line treatment for refractory or relapsed Ewing sarcoma, several retrospective studies have reported on conventional salvage treatments. Common salvage regimens involve topotecan, cyclophosphamide, irinotecan, temozolomide, or high-dose chemotherapy (HDC) followed by reinfusion of hematopoietic stem cells.
The current market has been based on the prevailing treatment pattern across the 7MM, which presents minor variations in the overall prescription pattern. Chemotherapy, radiation, surgery, and others are the current treatment options in the forecast model.
The expected launch of upcoming therapy and greater integration of early patient screening, medication in secondary care and other clinical settings, research on best methods for implementation, and an upsurge in awareness will eventually facilitate the development of effective treatment options. However, since Ewing Sarcoma is an orphan disease, it is difficult to conduct clinical trials. The meager outcome data for locally advanced or metastatic patients indicate that new treatment options are needed. For the Phase I trials, it is difficult to conclude because of the low numbers of Ewing Sarcoma enrolled and at different dose levels. Some Phase II trials show promising results, which support further research. Retrospective studies are encouraged as they could add to the limited data available. Efforts to increase the number of studies on this orphan disease are urgently needed.
The total market size of Ewing Sarcoma in the 7MM is approximately USD 26 million in 2022 and is projected to increase during the forecast period (2023–2032).
Among EU4 countries, Germany accounts for the maximum market size in 2022, while Italy occupies the bottom of the ladder.
In Japan, Seclidemstat + TC is expected to capture the highest market share among emerging therapies in the 2L+ setting.
The introduction of novel treatment options, including targeted therapies, immunotherapies, and combination regimens, will expand the treatment landscape for Ewing sarcoma to improve survival rates and reduce the side effects associated with traditional treatments like chemotherapy and radiation therapy.
The majority of therapies that are being evaluated for Ewing Sarcoma are in the early phase of development. Key players developing a treatment for Ewing Sarcoma are Salarius Pharmaceuticals, Jazz Pharmaceuticals, Pfizer, Eli Lilly and Company, BioAlta, Inhibrx, and others.
Ewing Sarcoma Drugs Uptake
This section focuses on the uptake rate of potential drugs expected to be launched in the market during 2019–2032. In Ewing Sarcoma, Salarius Pharmaceuticals is developing Seclidemstat, with a fast uptake, with a probability-adjusted peak share of 42% in the second line and above setting in the US.
Ewing Sarcoma Pipeline Development Activities
The report provides insights into different therapeutic candidates in Phase II, and Phase I stage. It also analyzes key players involved in developing targeted therapeutics.
Pipeline Development Activities
The report covers information on collaborations, acquisitions and mergers, licensing, and patent details for Ewing Sarcoma's emerging therapy.
KOL Views
To keep up with current market trends, we take KOLs and SMEs' opinions working in the domain through primary research to fill the data gaps and validate our secondary research. Industry Experts contacted for insights on Ewing Sarcoma evolving treatment landscape, patient reliance on conventional therapies, patient's therapy switching acceptability, and drug uptake, along with challenges related to accessibility, including Medical/scientific writers; Medical Oncologists; Orthopedists, and Professors; MD, FACS, Chair of the Department of Orthopedic Surgery, and professor at UC Davis Comprehensive Cancer Center in Sacramento, California; MD, Director, Sarcoma Oncology Center, California; and others.
Delveinsight's analysts connected with 30+ KOLs to gather insights; however, interviews were conducted with 10+ KOLs in the 7MM. Centers such as MD Anderson Cancer Center, Sarcoma Oncology Center, Cancer Research UK Barts Centre in London, MD Anderson Cancer Center, etc., were contacted. Their opinion helps understand and validate current and emerging therapy treatment patterns or Ewing Sarcoma market trends. This will support the clients in potential upcoming novel treatments by identifying the overall scenario of the market and the Ewing Sarcoma unmet needs.
Qualitative Analysis
We perform Qualitative and market Intelligence analysis using various approaches, such as SWOT analysis and Analyst views. In the SWOT analysis, strengths, weaknesses, opportunities, and threats in terms of disease diagnosis, patient awareness, patient burden, competitive landscape, cost-effectiveness, and geographical accessibility of therapies are provided. These pointers are based on the Analyst's discretion and assessment of the patient burden, cost analysis, and existing and evolving treatment landscape.
The analyst views analyze multiple emerging therapies based on relevant attributes such as safety, efficacy, frequency of administration, route of administration, and order of entry.
In efficacy, the trial's primary and secondary outcome measures are evaluated; for instance, in Ewing Sarcoma trials, progression-free survival is one of the most important primary outcome measures.
Further, the therapies' safety is evaluated wherein the acceptability, tolerability, and adverse events are majorly observed, and it sets a clear understanding of the side effects posed by the drug in the trials.
Ewing Sarcoma Market Access and Reimbursement
Reimbursement of rare disease therapies can be limited due to lack of supporting policies and funding, challenges of high prices, lack of specific approaches to evaluating rare disease drugs given limited evidence, and payers' concerns about budget impact. The high cost of rare disease drugs usually has a limited effect on the budget due to the small number of eligible patients being prescribed the drug. The US FDA has approved several rare disease therapies in recent years. From a patient perspective, health insurance and payer coverage guidelines surrounding rare disease treatments restrict broad access to these treatments, leaving only a small number of patients who can bypass insurance and pay for products independently. Overall, treatment for bone and joint cancers can easily exceed USD 100,000 for a single patient. This is particularly true if a patient receives surgery, chemotherapy, and radiation therapy. The cost will be much higher if one includes bone-replacing endoprostheses or artificial limbs used in cases requiring amputation.
The report further provides detailed insights on the country-wise accessibility and reimbursement scenarios, cost-effectiveness scenario of approved therapies, programs making accessibility easier and out-of-pocket costs more affordable, insights on patients insured under federal or state government prescription drug programs, etc.
Ewing Sarcoma Market Report Scope
The report covers a segment of key events, an executive summary, descriptive overview of Ewing Sarcoma, explaining its causes, signs and symptoms, pathogenesis, and currently available therapies.
Comprehensive insight into the epidemiology segments and forecasts, disease progression, and treatment guidelines has been provided.
Additionally, an all-inclusive account of the current and emerging therapies, along with the elaborative profiles of late-stage and prominent therapies, will impact the current treatment landscape.
A detailed review of the Ewing Sarcoma market, historical and forecasted market size, market share by therapies, detailed assumptions, and rationale behind our approach is included in the report, covering the 7MM drug outreach.
The patient-based ewing sarcoma market forecasting report provides an edge while developing business strategies, by understanding trends, through SWOT analysis and expert insights/KOL views, patient journey, and treatment preferences that help shape and drive the 7MM Ewing Sarcoma market.
Ewing Sarcoma Market Report Insights
Patient-based Ewing Sarcoma Market Forecasting
Therapeutic Approaches
Ewing Sarcoma Pipeline Analysis
Ewing Sarcoma Market Size and Trends
Existing and future Market Opportunity
Ewing Sarcoma Market Report Key Strengths
10 Years Ewing Sarcoma Market Forecast
7MM Coverage
Ewing Sarcoma Epidemiology Segmentation
Key Cross Competition
Drugs Uptake and Key Market Forecast Assumptions
Ewing Sarcoma Market Report Assessment
Current Ewing Sarcoma Treatment Practices
Ewing Sarcoma Unmet Needs
Ewing Sarcoma Pipeline Product Profiles
Ewing Sarcoma Market Attractiveness
Qualitative Analysis (SWOT and Analyst Views)
Key Questions
Market Insights
What was the Ewing Sarcoma total market size, the market size by therapies, market share (%) distribution in 2019, and what would it look like in 2032? What are the contributing factors for this growth?
What will be the impact of Seclidemstat's expected approval in 2025?
How would CDK inhibitors perform as a class in the second line?
What are the pricing variations among different geographies for approved and off-label therapies?
How would the market drivers, barriers, and future opportunities affect the market dynamics and subsequent analysis of the associated trends?
Epidemiology Insights
What are the disease risk, burdens, and unmet needs of Ewing Sarcoma? What will be the growth opportunities across the 7MM concerning the patient population with Ewing Sarcoma?
What is the historical and forecasted Ewing Sarcoma patient pool in the United States, EU4 (Germany, France, Italy, and Spain), the United Kingdom, and Japan?
Why do only limited patients appear with symptoms? Why is the current year diagnosis rate not high?
Which gender has a higher incidence of Ewing Sarcoma?
Which age group of Ewing Sarcoma has a high patient share?
Current Treatment Scenario, Marketed Drugs, and Emerging Therapies
What are the current options for the treatment of Ewing Sarcoma? What are the current guidelines for treating Ewing Sarcoma in the US and Europe?
How many companies are developing therapies for the treatment of Ewing Sarcoma?
How many emerging therapies are in the mid-stage and late stage of development for the treatment of Ewing Sarcoma?
What are the recent novel therapies, targets, mechanisms of action, and technologies being developed to overcome the limitation of existing therapies?
What key designations have been granted for the emerging therapies for Ewing Sarcoma?
What is the cost burden of current therapies on the patient?
Patient acceptability in terms of preferred treatment options as per real-world scenarios?
What are the country-specific accessibility issues of expensive, current therapies? Focusing on the reimbursement policies.
What is the 7MM historical and forecasted market of Ewing Sarcoma?
Reasons to Buy
The patient-based ewing sarcoma market forecasting report will help develop business strategies by understanding the latest trends and changing treatment dynamics driving the Ewing Sarcoma market.
Insights on patient burden/disease incidence, evolution in diagnosis, and factors contributing to the change in the epidemiology of the disease during the forecast years.
Understand the existing market opportunity in varying geographies and the growth potential over the coming years.
Distribution of historical and current patient share based on real-world prescription data along with reported sales of approved products in the US, EU4 (Germany, France, Italy, and Spain), the United Kingdom, and Japan.
Identifying strong upcoming players in the market will help devise strategies to help get ahead of competitors.
Detailed analysis and ranking of class-wise potential current and emerging therapies under the Analyst view section to provide visibility around leading classes.
Highlights of Access and Reimbursement policies of current therapies, barriers to accessibility of expensive off-label therapies, and patient assistance programs.
To understand Key Opinion Leaders' perspectives around the accessibility, acceptability, and compliance-related challenges of existing treatment to overcome barriers in the future.
Detailed insights on the unmet need of the existing market so that the upcoming players can strengthen their development and launch strategy.