Glaucoma Market
Total Glaucoma Diagnosed prevalent cases were estimated at nearly 7.3 million in 2022 in the 7MM, however, overall burden of Glaucoma has been estimated to be nearly 17 million (Prevalent cases) in 2022 in the 7MM.
Most diagnosed Glaucoma patients were estimated in the US, followed by Japan, Germany, and France in 2022.
Open Angle Glaucoma is the most prominent type of Glaucoma with a high burden in the 7MM.
As per DelveInsight estimations, the US consistently captured the highest market size with USD 2.6 billion net sales revenue among the 7MM, whereas the UK had the lowest market with a market size of nearly USD 140 million.
The current treatment market for Glaucoma includes Prostaglandin analogs, beta-blockers, carbonic anhydrase inhibitors, fixed Combinations, alpha-2-selective adrenergic agonists, and Others.
The total Glaucoma Market Size is anticipated to upsurge during the forecast period due to the expected entry of emerging therapies that include iDose TR (travoprost intraocular implant), NCX 470, OTX-TIC, and others.
Request for unlocking the CAGR of the Glaucoma Market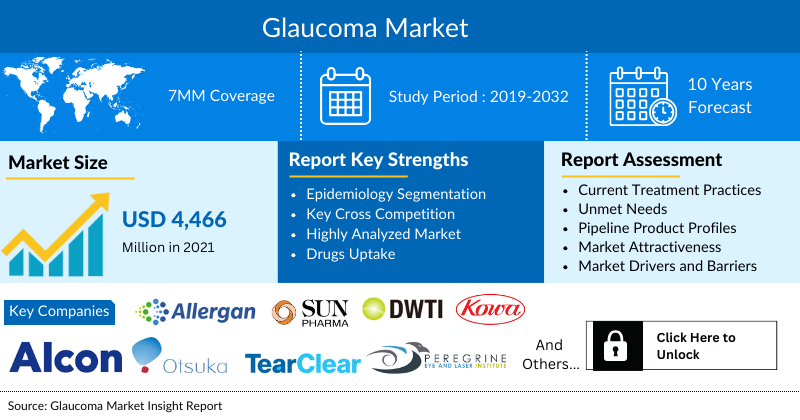 DelveInsight's "Glaucoma Market Insights, Epidemiology and Market Forecast – 2032" report delivers an in-depth understanding of the Glaucoma, historical and forecasted epidemiology, and the Glaucoma market trends in the United States, EU4 (Germany, France, Italy, and Spain) and the United Kingdom, and Japan.
The Glaucoma market research report provides current treatment practices, emerging drugs, market share of individual therapies, and current and forecasted 7MM, Glaucoma market size from 2019 to 2032. The report also covers current Glaucoma treatment practices/algorithms and unmet medical needs to curate the best of the opportunities and assesses the underlying potential of the market.
Study Period

2019 to 2032

Forecast Period

2023 to 2032

Geographies Covered

The US
EU4 (Germany, France, Italy, and Spain)
UK
Japan

Glaucoma Market

Total Market Size
Market Size by Therapies
Market Size by Class

Glaucoma Market Size

Glaucoma Companies

Nicox Ophthalmics
Sun Pharma Advanced Research Company Limited (SPARC)
Visiox Pharma
TearClear
Glaukos Corporation
Santen Inc.
Ono Pharmaceutical
Santen Pharmaceuticals
Omikron Italia S.r.l.
OPIS Spain
Ocular Therapeutix Inc.
MediPrint Ophthalmics (formerly Leo Lens Pharma)
Tarsier Pharma
Peregrine Ophthalmic
Ocuphire Pharma
Qlaris Bio Inc.
Betaliq Inc.
VivaVision Biotech Inc.
D. Western Therapeutics Institute (DWTI)
Glaucoma Treatment Market
Overview:-
According to the American Academy of Ophthalmology, glaucoma describes a group of conditions in which there is characteristic cupping of the optic disc with corresponding visual field defects due to retinal ganglion cell loss. It is a progressive condition and the most common cause of irreversible blindness worldwide. The two major categories of glaucoma are open-angle glaucoma (OAG) and narrow-angle glaucoma/angle-closure glaucoma (ACG). Glaucoma often does not cause noticeable symptoms in the early stages, so it is often called the "silent thief of sight." As the condition progresses, peripheral (side) vision may be affected, gradually narrowing the visual field.
Glaucoma Diagnosis
Although glaucoma is not curable, early diagnosis and adequate treatment effectively reduce or prevent further optic nerve (ON) damage. The diagnosis of glaucoma typically involves a comprehensive eye examination and several specific tests, namely, tonometry (measurement of intraocular pressure), an ophthalmoscopy (evaluation of the optic nerve for signs of damage), visual field testing (perimetry), gonioscopy (assessing the drainage angle of the eye to determine the type of glaucoma) to assess the health of the optic nerve and evaluate IOP levels.
The diagnosis of glaucoma typically involves a combination of clinical evaluation, visual field testing, optic nerve examination, and measurement of intraocular pressure (IOP). The diagnosis guidelines for glaucoma can vary to some extent based on geographical regions and medical societies, such as separate guidelines published by American Academy of Ophthalmology, European Glaucoma Society Terminology, and others.
Further details related to country-based variations are provided in the report
Glaucoma Treatment
There is no cure for glaucoma, but early treatment can often stop the damage and protect the vision. Doctors use a few different types of treatment for glaucoma, including medicines (usually eye drops), laser treatment, and surgery. Glaucoma is treated by lowering the eye pressure (intraocular pressure), and depending on the situation, management includes prescription eye drops, oral medications, laser treatment, surgery, or a combination of any of these.
Medicines: Medications for glaucoma treatment aim to lower IOP by decreasing AH production and increasing AH outflow. Prostaglandin analogs and beta-blockers are currently the most frequently used agents.
Surgery: The most common type of surgery for glaucoma is called trabeculectomy. It involves removing part of the eye-drainage tubes to allow fluid to drain more easily.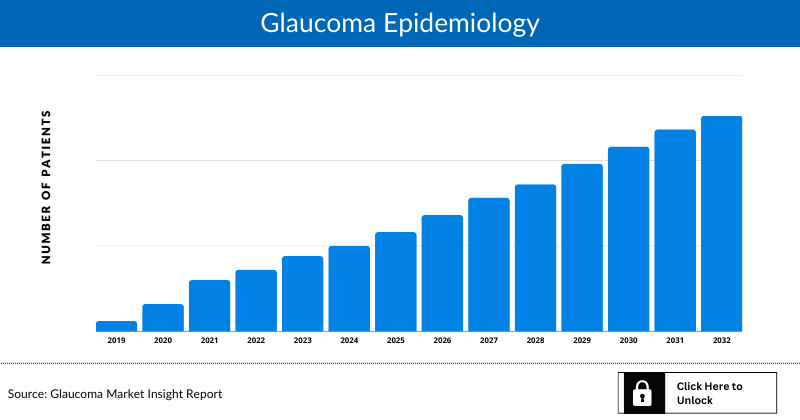 Glaucoma Epidemiology
As the market is derived using the patient-based model, the Glaucoma epidemiology chapter in the report provides historical as well as forecasted epidemiology segmented by Total Prevalent Cases of Glaucoma, Total Diagnosed Prevalent Cases of Glaucoma, Type-specific Diagnosed Prevalent Cases Glaucoma, Type-specific Diagnosed Prevalent Cases Open-angle Glaucoma, Gender-specific Diagnosed Prevalent Cases Glaucoma, and Age-specific Diagnosed Prevalent Cases of Glaucoma in the 7MM covering the United States, EU4 countries (Germany, France, Italy, and Spain) and the United Kingdom, and Japan, from 2019 to 2032. The total prevalent cases of Glaucoma in the 7MM comprised approximately 17 million cases in 2022 and are projected to increase during the forecast period.
Glaucoma remain undetected in most of the patients due to many factors. According to DelveInsight estimations, of 17 million prevalent cases in 2022 in the 7MM, only 7 million are estimated to have received a formal diagnosis.
The US showed the highest diagnosed prevalent population of Glaucoma compared to other 7MM countries, with nearly 2.6 million cases in 2022. As per DelveInsight's estimates, the country alone accounts for nearly 35% of total diagnosed prevalent cases, for Glaucoma in the 7MM, followed by Japan, contributing 22% of all the Glaucoma cases.
Glaucoma can affect both men and women, however the ratio of male to female Glaucoma patients suggest that female are predominantly affected more than males. In 2022, there were 3,362,578 cases of glaucoma among male population and 3,960,115 cases among female population.
The diagnosed prevalent cases of glaucoma were further divided into open-angle glaucoma (OAG) and closed-angle glaucoma. The distribution showed that nearly 90% of glaucoma cases are of OAG type.
Primary Open-Angle Glaucoma (POAG) and Secondary Open-Angle Glaucoma (SOAG) are two types of Open-angle glaucoma. DelveInsight's estimates showed that POAG and SOAG comprised 90% and 10% cases of OAG, respectively.
Normal tension glaucoma (NTG) is a subtype of POAG occurring in the presence of normal IOP. As per DelveInsight's estimates, of all POAG cases in the 7MM, 52% were of NTG type.
Among EU4 and the UK, Germany had the highest diagnosed prevalent population of glaucoma, with 0.7 million cases, followed by France in 2022. On the other hand, Spain had the lowest diagnosed prevalent population of glaucoma among EU4 and the UK in 2022.
Japan accounted for 22% of the total diagnosed prevalent cases of Glaucoma in the 7MM in 2022.
Glaucoma Drug Chapters
The drug chapter segment of the Glaucoma report encloses a detailed analysis of Glaucoma marketed drugs and late-stage (Phase III and Phase II) pipeline drugs. It also understands the Glaucoma clinical trial details, expressive pharmacological action, agreements and collaborations, approval and patent details, advantages and disadvantages of each included drug, and the latest news and press releases.
Glaucoma Marketed Drugs
ROCKLATAN/ ROCLANDA (netarsudil/latanoprost, 0.02%/0.005%): Aerie Pharmaceuticals
Roclanda (in Europe), known as Rocklatan in the United States, is fixed-dose combination of a Rho kinase inhibitor and a prostaglandin F2a analog that reduces elevated intraocular pressure (IOP) in individuals diagnosed with open-angle glaucoma or hypertension. While it obtained approval in the US in March 2019, it recently gained approval in the European region in January 2021.
DURYSTA (bimatoprost SR): AbbVie Inc.
DURYSTA is an ophthalmic drug delivery system for a single intracameral administration of a biodegradable bimatoprost implant which is believed to lower IOP in humans by increasing the outflow of aqueous humor through both the trabecular meshwork (conventional) and uveoscleral routes (unconventional). It imitates the effects of prostamides, specifically prostaglandin F2a.
Glaucoma Emerging Drugs
NCX-470: Nicox Ophthalmics
NCX 470 is an investigational ophthalmic treatment by Nicox Ophthalmics designed to address ocular hypertension and open-angle glaucoma. It belongs to the second-generation nitric oxide (NO) category-donating prostaglandin analogs. This therapeutic candidate is administered through the ophthalmic route, targeting the prostaglandin F2 alpha receptor and soluble guanylate cyclase to achieve its effects.
Based on a dual mechanism of action, NCX 470, a monotherapy, has the potential to be a new standard of care in reducing IOP glaucoma patients.
iDose TR (Travoprost Intraocular Implant): Glaukos Corporation
Glaukos Corporation is developing the iDose TR, which incorporates an innovative formulation of travoprost, a prostaglandin analog for reducing intraocular pressure (IOP). This treatment is surgically placed within the eye through a micro-invasive procedure, enabling the continuous release of therapeutic amounts of travoprost for a minimum of 1 year.
iDose TR has been granted with the Prescription Drug User Fee Act (PDUFA) goal date for the completion of the FDA's review set for December 22, 2023. If approved, this will be a game changer bridging the existing incumbent drug delivery format associated with the current treatment pattern.
Drug Class Insights
Management of the disease focuses on lowering intraocular pressure (IOP) with the current class of drugs, like prostaglandin analogs, beta-blockers, alpha-agonists, rho kinase inhibitors (ROCK) and carbonic anhydrase inhibitors. Prostaglandin analogs increase fluid outflow, beta-blockers reduce fluid production, alpha-adrenergic agonists decrease fluid production and increase outflow, carbonic anhydrase inhibitors reduce fluid production, rho kinase inhibitors increase fluid outflow, and cholinergic agonists increase fluid drainage.
The choice of medication depends on factors such as glaucoma severity, patient response, and potential side effects.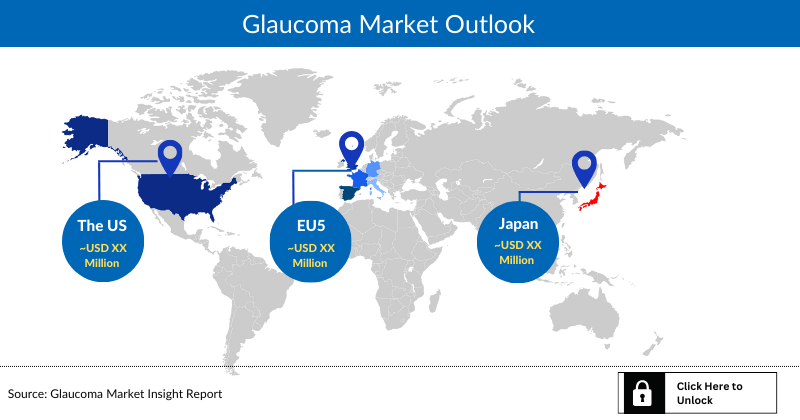 Glaucoma Market Outlook
The primary objective of disease management is to reduce intraocular pressure (IOP), typically accomplished through the use of various drug classes such as prostaglandin analogs, beta-blockers, alpha-agonists, rho kinase inhibitors (ROCK), and carbonic anhydrase inhibitors. However, not all patients benefit from these treatments, as some may still experience optic nerve deterioration despite having normal IOP levels. In addition to pharmacological interventions, alternative measures such as incisional surgery, laser surgery, and medication are also commonly recommended.
The launch of emerging therapies, such as NCX 470 (Nicox Ophthalmics), PDP-716 (Sun Pharma Advanced Research Company Limited (SPARC)/ Visiox Pharma), TC-002 (TearClear), and others are expected to impact the market positively.
The total Glaucoma Market Size in the 7MM was around USD 4.2 billion in 2022. This is estimated to increase by 2032 at a significant CAGR.
In the 7MM, most of the Glaucoma market share was accommodated by prostaglandin analogs generating nearly USD 2.6 billion, followed by fixed combination therapies in 2022.
Among the 7MM, the US captured the highest market in 2022, covering a total of 63% market, followed by Japan which is anticipated to grow during the forecast period (2023–2032).
In 2022, EU4 and the UK captured nearly 24% of the total market in the 7MM.
Among the forecasted emerging therapies, iDose TR is expected to capture the highest market in the 7MM by 2032.
Glaucoma Drugs Uptake
This section focuses on the uptake rate of potential Glaucoma drugs expected to launch in the market during 2019–2032. For example, for PDP-716, in the US we expect the drug uptake to be Slow-medium with a probability-adjusted peak share of around 2%, and years to the peak is expected to be 8 years from the year of launch.
Glaucoma Pipeline Development Activities
The Glaucoma pipeline segment provides insights into different therapeutic candidates in Phase III, Phase II, and Phase I. It also analyzes Glaucoma companies involved in developing targeted therapeutics.
Pipeline Development Activities
The Glaucoma pipeline segment covers information on collaborations, acquisitions and mergers, licensing, and patent details for Glaucoma emerging therapies.
KOL Views
To keep up with current market trends, we take KOLs and SMEs' opinions working in the domain through primary research to fill the data gaps and validate the secondary research. Industry Experts were contacted for insights on Glaucoma evolving treatment landscape, patient reliance on conventional therapies, patient's therapy switching acceptability, and drug uptake along with challenges related to accessibility, including KOL from Duke University Eye Center; Glaucoma Research Foundation; Centre Hospitalier National d'Ophtalmologie; European Board of Ophthalmology; Department of Ophthalmology, Kyushu University; and others.
Delveinsight's analysts connected with 50+ KOLs to gather insights; however, interviews were conducted with 15+ KOLs in the 7MM. Their opinion helps to understand and validate current and emerging therapies and treatment patterns or Glaucoma market trends. This will support the clients in potential upcoming novel treatments by identifying the overall scenario of the market and the Glaucoma unmet needs.
Qualitative Analysis
We perform Qualitative and market Intelligence analysis using various approaches, such as SWOT and Conjoint Analysis. In the SWOT analysis, strengths, weaknesses, opportunities, and threats in terms of disease diagnosis, patient awareness, patient burden, competitive landscape, cost-effectiveness, and geographical accessibility of therapies are provided. These pointers are based on the Analyst's discretion and assessment of the patient burden, cost analysis, and existing and evolving treatment landscape.
Conjoint Analysis analyzes multiple approved and emerging therapies based on relevant attributes such as safety, efficacy, frequency of administration, route of administration, and order of entry. Scoring is given based on these parameters to analyze the effectiveness of therapy.
Further, the therapies' safety is evaluated wherein the acceptability, tolerability, and adverse events are majorly observed, and it sets a clear understanding of the side effects posed by the drug in the trials. In addition, the scoring is also based on the route of administration, order of entry and designation, probability of success, and the addressable patient pool for each therapy. According to these parameters, the final weightage score and the ranking of the emerging therapies are decided.
Glaucoma Market Access and Reimbursement
The high cost of therapies for the treatment of glaucoma is a major factor restraining the growth of the global glaucoma drug market. Because of the high cost, the economic burden is increasing, leading the patient to escape from proper treatment. In the US, between 2000 and 2020, the average adjusted reimbursement for the 22 analyzed procedures decreased by 20.5%. Reimbursement is a crucial factor that affects the drug's access to the market. Glaucoma Market access and reimbursement options can differ depending on regulatory status, target population size, care setting, Glaucoma unmet need, the magnitude of incremental benefit claims, and costs.
The Glaucoma market research report further provides detailed insights on the country-wise accessibility and reimbursement scenarios, cost-effectiveness scenario of approved therapies, programs making accessibility easier and out-of-pocket costs more affordable, insights on patients insured under federal or state government prescription drug programs, etc.
Glaucoma Market Research Report Scope
The Glaucoma market research report covers a segment of key events, an executive summary, descriptive overview of Glaucoma, explaining its causes, signs and symptoms, pathogenesis, and currently available therapies.
Comprehensive insight has been provided into the epidemiology segments and forecasts, the future growth potential of diagnosis rate, disease progression, and treatment guidelines.
Additionally, an all-inclusive account of the current and emerging therapies, along with the elaborative profiles of late-stage and prominent therapies, will impact the current treatment landscape.
A detailed review of the Glaucoma market, historical and forecasted market size, market share by therapies, detailed assumptions, and rationale behind the approach is included in the report covering the 7MM drug outreach.
The Patient-Based Glaucoma Market Forecasting report provides an edge while developing business strategies, by understanding trends, through SWOT analysis and expert insights/KOL views, patient journey, and treatment preferences that help shape and drive the 7MM Glaucoma market.
Glaucoma Market Forecast Report Insights
Patient-Based Glaucoma Market Forecasting
Therapeutic Approaches
Glaucoma Pipeline Drugs Analysis
Glaucoma Market Size
Glaucoma Market Trends
Existing and Future Glaucoma Market Opportunity
Glaucoma Market Forecast Report Key Strengths
10 Years Glaucoma Market Forecast
The 7MM Coverage
Glaucoma Epidemiology Segmentation
Key Cross Competition
Attribute Analysis
Drugs Uptake and Key Market Forecast Assumptions
Glaucoma Treatment Market Report Assessment
Current Glaucoma Treatment Market Practices
Glaucoma Unmet Needs
Glaucoma Pipeline Drugs Profiles
Glaucoma Market Attractiveness
Qualitative Analysis (SWOT and Conjoint Analysis)
Key Questions
Glaucoma Treatment Market Insights
What was the Glaucoma market size, the market size by therapies, and market share (%) distribution in 2019, and how would it all look in 2032? What are the contributing factors for this growth?
What unmet needs are associated with the current treatment market of Glaucoma?
What will be the impact of the XELPROS patent expiry in the market?
How will OMLONTI compete with the existing therapies for Glaucoma during the study period?
Which drug is going to be the largest contributor in 2032?
What are the pricing variations among different geographies for approved and off-label therapies?
How would the market drivers, barriers, and future opportunities affect the market dynamics and subsequent analysis of the associated trends?
Glaucoma Epidemiology Insights
What are the disease risks, burdens, and unmet needs of Glaucoma? What will be the growth opportunities across the 7MM concerning the patient population of Glaucoma?
What is the historical and forecasted Glaucoma patient pool in the United States, EU4 (Germany, France, Italy, and Spain), the United Kingdom, and Japan?
Why do only limited patients appear for diagnosis?
Which type of Glaucoma is more prevalent and why?
What factors are affecting the diagnosis of the indication?
Current Treatment Scenario, Marketed Drugs, and Emerging Therapies
What are the current options for treating Glaucoma? What are the current guidelines for treating Glaucoma in the US and Europe?
How many companies are developing therapies for treating Glaucoma?
How many emerging therapies are in the mid-stage and late stage of development for treating Glaucoma?
What are the recent novel therapies, targets, mechanisms of action, and technologies developed to overcome the limitations of existing therapies?
What are the key designations that have been granted for the emerging therapies for Glaucoma?
What is the cost burden of approved therapies on the patient?
Patient acceptability in terms of preferred treatment options as per real-world scenarios?
What are the country-specific accessibility issues of expensive, recently approved therapies? Focus on reimbursement policies.
What are the 7MM historical and forecasted markets of Glaucoma?
Reasons to Buy
The Patient-Based Glaucoma Market Forecasting report will help develop business strategies by understanding the latest trends and changing treatment dynamics driving the Glaucoma Market.
Insights on patient burden/disease prevalence, evolution in diagnosis, and factors contributing to the change in the epidemiology of the disease during the forecast years.
To understand the existing market opportunity in varying geographies and the growth potential over the coming years.
Distribution of historical and current patient share based on real-world prescription data along with reported sales of approved products in the US, EU4 (Germany, France, Italy, and Spain), the United Kingdom, and Japan.
Identifying strong upcoming players in the market will help devise strategies that will help get ahead of competitors.
Detailed analysis and ranking of class-wise potential current and emerging therapies under the conjoint analysis section to provide visibility around leading classes.
Highlights of Access and Reimbursement policies of approved therapies, barriers to accessibility of off-label expensive therapies, and patient assistance programs.
To understand the perspective of Key Opinion Leaders around the accessibility, acceptability, and compliance-related challenges of existing treatment to overcome barriers in the future.
Detailed insights on the Glaucoma unmet needs of the existing market so that the upcoming players can strengthen their development and launch strategy.
For More In-depth Information @ Latest DelveInsight Blog