Glioma Market
As per the American Association of Neurological Surgeons (AANS), gliomas are the most prevalent type of adult brain tumor, accounting for 78% of malignant brain tumors.
According to DelveInsight estimates, in 2022, the highest number of incident cases were observed in the United States among the 7MM.
The current standard of care for glioma management—surgical resection, radiation therapy, temozolomide, and temozolomide maintenance therapy—is largely ineffective, with 95% of patients suffering a relapse.
In 2022, the total market size of glioma was around USD 1,000 million in the 7MM—the increasing incidence of the disease is expected to fuel the market during 2022–2032.
Our estimates show that the market is anticipated to witness a significant positive shift owing to the positive outcomes of several products during the developmental stage, such as AV-GBM-1, ITI-1000, LAM561, DCVax-L, INO-5401+, INO-9012 + LIBTAYO, SurVaxM, Enzastaurin Hydrochloride, VAL-083, temferon, DAY101, vorasidenib, and others.
Although the label expansion of Novartis' TAFINLAR (dabrafenib) + MEKINIST (trametinib) for treating pediatric patients 1 year old and older with low-grade glioma with a BRAF V600E mutation offers a more commercial opportunity with a wide target pool, a single approved therapy for low-grade glioma segment indicate a lucrative opportunity to develop more treatment options.
DelveInsight's "Glioma Market – Market Insights, Epidemiology and Market Forecast – 2032" report delivers an in-depth understanding of the glioma, historical and forecasted epidemiology as well as the glioma market trends in the United States, EU4 (Germany, Spain, Italy, and France) and the United Kingdom, and Japan.
The Glioma market report provides current treatment practices, emerging drugs, market share of individual therapies, and current and forecasted 7MM glioma market size from 2019 to 2032. The report also covers current glioma treatment practice/algorithm and unmet medical needs to curate the best of the opportunities and assess the market's underlying potential.
Geography Covered
The United States
The EU4 (Germany, France, Italy, Spain) and the United Kingdom
Japan
Study Period: 2019–2032
Glioma Disease Understanding and Treatment Algorithm
Glioma Overview
Glioma is the most common central nervous system (CNS) neoplasm originating from glial cells. They are very diffusely infiltrative tumors that affect the surrounding brain tissue. Three common types of gliomas are classified based on phenotypic cell characteristics: Astrocytomas, ependymomas, and oligodendrogliomas. Gliomas are caused by the accumulation of genetic mutations in glial stem or progenitor cells, leading to their uncontrolled growth. Gliomas are further classified into Grades I–IV. Glioblastoma (GBM Grade IV) is the most malignant type, while pilocytic astrocytomas (Grade I) are the least malignant brain tumors among these Grades I–IV. Mutated genes are typically involved in the etiology of glioma. Examples of mutated genes in certain types of glioma include TP53, PTEN (tumor suppressor genes), BRAF (involved in cell growth), and IDH1 (involved in cellular metabolism).
Glioma Diagnosis
The diagnosis of glioma includes neurological exams (this exam tests vision, hearing, speech, strength, sensation, balance, coordination, reflexes, and the ability to think and remember), angiograms, magnetic resonance imaging (MRI), computerized tomography (CT), surgical biopsy, and others. The patient's journey typically starts with the onset of symptoms like seizures, unusual headaches, mood and sensory disturbances, and difficulties in walking. Following an initial visit with a general practitioner, during which the patient underwent a complete physical examination, and the results revealed a few alarming findings related to a brain tumor, the patient was referred to a neuro-oncologist. Further, a neuro-oncologist will immediately recommend an MRI, given that it is the most prominent imaging method, gives good brain images, and aids in the accurate differential diagnosis of brain cancers. A biopsy is carried out to determine the disease's stage if the MRI scans reflect glioma. Moreover, molecular examination of biomarkers may be applied to evaluate the type and grade. Once the grade of the glioma is determined, the appropriate treatment is provided to the patient.
Note: Further details related to diagnosis are provided in the report.
Glioma Treatment
Therapeutic management depends on the type of glioma, its size and location, and the specific characteristics of the patient. Especially in patients where the tumor cannot be entirely removed because it invades the brain in crucial areas or is not accessible, chemotherapy and radiation therapy will follow surgery. The standard treatment regimen includes surgery, chemotherapy, and radiation. Chemotherapy includes carmustine (BCNU), lomustine (CCNU), or gleostine (generic), Gliadel wafer (biodegradable discs infused with BCNU), temozolomide (TEMODAR) cisplatin, carboplatin, etoposide, and irinotecan. They may be given as a single agent or combination, i.e., PCV (procarbazine, CCNU, and vincristine), carboplatin/ etoposide. Temozolomide (TEMODAR) and bevacizumab (AVASTIN) are the most commonly used drugs to treat brain tumors. However, the current treatment market lacks an effective strategy to cure glioma, so the survival rate of patients diagnosed with glioma remains low. Glioma is not curable, and approved treatment options are limited. Moreover, the tumor has a high recurrence rate and poor patient prognosis. Also, currently, there is no approved therapy for unmethylated MGMT patient pool.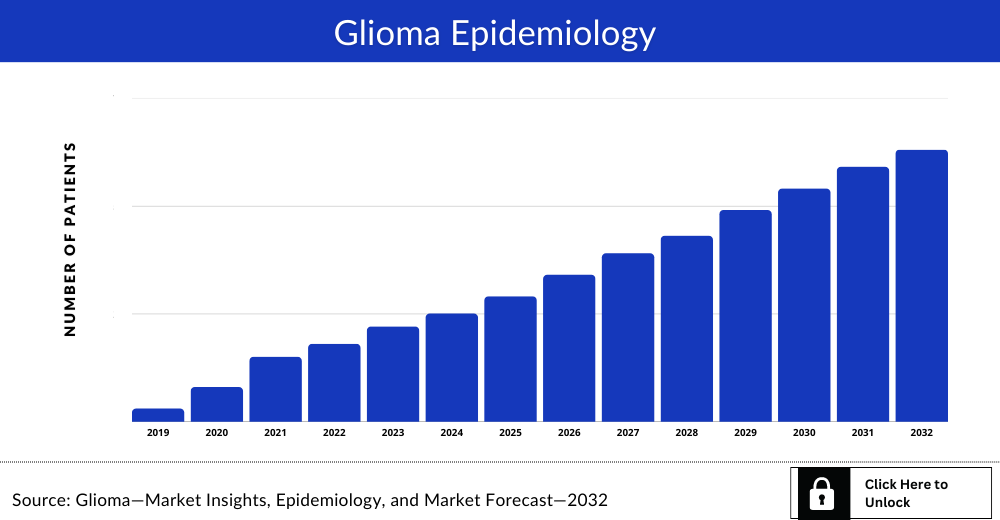 Glioma Epidemiology
As the market is derived using the patient-based model, the glioma epidemiology chapter in the report provides historical as well as forecasted epidemiology segmented by total incident cases of glioma, grade-specific cases of glioma, age-specific cases of glioma, and type-specific cases of glioma in the 7MM covering the United States, EU4 countries (Germany, France, Italy, and Spain) and the United Kingdom, and Japan from 2019 to 2032. The total incident cases of glioma in the 7MM comprised approximately 47,000 cases in 2022 and are projected to increase during the forecast period.
The United States contributed to the largest incident population of glioma, acquiring ~40% of the 7MM in 2022.
Among EU4 and the UK, Germany accounted for the highest number of glioma cases, followed by France, whereas Spain had the lowest number of cases in 2022.
According to DelveInsight estimates, in the 7MM, of all the grades, Grade IV accounted for the highest number of incident cases, followed by Grade II glioma, while Grade I had the least number of cases.
In 7MM, among all the age groups, 60–74 years accounted for the highest number of glioma cases, i.e., around 36%, in 2022, followed by the age-group 45–59 years (25%).
Glioma Drug Chapters
The drug chapter segment of the glioma report encloses a detailed analysis of glioma-marketed drugs and emerging (Phase-III and Phase II and Phase I/II) pipeline drugs. It also helps understand the glioma clinical trial details, expressive pharmacological action, agreements and collaborations, approval and patent details, advantages and disadvantages of each included drug, and the latest news and press releases.
Current therapies
AVASTIN: Genentech
AVASTIN (Bevacizumab) is a recombinant humanized monoclonal IgG1 antibody, which acts as an angiogenesis inhibitor by blocking its target, vascular endothelial growth factor (VEGF). Bevacizumab binds to the vascular endothelial growth factor (VEGF) with its receptor VEGFR-1 and VEGFR-2, which are present on the surface of endothelial cells. In December 2017, the US FDA approved bevacizumab (AVASTIN) for treating adults with recurrent GBM that has progressed following prior therapy.
Owing to AVASTIN's (bevacizumab) patent term expiration, the US FDA has approved three biosimilars: MVASI (Amgen), ZIRABEV (Pfizer), and ALYMSYS (Amneal Pharma). In 2017, the US FDA approved the first AVASTIN biosimilar, Amgen's MVASI. DelveInsight analysis indicates that the market for AVASTIN brand may undergo a significant negative shift due to the drop in therapy costs following the introduction of its biosimilar in the United States.
TEMODAR (temozolomide): Merck
The active pharmaceutical ingredient in TEMODAR/TEMODAL is an imidazotetrazine derivative of the alkylating agent dacarbazine. Temozolomide is used for the treatment of several brain cancer forms, e.g., as a second-line treatment for astrocytoma and as a first-line treatment for GBM. The therapeutic benefit of temozolomide is due to its ability to alkylate/methylate DNA. In July 2006, the Japan Ministry of Health, Labor and Welfare (MHLW) approved TEMODAL (temozolomide) Capsules for the treatment of malignant glioma. Generic versions of the drug are also available due to patent expiration.
According to our estimates, temozolomide is the most commonly prescribed chemotherapy drug to treat GBM. Whereas, in case of low grade glioma, lomustine, irinotecan, vincristine and procarbazine are used majorly.
Note: Detailed current therapies assessment will be provided in the full report of glioma.
Emerging Drugs
Ofranergene obadenovec (VB-111): VBL Therapeutics
Ofranergene obadenovec (VB-111) is a first-in-class, targeted anticancer gene-therapy agent that VBL Therapeutics is developing to treat a wide range of solid tumors such as GBM. It is a non-replicating adenovirus 5 (Ad-5, El-deleted) carrying a proapoptotic human Fas-chimera transgene that targets angiogenic blood vessels and leads to vascular disruption. The drug has been rewarded Orphan Drug Designation from both US FDA and EMA for the treatment of patients with GBM. In addition, it has also been granted Fast Track Designation by the US FDA for prolongation of survival in patients with rGBM. Currently, the drug has completed the Phase III stage of clinical development for patients with rGBM. In November 2017, VBL Therapeutics signed an exclusive license agreement with NanoCarrier for developing, commercializing, and supplying ofranergene obadenovec (VB-111) in Japan.
SurVaxM: MimiVax
SurVaxM by MimiVax is a first-of-its-kind, patented peptide mimic immunotherapeutic vaccine (immunotherapy) that targets survivin, a cell-survival protein in 95% of GBM and other cancers. The vaccine has dual mechanisms of action to stimulate a patient's T-cell immunity and employs antibody-directed inhibition of the survivin pathway to control tumor growth and prevent or delay tumor recurrence. The Phase IIa study showed that the overall survival was 25.9 months in MGMT methylated patients at 41.4 months, and in MGMT unmethylated patients was 16.5 months. Similarly, the FSecorded was 17.9 months MGMT methylated patients higher than in MGMT unmethylated patients. Apart from SurVaxM other players developing vaccines are Aivita Biomedical, Immunomic Therapeutics, Northwest Therapeutics and TVAX Biomedical.
Vorasidenib (AG-881): Servier
Vorasidenib (AG-881), a first-in-class, dual inhibitor of mIDH1/2, was specifically developed for improved penetration across the blood–brain barrier and showed brain penetrance and reduced tumor growth in an orthotopic model of mIDH glioma. Phase I interim data suggested that tumor-intrinsic and -extrinsic mechanisms underlie 2-HG suppression by vorasidenib and ivosidenib. Vorasidenib demonstrated a favorable safety profile and is currently being evaluated in the registration-enabling Phase III INDIGO study as a potential treatment for patients with residual or recurrent Grade II low-grade glioma.
Tovorafenib (DAY101): Day One Biopharmaceuticals
Tovorafenib (DAY101) is an investigational, oral, brain-penetrant, highly selective type II pan-RAF kinase inhibitor designed to target a key enzyme in the MAPK signaling pathway, which may offer an important alternative for people with primary brain tumors or brain metastases of solid tumors. Currently, DAY101 is under evaluation in a pivotal Phase II clinical trial (FIREFLY-1) evaluating its safety and efficacy in pediatric, adolescent, and young adult patients with recurrent or progressive low-grade glioma (pLGG) harboring a known BRAF alteration. Based on the initial FIREFLY-1 data, the company plans to expand the development of tovorafenib as a front-line therapy for patients newly diagnosed with pLGG and anticipates reporting topline data from this trial in the first quarter of 2023, and if the data are supportive, the company expects to file an NDA to FDA, in first of half 2023.
Note: Detailed emerging therapies assessment will be provided in the final report.
Drug Class Insights
The existing glioma treatment is mainly dominated by classes such as vascular endothelial growth factor (VEGF) inhibitors, alkylating agents, multikinase inhibitors, MAPK pathway inhibitors, IDH1 inhibitors, and others.
AVASTIN (bevacizumab) is a tumor-starving (anti-angiogenic) therapy designed to block a protein called VEGF, a chemical signal that stimulates angiogenesis in various diseases, especially cancer. Normal cells make VEGF, but some cancer cells make too much VEGF. Blocking VEGF may prevent the growth of new blood vessels, including normal blood vessels and blood vessels that feed tumors. Unlike chemotherapy which attacks the cancer cells, the purpose of AVASTIN is to block the blood supply that feeds the tumor. This can stop the tumor from growing by stopping the formation of blood vessels that bring oxygen and nutrients to tumors
Moving onto alkylating agents, TEMODAR/TEMODAL (temozolomide) is a traditional alkylating agent that acts by producing DNA cross-linkages, thus inhibiting DNA and cellular replication. The proposed mechanism of action is based on the ability of its metabolites to deposit methyl groups on DNA guanine bases. The widespread prescriptions and guideline recommendations for temozolomide regimen in glioma management are due to its ability to alkylate/methylate DNA, which leads to the destruction of DNA and triggers the death of the tumor cells.
IDH1 and IDH2 are the most commonly mutated genes in low-grade glioma, with mutations estimated to occur in >70% of cases, due to which Servier's investigational drug, vorasidenib, can be a promising option for low-grade glioma patient pool. BRAF V600E point mutations are occasionally observed in pilocytic astrocytoma; the mutations are also observed in nonpilocytic pediatric low-grade glioma.
TAFINLAR (dabrafenib) and MEKINIST (trametinib) target two distinct points – BRAF and MEK1/2 proteins on the MAPK pathway studied extensively as monotherapies and in combination. TAFINLAR capsules inhibit cell growth of various BRAF V600E mutation-positive tumors in vitro and in vivo, and inhibition of MEK1 and MEK2 with MEKINIST tablets can suppress downstream signaling of the MAPK pathway as alterations in the MAP-kinase pathway can inhibit normal, nontumor cells and result in side effects, some of which may be serious. The nearest competitor to the combination of dabrafenib + trametinib is DAY101, which belongs to the same therapeutic class with comparable efficacy.
Moreover, the upcoming glioma treatment landscape is poised to see further expansion after the emergence of new classes such as cancer vaccines, protein kinase C beta inhibitors, dendritic cell immunotherapy, cell and gene therapy, and others.
Glioma Market Outlook
Gliomas can have four different grades of differentiation. Grade I gliomas show the highest level of differentiation and are the least malignant, while Grade IV tumors are the least differentiated and most malignant. A large multidisciplinary team of medical specialists and health professionals is required to treat patients with gliomas. Glioma treatment is quite challenging as some cells may respond well to certain therapies while others may not be affected at all. Because of this, the treatment plan for glioma may combine several approaches. The treatment often comprises a combination of several therapies, including surgery, chemotherapy, radiation, or stereotactic radiosurgery, followed by additional/adjuvant treatments, such as chemotherapy or radiation therapy, after surgery.
The first step in treating glioma is a surgical procedure to make a diagnosis, relieve pressure on the brain, and safely remove as much tumor as possible. Glioma surgery is performed to achieve a "maximum safe resection" or remove as much of the tumor as possible without causing lasting neurological damage.
From a commercial perspective, there is more focus on high-grade glioma than low-grade glioma, as patients with low-grade glioma typically live longer than those with high-grade glioma. Hence, only a few drugs are in the late phases, while most are being evaluated in early-phase trials. On the contrary, in the case of GBM, the pipeline is robust and possesses multiple potential drugs in late and mid-stage developments, which are yet to be launched. The pipeline involves drugs with various mechanisms of action along with different routes of administration. It is interesting to note that the emerging market of glioma includes budding gene therapy, i.e., ofranergene obadenovec (VB-111) by VBL Therapeutics, followed by four vaccine/immunotherapy candidates such as VBI-1901, AV-GBM-1 and ITI-1000 (pp65 DC Vaccine), tasadenoturev (DNX-2401) by VBI Vaccines, Aivita Biomedical, Immunomic Therapeutics, and DNAtrix, respectively, and these therapies are going to alter the market dynamics in the upcoming years.
The current market has been segmented based on the prevailing treatment pattern across the 7MM, which presents minor variations in the overall prescription pattern. Surgery ± chemotherapy/radiation therapy, chemotherapy ± radiation therapy, bevacizumab + radiotherapy/chemotherapy, and OPTUNE with temozolomide are considered in the forecast model.
The expected launch of upcoming therapies and greater integration of early patient screening, medication in secondary care and other clinical settings, research on best methods for implementation, and an upsurge in awareness will eventually facilitate the development of effective treatment options. However, there are a few barriers to the timely diagnosis and treatment of these patients; for instance, there is a lack of a reliable biomarker that can help with diagnosis and patient stratification, as well as diagnosing recurrence and indicating therapy response. Also, the trial failure rate of high-phased drugs is high, making it difficult to anticipate the success of trials, further intensifying the need for therapies that could help ease the patient segment with this aggressive form of cancer.
Few players like Day One Biopharmaceuticals (tovorafenib (DAY101)), Novartis (TAFINLAR + MEKINIST), AnHeart Therapeutics (AB-218), TVAX Biomedical (TVI-Brain-1), Servier (vorasidenib (AG- 881), and others are evaluating their lead candidates in different stages of clinical development, respectively, for the treatment of low-grade glioma. In contrast, the GBM pipeline is robust, with a handful of therapeutic assets in the late-to-mid stage of the drug development process.
The total market size of glioma in the United States is approximately USD 650 million in 2022 and is projected to grow during the forecast period (2022–2032).
According to the estimates, the United States recorded the highest market share, i.e., around 63% of the total market size of glioma, in 2022.
Among the EU4 (Germany, France, Italy, Spain) and the UK, Germany has the maximum revenue share in 2022, while Spain has the lowest market share.
In 2022, OPTUNE ± TMZ captured the highest market size of glioma in Japan. This combination is expected to generate maximum revenue during the forecast period (2022–2032).
Conditional and time-limited approval of Daiichi's DELYTACT, an intratumoral oncolytic virus therapy, has opened new doors for other players, such as DNAtrix and Istari Oncology, to develop oncolytic virus therapies, which can prove to be a potential mechanism of action in brain cancer treatment in future.
Glioma Drugs Uptake
This section focuses on the uptake rate of potential drugs expected to get launched in the market during the study period 2019–2032. For example, for VAL-083, we expect the drug uptake in the US to be medium-fast with a probability-adjusted peak share of approximately 9%in the first line and a lower peak share in the second line, years to peak is expected to be 6+ years from the year of launch.
Note: Further detailed analysis of emerging therapies drug uptake in the report.
Glioma Pipeline Development Activities
The report provides insights into different therapeutic candidates in Phase III, Phase II, and Phase I/II stage. It also analyzes key players involved in developing targeted therapeutics.
Pipeline Development Activities
The report covers detailed information on collaborations, acquisition and merger, licensing, and patent details for glioma emerging therapies.
KOL Views
To keep up with current market trends, we take KOLs and SMEs' opinions working in the domain through primary research to fill the data gaps and validate our secondary research. Industry Experts contacted for insights on glioma evolving treatment landscape, patient reliance on conventional therapies, patient's therapy switching acceptability, drug uptake along with challenges related to accessibility, include Medical/scientific writers, Medical Oncologists, and Professors: MD, Oncologist at Memorial Sloan Kettering Cancer Center, Deputy Director of Miami Cancer Institute, and Others.
Delveinsight's analysts connected with 50+ KOLs to gather insights; however, interviews were conducted with 15+ KOLs in the 7MM. Centers such as MD Anderson Cancer Center, National Brain Tumor Society, Cancer Research UK, etc., were contacted. Their opinion helps understand and validate current and emerging therapies, treatment patterns, or glioma market trends. This will support the clients in potential upcoming novel treatments by identifying the overall scenario of the market and the unmet needs.
Qualitative Analysis
We perform Qualitative and market Intelligence analysis using various approaches, such as SWOT and Conjoint Analysis. In the SWOT analysis, strengths, weaknesses, opportunities, and threats in terms of disease diagnosis, patient awareness, patient burden, competitive landscape, cost-effectiveness, and geographical accessibility of therapies are provided. These pointers are based on the Analyst's discretion and assessment of the patient burden, cost analysis, and existing and evolving treatment landscape.
Conjoint Analysis analyzes multiple approved and emerging therapies based on relevant attributes such as safety, efficacy, frequency of administration, route of administration, and order of entry. Scoring is given based on these parameters to analyze the effectiveness of therapy. According to these parameters, the final weightage score and the ranking of the emerging therapies are decided.
In efficacy, the trial's primary and secondary outcome measures are evaluated; for instance, in glioma, the essential efficacy parameters considered were ORR, PFS, OS, and CBR. Further, the therapies' safety is evaluated wherein the acceptability, tolerability, and adverse events are majorly observed. It sets a clear understanding of the side effects posed by the drug in the trials.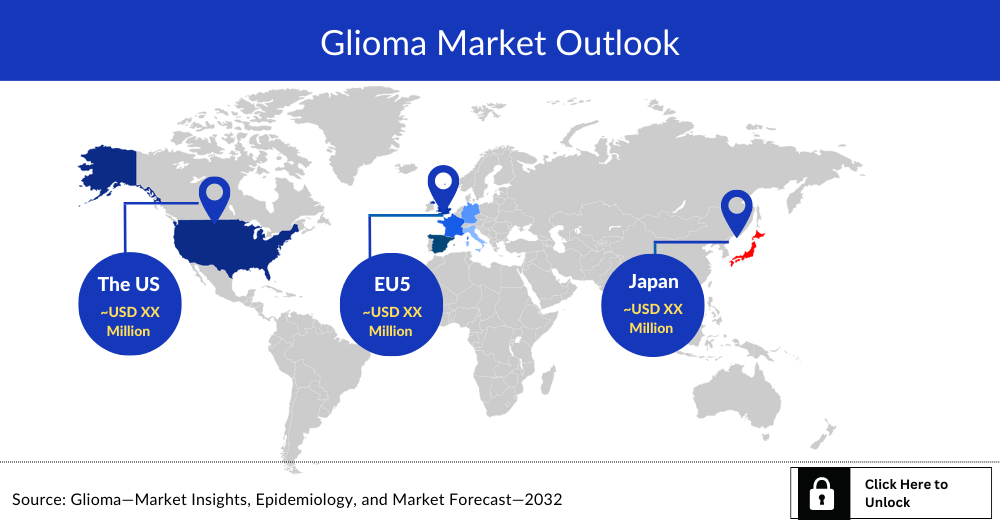 Market Access and Reimbursement
Reimbursement of rare disease therapies can be limited due to lack of supporting policies and funding, challenges of high prices, lack of specific approaches to evaluating rare disease drugs given limited evidence, and payers' concerns about budget impact. The high cost of rare disease drugs usually has a limited impact on the budget due to the small number of eligible patients being prescribed the drug. The US FDA has approved several rare disease therapies in recent years. From a patient perspective, health insurance and payer coverage guidelines surrounding rare disease treatments restrict broad access to these treatments, leaving only a small number of patients who can bypass insurance and pay for products independently.
Glioma carries a high economic burden for patients and caregivers associated with initial surgery. The National Brain Tumor Society (2018) reported that brain cancer has the highest per-patient initial cost of care for any cancer group, with an annualized mean net cost of care approaching USD 150,000. As per a study conducted by Chandra et al. (2019), out of 227 patients with GBM (median age 62, 37.9% females), 31 (13.7%) had Medicaid, 94 (41.4%) had Medicare, and 102 (44.9%) had private insurance.
The report further provides detailed insights on the country-wise accessibility and reimbursement scenarios, cost-effectiveness scenario of approved therapies, programs making accessibility easier and out-of-pocket costs more affordable, insights on patients insured under federal or state government prescription drug programs, etc.
Scope of the Report
The report covers a segment of key events, an executive summary, and a descriptive overview of glioma, explaining its causes, signs and symptoms, pathogenesis, and currently available therapies.
Comprehensive insight has been provided into the epidemiology segments and forecasts, the future growth potential of diagnosis rate, disease progression, and treatment guidelines.
Additionally, an all-inclusive account of the current and emerging therapies, along with the elaborative profiles of late-stage and prominent therapies, will impact the current treatment landscape.
A detailed review of the glioma market, historical and forecasted market size, market share by therapies, detailed assumptions, and rationale behind our approach is included in the report, covering the 7MM drug outreach.
The report provides an edge while developing business strategies, by understanding trends, through SWOT analysis and expert insights/KOL views, patient journey, and treatment preferences that help in shaping and driving the 7MM glioma market.
| | |
| --- | --- |
| Report Metrics | Details |
| Study Period | 2019 to 2032 |
| Forecast Period | 2023 to 2032 |
| Market CAGR | Request Sample to Know |
| Glioma Market Size | USD 1,000 million in 2022 |
| Key Glioma Companies | Bayer, Chimerix, Aivita Biomedical, Denovo Biopharma, Northwest Therapeutics, VBL Therapeutics, Laminar Pharmaceuticals, MedImmune, DNAtrix, Immunomic Therapeutics, Imvax, MimiVax, CNS Pharmaceuticals, Epitopoietic Research Corporation (ERC), Istari Oncology, SonALAsense, Kintara Therapeutics, Bristol Myers Squibb, Medicenna Therapeutics, BioMimetix, Eisai and Merck Sharp & Dohme, Kazia Therapeutics, Oblato, Genenta Science, Enterome, Inovio Pharmaceuticals, Karyopharm Therapeutics, VBI Vaccines, TME Pharma, Day One Biopharmaceuticals, Servier, Orbus Therapeutics, TVAX Biomedical, AnHeart Therapeutics, Beigene, SpringWorks Therapeutics, Forma Therapeutics, Hoffmann-La Roche, Incyte Corporation, Eli Lilly, and many others. |
Glioma Report Insights
Patient Population
Therapeutic Approaches
Glioma Pipeline Analysis
Glioma Market Size and Trends
Existing and Future Market Opportunity
Glioma Report Key Strengths
Ten Years Forecast
7MM Coverage
Glioma Epidemiology Segmentation
Key Cross Competition
Attribute Analysis
Drugs Uptake and Key Market Forecast Assumptions
Glioma Report Assessment
Current Treatment Practices
Unmet Needs
Pipeline Product Profiles
Market Attractiveness
Qualitative Analysis (SWOT and Conjoint Analysis)
Key Questions
Market Insights
What was the glioma market share (%) distribution in 2019, and what would it look in 2032? What are the contributing factors for this growth?
How will MAPK pathway inhibitors as a class affect the treatment paradigm in the first and second lines of glioma?
What will be the impact of TAFINLAR + MEKINIST expected patent expiry in 2030?
How will tovorafenib (DAY101) compete with TAFINLAR + MEKINIST in the first and second-line respectively?
What are the pricing variations among different geographies for approved and off-label therapies?
How would the market drivers, barriers, and future opportunities affect the market dynamics and subsequent analysis of the associated trends?
Epidemiology Insights
What are the disease risk, burdens, and unmet needs of glioma? What will be the growth opportunities across the 7MM with respect to the patient population pertaining to glioma?
What is the historical and forecasted glioma patient pool in the United States, EU4 (Germany, France, Italy, and Spain) and the United Kingdom, and Japan?
Why do only limited patients appear with symptoms? Why is the current year diagnosis rate not high?
Which type of glioma is the largest contributor to the glioma patient pool?
Which age group account for the major share of the incident glioma population? Or which age group is more susceptible to glioma in the 7MM?
Current Treatment Scenario and Emerging Therapies
What are the current options for the treatment of glioma? What are the current guidelines for treating glioma in the US and Europe?
How many companies are developing therapies for the treatment of glioma?
How many emerging therapies are in the mid-stage and late stage of development for treating glioma?
What are the recent novel therapies, targets, mechanisms of action, and technologies developed to overcome the limitation of existing therapies?
What are the key designations that have been granted for emerging therapies for glioma?
What is the cost burden of approved therapies on the patient?
What are the key designations that have been granted for emerging therapies for glioma?
Patient acceptability in terms of preferred treatment options as per real-world scenarios?
What are the country-specific accessibility issues of expensive, recently approved therapies? Focus on reimbursement policies.
What is the 7MM historical and forecasted market of glioma?
Reasons to buy
The report will help develop business strategies by understanding the latest trends and changing treatment dynamics driving the glioma market.
Insights on patient burden/disease prevalence, evolution in diagnosis, and factors contributing to the change in the epidemiology of the disease during the forecast years.
To understand the existing market opportunity in varying geographies and the growth potential over the coming years.
Distribution of historical and current patient share based on real-world prescription data along with reported sales of approved products in the US, EU4 (Germany, France, Italy, and Spain), the United Kingdom, and Japan.
Identifying strong upcoming players in the market will help devise strategies that will help get ahead of competitors.
Detailed analysis and ranking of class-wise potential current and emerging therapies under the Conjoint analysis section to provide visibility around leading classes.
Highlights of access and reimbursement policies of approved therapies, barriers to accessibility of expensive off-label therapies, and patient assistance programs.
To understand Key Opinion Leaders' perspectives around the accessibility, acceptability, and compliance-related challenges of existing treatment to overcome barriers in the future.
Detailed insights on the unmet need of the existing market so that the upcoming players can strengthen their development and launch strategy.