KRAS Inhibitors Market
Key Highlights:
The most frequent KRAS variant observed in NSCLC is G12C. In addition, the most common KRAS variation in CRC and pancreatic cancer is G12D. In the United States, KRASG12C is present in ~37% of NSCLC cases. The highest rates of KRASG12D, i.e., ~42% and ~30%, were found in pancreatic cancer and CRC, respectively.
Among the approved therapies in the United States, KRAZATI is expected to have the edge over LUMAKRAS in revenue generated during the study period (2019–2032).
The United States is expected to capture the highest KRAS-inhibitors market share in 2032, followed by EU4 and the UK, where Germany is at the top of the ladder and Spain is at the bottom.
KRAZATI has been added as a therapeutic option after the first-line for treatment of NSCLC in the latest NCCN guidelines published in December 2022.
There is an opportunity for emerging KRAS key players to shift their focus toward safer combinations with less toxicity.
The United States had the highest number of KRAS mutation cases in NSCLC among the 7MM. Approximately 46% of all KRAS mutation cases in NSCLC in the 7MM were reported in the United States.
Identifying G12C inhibitors has sparked interest in developing novel inhibitors targeting other prevalent KRAS mutations. Clinical development efforts are underway to explore alternative strategies for targeting KRAS beyond G12C inhibitors, such as cancer vaccines, adoptive cell therapy, PROTACs, and CRISPR/Cas9.
Companies involved in researching and developing Pan-KRAS drugs are expected to have tremendous market potential due to the broad target patient population they can address. By targeting multiple KRAS mutations, these drugs can benefit a wider range of cancer patients, opening up opportunities for improved treatment options and potentially transforming the landscape of cancer care.
LUMAKRAS witnessed a decrease in sales, coinciding with the launch of KRAZATI. Amgen stated that the decline in sales was primarily due to a price adjustment implemented as part of a reimbursement agreement in Germany.
Many companies are focusing on developing their candidate in pan-KRAS, like Cardiff oncology (onvansertib), Gritstone bio (SLATE KRAS), Hookipa pharma (HB-700), and others have the potential to create a significant positive shift in the KRAS-inhibitors market.
DelveInsight's "Kirsten Rat Sarcoma Viral Oncogene Homolog (KRAS)-inhibitors – Market Insights, Epidemiology, and Market Forecast – 2032" report delivers an in-depth understanding of the KRAS inhibitors, historical and forecasted epidemiology as well as the KRAS inhibitors market trends in the United States, EU4 (Germany, France, Italy, and Spain) and the United Kingdom, and Japan.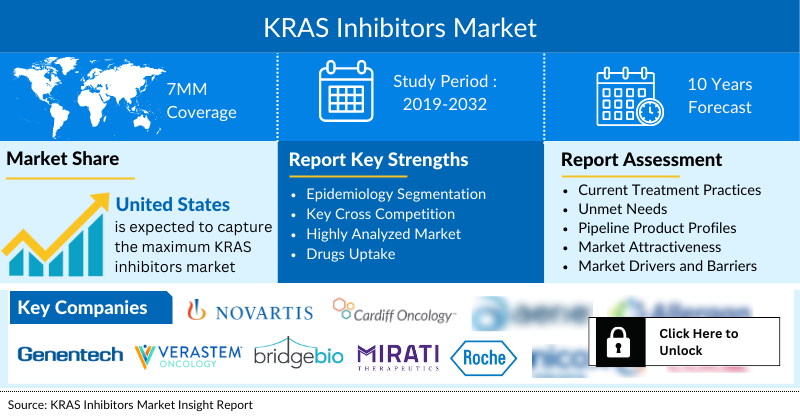 KRAS inhibitors market report provides current treatment practices, emerging drugs, market share of individual therapies, and current and forecasted 7MM KRAS inhibitors market size from 2019 to 2032. The report also covers current KRAS inhibitors treatment practices/algorithms and unmet medical needs to curate the best opportunities and assess the market's potential.
Geography Covered
The United States
EU4 (Germany, France, Italy, and Spain) and the United Kingdom
Japan
Study Period: 2019–2032
KRAS Inhibitors Disease Understanding and Treatment Algorithm
KRAS inhibitors Overview
KRAS belongs to a group of small GTP-binding proteins known as the RAS superfamily or RAS-like GTPases. Rat sarcoma virus (RAS), an oncogene, functions as a signal transducer, important for regulating cell proliferation, differentiation, and survival in normal and malignant cells. The RAS-mitogen-activated protein kinase-ERK kinase-extracellular signal-related kinase (RAS-RAF-MEK-ERK) pathway is one of the best-characterized signal transduction pathways, and its aberrancies are commonly implicated in the development of multiple different cancer types.
KRAS mutation Diagnosis
KRAS mutation can be diagnosed by conducting genetic sequencing of the tumor tissue or with the help of a liquid biopsy.
The clinician typically initiates KRAS testing requests for a patient. Usually, the testing is performed on tumor tissue removed from the patient during a previous surgery or biopsy procedure. Typically, patients undergoing KRAS testing with high-stage tumors require adjuvant therapy. If metastatic disease is present, it is important to clarify that the sample needed for testing is not the primary tumor but a representative tissue sample from the metastatic lesion. DNA is usually extracted from FFPE tissue blocks. It is the pathologist's responsibility to identify the best tumor section to be subjected to testing. This includes evaluation of the slide with cut tissue or the tissue block, followed by microdissection and macro dissection for tumor enrichment to eliminate portions of necrotic tumor and non-neoplastic tissue. Typically, tumor-enriched areas will have relatively easily identified histology and can be dissected away from benign tissue. This process is often aided by having the fixed tissue cut placed on an unstained slide and having a standard H&E-stained (hematoxylin and eosin) slide of the same tissue cut available for comparison.
Further details related to country-based variations are provided in the report
KRAS mutation Treatment
KRAS mutations are genetic alterations in the KRAS gene, which encodes a protein in cell signaling pathways. These mutations are commonly found in various types of cancer, including colorectal, lung, and pancreatic cancer. Unfortunately, KRAS mutations have historically been challenging to target with specific treatments. However, recent advancements in research have led to the development of some promising strategies to treat KRAS-mutated cancers, but these treatments are limited to NSCLC only.
Generally, treatment for KRAS-mutated cancers includes surgery, radiation therapy, chemotherapy, targeted therapies, immunotherapy, and others. Radiofrequency ablation (RFA) might be considered for some people with small lung tumors near the outer edge of the lungs, especially if they cannot tolerate surgery.
Further details related to country-based variations are provided in the report
KRAS Inhibitors Epidemiology
As the market is derived using a patient-based model, the KRAS inhibitors epidemiology chapter in the report provides historical as well as forecasted epidemiology segmented by total incident cases of KRAS inhibitors in NSCLC, CRC, and Pancreatic Cancer, total KRAS incident cases in NSCLC, CRC, and Pancreatic Cancer, total KRAS variant cases in NSCLC, CRC, and Pancreatic Cancer in the 7MM covering the United States, EU4 countries (Germany, France, Italy, and Spain), United Kingdom, and Japan from 2019 to 2032.
The total KRAS-mutated cases in the 7MM comprised more than ~490,000 cases in 2022 and are projected to increase during the forecast period.
KRAS mutations are seen most frequently in pancreatic cancer, followed by CRC and NSCLC. The most frequent KRAS variant observed in NSCLC is G12C. In addition, the most common KRAS variation in CRC and pancreatic cancer is G12D.
In Japan, the contribution of KRAS mutations is lower compared to Western countries like the United States and Europe.
Most KRAS mutant cases are found in colorectal cancer, pancreatic cancer, and NSCLC. In the United States, there were about ~149,000 cases of KRAS mutant colorectal cancer in 2022.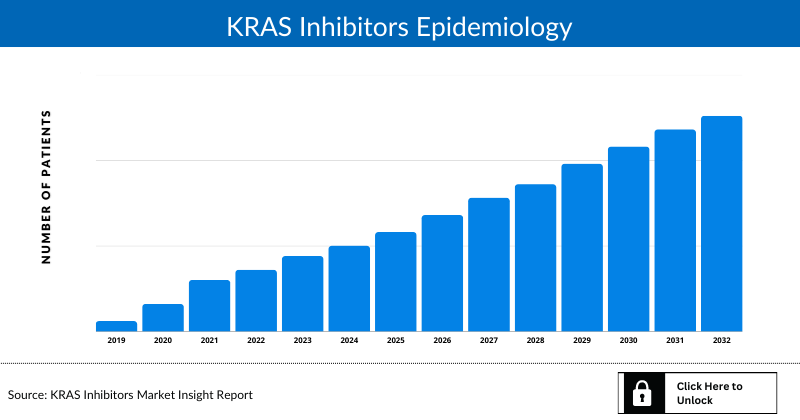 KRAS Inhibitors Drug Chapters
The drug chapter segment of the KRAS inhibitors reports encloses a detailed analysis of KRAS inhibitors marketed drugs and late-stage (Phase III and Phase II) pipeline drugs. It also helps understand the KRAS inhibitors clinical trial details, expressive pharmacological action, agreements and collaborations, approval and patent details, advantages and disadvantages of each included drug and the latest news and press releases.
KRAS Inhibitors Marketed Drugs
LUMAKRAS/LUMYKRAS (sotorasib): Amgen
LUMAKRAS is an inhibitor of the RAS GTPase family indicated for treating adult patients with KRAS G12C-mutated locally advanced or metastatic NSCLC who have received at least one prior systemic therapy.
LUMAKRAS received accelerated approval from the FDA in May 2021 for treating patients with KRAS G12C-mutated locally advanced or metastatic NSCLC, as determined by an FDA-approved test, following at least one prior systemic therapy. Marketing authorization was subsequently granted in the European Union and additional countries, including some under FDA's Project Orbis initiative, such as Canada and the UK. Additional marketing applications are also under review. Approval was based on pivotal CodeBreaK 100 data demonstrating durable responses and a favorable benefit-risk profile with sotorasib. LUMAKRAS is marketed as LUMYKRAS in the European Union, the United Kingdom, and Switzerland.
In April 2022, the company announced long-term efficacy and safety data from the CodeBreaK 100 Phase I/II trial in patients with KRASG12C-mutated advanced NSCLC who received LUMAKRAS/LUMYKRAS following which the company announced results from the global Phase III CodeBreaK 200 trial in September 2022, which showed that once-daily oral LUMAKRAS/LUMYKRAS led to significantly superior PFS (primary endpoint) and a significantly higher ORR (a key secondary endpoint) in patients with KRAS G12C-mutated NSCLC, compared with IV chemotherapy, docetaxel.
Currently, Amgen is investigating a Phase III study of LUMAKRAS in combination with VECTIBIX in third-line CRC, is fully enrolled, and data readout is anticipated in H2 2023. Combination study data of LUMAKRAS in combination with SOC chemotherapy in NSCLC and LUMAKRAS in combination with VECTIBIX and SOC chemotherapy in CRC will be presented at ASCO 2023.
KRAZATI (adagrasib): Mirati Therapeutics
KRAZATI is an oral targeted treatment option for adult patients with KRAS G12C-mutated locally advanced or metastatic NSCLC, as determined by an FDA-approved test, who have received at least one prior systemic therapy. KRAZATI received approval from the FDA and launched commercially in the US in December 2022. Approval was based on KRYSTAL-1, a multicenter, single-arm, open-label clinical trial (NCT03785249).
Mirati submitted a Marketing Authorization Application to the European Medicines Agency (EMA) in May 2022 for adagrasib to treat patients with NSCLC harboring the KRAS G12C mutation who have received at least one prior systemic therapy. The company also has an Expanded Access Program for KRAZATI to treat eligible patients with KRAS G12C-mutated cancers regardless of tumor type in the United States and Europe. Along with the introduction of KRAZATI, LUMAKRAS saw a decline in sales. According to Amgen, the price change made as part of a reimbursement agreement in Germany was the main cause of the sales fall.
Note: Detailed current therapies assessment will be provided in the full report of KRAS inhibitors
KRAS Inhibitors Emerging Drugs
JDQ443: Novartis
JDQ443 is an investigational covalent KRAS G12C inhibitor derived from a structure-based drug design followed by extensive optimization of two dissimilar prototypes. It is a stable atropisomer containing a unique 5-methyl pyrazole core and a spiro-azetidine linker designed to position the electrophilic acrylamide for optimal engagement with KRAS G12C. JDQ443 inhibits this mutated form of KRAS structurally distinctly, trapping KRAS G12C in a GDP-bound, inactive state while avoiding direct interaction with H95, a recognized route for resistance. In preclinical models, JDQ443 potently inhibited KRAS G12C cellular signaling and proliferation in a mutant-selective manner and demonstrated dose-dependent antitumor activity.
Currently, this drug is in a Phase III trial (NCT05132075/KontRASt-02) designed to compare JDQ443 as monotherapy to docetaxel in participants with advanced NSCLC harboring a KRAS G12C mutation who have been previously treated with a platinum-based chemotherapy and immune checkpoint inhibitor therapy either in sequence or in combination.
The company has anticipated the data readout of the Phase III monotherapy (2/3L) trial and NDA submission by 2024. Moreover, the company has also anticipated the NDA submission based on the Phase II trial (NSCLC combo) by 2026 and beyond.
Divarasib: Roche/Genentech
Divarasib (GDC-6036/RO7435846) is an investigational, oral, highly potent, and selective KRAS G12C inhibitor. It works by irreversibly locking the KRAS G12C oncoprotein in its inactive state, preventing the tumor cells from growing. It is being investigated in solid tumors, including non-small cell lung cancer, colorectal cancer, and other cancer types.
Preclinical models showed potent and selective inhibition of the KRAS G12C protein. GDC-6036 is designed to selectively bind to the switch II pocket of KRASG12C protein through a specific interaction with the cysteine residue at position 12 and irreversibly lock it in the inactive GDP-bound state. As per the company, a confirmatory pivotal Phase III trial in 2L+ NSCLC was initiated in Q4 2022.
Note: Detailed emerging therapies assessment will be provided in the final report.
Note: Emerging drug list is indicative, full list will be given in the final report.
KRAS Inhibitors Market Outlook
KRAS is a well-known oncogene highly prone to mutations in various cancers, including PDAC, NSCLC, and CRC. These mutations are associated with poor prognosis and high fatality rates. The discovery of driver genes and the development of specific inhibitors have significantly transformed cancer treatment approaches and improved clinical outcomes. Targeted therapies have been shown to prolong progression-free survival and exhibit lower toxicity than standard chemotherapy. However, despite several decades of research, there have been limited effective strategies for targeting KRAS mutations, except for recent advancements like sotorasib and adagrasib, which have been approved to target a specific mutated form of KRAS known as KRAS (G12C). Targeting KRAS directly has been a formidable challenge due to its intrinsic characteristics. As a result, researchers have explored alternative approaches, such as targeting downstream signaling molecules, employing epigenetic methods like telomerase inhibitors and RNA interference, and utilizing synthetic lethality strategies involving cyclin-dependent kinase inhibitors.
Until May 2021, no effective treatments were available to counteract the cancer-promoting actions of mutant KRAS proteins. The FDA granted accelerated approval to a drug called LUMAKRAS (sotorasib) to address this issue. LUMAKRAS is designed to treat patients with non-small cell lung cancer (NSCLC) that has either spread locally (locally advanced) or to distant parts of the body (metastatic). These patients must have previously undergone at least one other systemic cancer treatment, such as chemotherapy, and possess a specific KRAS mutation known as G12C in their tumors.
In December 2022, the US FDA granted accelerated approval to KRAZATI (adagrasib), a RAS GTPase family inhibitor, for treating adult patients with locally advanced or metastatic NSCLC carrying the KRAS G12C mutation. This approval was contingent on the results of the KRYSTAL-1 clinical trial, which involved 112 patients. These patients had previously undergone platinum-based chemotherapy and treatment with an immune checkpoint inhibitor, and their disease had progressed.
Amgen and Mirati Therapeutics are at the forefront of the race to develop KRAS inhibitors for cancer treatment. However, their current candidates are focused solely on targeting G12C-mutant tumors, leaving a significant gap in addressing other KRAS variants. This represents a major unmet need in the field, as no approved treatments are currently available for other variants. Recognizing this challenge, numerous key players actively explore alternative KRAS variants and expand their research to include other cancers beyond NSCLC. This shift in focus holds promising potential for developing effective therapies that can address a wider range of KRAS mutations and target multiple cancer types. Many companies are focusing on developing their candidates in pan-KRAS, like Cardiff Oncology (onvansertib), Gritstone bio (SLATE KRAS), Hookipa Pharma (HB-700), and others.
The United States is expected to capture the maximum market share among the 7MM in 2023.
Among the approved drugs, KRAZATI is expected to capture more market share than LUMAKRAS throughout the study period (2019–2032).
Amgen initially held the distinction of being the first company to have a KRAS inhibitor approved in the market. However, their reign was short-lived as adagrasib, followed by sotarasib, obtained regulatory approval the following year.
Although there is an FDA-approved KRAS G12C mutant-selective inhibitor, there are no approved inhibitors for cancer patients who harbor other (non-G12C) KRAS.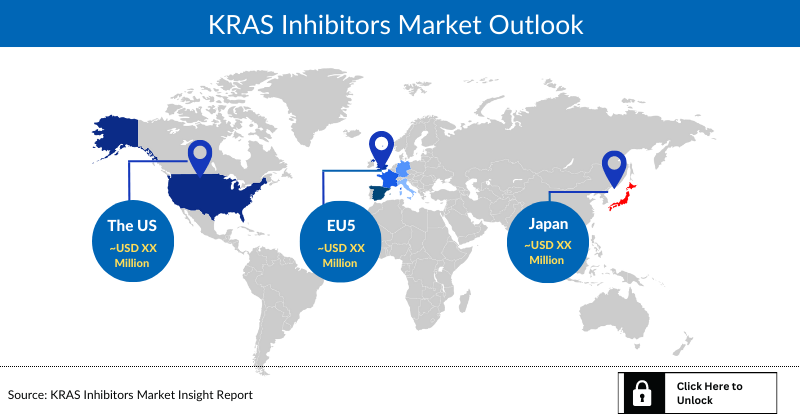 KRAS inhibitors Drugs Uptake
This section focuses on the uptake rate of potential drugs expected to be launched in the market during 2019–2032.
Further detailed analysis of emerging therapies and drug uptake is in the report.
KRAS Inhibitors Pipeline Development Activities
The report provides insights into different therapeutic candidates in Phase III, Phase II, and Phase I stage. It also analyzes key players involved in developing targeted therapeutics.
Pipeline development activities
The report covers information on collaborations, acquisitions and mergers, licensing, and patent details for KRAS inhibitors emerging therapies.
KOL Views
To keep up with current market trends, we take KOLs and SMEs' opinions working in the domain through primary research to fill the data gaps and validate our secondary research. Industry experts were contacted for insights on KRAS inhibitors evolving treatment landscape, patient reliance on conventional therapies, patient therapy switching acceptability, drug uptake, along with challenges related to accessibility.
Delveinsight's analysts connected with 50+ KOLs to gather insights; however, interviews were conducted with 15+ KOLs in the 7MM. Centers such as MD Anderson Cancer Center, Texas from UT Southwestern Medical Center in Dallas, Cancer Research UK Barts Centre in London, MD Anderson Cancer Center, etc., were contacted. Their opinion helps understand and validate current and emerging therapy treatment patterns or KRAS inhibitors market trends. This will support the clients in potential upcoming novel treatments by identifying the overall scenario of the market and the unmet needs.
Qualitative Analysis
We perform Qualitative and market Intelligence analysis using various approaches, such as SWOT analysis. In the SWOT analysis, strengths, weaknesses, opportunities, and threats in terms of disease diagnosis, patient awareness, patient burden, competitive landscape, cost-effectiveness, and geographical accessibility of therapies are provided. These pointers are based on the analyst's discretion and assessment of the patient burden, cost analysis, and existing and evolving treatment landscape.
| | |
| --- | --- |
| Report Metrics | Details |
| Study Period | 2019 to 2032 |
| Base Year | 2019 |
| Forecast Period | 2023 to 2032 |
| KRAS inhibitors CAGR | |
| KRAS inhibitors Market Size | Request Sample to Know |
| Key KRAS inhibitors Companies | Novartis, Roche, Genentech, Verastem Oncology, Revolution Medicines, Cardiff Oncology, Immuneering Corporation, Jacobio Pharmaceuticals, BridgeBio Pharma (Navire Pharma), Mirati Therapeutics, Deciphera Pharmaceuticals, Elicio Therapeutics, InventisBio, Gritstone Bio, D3 Bio, and others. |
Market Access and Reimbursement
Reimbursement of rare disease therapies can be limited due to lack of supporting policies and funding, challenges of high prices, lack of specific approaches to evaluating rare disease drugs given limited evidence, and payers' concerns about budget impact. The high cost of rare disease drugs usually has a limited impact on the budget due to the small number of eligible patients being prescribed the drug. The US FDA has approved several rare disease therapies in recent years. From a patient perspective, health insurance and payer coverage guidelines surrounding rare disease treatments restrict broad access to these treatments, leaving only a small number of patients who can bypass insurance and pay for products independently.
The report further provides detailed insights on the country-wise accessibility and reimbursement scenarios, cost-effectiveness scenario of approved therapies, programs making accessibility easier and out-of-pocket costs more affordable, insights on patients insured under federal or state government prescription drug programs, etc.
Scope of the Report
The report covers a segment of key events, an executive summary, and a descriptive overview of KRAS inhibitors, explaining its causes, signs and symptoms, pathogenesis, and currently available therapies.
Comprehensive insight into the epidemiology segments and forecasts, the future growth potential of diagnosis rate, disease progression, and treatment guidelines have been provided.
Additionally, an all-inclusive account of the current and emerging therapies and the elaborative profiles of late-stage and prominent therapies will impact the current treatment landscape.
A detailed review of the KRAS inhibitors market, historical and forecasted market size, market share by therapies, detailed assumptions, and rationale behind our approach is included in the report, covering the 7MM drug outreach.
The report provides an edge while developing business strategies, by understanding trends, through SWOT analysis and expert insights/KOL views, patient journey, and treatment preferences that help shape and drive the 7MM KRAS inhibitors market.
KRAS Inhibitors Report Insights
KRAS Targeted Patient Pool
Therapeutic Approaches
KRAS inhibitors Pipeline Analysis
KRAS inhibitors Market Size and Trends
Existing and future Market Opportunity
KRAS inhibitors report Key Strengths
Ten years Forecast
The 7MM Coverage
KRAS inhibitors Epidemiology Segmentation
Key Cross Competition
Drugs Uptake and Key Market Forecast Assumptions
KRAS Inhibitors Report Assessment
Current Treatment Practices
Unmet Needs
Pipeline Product Profiles
Market Attractiveness
Qualitative Analysis (SWOT)
Key Questions
Market insights
What was the KRAS mutated cancers total market size, the market size by therapies, market share (%) distribution in 2022, and what would it look like in 2032? What are the contributing factors for this growth?
How will KRAZATI affect the treatment paradigm in NSCLC?
What will be the market share of NSCLC, CRC, and Pancreatic Cancer in 2032?
Which drug is going to be the largest contributor in 2032?
What are the pricing variations among different geographies for approved therapies?
Epidemiology insights
What are the disease risk, burdens, and unmet needs of KRAS inhibitors? What will be the growth opportunities across the 7MM with respect to the patient population pertaining to KRAS inhibitors?
What is the historical and forecasted KRAS inhibitors patient pool in the United States, EU4 (Germany, France, Italy, and Spain) and the United Kingdom, and Japan?
Which type of KRAS mutation is the largest contributor in patients affected with NSCLC, CRC, and Pancreatic Cancer?
Among EU4 and the UK countries, which country will have the highest number of patients during the forecast period?
What are the key findings pertaining to the KRAS mutant Cancer epidemiology across the 7MM, and which country will have the highest number of patients during the forecast period?
Current treatment scenario, marketed drugs, and emerging therapies
Which are the approved KRAS inhibitors? What are the current treatment guidelines for treating KRAS-mutated cancers in the US and Europe?
How many companies are developing therapies for the treatment of KRAS-mutated cancers?
How many emerging therapies are in the mid-stage and late stage of development for treating KRAS-mutated cancers?
What are the recent novel therapies, targets, mechanisms of action, and technologies developed to overcome the limitation of existing therapies?
What key designations have been granted for the emerging therapies for KRAS inhibitors?
What is the cost burden of approved therapies on the patient?
Patient acceptability in terms of preferred treatment options as per real-world scenarios?
What are the country-specific accessibility issues of expensive, recently approved therapies?
Reasons to buy
The report will help develop business strategies by understanding the latest trends and changing treatment dynamics driving the KRAS inhibitors Market.
Insights on patient burden/disease prevalence, evolution in diagnosis, and factors contributing to the change in the epidemiology of KRAS-mutated cancers during the forecast years.
Understand the existing market opportunity in varying geographies and the growth potential over the coming years.
Distribution of historical and current patient share based on real-world prescription data along with reported sales of approved products in the US, EU4 (Germany, France, Italy, and Spain) and the United Kingdom, and Japan.
Identifying strong upcoming players in the market will help devise strategies to help get ahead of competitors.
Detailed analysis and ranking of class-wise potential current and emerging therapies under the Conjoint analysis section to provide visibility around leading classes.
Highlights of Access and Reimbursement policies of approved therapies, barriers to accessibility of expensive off-label therapies, and patient assistance programs.
To understand Key Opinion Leaders' perspectives around the accessibility, acceptability, and compliance-related challenges of existing treatment to overcome barriers in the future.
Detailed insights on the unmet need of the existing market so that the upcoming players can strengthen their development and launch strategy.