Oncolytic Virus Pipeline Landscape
DelveInsight's, "Oncolytic Virus - Competitive landscape, 2022," report provides comprehensive insights about 150+ companies and 175+ drugs in Oncolytic Virus Competitive landscape. It covers the therapeutics assessment by product type, stage, route of administration, and molecule type. It further highlights the inactive pipeline products in this space.
Geography Covered
Oncolytic Virus Understanding
Oncolytic Virus Overview
Oncolytic viruses (OVs) are organisms able to identify, infect, and lyse different cells in the tumor environment, aiming to stabilize and decrease the tumor progression. They are able to infect abnormal cells through specific targets, such as nuclear transcription factors and among them human telomerase reverse transcriptase, prostate specific antigen, cyclooxygenase-2, osteocalcin, and surface markers as prostate-specific membrane antigen, folate receptor, CD20, endothelial growth factor receptor, and Her2/neu, which are substances produced by the tumor cells.
Furthermore, the deletion of pathogenic viral genes in the laboratory in order to increase the selectivity to the tumor cells and decrease the aggressiveness of the OVs to normal tissues is also possible. The administration route of OVs is intrinsically related to the type of tumor to be treated, given that the virus pathway directly influences the effectiveness of the therapy due to the virus availability on-site and the natural barrier of the organism of combat to antigens.
The distribution can occur via intraperitoneal, intrathecal, subcutaneous, intratumoral, which provides greater control of viral quantity in the tumor environment and less adverse effects, and intravenous, which is related to the treatment of distant metastases. In general, viruses are chosen or modified to selectively target tumor cells, decrease pathogenicity to normal cells, decrease the antiviral immune response (to prevent viral clearance), and increase the antitumor immune response. At present, a number of different oncolytic viruses, such as adenoviruses (Ads), HSV, alphaviruses, rhabdoviruses, Newcastle disease virus (NDV), vaccinia viruses (VVs), and others have been evaluated for antitumor activity in a number of animal models and in clinical trials.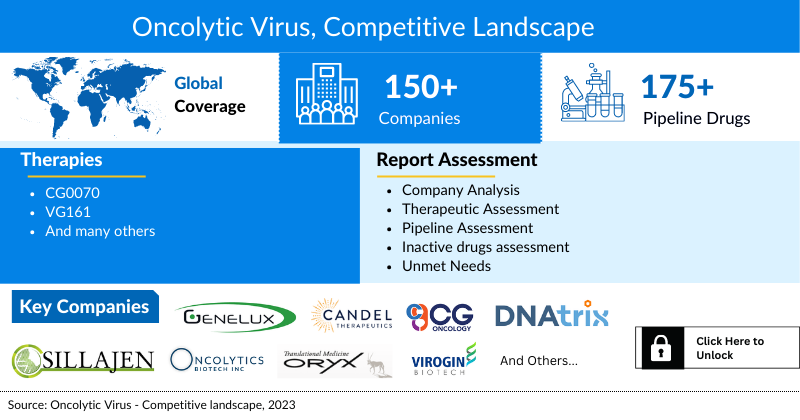 Oncolytic Virus Pipeline Report Highlights
In June 2022, Targovax announced that the US FDA approved an IND application for TG01 combined with QS-21 STIMULON, which allows the preparations to initiate clinical trials in the USA to proceed.
In May 2022, KaliVir Immunotherapeutics, Inc. announced a collaboration and global exclusive licensing agreement with Roche for the discovery, development and commercialization of novel oncolytic vaccinia viruses derived from KaliVir's oncolytic immunotherapy VETTM platform.
In May 2022, Calidi Biotherapeutics had granted a new patent (No. US 11,285,194, Combination immunotherapy approach for treatment of cancer) by the US Patent and Trademark Office (USPTO) related to its proprietary SuperNova (SNV) technology platform. The enhanced oncolytic virotherapy delivery platform was designed to provide and improve therapeutic treatments for multiple cancer indications. Calidi's product candidates are in the early stages of development and have not yet been approved by the US FDA.
In March 2022, Targovax announced a collaboration with Agenus to utilize their proprietary vaccine adjuvant QS-21 STIMULON as an immune-stimulatory component of the TG vaccines for future development and commercialization.
In March 2022, Synthetic Biologics, Inc. announced that it had completed the acquisition of VCN Biosciences, S.L. (VCN) following the satisfaction of all closing conditions.
In February 2022, Calidi Biotherapeutics, Inc. and Edoc Acquisition Corp. organized to acquire or merge with one or more businesses, have entered into a definitive merger agreement. Upon closing the transaction, anticipated to occur in the second quarter of 2022, the combined company will be named Calidi Biotherapeutics, Inc. and led by Allan Camaisa, CEO and Chairman of the Board. In addition, the combined company's common stock intends to list on the Nasdaq Capital Market.
In January 2022, Transgene and PersonGen BioTherapeutics announced a strategic collaboration to evaluate the feasibility and efficacy of combination therapy associating PersonGen's TAA06 CAR-T cell injection with intravenous (IV) administration of an armed oncolytic virus, from Transgene's Invir.IO™ platform, in solid tumors including pancreatic cancer and brain glioma. The collaboration aimed to demonstrate the combination's likely synergistic mechanisms to potentiate CAR-T cell therapy. Under the terms of the collaboration agreement, Transgene to develop multiple new OV candidates, using its patented oncolytic virus backbone VVcopTK-RR- and its Invir.IO™ technology platform, specifically for IV administration in combination with PersonGen's TAA06 CAR-T injection. PersonGen to evaluate the efficacy of the combination to eliminate solid tumors in preclinical models.
Company Profiles & their Late-stage Drug Profiles
1. Company Overview: SillaJen, Inc.
SillaJen, Inc. is one of the leading biotech companies in the development of oncolytic vaccine immunotherapy. It is headquartered in Seoul, South Korea, with research center and satellite offices in Busan, South Korea and San Francisco, CA. SillaJen, Inc. is conducting Phase 2 trials for the treatment of renal cell carcinoma with the company's lead pipeline, Pexa-Vec. The company is also developing intravenous injectable oncolytic vaccine virus pipelines (SJ-600 series) to be more applicable and efficacious against various tumors.
Product Description: Pexa-Vec
SillaJen's lead Investigational product Pexa-Vec, also known as JX-594, is a Wyeth strain vaccinia virus engineered to directly lyse tumor cells and stimulate anti-tumor immunity. The company believes that Pexa-Vec acts in three ways: by infecting and selectively replicating cancer cells and causing lysis, reducing the blood supply to tumors through infection of tumor associate vasculature; and by activating the body's immune system to recognize and kill tumor cells. While the vaccinia virus is inherently selective for cancer, Pexa-Vec was engineered for even superior cancer selectivity by exploiting the genetic changes that are hallmarks of cancer. Pexa-Vec replication and spread are dependent on activation of the EGFR/Raf/Ras signaling, a pathway that is frequently activated in cancer, and high cellular levels of thymidine kinase (TK) found in proliferating cancer cells. The viral TK gene has been deactivated in Pexa-Vec so that the virus cannot replicate efficiently in normal cells. Pexa-Vec is also engineered to express the potent immune-stimulatory cytokine granulocyte-macrophage colony-stimulating factor (GM-CSF), which may stimulate a tumor-specific immune response. Currently, intratumoral Pexa-Vec is being investigated in multiple trials for different cancers.
2. Company Overview: Candel Therapeutics
Candel is a late clinical-stage biopharmaceutical company focused on helping patients fight cancer with oncolytic viral immunotherapies. Candel's engineered viruses are designed to induce immunogenic cell death through direct viral-mediated cytotoxicity in cancer cells, thus releasing tumor neo-antigens while creating a pro-inflammatory microenvironment at the site of injection. Candel has established two oncolytic viral immunotherapy platforms based on novel, genetically modified adenovirus and herpes simplex virus (HSV) constructs, respectively. CAN-2409 is the lead product candidate from the adenovirus platform and CAN-3110 is the lead product candidate from the HSV platform. The enLIGHTEN™ Discovery Platform is based on Candel's HSV technology.
Product Description: CAN-2409
CAN-2409 (aglatimagene besadenovec) is an adenovirus-based replication deficient engineered gene construct encoding the thymidine kinase gene derived from the herpes simplex virus. It is injected directly into the tumor or target tissue The prodrug-derived cytotoxic nucleotide analogs are designed to inhibit DNA replication and repair, leading to the death of multiplying tumor cells, and in particular of cells undergoing repair from radiation or chemotherapy damage. Currently the product is in Phase III stage of development for the treatment of Prostrate Cancer.
3. Company Overview: CG Oncology
CG Oncology is a clinical-stage biotechnology company focused on developing the next evolution of oncolytic immunotherapy for patients with advanced cancer. CG Oncology's lead candidate, CG0070, is a selective oncolytic immunotherapy in a Phase 3 trial with CG0070 as a monotherapy for the treatment of BCG-unresponsive NMIBC, and a combination Phase 2 study of CG0070 with KEYTRUDA® (pembrolizumab) in the same indication. Other types of bladder cancer are being evaluated with CG0070 in combination with OPDIVO® (nivolumab), and additional indications in other solid tumors are being pursued with CG0070 in combination with other immune checkpoint inhibitors.
Product Description: CG0070
CG0070 is an investigational oncolytic immunotherapy based on a modified common cold adenovirus backbone that contains a cancer-specific promoter and a GM-CSF transgene. CG0070, first replicates inside the tumor's cells causing tumor cell lysis and immunogenic cell death. Then, the rupture of the cancer cells can release tumor-derived antigens, along with GM-CSF, that can stimulate a systemic anti-tumor immune response that involves the body's own white blood cells. CG0070 is in development for a variety of solid tumor types to be used alone or in combination with immune checkpoint modulators. The therapy is in clinical development for the treatment of Bladder cancer and preclinical studies for solid tumors. In advanced clinical studies, CG0070 has been shown to be a safe and efficacious agent in NMIBC following BCG failure. Currently the product is in Phase III stage of development for the treatment of Non-Muscular Invasive Bladder Cancer.
4. Company Overview: Virogin Biotech
Virogin Biotech is a clinical stage biotech company developing next-generation immuno-oncolytic therapeutics to enhance the systemic antitumor immunity. Virogin is determined to be a global, best-in-class immuno-oncology company that creates impactful therapeutics for patients of the highest medical need. Virogin is developing two differentiated platforms that are highly complementary; an oncolytic HSV-1 platform armed with multiple therapeutic payloads and genomic regulation to increase oncolytic effect and modulate the tumor microenvironment, and a discovery stage mRNA tumor vaccine platform with tumor vaccines to be used in combination with oncolytic virus to augment the anti-tumor activity..
Product Description: VG161
VG161, Virogin's pioneer oncolytic virus built on the company's proprietary SynerlyticTM Platform, is an attenuated herpes simplex virus type 1 (HSV-1) oncolytic virus armed with multiple payloads of IL12 & IL15/IL15Ra and a unique PD-L1 blocking peptide. These payloads can synergistically stimulate the innate and adaptive anti-tumor immunity in the tumor microenvironment. VG161 has been confirmed to be safe and effective in many tumor xenograft mouse models and GLP toxicity studies preclinically. Clinical trials with VG161 as monotherapy in Australia and China have shown encouraging safety and preliminary efficacy results. The VG161-C202 trial is an open label, Phase Ib/IIa clinical trial that will evaluate the safety and efficacy of VG161 combined with Nivolumab (Opdivo®) in patients with advanced metastatic gastric or gastro esophageal junction adenocarcinoma previously treated with two or more systemic treatment regimens. The study is planned to enroll up to 34 patients in China.
5. Company Overview: Daiichi Sankyo
Daiichi Sankyo is dedicated to creating new modalities and innovative medicines by leveraging our world-class science and technology for our purpose "to contribute to the enrichment of quality of life around the world." In addition to the current portfolio of medicines for cancer and cardiovascular disease, Daiichi Sankyo is primarily focused on developing novel therapies for people with cancer as well as other diseases with high unmet medical needs.
Product Description: Teserpaturev
Teserpaturev is a triple-mutated, third-generation oncolytic herpes simplex virus type 1 that was developed to strengthen antitumor activity and preserve safety of the G207 genome. The product is able to do this because it enhances the ability to induce specific antitumor immunity. Previously, tesperpaturev has demonstrated a stronger replication ability with higher antitumor activity than G207. The product showed efficacy in all in vivo solid tumor models that had been evaluated, which included glioma, breast cancer, prostate cancer, schwannoma, nasopharyngeal carcinoma, hepatocellular carcinoma, colorectal cancer, malignant peripheral nerve sheath tumor, and thyroid carcinoma. The product has also effectively eliminated human glioblastoma–derived cancer stem cells. The Japan Ministry of Health, Labour, and Welfare has granted conditional and time-limited approval to teserpaturev for the treatment of patients with malignant glioma; this is the first oncolytic virus to receive approval for use in this indication or any primary brain cancer. The regulatory decision was supported by findings from a single-arm phase 2 trial, which had met its primary end point of 1-year survival rate in an interim analysis.
Further product details are provided in the report……..
Future of Competitive Landscape of Oncolytic Virus is estimated to be very strong. Key emerging drugs include VG161, CG0070 and many other.
Report Metrics

Details

Geography
Global
Oncolytic Virus MOA's and ROA's

MOA's- Immunostumulnts, Cell Death Stimulants, Immunologic Cytoxicity, and OX40 receptor agonists.

ROA's- Intraperitoneal, Intrathecal, Subcutaneous, Intratumoral.

Customization
Key Oncolytic Virus Companies
Genelux Corporation, Candel Therapeutics, CG Oncolgy, DNAtrix, SillaJen Biotherapeutics, Oncolytics Biotech, and others.
Key Oncolytic Virus Therapies
CG0070, VG161, and many others.
Oncolytic Virus Analytical Perspective by DelveInsight
In-depth Oncolytic Virus analysis: Assessment of Products
The Oncolytic Virus Competitive Landscape Report provides in-depth commercial assessment of drugs that have been included, which comprises collaboration, agreement, licensing and acquisition – deals values trends. The sub-segmentation is described in the report which provide company-company collaboration (licensing/partnering), company academic collaboration and acquisition analysis in tabulated form.
Oncolytic Virus Clinical Assessment of Products
The Oncolytic Virus Competitive Landscape report comprises of comparative clinical assessment of products by development stage, product type, and route of administration, molecule type.
Oncolytic Virus Report Assessment
Oncolytic Virus Company Analysis
Oncolytic Virus Therapeutic Assessment
Oncolytic Virus Pipeline Assessment
Inactive Oncolytic Virus drugs assessment
Oncolytic Virus Unmet Needs
Key Questions
Current Treatment Scenario and Emerging Therapies:
How many companies are developing Oncolytic Virus drugs?
How many Oncolytic Virus drugs are developed by each company?
How many emerging drugs are in mid-stage, and late-stage of development for the treatment of Oncolytic Virus?
What are the key collaborations (Industry–Industry, Industry–Academia), Mergers and acquisitions, licensing activities related to the Oncolytic Virus therapeutics?
What are the recent trends, drug types and novel technologies developed to overcome the limitation of existing therapies?
What are the ongoing clinical trials for Oncolytic Virus and their status?
What are the key designations that have been granted to the emerging and approved Oncolytic Virus drugs?