Dental Lasers Market
DelveInsight's "Dental Lasers Market Insight, Competitive Landscape and Market Forecast, 2028" report delivers an in-depth understanding of Dental Lasers and the historical and forecasted Dental Lasers market trends, globally, which comprises of North America, Europe, APAC, and RoW.
The Dental Lasers market report provides an overview of Dental Lasers, applications of Dental Lasers as well as its advantages and limitations. Additionally, the report provides insight on the Dental Lasers market share by segments, along with an assessment of market share by regions, the qualitative and quantitative (USD million, 2020-2028) data will be provided for all the segment in the scope. Moreover, the report also covers the market drivers, market challenges and restraints, and opportunities, along with the impact COVID-19 has had on this market. Assessment of Key 12-15 Players operating in the Dental Lasers market will be covered in-depth in the report comprising of company overview, financial overview, product overview and company share analysis of key 3-5 players. Additionally, the PORTER's analysis will also be provided to give an analytical edge to the Dental Lasers market report.
Download the Sample PDF to Get More Insight @ Dental Lasers Market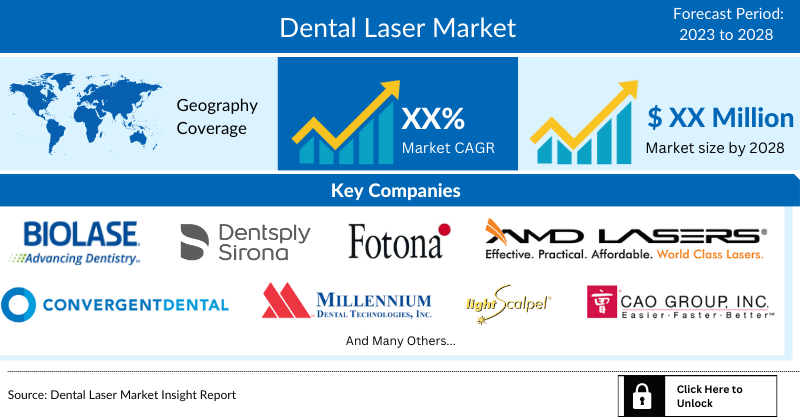 Geography Covered
North America
The United States
Canada
Mexico
Europe
Germany
France
Italy
Spain
The United Kingdom
Russia
Rest of Europe
Asia Pacific
Japan
China
India
South Korea
Australia
Rest of APAC
RoW
Middle East
Africa
South America
Dental Lasers Overview
Dental lasers are medical devices that generate and amplify intense beams of light, which can be precisely focused to treat a variety of dental conditions. These lasers are designed to target specific tissues in the oral cavity, allowing for minimally invasive and highly accurate dental procedures.
Dental lasers have transformed various aspects of dentistry. These devices use highly focused light beams to perform precise dental procedures, offering numerous benefits over traditional methods.
Dental Lasers Types
Diode Lasers: Diode lasers are among the most common types of dental lasers. They emit wavelengths that are well-absorbed by pigmented tissues like the gums, making them ideal for soft tissue procedures such as gum contouring, frenectomy, and treatment of oral lesions.
Er:YAG Lasers: Erbium-doped yttrium aluminum garnet lasers are primarily used for hard tissue procedures, including cavity preparation, enamel ablation, and bone surgery. They are highly effective and minimize thermal damage to surrounding tissues.
Nd:YAG Lasers: Neodymium-doped yttrium aluminum garnet lasers have a wide range of applications in both hard and soft tissues. They are commonly used for periodontal therapy, endodontics, and surgical procedures.
CO2 Lasers: Carbon dioxide lasers are versatile and can be used for both soft and hard tissue applications. They are often utilized in procedures like oral lesion removal, frenectomy, and even dental implant surgery.
Applications of Dental Lasers
Soft Tissue Procedures: Dental lasers are commonly used for gum reshaping, frenectomy, treatment of oral lesions, and removal of excess tissue in orthodontics.
Hard Tissue Procedures: Dental lasers are employed for cavity preparation, enamel ablation, and bone surgery, often resulting in more conservative and precise outcomes.
Periodontal Therapy: Laser-assisted periodontal therapy can effectively remove diseased tissue and promote gum healing.
Endodontics: Lasers are used in root canal therapy to clean and disinfect the root canals, improving treatment outcomes.
Teeth Whitening: Laser-assisted teeth whitening procedures are quicker and more effective than traditional methods.
Major Factors Driving the Dental Lasers Market Growth
Increasing Awareness: Growing awareness among patients and dental professionals about the advantages of dental lasers is driving their adoption.
Technological Advancements: Ongoing advancements in laser technology, including improved wavelengths and delivery systems, are expanding the range of applications and enhancing efficiency.
Minimally Invasive Dentistry: The trend toward minimally invasive dental procedures aligns with the benefits of dental lasers, making them increasingly attractive to both dentists and patients.
Aging Population: The aging population often requires more dental procedures, and laser technology provides a less traumatic option for older patients.
Dental lasers have revolutionized the field of dentistry, offering precise, minimally invasive, and patient-friendly solutions to a wide range of dental conditions. As technology continues to evolve and awareness grows, the dental lasers market is expected to expand further, reshaping the way dental procedures are performed and improving patient experiences. These lasers are not just a tool but a transformative force in modern dentistry, paving the way for a more comfortable and efficient dental care landscape.
Dental Lasers Market Analysis
This segment illustrates the global market of Dental Lasers along with the market segmentation. Furthermore, the Dental Lasers market report will provide the regional level cross-segmentation quantitative data. Moreover, the assessment is done on how the market is expected to rise in the study period (2020 to 2028), at a significant CAGR.
Dental Lasers Market Competitive Analysis
This segment of the report provides a brief competitive analysis of Dental Lasers, to help understand the competition in the market. It gives a comparative understanding of the Key Companies in the market.
KOL Views on Dental Lasers Market
To keep up with the market trends, we take KOLs and SME's opinion working in Dental Lasers domain through primary research to fill the data gaps and validate our secondary research. Their opinion helps to understand and validate current and emerging Dental Lasers market trends. This will support the clients in making informed business decisions by identifying the overall scenario of the market and the unmet needs.
Scope of the Dental Lasers Market Report
The report covers the descriptive overview of Dental Lasers, explaining its applications, advantages, and limitations, etc.
Additionally, detailed profiles of the Key Companies operating in the market is provided, along with the market share of the Key 3-5 players.
A detailed review of Dental Lasers market; historical and forecasted market size is included in the report, covering global outreach.
The report provides an edge while developing business strategies, by understanding trends shaping and driving the global Dental Lasers market.
Dental Lasers Market Report: Key Highlights
The report also reviews the detailed global historical and forecasted Dental Lasers market outlook including assessing the outreach in America, Europe, APAC, and Rest of World (RoW).
The report helps in developing business strategies by understanding trends shaping and driving the global Dental Lasers market.
The impact of COVID-19 on the Dental Lasers market will be discussed in detail in the report.
Dental Lasers Market Report: Key Strengths
5 Years Forecast
Global Coverage
Competitive Landscape
Dental Lasers Market Size
Dental Lasers Market Segmentation
Dental Lasers Market Company Profiles
Dental Lasers Market PORTER's Five Forces Analysis
Dental Lasers Market Company Share Analysis (Key 3-4 players)
Dental Lasers Market Report: Key Assessment
Marketed Dental Lasers Product profiles
Key Dental Lasers Products
Dental Lasers Companies
Dental Lasers Market Drivers and Barriers
Dental Lasers Market Forecast
KOL'S views on Dental Lasers Market
Key Takeaways from the Dental Lasers Market Report Study
Dental Lasers Market size analysis for current market (2023), and Dental Lasers market forecast for 5 years (2023-2028)
The effect of the COVID-19 pandemic on Dental Lasers market is significant. To capture and analyze suitable indicators, our experts are closely watching the Dental Lasers market.
Top key product/services/technology developments, mergers, acquisitions, partnership, joint venture happened for last 3 years in Dental Lasers market.
Key companies dominating the Global Dental Lasers Market.
Various opportunities are available for the other competitor in the Dental Lasers Market space.
What are the top performing segments in 2022? How these segments will perform in 2028.
Which is the top-performing regions and countries in the current Dental Lasers market scenario?
Which are the regions and countries where companies should have concentrated on opportunities for Dental Lasers market growth in the coming future?
Target Audience who can benefit from Dental Lasers Market Report Study
Dental Lasers providers
Research organizations and consulting companies
Dental Lasers related organization, association, forum, and other alliances
Government and corporate offices
Start-up companies, venture capitalists, and private equity firms
Distributors and Traders in Dental Lasers market
Various End-users who want to know more about the Dental Lasers Market and latest technological developments in the Dental Lasers market.