Neurovascular Devices Market
Neurovascular Devices Market By Product Type (Cerebral Embolization and Aneurysm Coiling Devices [Embolic Coils, Flow Diversion Devices, and Liquid Embolic Agents], Cerebral Balloon Angioplasty and Stenting Systems [Carotid Artery Stents and Embolic Protection Systems], Neurothrombectomy Devices [Clot Retrievers, Suction Devices, and Vascular Snare], and Support Devices [Micro Catheters and Micro Guidewires]), Application (Stroke, Cerebral Aneurysm, Carotid Artery Stenosis, and Others), End-User (Hospitals, Ambulatory Surgical Centers, and Others), and Geography is projected to expand at a constant CAGR forecast till 2028 due to the rising population suffering from neurological disorders and shifting focus towards developing technologically advanced products
The global Neurovascular Devices market was valued at USD 2.84 billion in 2022, growing at a CAGR of 8.12% during the forecast period from 2023 to 2028, to reach USD 4.53 billion. The demand for neurovascular devices is gaining importance owing to the rising prevalence of the target patient population, increasing demand for minimally invasive neurosurgical procedures, ongoing development of technologically advanced products, and rising R&D investments, among others.
Neurovascular Devices Market Dynamics:
The rising burden of the patient population suffering from neurological disorders such as stroke, cerebral/brain aneurysm, and intracranial stenosis, among others across the globe, is expected to fuel the demand for neurovascular devices as these devices are used to treat various conditions and diseases of the central nervous system using minimally invasive neurosurgical techniques. As per research studies, the worldwide prevalence of cerebral aneurysms is approximately 3.2%, with a mean age of 50. Moreover, according to the statistics of the Brain Aneurysm Foundation 2020, there are almost 500,000 deaths worldwide each year caused by brain aneurysms, and half the victims are younger than 50. Thus, the rising prevalence of the target population is anticipated to raise the demand for neurovascular surgeries thereby increasing the demand for neurovascular devices during the forecasted period.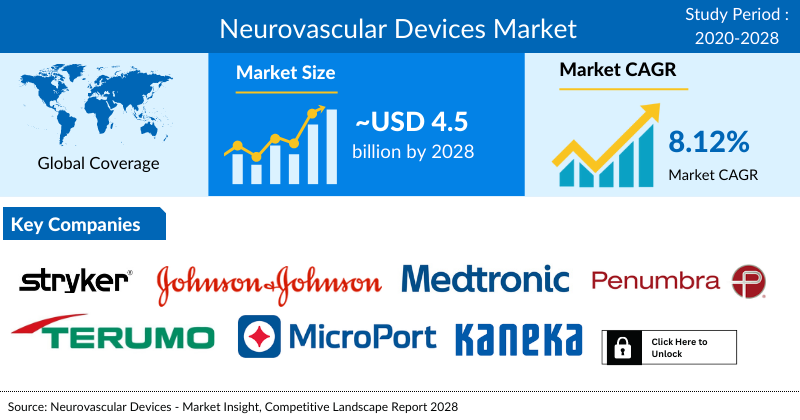 Furthermore, shifting the focus of key manufacturers to the development of technologically advanced interventional neurology devices is likely to boost the global Neurovascular Devices market. For instance, in July 2020, Stryker received the US FDA approval for its Neuroform Atlas Stent System indicated for use with neurovascular embolization coils in the anterior and posterior circulation of the brain for patients 18 years of age or older with saccular wide-necked brain aneurysms. Also, in April 2020, Cerus Endovascular Ltd., a privately-held medical device company, received CE Mark approval for its 021 Contour Neurovascular System™, compatible with smaller commercially available 021 microcatheters for the treatment of saccular intracranial aneurysms.
Certain factors such as few product recalls, and stringent regulatory approval process is likely to pose a minor hurdle for the growth of the Neurovascular Devices market.
Neurovascular Devices Market Segment Analysis:
Neurovascular Devices Market by Product Type (Cerebral Embolization and Aneurysm Coiling Devices [Embolic Coils, Flow Diversion Devices, and Liquid Embolic Agents], Cerebral Balloon Angioplasty and Stenting Systems [Carotid Artery Stents and Embolic Protection Systems], Neurothrombectomy Devices [Clot Retrievers, Suction Devices, and Vascular Snare], and Support Devices [Micro Catheters and Micro Guidewires]), Application (Stroke, Cerebral Aneurysm, Carotid Artery Stenosis, and Others), End-User (Hospitals, Ambulatory Surgical Centers, and Others), and Geography (North America, Europe, Asia-Pacific, and Rest of the World).
In the Neurovascular Devices product segment, the carotid artery stents category is expected to hold a significant market share. This can be attributed to the advantages and applications associated with carotid artery stents.
Carotid artery stents are meant for expanding the interior of the carotid artery to increase blood flow in the areas blocked by plaque formation.
The stent reduces the chances of narrowing of the carotid artery again upon implantation.
For patients who cannot undergo traditional carotid surgery or when there are serious risks associated with the surgery, carotid artery stents are considered suitable alternatives.
It offers a safe, effective, and minimally invasive treatment option for patients with carotid artery disease.
Hence, all the above-mentioned factors are expected to drive the segment growth of the Neurovascular Devices market.
| | |
| --- | --- |
| Report Metrics | Details |
| Study Period | 2020 to 2028 |
| Base Year | 2022 |
| Forecast Period | 2023 to 2028 |
| CAGR | |
| Neurovascular Devices Market Size | USD 4.53 billion by 2028 |
| Key Neurovascular Devices Companies | Johnson & Johnson, Medtronic, Stryker, Terumo Corporation, Penumbra, Inc., Microport Scientific Corporation, Kaneka Corp., and others. |
North America is expected to dominate the overall Neurovascular Devices Market:
Among all the regions, North America is expected to dominate the overall Neurovascular Devices market during the forecast period. This domination is due to the increasing target patient population, improved reimbursement policies about neurovascular devices, rising government initiatives to modernize & expand healthcare infrastructure, and high adoption of technological advancements owing to the rise in healthcare expenditure by the US government.
As per the latest data published by Brain Aneurysm Foundation, about 30,000 people in the United States suffer from brain aneurysm rupture each year.
Further, the presence of key market players such as Stryker Corporation, Penumbra, Inc., Johnson & Johnson; and Merit medical systems, Inc, among others., strategic product development activities among these companies, and an increase in research and development investment by the manufacturers along with the rise in government initiatives are contributing immensely to the growth of the Neurovascular Devices market in the region. For instance, in February 2020, NeuroVasc Technologies, Inc. announced that it has entered into a strategic partnership with the Wego Group that includes USD 34 million in funding to support the company's product portfolio development and global clinical trial program. The strategic partnership marks a major step forward for NeuroVasc Technologies in bringing a full neurovascular platform to market. The company's portfolio of devices is aimed to help neuro interventional physicians more efficiently and effectively treat neurovascular disease.
Hence abovementioned all the factors are responsible for the market growth of neurovascular devices in the region.
Neurovascular Devices Market Key Players:
Some of the key market players operating in the Neurovascular Devices market include Johnson & Johnson, Medtronic, Stryker, Terumo Corporation, Penumbra, Inc., Microport Scientific Corporation, Kaneka Corp., and others.
Recent Developmental Activities in Neurovascular Devices Market:
In 2022, Kaneka and Asahi Intecc announced a marketing collaboration for i-ED Coil distribution in the US including marketing material preparation, clinical support, and administration for consignment stock in hospitals. This agreement may also expand to include other product offerings in the future.
In September 2020, CERENOVUS, part of Johnson & Johnson Medical Devices Companies launched CERENOVUS Stroke Solutions™, which includes a suite of three devices designed to aid physicians in clot removal procedures.
In July 2020, Cerus Endovascular received CE Mark approval for its CerusEndo MC 021 Microcatheter designed to allow physicians to access tortuous neurovasculature and deliver therapeutic devices to intended targets.
In July 2020, Rapid Medical received CE Mark for TIGERTRIEVER™ XL designed to safely remove clots from intracranial vessels up to 9mm in diameter.
Key Takes Away from the Neurovascular Devices Market Report Study
Market size analysis for current market size (2022), and market forecast for 5 years (2023-2028)
Top key product/services/technology developments, mergers, acquisitions, partnerships, and joint ventures happened for the last 3 years
Key companies dominating the Global Neurovascular Devices Market.
Various opportunities available for the other competitor in the Neurovascular Devices Market space.
What are the top-performing segments in 2022? How these segments will perform in 2028?
Which are the top-performing regions and countries in the current market scenario?
Which are the regions and countries where companies should have concentrated on opportunities for Neurovascular Devices market growth in the coming future?
Target Audience who can be benefited from Neurovascular Devices Market Report Study
Neurovascular Devices providers
Research organizations and consulting companies
Neurovascular Devices-related organization, association, forum, and other alliances
Government and corporate offices
Start-up companies, venture capitalists, and private equity firms
Distributors and Traders in Neurovascular Devices
Various End-Users who want to know more about the Neurovascular Devices Market and the latest technological developments in the Neurovascular Devices market.