Non-Hodgkin Lymphoma (NHL) is the leading cause of mortality and morbidity worldwide. It begins in lymphocytes present in lymph nodes of body parts such as neck or chest or under the arms. It widely spreads to the other lymph nodes and to other organs such as bone marrow, lungs, or liver. NHL is classified by World Health Organization (WHO) on the basis of microscopic appearance, chromosome features of the lymphoma cells and proteins present on the surface of the lymphoma. The Non-Hodgkin Lymphomas are classified as B-Cell Lymphomas and T-Cell Lymphoma.
High incidence is observed in the United States as compared to the EU 5 (United Kingdom, France, Germany, Spain, and Italy) and Japan in 2016. In Europe, high incidence was observed in Germany whereas low incidence was observed in Spain. The market of NHL is expected to increase to USD 9,072.8 Million by the end of the year 2023. Among these markets, United States has the largest market share whereas Spain contributes the lowest market share in 2016. The increase in the number of diagnosed cases of NHL is stimulating the growth of the market.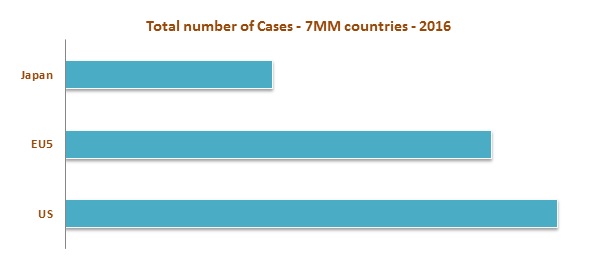 Treatment mainly depends on the clinical behavior of NHL on the basis of how fast the tumor is growing in patients. Chemotherapy, radiation therapy, immunotherapy, stem cell transplantation and targeted therapy are used for treating the lymphoma. Its pipeline is robust with the involvement of several novel small molecule inhibitors and next-generation monoclonal antibodies. Major players such as Gilead Sciences, Acerta Pharma, and Celgene Corporation are involved in the development of therapies for this indication. Also, the launch of Pixantrone and Copanlisib shall fuel the market growth for Non-Hodgkin Lymphoma.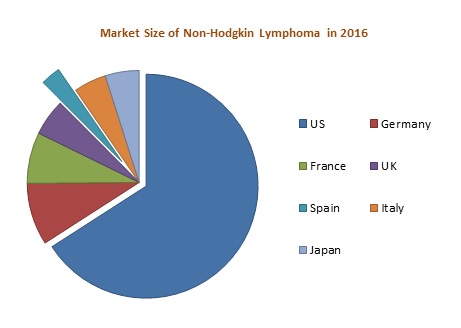 Among the marketed drugs, Rituxan is the blockbuster drug which is approved for the treatment of Non-Hodgkin Lymphoma, CD20 positive Follicular B-cell non-Hodgkins lymphoma, Chronic Lymphocytic Leukemia, and CD20 positive diffuse large B-cell non-Hodgkin's lymphoma. Also, the approval of Obinutuzumab for Chronic Lymphocytic Leukemia and Follicular Lymphoma; idelalisib for Relapsed Chronic lymphocytic leukemia, follicular B-cell NHL, and small lymphocytic lymphoma; and ibrutinib for chronic lymphocytic leukemia has a significant impact on the market. Expiry of patents of Zevalin in 2019 will also affect the market growth for Non-Hodgkin Lymphoma.
Insight by:
Anuj Thakur
Analyst
DelveInsight is a leading Business Consulting and Market Research Firm. We help our clients to find answers relevant to their business, facilitating their decision-making. DelveInsight also serves as a knowledge partner for business strategy and market research. We provide comprehensive analytical reports across various therapeutic indications. DelveInsight has a database of 3000+ high-quality analytical reports.