Key Highlights
Through the use of genetic screening, i.e., a companion genetic bio-marker intended to identify patients most likely to respond to therapy, AD04 humanizes the alcohol use disorder treatment, which could lead to an increase in the usage of AD04
Without the need for abstinence, AD04's novel mechanism of action has the potential to curb alcohol cravings by targeting the serotonin system
It is estimated that alcohol use disorder treatment market comprises less than 10% of the entire alcohol use disorder population. Whereas most alcohol use disorder treatments available on the market include social and psychological interventions.
Analysis shows a strong association between alcohol use disorder and mortality, largely due to the low treatment rate despite the high prevalence of the disease.
As per DelveInsight Alcohol Use Disorder Epidemiology Forecast Report, the 12-month diagnosed prevalent cases of AUD were estimated to be 25 million in the 7MM in 2021, with the US accounting for the highest number of cases.
Among the EU5 countries, Germany had the highest 12-month diagnosed prevalent cases, whereas Spain had the lowest 12-month diagnosed prevalent population of AUD in 2021.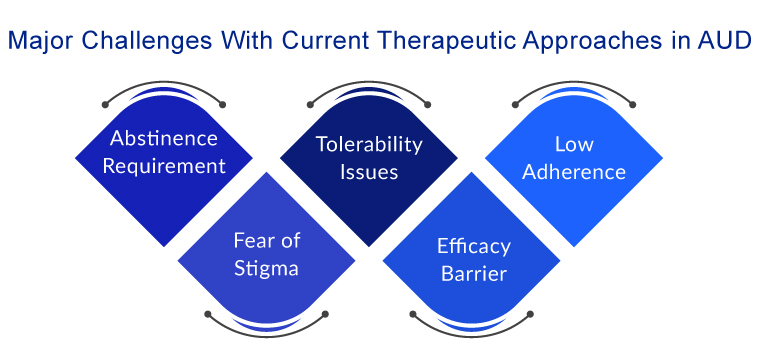 The alcohol use disorder treatment market has remained mostly inactive, and many of the available choices have serious tolerability issues and are thought to be inefficient.
Current alcohol use disorder treatments have significant physical side effects, including psychiatric problems, depressive symptoms, nausea, dizziness, vomiting, abdominal pain, and hepatotoxicity.
Abstinence should also be seen in the patients who initiate therapy. Abstinence necessitates radical lifestyle adjustments, frequently affecting one's work and society. Patients frequently experience the stigma of being labeled an alcoholic and cannot participate in family and social gatherings to maintain abstinence. Moreover, patients are discouraged from obtaining treatment due to their perception that it is ineffective.
There are majorly four FDA-approved drugs existing in the alcohol use disorder treatment market, mainly Antabuse (disulfiram), Vivitrol (naltrexone injectable), Revia (naltrexone oral), and Campral (acamprosate). Selincro (nalmefene) is the only alcohol use disorder drug candidate available outside the US and is marketed as an off-label drug.
Except for Selincro, all of the approved alcohol use disorder medications demand abstinence before treatment can begin, and each of the five medications is known to have significant negative effects.
Adial's AD04 is a serotonin 3 receptor blocker with ondansetron as its active pharmaceutical ingredient. Ondansetron is also the active ingredient in Zofran, which was given FDA approval in 1991 for treating nausea and vomiting following surgery, chemotherapy, or radiation therapy. Zofran now exists in the alcohol use disorder treatment market in a generic form.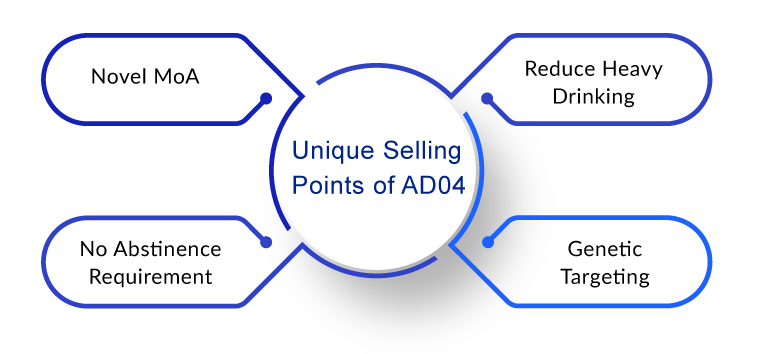 AD04 is considered unique as it is designed to reduce heavy drinking in individuals with definite genotypes. These genotypes account for approximately 33% of patients with AUD, and these are expected to respond to AD04. The company intends to develop a genetically targeted, efficient, and safe product candidate to treat AUD by reducing or eliminating patients' alcohol consumption. This product candidate would not require patients to abstain from alcohol as part of their treatment and would not have the side effects that the drugs available in the current alcohol use disorder treatment market possess. Therefore, the approach will remove treatment barriers that avert the adoption of current therapies.
ADO4: Analysis of Alcohol Use Disorder Clinical Trials
So far, clinical trials of AD04 have revealed that it has a favorable safety and tolerability profile. The phase III results from the ONWARD trial demonstrated that AD04 achieved a statistically significant mean reduction in heavy daily drinking (HDD) among the pre-specified group of heavy drinkers. HDD was reduced by approximately 79% compared to baseline in AD04 heavy drinkers.
Adial hopes to receive clearance in the US and Europe. Due to the FDA's tighter trial endpoint, Europe appears to have a stronger likelihood of obtaining approval. As per Delveinsight analysts, the alcohol use disorder market size in the 7MM in 2021 was estimated to be USD 564.0 million. Moreover, the AD04 market is expected to reach the US and EU-5 alcohol use disorder treatment market in 2024 and is expected to generate a revenue of more than USD 200 million by 2032, significantly increasing the alcohol use disorder market size.

The AD04 is likely to compete with Selincro in the alcohol use disorder treatment market and have a better efficacy profile in comparison with other potential emerging alcohol use disorder drugs like MN-166 (Ibudilast) [MediciNova], CORT118335 (mifepristone) [Corcept Therapeutics]. Following the approval for alcohol use disorder, the company intends to create label extensions for additional alcohol use disorder symptoms, such as anxiety, obesity, eating disorders, opioid use disorders, and other drug addictions. The company is also exploring potential partnership opportunities for AD04 in the US and European alcohol use disorder treatment market.
Alcohol Use Disorder – Frequently asked questions
What is alcohol use disorder (AUD)?
Alcohol use disorder (AUD) is a highly prevalent, chronic, relapsing condition characterized by an impaired ability to stop or control alcohol use despite significant impairment, distress, or other adverse consequences.
What are the alcohol use disorder causes?
It is a highly heterogeneous condition with complex biology that impacts a person physically, emotionally, and socially and is controlled by many genes and gene-by-environment interactions, wherein a robust genetic influence predisposes certain individuals to develop AUD.
What are the alcohol use disorder treatment options?
Currently, there are four US FDA-approved alcohol use disorder medications- 140-assisted treatments for AUD, that includes Acamprosate, ANTABUSE (disulfiram), REVIA (oral naltrexone), and VIVITROL (extended-release injectable naltrexone). Besides these, TOPAMAX (topiramate) is also endorsed by the National Institute on Alcohol Abuse and Alcoholism for the treatment of AUD.
What are alcohol use disorder symptoms?
A person with AUD may experience both intoxication and withdrawal symptoms such as unstable moods, poor judgment, slurred speech, problems with attention or memory, poor coordination, sweating, rapid heartbeat, hand tremors, problems sleeping, nausea and vomiting, hallucinations, restlessness and agitation, anxiety, and occasionally seizures.