Attention-deficit/hyperactivity disorder (ADHD) is a brain disorder marked by an ongoing pattern of inattention and/or hyperactivity-impulsivity that interferes with functioning or development. ADHD is a group of behaviors. It is also called as attention deficit disorder (ADD). Attention deficit hyperactivity disorder (ADHD) is a behavioral disorder that includes symptoms such as inattentiveness, hyperactivity and impulsiveness. Inattentiveness is marked when a person wanders off task, lacks persistence, has difficulty in sustaining focus, and is disorganized. Hyperactivity is characterized when a person seems to move about constantly, including in situations in which it is not appropriate; or excessively fidgets, taps, or talks. In adults, it may be extreme restlessness or wearing others out with constant activity. On the other hand, Impulsivity means a person makes hasty actions that occur in the moment without first thinking about them and that may have high potential for harm; or a desire for immediate rewards or inability to delay gratification.
The Diagnostic and Statistical Manual of Mental Disorders – 5th edition (DSM-5TM) has categorized ADHD into three subtypes:
ADHD predominantly inattentive type: if the individual meets the criteria for inattention, but not the criteria for hyperactivity-impulsivity, for the past six months
ADHD predominantly hyperactive-impulsive type: if the child meets the criteria for hyperactivity-impulsivity, but not the criteria for inattention, in the past six months
ADHD combined type: if a person meets the criteria for both inattention and hyperactivity-impulsivity for the past six months. Symptoms of the above two types are equally present in the person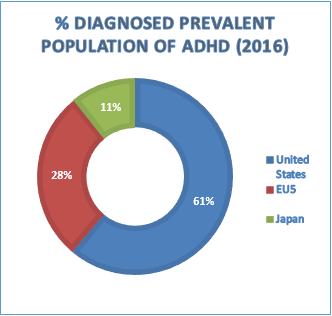 According toDelveInsight's estimates, total diagnosed prevalent populationin the7MMwas approximately29,069,744in 2016, and is expected to grow at a CAGR of 0.74% for the study period [2016-2027]. Higher prevalence of Attention-deficit/hyperactivity disorder is observed in the United States. Among the European 5 countries, France had the highest prevalent cases of ADHD, followed by Italy. On the other hand, Germany had the lowest prevalent population in 2016. Japan accounted for 11% of the diagnosed prevalent population of ADHD in 2016.
Based on the DelveInsight's analysis, the gender-specific data revealed that males were more affected than females, both in case of children and adults. Furthermore, DelveInsight has gone further to categorize the ADHD data into three subtypes namely: Inattentive Type; Hyperactive/impulsive type and Combined type. In terms of sub-type specific data of the disease, most of the diagnosed prevalent population belongs to Combined Type ADHD.
Correct diagnosis and under-treatment for the adult ADHD patients are the unmet needs for the indication. Currently, no straight forward diagnostic technique is available in the market. A detailed assessment is required by the medical professionals from different domains to confirm Attention Deficit Hyperactivity Disorder in an individual. In addition, there is a requirement for the availability of non-stimulant medication and management therapies with fewer side effects. There is a significant need for non-stimulant ADHD treatments in the marketplace, especially in light of recent regulatory oversight of abuse of currently approved treatments. Challenging discrimination also adds to the unmet needs. Many a times people fail to distinguish between the symptoms of ADHD and the casual hyperactivity and impulsivity of the child. Situations like these creates confusion and makes it even more challenging.
Treatments include Medication, Psychotherapy, Education or Training, or a Combination of Treatments. Medications aim to reduce the symptoms of Attention-Deficit Hyperactivity Disorder. The medication prescribed by the doctor may be long-acting formulations administered as a single daily dose or short-acting formulations for the individuals not benefited from long-acting formulations. The most common medication prescribed by the health care experts are Stimulants.
Stimulant medications (methylphenidate, amphetamine, Dextroamphetamine, Lisdexamfetamine derivatives) are first-line treatment. The stimulants work by increasing the dopamine and norepinephrine levels that further increase alertness, attention, and energy, as well as elevate blood pressure, heart rate, and respiration. The second line of treatment comprises of Non-Stimulants including atomoxetine and Alpha-2 adrenergic agonists form second-line management. Such medications prescribed by the medical professional might take a little longer to show an impact. These are advised either when a patient is not benefited by the stimulants or when the individual is troubled by the bothersome side effects of the stimulants. Sometimes, the non-stimulants are also taken in combination with the stimulants to increase the effectiveness of the therapy. The other non- stimulants also include Antidepressants, which are used to treat anxiety, pain and insomnia in addition to depression. Although antidepressants are not FDA-approved specifically to treat ADHD, antidepressants are sometimes used to treat ADHD in adults. These are sometimes used as off-label therapies in the market.
Adding psychotherapy (sometimes called "talk therapy") to treat ADHD can help patients and their families to better cope with everyday problems. Psychotherapy is a term for a variety of treatment techniques that aim to help a person identify and change troubling emotions, thoughts, and behavior. Most psychotherapy takes place with a licensed and trained mental health care professional and a patient meeting one on one or with other patients in a group setting.
The overall dynamics of ADHD market is anticipated to change in the coming years in regard to the expected launch of potential therapies in the near future. SPN-812, SPN-810, Dasotraline, centanafadine, KP415, KP484 are currently in the Phase III stage of development followed by AEVI-001, NLS-1, Eltoprazine, CX717 in phase II clinical development. SPN-810 has received fast track designation with positive phase II results. Therefore, the product hold a bright chance to be launched in the market in 2021. The other phase III product SPN-812 has also shown positive results. The two potential candidate of Kempharm KP415 and KP484 can also be considered as upcoming products in 2020. Also, Dasotraline is expected to hit the market in 2021 for adult and pediatric population.
The number of companies working actively for the development of therapeutic options for Attention Deficit Hyperactivity Disorder are quite high in number. Multiple products from many companies like Sumitomo Dainippon Pharma, Supernus Pharmaceuticals, Kempharm, etc. are being clinically developed and tested in the late and mid stages of developments. Therefore, the companies proceeding in this direction hold a bright and a positive chance to capture the market share once approved. Many key players are focused on developing non-stimulants to overcome the side effects and drug abuse associated with the stimulants. The upcoming non stimulant therapeutic options will drive the market positively. Overall, the increasing prevalence of the disease along with the promising emerging pipeline therapies will fuel the market during the forecast period of 2018-2027.