Benign prostatic hyperplasia, also called Benign prostatic hypertrophy or Benign prostatic obstruction, is a common condition in men as they get older. The prostate gland is a walnut-shaped gland present in men's reproductive systems, and its primary purpose is to produce a fluid that is secreted into semen. The prostate goes through two main growth periods as a man ages. The first occurs early in puberty when the prostate doubles in size. The second phase of growth begins around age 25 and continues during most of a man's life. BPH often occurs in the second growth phase.
As the prostate enlarges, it presses against the urethra. The bladder wall becomes thicker and weak, ultimately losing the ability to release, leading to urine retention. As the names convey, BPH is benign and non-cancerous. However, aging and family history increase a man's risk for BPH. Obesity, age 40 years and older, lack of staying active, and erectile dysfunction can also increase the risk.
Symptoms associated with BPH include urgency, frequency, nocturia, incomplete urination, and weak urinary stream, and if proper treatment is not provided, then complications such as urinary tract infection, kidney damage, acute urinary retention, blood in the urine, urinary retention, renal insufficiency, and bladder stone can occur, requiring surgical intervention. It has also been associated with the increased risk of falls, decreased quality of life along with the increased annual healthcare cost.
BPH Treatment
There are three treatment available for a urologist to choose from:-
Pharmacological treatment options for Benign prostatic hyperplasia mainly include three classes of drugs: alpha-blockers, alpha-reductase inhibitors, and phosphodiesterase-5 inhibitors. Most of the patients opt for pharmacological treatment but discontinues it after some time because of its high side effects and lack of improvement. These patients move towards surgery or minimally invasive therapies.
The surgeries are mostly prescribed when medicines have stopped working, or symptoms are severe. Surgeries for BPH comprise Transurethral resection of the prostate (TURP), Transurethral microwave therapy (TUMT), Transurethral needle ablation of the prostate (TUNA), Laser surgery, and others.  However, these surgeries have high risk and also interfere with a person's sexual life. Patients have been unwilling to opt for a surgical procedure due to the risks and invasive nature of the standard options.
These devices are either placed permanently or for a short duration to lift and hold the enlarged prostate tissue out of the way, so it no longer blocks the urethra. These include prostatic stent insertion, prostate artery embolization, among others. These therapies require less time for the procedure and hospital stays, provide rapid as well as permanent relief in patients with BPH, and are relatively at lower risk.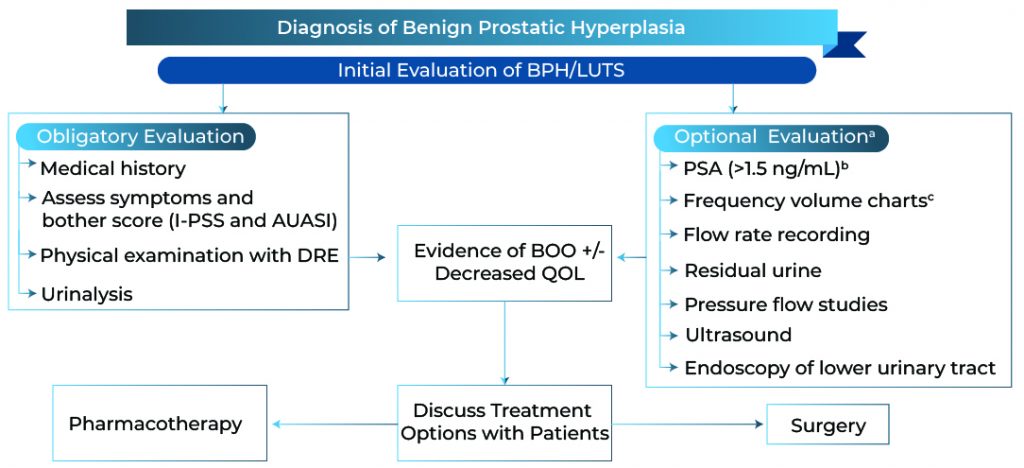 Although nearly 80% of the men will develop Benign prostatic hyperplasia (BPH), only as many as 30% of the patients go for treatment, the rest 70% of the diagnosed patient consider watchful waiting.
Benign Prostatic Hyperplasia: Eligible patients
The pace of population aging around the world is also increasing dramatically. World Health Organization estimates that by 2050, the world's population aged 60 years and older is expected to total 2 billion, up from 900 million in 2015. In 2015, 125 million people were aged 80 years or older and are estimated to reach 434 million people by 2050 in this age group worldwide. The problem of BPH is among the most common problem in older men, hindering their daily lifestyle.
It is considered the most frequent diagnosis, leading to urology referral, as the prevalence of the condition increases with age. The pathological prevalence of BPH is 8% in the 4th decade of life, further increasing to 30%, 50%, and 80% in 5th, 6th, and above, respectively. Out of the diagnosed patients, about one-third of these men will develop symptoms that require treatment.
As per DelveInsight's Benign Prostatic Hyperplasia Devices Market analysis, the total eligible patient population for Benign prostatic hyperplasia in 7MM is expected to increase at a CAGR of 2.58% to reach 9,71,37,488 by 2026 from 2018. Moreover, the largest population for Benign prostatic hyperplasia was found in the EU5 combined.
Benign Prostatic Hyperplasia Devices: Risk associated
Benign prostatic hyperplasia devices benefit the patients with no alternative treatment, but it also has risks associated with it. These include:-
Benign Prostatic Hyperplasia Devices Market Dynamics
The Benign prostatic hyperplasia devices market is estimated to increase due to advancements in healthcare technology, high healthcare expenditure, and available reimbursement policies in developed countries. There have been a higher acceptance in adopting advanced surgical procedures leading to increased investments in health care by both government and individuals. There is financial assistance available for patients who are getting BPH surgery done.
Besides, the globally growing geriatric population and technological advancements are factors responsible for the growing demand for Benign prostatic hyperplasia devices.
However, the availability of alternatives for medical devices, lack of awareness regarding various urological diseases, and the availability of different devices for treatment can deter the BPH market's growth in the coming years. There is also a dearth of skilled professionals to conduct such minimally invasive surgeries.
COVID-19 impacted the Benign prostatic hyperplasia market heavily in 2020, and its impact will be seen in the coming years. This is because BPH was positioned as one of the lowest priorities of non-oncological procedures. According to one research, 80% of the surveyed urologists postponed BPH procedures until the pandemic is over, leading to the cancellation of more than 2.5 million urological Benign surgeries during the peak of disruption by COVID-19.
Benign prostatic hyperplasia: Market Players
The companies operating in the benign prostatic hyperplasia market include Olympus Medical, Butterfly Medical, SRS Medical, Teleflex Interventional Urology, Urotronic, Zenflow, ProArc Medical, and Medion Biodesign.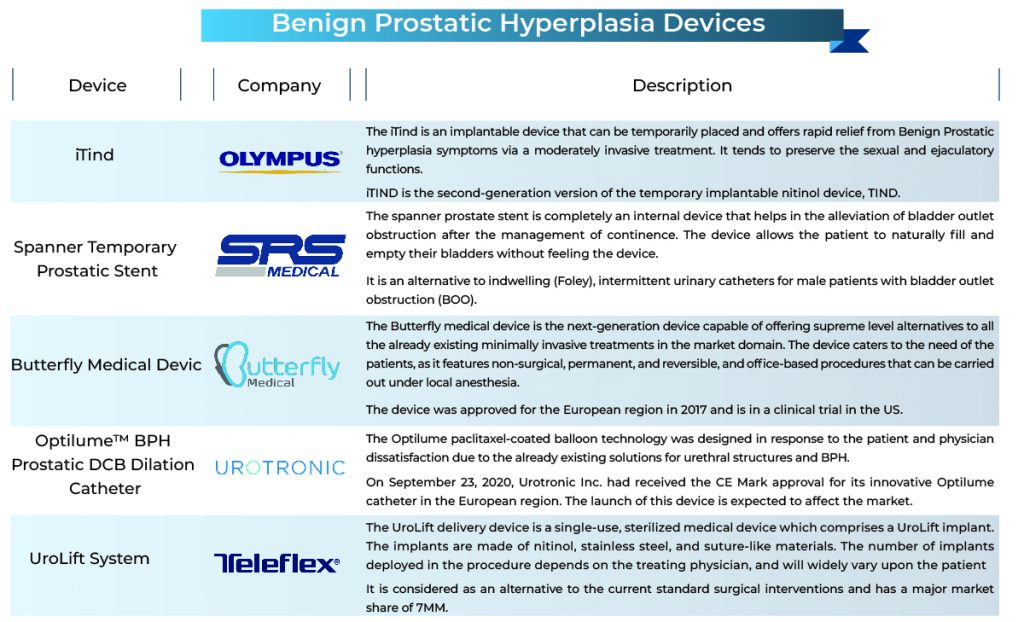 Developmental Activities
On February 26, 2021, Olympus Corporation acquired Medi Tale Ltd., an Israeli manufacturer of non-surgical solutions for BPH. This deal will help Olympus expand its product portfolio, making it the largest player in the market.
On January 27, 2021, Medeon Biodesign Inc. had announced positive clinical trial results for the XFLO minimally invasive Benign prostatic hyperplasia treatment devices. The company announced all positive interim results of the EXPANDER-1 clinical study for their product XFLO expander system. The product when launched in the future will affect the market growth.
On September 23, 2020, Urotronic Inc. had received the CE Mark approval for its innovative Optilume catheter in the European region. This is accepted to boost the market for Europe in the forecast period.
On April 6, 2020, the FDA had granted the de novo classification for the iTind device to treat patients suffering from Benign prostatic hyperplasia.
Benign Prostatic Hyperplasia Devices Market: Way Ahead
Benign prostatic hyperplasia is also known as age-associated prostate gland enlargement / reduction in the size of your prostate and is a common condition in men as they get older. Though Benign prostatic hyperplasia does not lead to or cause cancer it can happen at the same time.
The treatment algorithm includes pharmacotherapy, traditional surgeries, and medical device implantation which can also be used in the treatment for an enlarged prostate. The minimum invasive procedure nature of medical devices holds future promise to become an out-patient procedure in case of BPH treatment as they require hospitalization of less than a day and patient can return to normal life immediately.
The BPH devices market is expected to see growth with the approval of new devices like Optilume paclitaxel-coated balloon technology (Urotronic), spring implant (Zenflow), and ProArc Clear Ring (ProArc Medical). The growing geriatric population globally will act as a BPH devices market driver.
The growth of the Benign prostatic hyperplasia devices market in the coming years will be hindered because of the factors such as the dearth of urologists in developing economies and lack of awareness regarding various urological diseases. The lack of awareness about the treatment options, availability of alternative medical devices will also affect the market. It is also estimated that because of the side effects and exclusion criteria, only 3% of men who qualify for BPH surgery elect it. So really, the majority of patients are treated with pharmacological therapy.
Thus, there has been great progress made in treating Benign prostatic hyperplasia with minimally invasive surgeries such as UroLift, there is room for improvements before it becomes the default therapy for patients.