Technological advancements over the past few decades have significantly transformed our lives and are anticipated to exhibit the trends in the upcoming years. Our living today is simplified to a much larger extent, which seemed unrealistic to imagine over the past few years. With each passing day, technological innovation continues to offer exceptional benefits and services, thereby making our lives more comfortable and relaxed. Along with other fields, the healthcare industry has also evolved immensely. All the segments, such as diagnostics, treatment, medical devices, and clinical research, are experiencing dramatic evolution. The medical devices segment has grown and provides numerous health benefits to patients and healthcare organizations. From diagnostic to sophisticated monitoring systems, from testing to automated early warnings, emerging technologies continuously offer patients quality care across various healthcare settings. The innovation is helping to prevent serious health complications and diverse chronic conditions. Similarly, biochips are one of the most anticipated technologies in the medical devices market and play a crucial role in the healthcare delivery segment. Biochips are a type of miniaturized device that uses a combination of biology and engineering to perform a specific set of tasks. The use and demand are growing for both medical and nonmedical uses.
Additionally, they can track and monitor vital signs like blood pressure, heart rate, and body temperature and provide more efficient treatment, that too with higher throughput at an amazing speed. In recent years, biochips have gained significant attention from numerous pharmaceutical and MedTech companies, academic and research laboratories, and healthcare facilities. Currently, several companies are actively working in the biochips market to gain market share and to provide various innovative solutions.
What are Biochips?
Biochips are known by many other names like microchips, DNA microarrays, DNA arrays, DNA chips, or gene arrays. Biochips consist of an orderly arrangement of thousands of microscopic DNA spots on a solid support. Each DNA spot contains a specific DNA sequence (known as a probe), usually a small segment (double or single-stranded) of a gene (target). They are similar to a computerized device and can host large numbers of simultaneous biochemical reactions defined as a carrier for biological samples, which are most commonly based on glass slides to detect fluorescently labeled molecules. Biochips come in various clip types, such as DNA chips, lab-on-a-chips, protein chips, and others. Similarly, the application ranges from disease diagnostics to genomics and from proteomics to drug discovery and development. Based on the fabrication technology, the biochips are segmented into microarrays and microfluidics. By the material types, they are classified as material glass, polymers, silicon, and others.
To monitor and control a person's health, biochips can be implanted into the body. They can provide access to medical records and can even be used for diagnosis and treatment. Similarly, they can screen several biological analytes, such as antibodies, enzymes, DNA, proteins, and biological molecules. Several research activities are going on to utilize the biochips for agricultural biotechnology, drug discovery, and in-vitro diagnostics.
Evolving Applications of Biochip
Biochip technology is evolving at an unprecedented rate, and the scope is widening at an immense pace. Biochips are in use in various industries and have various applications. Biochip holds the potential to provide real-time analysis of biological samples and data. In healthcare, applications include medical diagnostics, drug delivery, therapeutic interventions, and biosensing. However, various laboratories and healthcare organizations are assessing the potential for various uses of biochips to understand and treat diseases. In the laboratory, they are under evaluation for the disciplines, including immunology, infectious diseases, clinical chemistry, autoimmune markers, allergy tests, tumor markers, and even DNA profiling. Moreover, fertility markers, drugs of abuse, and antibiotic residues are among other major fields for Biochip use that are under trial.
Some of the major applications of Biochips include:
Diagnostic Testing: With the help of biochips, a quick and accurate diagnosis of diseases like cancer and other chronic illnesses (such as diabetes) can be made. Moreover, they can be used to swiftly and reliably diagnose patients, thereby enabling prompt treatment.
Personalized Medicine: The growth and scope of biochips is increasing in personalized medicine. Biochips can be utilized to customize therapies for certain individuals. Moreover, they can reveal whether treatments will be successful for a certain patient by examining their genomic data.
Drug Discovery and Development: Clinical research and drug discovery is a key component of the pharma industry. Using biochips, it is possible to swiftly and precisely discover new drug candidates and prospective therapeutic targets. Moreover, it can quickly and effectively evaluate massive volumes of data to find viable drug candidates by employing biochips.
Drug Delivery: In the drug delivery segment, biochips can be utilized to deliver a precise dose of medication to a specific area of the body and to release specific drugs at specific times to treat different diseases.
Benefits of Biochips
Biochips are small, engineered substrates that can host large numbers of simultaneous biochemical reactions and provide several benefits, which makes them one of the most trending and growing technologies in the healthcare market. Biochips can be used to track a person's health and medical history, store medical records, and even control prosthetic limbs. Improved accuracy is one of the key benefits. Biochips provide a better level of precision by measuring data more accurately than conventional approaches using microelectronics and nanotechnology. Similarly, they have higher efficiency. Biochips can analyze large volumes of data that can be processed and stored, making them significantly faster and more effective than the existing techniques.
Enhanced security is another major benefit of biochips. They offer a safe and impenetrable environment and can aid in the protection of critical data and information. Moreover, biochips are a cost-effective solution for medical and scientific applications. Biochips reduce the time and cost associated with medical treatments and procedures, which makes them a better and more convenient choice. With their immense benefits, biochips offer the potential to revolutionize medical treatments and procedures.
Major Drawbacks of Biochips
The use of biochips can lead to some harmful impacts on the body, which can't be neglected at any point in time. Biochips could result in allergic reactions or other health complications since they may contain harmful compounds or metals. Similarly, biochips contain personal data that can be stored on biochips which can have potential privacy issues and safety concerns. They can be used for unethical and intrusive purposes, such as tracking people's movements or spying, which again is a major drawback of Biochips.
From the regulatory point of view, there are also some challenges. Biochips are a relatively new technology and are not yet regulated in many countries, making it difficult to ensure their safety and efficacy. Furthermore, biochips are unsuitable for all applications and may lack the flexibility and scalability necessary for some use cases. They must keep up with advances in medical technology, requiring frequent updates and maintenance. Overall, to make the wide-scale adaptability of the biochips, there is a need to weigh the benefits and drawbacks of the biochip technology for every application.
Key Companies in the Biochips Market
Globally, several major companies are actively working in the biochips market to gain a competitive advantage and grab the market share. Currently, some of the leading companies in the market include Abbott Laboratories, Agilent Technologies, Bio-Rad Laboratories, BioChain, bioMerieux S.A., Caliper Life Sciences Inc., Cepheid, EMD Millipore, F. Hoffmann-La Roche Ltd., Fluidigm Corporation, Illumina, Inc., PerkinElmer, Randox Laboratories Ltd., Sigma Aldrich Corp., SuperBioChips Laboratories, Thermo Fisher Scientific, US Biomax, and others.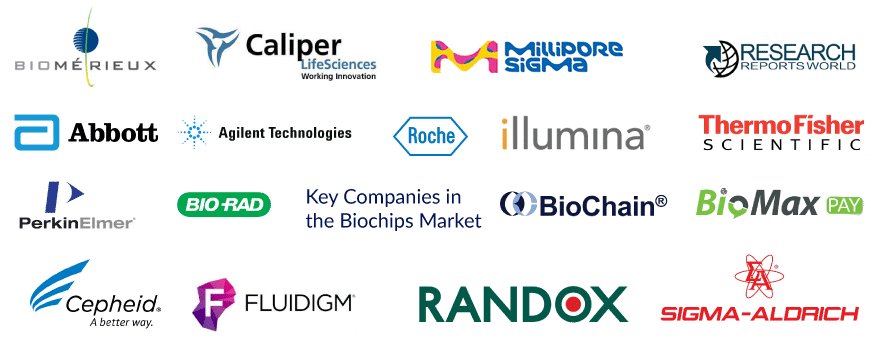 As the demand grows, several new companies and startups are expected to emerge in the market in the upcoming years. Similarly, the biochips Market is anticipated to register several product approvals and launches in the near future.
Biochips Market – Future Analysis and Perspective
The future and the market potential of biochips look promising with the growing demand and technological advancement in the domain. As per DelveInsight, the biochips Market is expected to grow immensely in the coming years owing to the rise in the geriatric population and growth in the prevalence of chronic disease, cancer, immunological disorders, and other viral infections. Moreover, the adoption of personalized medicine, consumer preferences toward minimally invasive surgeries, growth in the extensive investments in research and development (R&D) activities, technological innovations, increasing disposable incomes, and the surge in healthcare expenditure will create a favorable environment for the biochips market growth.
Biochips are microchips used for medical or research purposes, and ongoing research activities related to the human proteome, cancer genomics, and DNA analysis are also anticipated to influence the market growth in the coming years greatly. Similarly, major players operating in the biochips market are adopting different strategies such as new product development and launches, collaboration, and mergers & acquisitions to strengthen their position, thereby intensifying the market's competitiveness. Overall, the biochips market has a huge potential for growth in the coming years owing to the huge benefit that it offers to the users and the ongoing clinical, commercial, and regulatory developments in the domain.