Cardiac monitoring devices are important for cardiovascular care, to assess the occurrence and seriousness of cardiac failure and to evaluate the success of therapies such as medications, procedures, and device implants. Cardiovascular diseases (CVDs) are a global cause of death, which can be prevented. In most cases, it is possible to avoid most forms of CVDs by pre-monitoring and pre-diagnosis. Early diagnosis, irregularities in the functioning of the heart, termed arrhythmias, can be prevented. As a result, the use of cardiac monitoring products is rising as these devices help to save patients at high risk for heart disease.
The risk factors associated with CVDs are family background, age, and ethnicity, along with consumption of cigarettes and alcohol, hypertension, high cholesterol, obesity, physical inactivity, diabetes, unhealthy diets. Cardiovascular diseases prevalence such as hypertension, diabetes, dyslipidemia, and obesity has increased as a result of lifestyle changes, contributing to the increased use of these products. However, growing incidences of infections caused while using the devices, high monitoring costs, and strict regulatory procedures are likely to curtail the use of cardiac monitoring devices.
There are different types of cardiac monitoring devices such as Electrocardiography Devices, Holter Monitors, Implantable Loop Recorders, Mobile Cardiac Telemetry Devices, Cardiac Output Monitoring Devices, Event Monitors, and others. These devices can be either implanted or wearable, depending on the need of the patient.
A Holter monitor (HM) or hotler heart monitor also called ambulatory electrocardiography, is a small, battery-incorporated device that measures the activities of the heart, including heart rates and heart rhythms. The device can be useful for continuous monitoring of heart activity in a high-risk population. The device is also capable of picking up chest pains, irregular heartbeats, or arrhythmia. Holter monitors can record continuously, usually for about 24 to 48 hours.
The cardiac symptoms and other components of heart rhythm irregularities are not permanent, and therefore, continuous monitoring is required. The recordings captured by the Hotler heart monitors give an idea if the patient's heart is getting the proper amount of oxygen and the electrical impulses in the heart.
An electrocardiogram (ECG or EKG) records electrical pulses from the heart. It is the most important test for heart rhythm perception, myocardial ischemia and infarction diagnosis, defects of the conduction system, pre-excitation, long QT syndromes, atrial abnormalities, pericarditis, ventricular hypertrophy, and other disorders.
An event monitor is similar to ECG but records the information for a longer time. It is a portable device and can directly relay the reported data to the healthcare provider. An event monitor records when activated by the patient, and some can get activated if an abnormal heart rhythm is detected. These can be worn by the patient for a month or longer.
Implantable Loop Recorders
An implantable loop recorder is a type of heart-monitoring system implanted under the skin of the chest that tracks heart rhythm continuously for up to three years. It tracks the electrical impulses of the heart and can capture information that a standard ECG or Holter monitor misses as some heart rhythm abnormalities occur infrequently.
Mobile Cardiac Telemetry Devices
Compared to conventional Holter and event monitoring, mobile cardiac telemetry (MCT) monitors deliver major technological advancements. For the monitoring of both symptomatic and asymptomatic cardiac arrhythmias, handheld cardiac telemetry monitors are effective and relay this information in real-time wirelessly. The MCT device can record patient-activated or symptomatic tests, providing an option to patients to manually push a button and enter the symptoms when they feel them. The device also auto-triggers for bradycardia, tachycardia, pauses, or atrial fibrillation (AFib).
The major companies active in the Cardiac Monitoring Devices market include Medtronic, Boston Scientific, Abbott Laboratories, GE Healthcare, BIOTRONIK, Koninklijke Philips, Asahi Kasei Corporation, MicroPort Scientific Corporation, Nihon Kohden, SCHILLER AG, BPL Medical Technologies, ACS Diagnostics, Shenzhen Mindray Bio-Medical Electronics, Lepu Medical Technology, Shree Pacetronix, MeTrax GmbH, Progetti Srl among others.
Some of the products are described below:
The Reveal LINQ™ Insertable Cardiac Monitoring System provides long-term heart monitoring and can detect abnormal heart rhythms for up to 3 years. It includes a tiny insertable monitor placed just under the skin and the MyCareLink™ Patient Monitor — a bedside unit that collects heart rhythm data from the ICM and sends it to the doctor. The Reveal LINQ ICM is not visible in most patients. The MyCareLink Monitor uses a cellular signal and a power outlet. The patient can travel and take the MyCareLink Monitor with them. The Reveal LINQ ICM is safe for use in an MRI setting.
Cardioblue Recorder is developed by Meditech Ltd and is a looping pre and post ECG event recorder. The device is activated by the patient via a button and stores ECG both preceding and following the button push. It is considered ideal for screening arrhythmia in Primary Care.
Telesentry Recorder Model TS01
Telesentry Recorder Model TS01 was developed by ScottCare Corporation and is mobile cardiac telemetry. It is a real-time ECG monitor capable of detecting any ECG anomalies automatically and transmitting this ECG information to an approved diagnostic laboratory for professional examination via cell phone. This device is marketed to cardiovascular clinics for management for patients with symptomatic and asymptomatic cardiac events.
Reveal™ XT Insertable Cardiac Monitor (ICM) is a long-term heart monitoring device available in the Cardiac monitoring & cardiac rhythm management device market developed by Medtronic. It is a small implantable heart monitor which is placed just under the skin of the chest in a simple outpatient procedure and has a battery life of up to three years. Discover more about key players making an impact in the Implantable cardiac monitors market.
ER900L-RT Event Recorder developed by Braemar Manufacturing, LLC is a portable system used to record the electrical activity of the heart when symptoms are present. This records the same data as an ECG, except over longer periods. Most of these instruments will directly send the reported data to the healthcare provider.
Novel Wireless Devices for Cardiac Monitoring
The digital revolution has transformed the way we live, with the exponential growth of smartphones, mobile access, and social networking. The Medtech industry has also seen technological advancements over time. The Cardiac monitoring & cardiac rhythm management device market is now brimming with novel devices and is now being developed to help doctors detect cardiac arrhythmias remotely. Although these devices continuously check for irregular heart rhythms and transmit data to the doctor of the patient, the app allows patients to proactively track symptoms, synchronize their data with their clinic at any time, and display their history of transmission without having to contact their clinic to confirm successful transfers of data.
Real-time Smartphone Monitoring
The Alivecor and ECG Check (Cardiac Designs) system, an FDA-approved (May 2019) system, is a single lead (Lead I) ECG monitoring system that consists of a case that snaps on the back of a smartphone.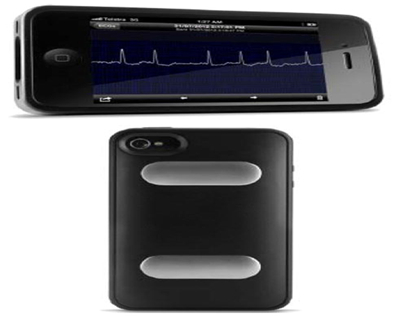 Finger contact on the case of the smartphone activates ECG recording of bipolar lead I and is transmitted to the smartphone from the case using frequency modulation of an ultrasound or Bluetooth signal that is received in the smartphone's speaker. Once captured digitally in the smartphone, it can be viewed in real-time and transmitted to a secure server for the patient's provider to review in PDF format.
ECG Patch Monitoring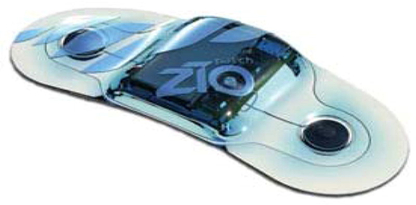 Zio Patch
The Zio® Patch is a waterproof, single-use, continuous ECG monitor approved in the Cardiac monitoring device market that can be worn for up to 14 days. It lacks any leads or wires, and its low profile design allows the patient to wear it with minimal interruption of daily activities.
Wireless vital sign monitoring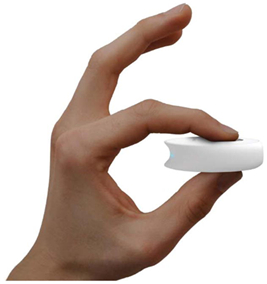 Scanadu Scout
The Scanadu Scout is a hockey puck-shaped device that is held between two fingers and directed at a patient's forehead. The device is designed to generate a complete set of vital signs including heart rate, blood pressure, temperature, respiratory rate, and oxygen saturation in less than 10 seconds and wirelessly transmit the data to the patient's smartphone where it can be stored, tracked, analyzed, and transmitted to a provider if desired.
Multiple Parameter Testing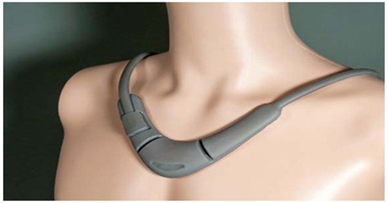 Perminova CoVa necklace
The CoVa necklace is worn for just a few minutes a day, measures thoracic bioimpedance and electrocardiographic waveforms to determine patients' thoracic fluid index, heart rate, heart rate variability, and respiratory rate.
Conclusion: Future scope
According to the World Health Organization (WHO), CVDs were responsible for one-fourth of all deaths in developed countries and in low- and middle-income countries for at least three-quarters of all CVD deaths. The financial burden of these diseases is likely to be more than USD 1.0 billion by 2030, which highlights the heightened need for preventive devices for cardiac monitoring and cardiac rhythm management.
People who have cardiovascular disease or are at high cardiovascular risk (due to the existence of or other risk factors such as hypertension, diabetes, hyperlipidemia, or already established disease) require early diagnosis and management, which may include counseling and medications. The rising incidence of cardiovascular conditions and increasing demand for innovative devices will promote the development of these small-sized devices in the Cardiac monitoring devices market.
The Cardiac monitoring devices market will be hindered because of many factors such as product recalls, product failure, and false-negative results, among others. The electronic patient records to smartphones and cloud-based technology need to be encrypted and on safe networks. Thus, the data breach could be devastating for the future of this sector, and investments are being made in online protection for mobile monitoring devices.
There are many clinical trials being conducted by small and big players to assess the safety, feasibility, and cost-effectiveness of new technology compared to traditional patient tracking approaches in the Cardiac monitoring & cardiac rhythm management device market. This will lead to the launch of many advanced products in the future.
Technological advancements like the introduction of advanced cardiac devices such as subcutaneous ICDs, Automated External Defibrillators (AEDs), and MRI pacemakers will drive the Cardiac monitoring devices market size growth in the coming years. Favorable payment programs, such as those implemented by the Medicare scheme in the United States, are among the main drivers of the cardiac monitoring and cardiac rhythm management market. Owing to all these factors, the demand for these devices will increase manifold, and as a result, these devices can help save patients at high risk of cardiac arrest.