Spinal stenosis refers to the condition characterized by the compression of nerve roots and narrowing of the spinal canal due to several pathologic factors, further leading to symptoms such as pain with a tingling sensation, numbness, and weakness. Spinal stenosis can involve the cervical, lumbar, or thoracic (rarely) spine. Cervical or thoracic spinal stenosis can cause both cord and/or root compression that result in radiculopathy, myelopathy, and pain whereas lumbar spinal stenosis causes the only compression of the nerve roots with neurogenic claudication or radicular leg pain. The condition has traditionally been treated with various conservative (pain medications, physical therapy, epidural-spinal injections) and invasive (surgical decompression) options. Recently, several minimally invasive procedures with advanced medical devices such as interspinous spacers, pedicle screw systems, and stabilization systems have expanded the treatment options.
Pathophysiology
Cervical Spinal Stenosis
Multiple factors can lead to the narrowing in CSS. This includes:
Bulging or protrusion of the intervertebral disc
Herniation of the nucleus pulposus posteriorly
Epidural fat deposition
Hypertrophy of posterior longitudinal ligament, or the ligamentum flavum
Hypertrophy of the facet joints
Spinal cord injury resulting in major complications such as myelopathic syndrome or cauda equina syndrome
Lumbar Spinal Stenosis
Narrowing of the lower spine that carries nerves to the legs in adults due to various factors can play a major role in developing stenosis in adults. These include:
Arthritis
Falls
Accidents and wear and tear on the spine's bones and joints
Diagnosis
Diagnosis can be made either preoperative or postoperative. Radiographic evaluation through X-rays, MRI imaging, and CT scan with or without myelography are most commonly used for the diagnosis of spinal stenosis. Although X-rays and CT scan enable accurate assessment, MRI imaging helps evaluate sequential postoperative changes in the spine and better demonstrates intraspinal contents than do other imaging modalities.
Conventional Treatments
Spinal stenosis, until not severe, can be treated through conservative treatments, which comprise anti-inflammatory medications, physiotherapy, lumbar corset, and epidural infiltration. When the conservative management fails, then generally decompressive surgeries or spinal fusion surgeries are accepted for better treatment. These mainly include laminectomy, fusion surgery based on the part of the affected vertebra that is surgically removed. At present, minimally invasive medical devices such as rods, screws, interspinous spacers are being introduced for the treatment of spinal stenosis.
Medical devices for Spinal Stenosis Treatment
Interspinous spacers are used during interspinous process decompression (IPD), a minimally invasive procedure for reducing the treatment for spinal stenosis. This procedure reflects the advances that are made in minimally invasive spine surgery and are performed as an alternative to decompressive laminectomy. The interspinous spacers are the implants that are inserted between the spinous processes. Superion™ Indirect Decompression System is an interspinous spacer by Boston Scientific Corporation for the treatment of lumbar spinal stenosis. The spacer has an arm that opens around the spinous process and holds the space open, and preserves necessary space in the spine and resulting in reducing leg and back pain. Other examples include Alpine XC™ Adjustable Fusion System (Zimmer Biomet), MAGNIFY® & MAGNIFY®-S (Globus Medical, Inc.), and InSWing™ Interspinous Spacer (Orthofix Medical, Inc.), among others.

Spinal fusion supported by rigid instrumentation is widely used in the treatment of several spinal disorders. However, complications associated with the rigid instrumentation have led to the search for an alternative procedure with a different approach. At present, posterior dynamic stabilization devices have been introduced as an alternative to the fusion procedure. These stabilization devices have gained popularity in the Spinal Stenosis Devices market. Dynamic stabilization technique is aimed at preserving motion at the treated segment. The system mainly comprises the following combinations of components:
Screws and cords
Screws, cords, and spacers
Screws and flexible rods
Screws and rods with movable parts
Flexible screws and flexible rods
Screws and inflatable rods
Firebird® Spinal Fixation System is a stabilization system by Orthofix Medical, Inc. The device is a mono and multi-axial system. It provides an exceptional selection of screw bodies and bone screws with a double lead bone screw thread offered in self-tapping and cannulated configurations. Other examples include SKYLINE™ Anterior Cervical Plate System (Johnson & Johnson), Polaris™ Spinal System (Zimmer Biomert), and CD HORIZON™ SPINAL SYSTEM (Medtronic), among others.
According to Delveinsight's analysis, the stabilization system captured the maximum Spinal Stenosis Devices market share of spinal stenosis across 7MM, followed by interspinous spacers in the year 2020.
Eligible patient population
Degenerative changes are the predominant cause leading to lumbar spinal stenosis; affected individuals are generally older than age 50 with a long history of low back pain. Most patients will have symptoms of pain and/or numbness in one or both legs.
The pace of population aging around the world is also increasing dramatically. It is estimated that by 2050, the world's population aged 60 years and older is expected to total 2 billion, up from 900 million in 2015. In 2015, 125 million people were aged 80 years or older and were estimated to reach 434 million people in this age group worldwide.
The Spinal Stenosis prevalence is estimated to be 5.10% in the population older than 50 years in the United States (Parenteau et al., 2021). It has been postulated that more than 2.4 million people in the United States alone will be affected by lumbar spinal stenosis by 2021 (Ravindra et al., 2018).
In the United States, from 2000 to 2014, the estimated national cost of LSS surgery increased from USD 1.8 to USD 8.2 billion as surgery for LSS rose from 0.2% to 0.3% of all inpatient procedures performed in the US.
DelveInsight's Spinal Stenosis Devices market analysis demonstrates that the estimated patient pool population is 7MM. In 2018, the total eligible patient population for Spinal Stenosis was 34,93,678 patients in the United States and was expected to increase in 2026.
Advantages of Spinal Stenosis Devices
Helps preserve some spinal motion (unlike spinal fusion that permanently limits movement)
Less blood loss
Reduced risk for infection
IPD can be performed in an outpatient surgical facility
Disadvantages of Spinal Stenosis Devices
Implant can become dislodged or moved out of place
Bone may settle around the implant, which is a common risk in people with osteoporosis
The spinous process can fracture when the IPD spacer is implanted
After implantation, the spacer may not provide adequate relief from pain and symptoms
Additional surgery may be required to relieve pain and other symptoms
Spinal Stenosis Devices Market Activity
In March 2021, Premia Spine received FDA Breakthrough Device Designation for Its TOPS™ Spinal Arthroplasty System, the first and only facet joint replacement system for the lumbar spine.
In February 2021, Empirical Spine, Inc., developer of the LimiFlex™ Paraspinous Tension Band, announced the initiation of the PMA process for FDA review and approval of the use of the LimiFlex with decompression for patients suffering from degenerative spondylolisthesis with lumbar spinal stenosis.
On October 7th, 2020, Stryker announced the expansion of its lateral spine portfolio with the full launch of the Niagara Lateral Access System following the completion of 600 surgeries.
On May 9th, 2019, Medtronic entered into a definitive agreement to acquire Titan Spine, a privately-held titanium spine interbody implant and surface technology company.
On June 11th, 2019, Boston Scientific Corporation announced the closure of its acquisition of Vertiflex, Inc., (a privately-held company) that developed and commercialized the Superion® Indirect Decompression System, a minimally-invasive device used to improve physical function and reduce pain in patients with lumbar spinal stenosis.
In March 2019, Surgalign completed the acquisition of Paradigm Spine, LLC, a leader in motion preservation and non-fusion spinal implant technology. Paradigm Spine's primary product is the coflex® Interlaminar Stabilization® device.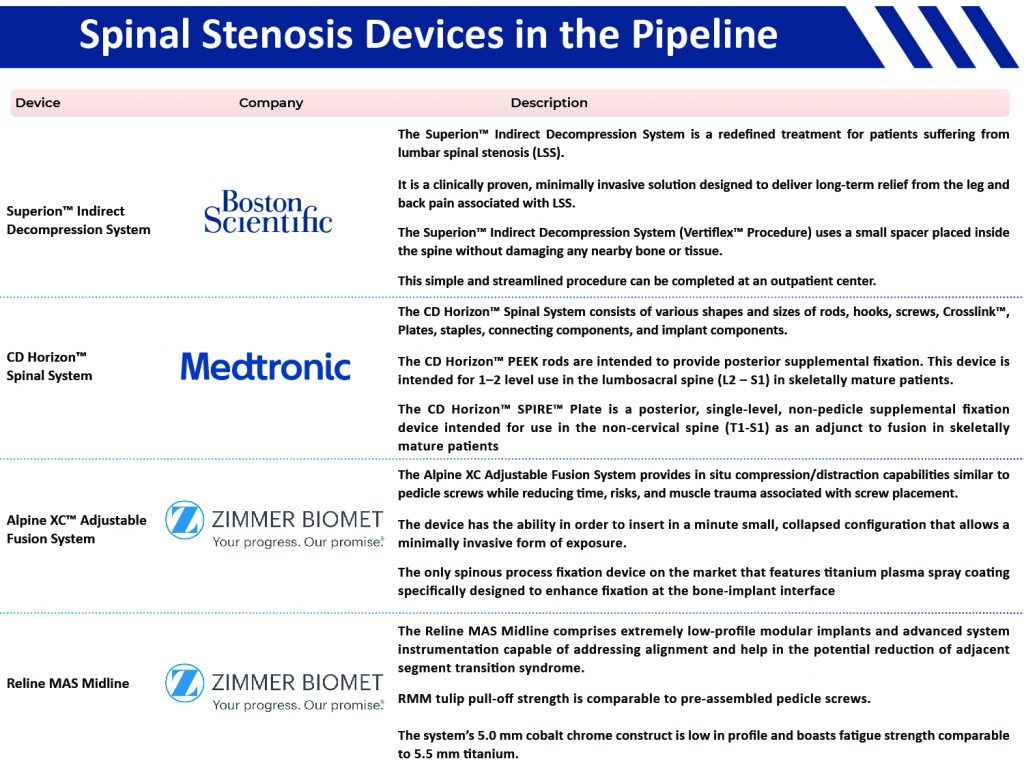 Key Players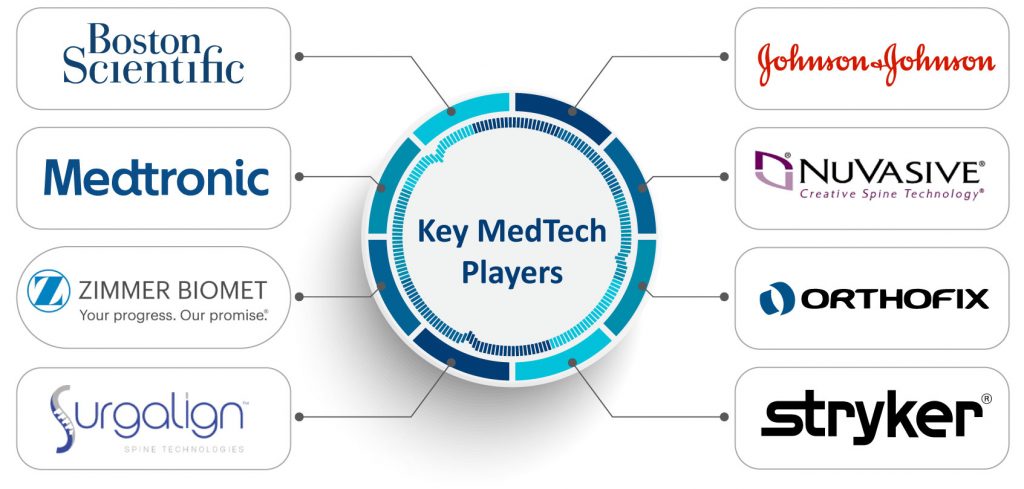 Conclusion and Future Market Scenario
Spinal stenosis is a condition in which the gaps inside the spine narrow puts pressure on the nerves that run through it, being most common in the lower back and neck. With age, the ligaments of the spinal column, especially the ligamentum flavum, stiffen, become less flexible, and thicken, causing spinal stenosis. It can affect the cervical, thoracic (rarely), or lumbar spines and can be unilateral or bilateral, monosegmental or multisegmental (adjacent or not).
COVID-19 impacted the Spinal Stenosis Devices market heavily in 2020, and its impact will be seen in the following up years. This is because Spinal Stenosis surgery can be reasonably managed in an elective fashion.
The already present treatment regime for the patients suffering from Spinal Stenosis consists of conservative management [Lifestyle management (Rest, Physical Therapy) & Pain Management (Pharmacotherapy, Spinal Cord Stimulation Therapy, Spinal Analgesics, etc.)], and surgical Interventions (Interspinous Spacers, Spinal Fusion, Decompression).
It is estimated that surgical intervention is needed in patients who do not respond to pharmacotherapy. The United States faces the problem of opioid exploitation at a very high rate, and it is preferred to opt for drug-free options such as spinal cord stimulation such as Boston Scientific's Spectra WaveWriter.
A new treatment option for patients suffering from spinal stenosis or spondylolisthesis is the TOPS facet arthroplasty system from Premia Spine, which offers mobility, stability, and durability after decompression. It is currently the subject of a pivotal clinical trial under an investigational device exemption from the FDA.
Another such option is LimiFlex™ Paraspinous Tension Band developed by Empirical Spine, Inc. It is being investigated by FDA for the use with decompression for patients suffering from degenerative spondylolisthesis with lumbar spinal stenosis. The company expects to submit all three PMA modules by the end of 2021.
DelveInsight estimated that newer technologies for the treatment of spinal stenosis would provide a better future due to the better efficiency of the devices and better results. The launch of these devices will further drive the market. The Spinal Stenosis Devices market will be boosted with the growing geriatric population, increasing prevalence of spinal stenosis, and advancement in treatment.