Rett syndrome is a rare progressive neurodevelopmental disorder primarily affecting women. Males are only occasionally affected. Infants with Rett syndrome typically develop normally for the first 7 to 18 months of life. The Rett syndrome prevalence in the United States is estimated to be 1 in 10K girls by the age of 12. Cases of Rett syndrome can go undiagnosed or be misdiagnosed, making it difficult to determine the disorder's true prevalence in the general population. Following Down syndrome, Rett syndrome is the second most common cause of severe intellectual disability.
Rett Syndrome Treatment Landscape
The treatment of Rett syndrome focuses on the specific symptoms that each person experiences. Treatment may necessitate the collaborative efforts of a team of specialists. Pediatricians, pediatric neurologists, gastroenterologists, speech therapists, psychiatrists, nutritionists, and other healthcare professionals may be required to plan an affected child's treatment systematically and comprehensively. Affected individuals and their families may benefit from genetic counseling. Individuals with Rett syndrome may benefit from a wide range of treatment options. The Rett syndrome treatment plan will need to be highly personalized. Early developmental intervention ensures that affected children achieve their full potential. Occupational, physical, and speech therapy will be beneficial to the majority of affected children. Various rehabilitative and behavioral therapy methods may be beneficial. Additional medical, social, and vocational services, such as special education, may be required. Psychosocial support for the entire family is also required.
Approval of DAYBUE: A Long-awaited Hope for Rett Syndrome Patients
10 March 2023 was a very big day for all the Rett syndrome patients and especially for Acadia Pharmaceuticals and Neuren Pharmaceuticals, as DAYBUE became the first and only drug approved for the treatment of Rett syndrome in adult and pediatric patients two years of age and older. The FDA set the Prescription Drug User Fee Act (PDUFA) action date of 12 March 2023 but instead delivered the good news the late evening of 10 March.
DAYBUE (trofinetide) is a novel synthetic analog of the amino-terminal tripeptide of insulin-like growth factor-1, glycine-proline-glutamate. Though the mechanism by which trofinetide exerts its therapeutic effects in patients with Rett syndrome is unknown, animal studies suggest that it increases dendrite branching and synaptic plasticity signals. In 2018, Acadia signed an exclusive license agreement with Neuren Pharmaceuticals Limited for the development and commercialization of DAYBUE (trofinetide) in North America for the treatment of Rett syndrome and other indications.
The FDA approved DAYBUE based on findings from the pivotal Phase III LAVENDER study, which compared the efficacy and safety of trofinetide versus placebo in 187 female Rett syndrome patients aged 5 to 20 years. At week 12, treatment with DAYBUE showed statistically significant improvement compared to placebo on both co-primary efficacy endpoints, as measured by change from baseline in Rett Syndrome Behaviour Questionnaire (RSBQ) total score (p=0.018) and Clinical Global Impression-Improvement (CGI-I) scale score (p=0.003). The Rett Syndrome Behavior Questionnaire (RSBQ) is a caregiver assessment that evaluates a variety of Rett syndrome symptoms, such as vocalizations, facial expressions, eye gaze, hand movements (or stereotypies), repetitive behaviors, breathing, night-time behaviors, and mood. The CGI-I is a global physician evaluation of whether a patient has improved or deteriorated. The most common side effects in the study were diarrhea (82%), followed by vomiting (29%).
Acadia has received a Rare Pediatric Disease Priority Review Voucher as a result of the FDA approval of DAYBUE, which can be used to obtain priority review for a subsequent application. DAYBUE is expected to be available in the United States by the end of April 2023.
Competitors of DAYBUE
Several other pharma companies are also developing therapies for Rett syndrome treatment. One such therapy and a competitor of DAYBUE is ANAVEX2-73. Anavex Life Sciences' ANAVEX2-73 is an orally available drug candidate that restores cellular homeostasis by targeting sigma-1 and muscarinic receptors. The FDA has granted the drug Fast Track Designation, Orphan Drug Designation, and Rare Pediatric Disease Designation for the treatment of Rett syndrome. Currently, it is in the late stage of development for Rett syndrome treatment. It is anticipated that after the launch, ANAVEX2-73 will give tough competition to DAYBUE.
Recently, the company announced the enrollment of 92 Rett syndrome patients for the ANAVEX®2-73 (blarcamesine) EXCELLENCE Phase II/III study in Rett syndrome patients aged 5 to 17 years (inclusive). This exceeds the original enrollment goal, and the Company expects to release topline results from this study in the second half of 2023. The completion of enrollment in the randomized, placebo-controlled EXCELLENCE Phase II/III study ANAVEX®2-73-RS-003 for the treatment of pediatric patients with Rett syndrome was preceded by the completion of both placebo-controlled Phase II U.S. (ANAVEX®2-73-RS-001) and Phase III AVATAR (ANAVEX®2-73-RS-002) studies in adult patients with Rett syndrome.
Apart from ANAVEX2-73, the other therapies in the Rett syndrome pipeline include Vatiquinone (PTC Therapeutics), Fingolimod (Novartis), Triheptanoin (Ultragenyx Pharmaceutical), Cannabidivarin (GW Pharmaceuticals), STRX 230 (StrideBio), AMO 04 (AMO Pharma), Pridopidine (Prilenia Therapeutics), NLX 101 (Neurolixis), BHV 5000 (Biohaven Pharmaceuticals). The expected entry of these therapies will threaten DAYBUE's market position.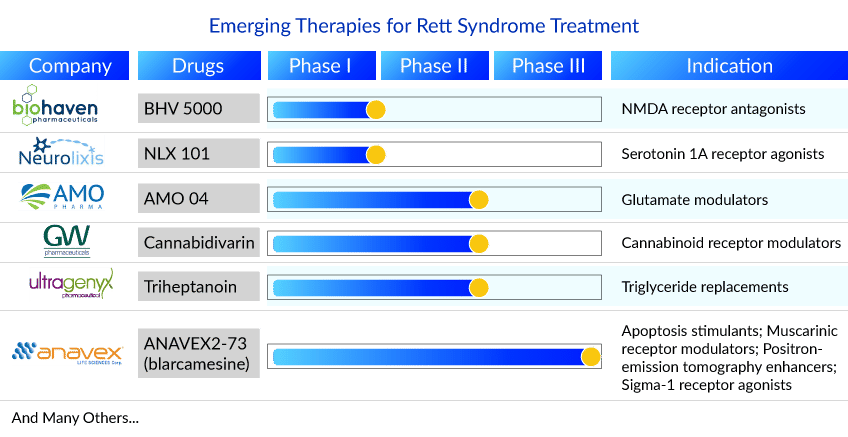 Recent Developments in the Rett Syndrome Treatment Space
In March 2023, Neuren Pharmaceuticals, based in Melbourne, announced that its North American partner Acadia Pharmaceuticals had received US Food and Drug Administration (FDA) approval for Neuren's lead candidate Daybue (trofinetide) to treat Rett syndrome in adults and children.
In February 2023, Unravel Biosciences, Inc., a therapeutics company that advances drugs for complex diseases by leveraging a machine-learned model of human health, announced the successful completion of its Type B pre-IND meeting with the US Food and Drug Administration (FDA) for its RVL001 program in Rett Syndrome.
In February 2023, PharmaTher Holdings Ltd., a leader in specialty ketamine pharmaceuticals, announced that the United States Food and Drug Administration had designated KETARX (racemic ketamine) as an orphan drug for Rett Syndrome treatment, a rare genetic neurological disorder.
In February 2023, Anavex Life Sciences Corp. announced the enrollment of 92 Rett syndrome patients in the ANAVEX®2-73 (blarcamesine) EXCELLENCE Phase II/III study in Rett syndrome patients aged 5 to 17 years (inclusive).
In January 2023, Neurogene Inc., a clinical-stage company founded to bring life-changing genetic medicines to patients and families affected by rare neurological diseases, announced that the FDA has approved the Company's Investigational New Drug (IND) application for NGN-401 for Rett syndrome treatment.
In October 2022, Taysha Gene Therapies, Inc. and Astellas Pharma Inc. announced a strategic investment to support Taysha's adeno-associated virus (AAV) gene therapy development programs for Rett syndrome treatment and GAN.
In September 2022, Anavex announced that USPTO issued US Patent No. 11,446,275 to Anavex, with claims to treatment methods using its leading drug candidate, ANAVEX2-73 and its analogs, for ameliorating biochemical and functional abnormalities associated with methyl-CpG binding protein 2 defects (MeCP2 defects).
Promising Future of Rett Syndrome Treatment Market
New therapeutic options are required to address the unmet need for effective and curative therapies for Rett syndrome treatment. This has created an opportunity for key players to develop novel therapies for Rett syndrome treatment. In addition, several academic institutions and pharmaceutical companies are currently conducting Rett syndrome clinical trials for the treatment of various Rett syndrome symptoms. Moreover, precision therapeutics, such as gene therapy, have the potential to change disease status rather than just modify symptoms because they target the underlying cause of the disorder. The recent success in this field is exemplified by the 'Zolgenzma' spinal muscular atrophy trial. Several pharmaceutical companies have committed to gene therapy programs for Rett syndrome treatment, with plans to begin clinical trials and change the Rett syndrome treatment space in the coming years.
FAQs
1. What is Rett syndrome?
Rett syndrome is a rare neurodevelopmental disorder that primarily affects girls but can be seen in boys on rare occasions. Rett syndrome is not a degenerative disorder, but it does cause problems with brain function that affect cognitive, sensory, emotional, motor, and autonomic functions.
2. What causes Rett syndrome?
It is caused by X-chromosome mutations in the MECP2 gene. On the MECP2 gene, there are over 200 different mutations. Most of these mutations are found in eight distinct "hot spots." The majority of the time, Rett syndrome is misdiagnosed as autism, cerebral palsy, or global developmental delay. It affects all ethnic and racial groups.
3. What are the Rett syndrome symptoms?
Rett syndrome symptoms appear after an early period of apparently normal or near normal development until six to eighteen months of age when there is a slowing or stagnation of skills.
4. How is Rett syndrome treated?
The Rett syndrome treatment is symptomatic and supportive, focusing on symptom management, necessitating a multidisciplinary approach. Antiepileptic drugs can be used to help control seizures; selective serotonin reuptake inhibitors (SSRIs), a type of antidepressant, can be used to treat anxiety; proton pump inhibitors (PPIs) or H2 blockers can help reduce reflux; Constipation can be treated with laxatives.