A bone marrow infection that tends to spread and frequently involves periosteal tissues and nearby cortical plates is known as osteomyelitis. It might be acute, subacute, or chronic. In most cases, acute osteomyelitis is hematogenous in origin, has a recent onset, and has a brief duration. It can also be brought on by trauma, such as a compound fracture or puncture wound; its position can be in the diaphyseal, epiphyseal, or metaphyseal regions. Less pathogenic pathogens typically bring on long-lasting subacute osteomyelitis. The inability to effectively treat acute osteomyelitis leads to chronic osteomyelitis, which is marked by bone necrosis and sequestration.
Over the last few decades, an upward trend in osteomyelitis cases has been seen. This might be due to advancements in osteomyelitis diagnosis and increasing rates of certain risk factors, such as diabetes and the aging population. Patients with osteomyelitis may exhibit a wide range of symptoms, from an open wound revealing the shattered bone to no evident skin lesion but with accompanying swelling, bone pain, lower extremity warmth, and tenderness upon examination.
In a study by Walter et al. (2021), osteomyelitis rates were quantified based on annual ICD-10 diagnosis codes from German medical institutions between 2008 and 2018, provided by the Federal Statistical Office of Germany (Destatis). The overall prevalence of osteomyelitis increased by 10.44% from 15.5 per 100,000 to 16.7 per 100,000 inhabitants between 2008 and 2018. Out of 11,340 cases in 2018, 47.6% were diagnosed as chronic, 33.2% as acute, and 19.2% as unspecified osteomyelitis. Men were more often affected than women, with 63.4% of all cases compared to 36.6%. The largest proportion of patients comprised the age group 60–69 (22.1%), followed by 70–79 (21.7%). More osteomyelitis diagnoses in older patients were observed. Lower extremities were most frequently infected, with 73.8% of all cases in 2018 (+10.8% change).
As per the assessment done by DelveInsight in the latest published "Osteomyelitis Epidemiology" report, there were approximately 93,000 cases in the US, 46,000 in the EU5, and 22,500 in Japan in 2021.
Current Osteomyelitis Treatment Landscape: Urgent Unmet Need for Safe and Efficacious Treatment
Optimal osteomyelitis treatment of skeletal infections requires collaborative efforts of pediatricians, orthopedic surgeons, and interventional radiologists. The osteomyelitis treatment regimen involves surgery, antibiotics, and painkiller. Antibiotics can make up an effective osteomyelitis treatment regimen but may include the surgical removal of dead bone in chronic osteomyelitis. Painkillers are given to ease the pain. In neglected cases with flexion contractures, prolonged physical therapy is required. Early osteomyelitis diagnosis is crucial because fast antibiotic delivery may prevent permanent bone loss. However, leading pharma companies, including Durata Therapeutics Inc, Allergan plc, Basilea Pharmaceutica, and Adaptive Phage Therapeutics, Inc., are evaluating their lead assets in various stages of clinical development to improve the osteomyelitis treatment landscape.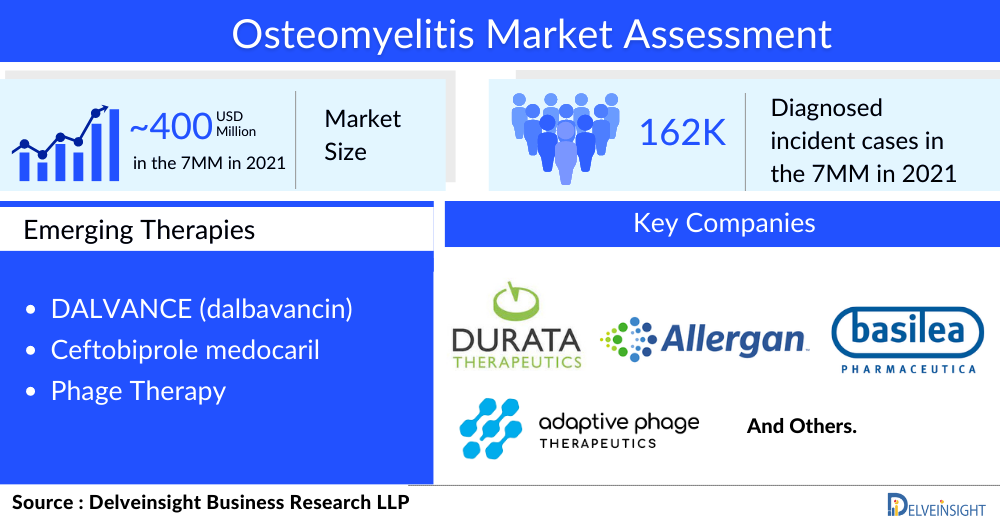 Osteomyelitis Pipeline: Promising, Albeit Limited, Treatment Options
The osteomyelitis treatment space has witnessed several clinical trials coming to a halt due to unfavorable clinical outcomes. Although the current osteomyelitis pipeline is restricted to just two products, they seem promising, having shown impressive results in other indications and gaining regulatory approval globally. The major late-stage products likely to hit the osteomyelitis treatment market include DALVANCE (dalbavancin) and Ceftobiprole medocaril. Improved methods of delivering antibiotics are being explored, and antimicrobial resistance remains a major challenge, compelling the development of novel therapeutics for osteomyelitis treatment.
DALVANCE (dalbavancin) is a second-generation, semi-synthetic lipoglycopeptide antibiotic consisting of a lipophilic side chain added to an enhanced glycopeptide backbone. It demonstrates bactericidal activity in vitro against a range of Gram-positive bacteria, such as S. aureus (including methicillin-resistant, also known as MRSA, strains) and S. pyogenes, as certain other streptococcal species. It is expected to enter the US market by 2026.
Ceftobiprole medocaril is a cephalosporin antibiotic for intravenous administration with rapid bactericidal activity against a wide range of Gram-positive and Gram-negative bacteria. This includes methicillin-susceptible and resistant S. aureus (MSSA, MRSA) and susceptible Pseudomonas spp. In June 2022, Basilea announced positive topline results for the Phase III ERADICATE study, evaluating ceftobiprole in treating adult patients with bacterial bloodstream infections caused by Staphylococcus aureus (SAB). Basilea is planning to submit a New Drug Application (NDA) for ceftobiprole to the FDA around 2022 end.
A phage therapy by Adaptive Phage Therapeutic (APT) is also being evaluated in Phase I/II osteomyelitis clinical trial. A single phage strain can generally infect only a single bacterial strain. Thus, in contrast to antibiotics which are effective against many different organisms, a purified phage strain is limited but highly effective against the strain of bacteria it can lyse. If bacterial resistance emerges in response to the initial phage administration, Adaptive Phage Therapeutic (APT) can rapidly identify a new phage effective against the mutated strain. This process can be continued until the bacterial infection is cured.
Other than these candidates, no other pharmaceutical player is in the late-stage development of an improved version of existing osteomyelitis treatments or novel treatment alternatives; however, some research organizations and university-based trials are underway. Rising osteomyelitis prevalence due to the increasing age of the general population and burgeoning exposure to risk factors (e.g., obesity, tobacco, and kidney disease) is expected to impact the osteomyelitis treatment market landscape in the upcoming years.
The Osteomyelitis Treatment Market is all set to grow at a Decent Pace
According to DelveInsight's analysis, the osteomyelitis market was valued at approximately USD 400 million in 2021 and is expected to reach USD 650 million by 2032 at a CAGR of 4.4%. The development of disease-specific therapies for osteomyelitis will auger well for the market landscape, which will likely bring significant changes in the osteomyelitis treatment space during the forecast period (2019–2032). However, further research into current healthcare pathways clearly shows a need for further therapeutic trials to improve osteomyelitis treatment options. Moreover, a better understanding of disease pathophysiology, etiology, and progression of the disease has enriched the clinical practice. As there is no approved drug for osteomyelitis treatment available in the market, the first product approved for osteomyelitis treatment will get the first mover advantage in the osteomyelitis treatment market.

FAQs
1. What is osteomyelitis?
Osteomyelitis is an acute infection of the bone caused by a pathogen's direct or indirect invasion. Direct invasion, also known as exogenous or acute contagious osteomyelitis, can occur at any time if the body has an open wound.
2. What are the osteomyelitis symptoms?
Osteomyelitis symptoms can be nonspecific and difficult to identify. Chronic pain, persistent sinus or wound drainage, poor wound healing, malaise, and, in some cases, fever are among them. The clinical manifestation of osteomyelitis is determined by the etiology.
3. What causes osteomyelitis?
The most common cause of acute and chronic hematogenous osteomyelitis in adults and children is Staphylococcus aureus. The next most common pathogens in children are Group A Streptococcus, Streptococcus pneumoniae, and Kingella kingae.
4. How is osteomyelitis diagnosed?
Adult osteomyelitis diagnosis can be difficult. A high level of clinical suspicion is required, as well as appropriate cultures and imaging studies. 
5. How many pharma companies are working in the osteomyelitis treatment landscape?
Key pharma companies such as Durata Therapeutics Inc, Allergan plc, Basilea Pharmaceutica, and Adaptive Phage Therapeutics, Inc. are currently working in the osteomyelitis treatment market.