Sarcopenia is an age-related geriatric syndrome which involves the loss of strength of skeletal muscles. The condition leads to impaired mobility, increased disability, more number of falls, as well as loss of physical function. Sarcopenia is observed in both physically inactive and active people, where factors such as inadequate protein intake, increased splanchnic extraction of amino acids and vitamin D deficiency increase the chances of developing this condition. Higher prevalence of Sarcopenia is observed in the United States as compared to Japan and EU5. On the contrary, higher awareness and improvement in care can slowly decrease the number of prevalent cases of Sarcopenia across the seven major markets by 2.17% over the 10-year forecast period (2013-2023).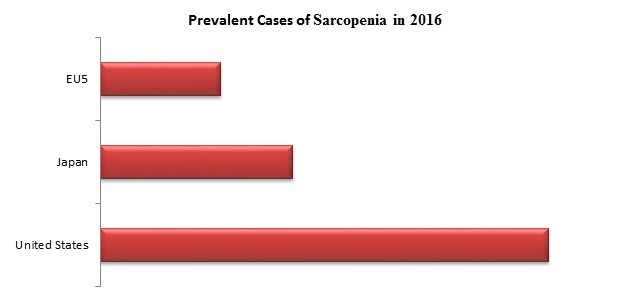 There is no test or any specific level of muscle mass that will diagnose sarcopenia and there has been no approved drug or treatment therapy, even though companies are in neck to neck competition to work towards the development of their molecule to bring it to the market. The only drug in the pipeline is enobosarm, which is in Phase III stage of development by GTx Inc. However, any further development is stalled as the company is looking for licensing partners because the primary outcomes of Phase III trial were not up to mark for FDA filings. Thus, the primary treatment for Sarcopenia is still restricted to exercise and resistance training or strength training, which helps in increasing the muscle strength along with endurance with weights or resistance bands.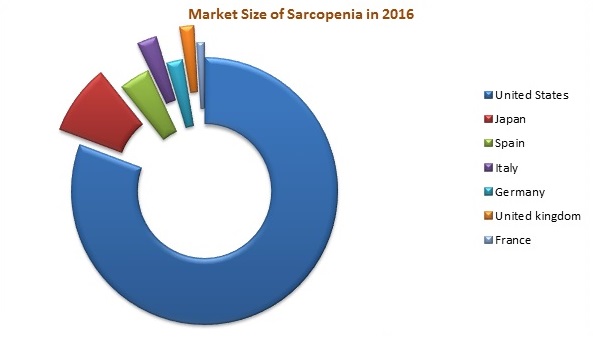 However, new technologies are still being developed to combat the disease that includes SARCOB Platform Technology by Biophytis, HuCAL Technology by Novartis, and Rycal Science Technology by Cytokinetics. These new technologies are the ones that play a major role in stimulating the growth of sarcopenia market. The market share in the 7 major markets (US, EU5, Japan) of Sarcopenia is expected to increase to USD 54.35 million by the end of the year 2023. Among these markets, United States has the largest market share whereas France contributes the lowest as of 2016. Sarcopenia, still an unexploited indication, needs effective and intensive research for developing better medication and improved treatment options.
Insight by:
Diksha Wadhwa
Associate Analyst