Warm Autoimmune Hemolytic Anemia market is anticipated to increase with a CAGR of 15.9% in the 7MM by 2030, estimates DelveInsight.
In 2017, as per the estimates by DelveInsight, Warm Autoimmune Haemolytic Anemia had affected 82,045 people approximately in the 7MM. For a disease being tagged – rare, WAIHA affects 1 in 35,000 in North America. With a population of about 57 crores, WAIHA is a cause of distress to many living in that continent only, let alone worldwide.
For a condition this prevalent, it is shocking that there exists no FDA-approved therapy in the Warm autoimmune hemolytic anemia market for patients to rely on.

Warm autoimmune hemolytic anemia market: Challenges
Lack of standard and effective therapies in the WAIHA market can be attributed to many reasons such as small-scale clinical trials sue to lack of enough volunteers. Availability of patients fitting inclusion and exclusion criteria is complicated. Variations in results due to heterogeneity of a rare disease because of ethnicity, subtypes of the disease, exposure to any prior treatment, and symptoms expressed; and the diverse and widespread patient pool is often common, adding to the difficulties in conducting clinical trials.
Moreover, with every region – definition of a rare disease varies considerably – a disease might be rare at on geographical location – and might not be at another – making it challenging to follow same regulatory guidelines.
Hence, there have always been challenges and hurdles in Warm autoimmune hemolytic anemia market. The diagnosis, prognosis, and management of warm autoimmune hemolytic anemia continue to be a task in the timeline reaching the present date.

Warm autoimmune hemolytic anemia market: Treatment approaches and current mainstays
Lack of any approved treatments in Warm autoimmune hemolytic anemia has contributed to set the present Warm autoimmune hemolytic Anaemia treatment goals to reduce or stop the destruction of red blood cells, increase the red blood cell count to an acceptable level, and treat the underlying cause of the condition.
The Warm autoimmune hemolytic anemia treatment landscape includes corticosteroids, splenectomy and conventional immunosuppressive drugs to keep the patient clinically comfortable and to prevent "hemolytic crises" with the use of medical interventions with the lowest possible short- and long-term side effects.
Use of off-label Corticosteroids such as prednisone forms the current first-line mainstays in Warm Autoimmune Hemolytic anemia treatment market. However, there exist pieces of evidence that direct that corticosteroids administration needs to be tapered gradually for over a time-period of 6–12 months to minimize the side effects associated with its long-term use. In addition to side-effects corticosteroids cause, they are effective in approximately 70–85% of Warm autoimmune hemolytic anemia patients, which is quite a relief; however not enough to suffice the needs of the patients.
In patients, where corticosteroids fail to bring relief, Rituximab is the alternative. The second-line mainstays for Warm Autoimmune Hemolytic anemia include the use of off label Rituximab initially and thereafter Splenectomy and immunosuppressive drugs such as azathioprine, cyclophosphamide.
For refractory/relapsed cases, the current sequence of second-line therapy is splenectomy (effective approx. in 2 out of 3 cases but with a presumed cure rate of up to 20%), rituximab (effective in approx. 80–90% of cases), and thereafter any of the immunosuppressive drugs (azathioprine, cyclophosphamide, cyclosporin, mycophenolate mofetil).
For steroid-refractory patients, requiring high maintenance doses and are not fit enough to undergo surgery, Rituximab is the best therapeutic alternative present in the WAIHA market.
As a last resort option when all of the above mentioned off-label treatments fail to fulfil the goal, additional therapies such as intravenous immunoglobulins, danazol, plasma exchange, and alemtuzumab and high-dose cyclophosphamide are present in Warm autoimmune hemolytic anemia market.
However, promising therapeutic modifications are emerging, including drug combinations, lower doses, and long-term use to advance WAIHA treatment market.

Warm autoimmune hemolytic anemia treatment market: Robust pipeline to address the needs
Many pharma and biotech companies are working on novel therapies such as targeted therapies for C3 inhibition, kinase inhibitors and novel cyclic peptides etc. to fuel the Warm autoimmune hemolytic market.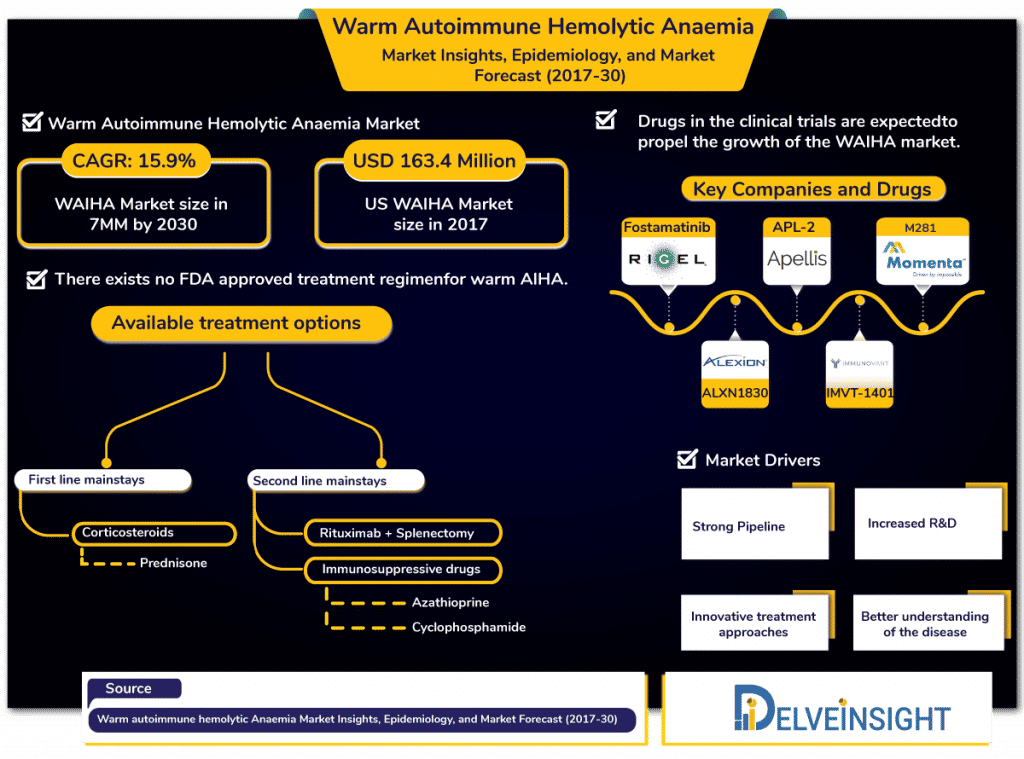 Some of the key pharma players in the Warm autoimmune hemolytic anemia market are Rigel, Apellis Pharmaceuticals, Momenta Pharmaceuticals, Immunovant, Alexion and others are expected to launch their candidates in the WAIHA market in the coming decade.
Warm autoimmune hemolytic anemia market comprises a strong pipeline including fostamatinib (Rigel Pharmaceuticals), APL-2 (Apellis Pharmaceuticals, Inc.), M281 (Momenta Pharmaceuticals), ALXN1830 (Alexion Pharmaceuticals), IMVT-1401 (Immunovant) and others are anticipated to impact the WAIHA market positively. However, DelveInsight analysts estimate that fostamatinib – a candidate of Rigel – will significantly occupy the Warm autoimmune hemolytic anemia market share for the forecast period (2019-2028).
In addition to a strong WAIHA pipeline, increased understanding of the disease, introduction of novel targeted therapies in the market, active R&D, and adoption of innovative treatment options are complimenting to overcome the present limitations in the Warm autoimmune hemolytic anemia market. Therefore, the current Warm AIHA market is positively evolving and will continue to grow at a CAGR of 15.9% in the 7MM by 2030 estimates DelveInsight Warm autoimmune hemolytic anemia forecast analysis for the period 2019-2030.
Moreover, improvement in the diagnosis methodologies and incremental healthcare spending across the world are going to add to the Warm Autoimmune Hemolytic Anemia market leading towards the development of new treatment therapies, addressed challenges, and a better approach towards treating Warm autoimmune hemolytic anemia treatment.