Acute ischemic stroke, contributing up to 80% of all stroke cases, is among the leading causes of death and morbidity, leaving around 50% of stroke survivors disabled worldwide. It is caused due to the blockage of an artery resulting in reduced blood flow to the brain that damages and interrupts brain functions. High blood pressure is a primary risk factor for acute ischemic stroke, while other conditions like obesity, diabetes, and transient ischemic attack could also be associated. The classification of acute ischemic stroke, based on etiology (cardioembolic, atherosclerosis, lacunar, and other), helps determine the optimal treatment approach for acute ischemic stroke patients. Further, the National Institutes of Health Stroke Scale (NIHSS), a powerful tool for assessing neurological defects' severity, also helps determine treatment plans. The current acute ischemic stroke treatment focuses on restoring blood flow to the ischemic region of the brain through reperfusion therapy.
According to DelveInsight's estimates, the United States accounted for nearly 700K cases of acute ischemic stroke, EU4 and the UK for 600K cases, and Japan for 200K cases in 2022.
Early detection crucial for acute ischemic stroke treatment
In acute ischemic stroke, timing is critical for chances of a favorable outcome that diminish with each minute. The early detection of acute ischemic stroke symptoms and triaging patients is of utmost importance; hence, a BE-FAST algorithm (balance, eyes, face, arm, speech, and time) is utilized to identify patients with a stroke. Most of the affected population cannot receive acute ischemic stroke treatment due to late arrival at the hospital, thus exceeding the time within which intravenous (IV) tissue plasminogen activator (tPA) could be administrated. However, a few acute ischemic stroke patients might still be eligible for mechanical thrombectomy.
Shortcomings of the current acute ischemic stroke treatment landscape
Since 1987, alteplase (IV tPA) has been the only approved drug for acute ischemic stroke treatment; earlier, acute ischemic stroke management was limited to symptomatic treatment, prevention, and rehabilitation. However, due to several limitations, alteplase could only be administrated to a handful of ischemic stroke patients. The major limitations include a restricted administration window of 3–4.5 h and associated hemorrhage complications. Additionally, acute ischemic stroke patients with mild or improving symptoms are also excluded from tPA therapy; hence, only a small subset of eligible patients could be administered tPA. However, in the 2000s, acute ischemic stroke therapies, including ticagrelor, edaravone, and apixaban, were approved to prevent and reduce the risk of stroke. Additionally, the approval of endovascular thrombectomy (EVT), upon which the time window was expanded for acute ischemic stroke providing physicians with a stronger therapeutic arsenal, was a major innovation in the ischemic stroke space. However, EVT is limited to large vessel occlusion cases applying to a small percentage of patients. However, it is the only one with level 1A evidence demonstrating a clear benefit of EVT.
Expanding door-to-needle time: A solution for the increasing disease burden
With emerging therapies entering the acute ischemic stroke treatment market, enhancing the treatment window might provide improved outcomes for ischemic stroke patients and reduce societal costs. While several acute ischemic stroke drugs are under investigation, only a few have demonstrated the potential to cater to unaddressed patients by expanding the acute ischemic stroke treatment window. DM199 is a human tissue kallikrein-1 developed by DiaMedica and administered within 24 h post onset of stroke; it can address 80% of the patient's pool having no acute ischemic stroke treatment option. Additionally, LT3001 of Lumosa therapeutics can be administered within 24 h, Nerinetide (NoNO Inc.) within 12 h, tenecteplase (Genentech) within 4.5–24 h, and BIIB131 (Biogen) within 9–12 h. Another promising therapy, invimestrocel, a MultiStem cell therapy developed by Healios and Athersys, demonstrated the potential to address patients with NIHSS 8–20 administered within 36 h, potentially applicable to 90–95% of all ischemic stroke patients. Further, glibenclamide of Biogen has the potential to address a small but very severe subtype of ischemic stroke patients having a high mortality rate (large hemispheric infarction) within 10 h window.
The above-mentioned promising therapies might address the pressing need for a broader acute ischemic stroke treatment window for AIS patients.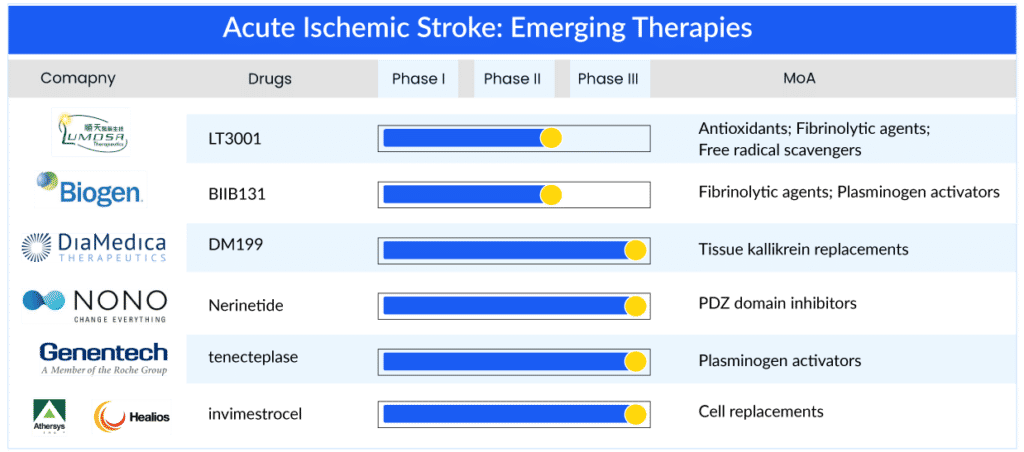 Latest developments in the acute ischemic stroke treatment space
In February 2023, Prolong Pharmaceuticals, a clinical-stage biopharmaceutical company, announced that preliminary data from the recently completed Phase I clinical study of PP-007 (HEMERA-1) in acute ischemic stroke (AIS) patients will be presented in the Late-Breaking Science session at ISC 2023 in Dallas, TX, as well as at the upcoming PAIRS conference in Dubai.
In February 2023, Pharmazz, Inc., a biopharmaceutical company focused on developing and commercializing novel therapeutics for critical care patients, announced that the US Food and Drug Administration (FDA) has issued a proceed forward letter regarding the Company's Investigational New Drug application, which includes the protocol titled "A Multicentric, Randomized, Double-Blind, Parallel, Placebo-Controlled Phase III Study To Assess The Safety And Efficacy Of Sovateltide In Patients With Acute Cerebral Ischemic Stroke."
In December 2022, Acticor Biotech, had discussed with the European Medicines Agency (EMA) the design of its pivotal Phase II/III study to support a potential future marketing authorization application (MAA) for its first-in-class drug, glenzocimab.
In October 2022, Pharmazz, Inc. presented positive results of its Phase III clinical trial evaluating sovateltide as a treatment for acute ischemic stroke.
In July 2022, Acticor Biotech announced that it had received "Priority Medicines" status from the European Medicines Agency (EMA) for its drug candidate, glenzocimab, for the treatment of patients with stroke.
In July 2022, DiaMedica Therapeutics announced that the FDA had placed a clinical hold on the company's ongoing phase II/III ReMEDy2 trial (NCT05065216) of its investigational treatment for acute ischemic stroke, known as DM199.
In February 2022, Revalesio announced new preclinical data supporting the advancement of RNS60 for AIS.
What does the future hold in the acute ischemic stroke treatment landscape?
Besides the acute ischemic stroke therapies addressing tPA and mechanical thrombectomy ineligible patients, some therapies for secondary prevention of non-cardioembolic ischemic stroke are under development. These include asundexian (Bayer) and milvexian (Bristol Myers Squibb). Additionally, glenzocimab and 3K3A-APC are being developed as add-on therapy to the current standard of care.
With a robust acute ischemic stroke pipeline aiming to address the underserved market, the future of acute ischemic stroke treatment market holds much promise. According to DelveInsight's estimates, the total size of the seven major acute ischemic stroke markets will likely cross the USD 4.5 billion mark by 2032.
Moreover, several organizations are actively working to provide information and increase awareness of such diseases. As there are less acute ischemic stroke treatment options which opens a platform of new therapies to boost the acute ischemic stroke treatment market in the coming years.
FAQs
1. What is acute ischemic stroke?
Acute Ischemic Stroke (AIS) occurs when blood flow through a brain artery is obstructed by a clot-like collection of thickened blood. Clots are classified as either thrombotic or embolic depending on where they form in the body. A thrombotic stroke, more common of the two, occurs when a clot forms within an artery in the brain.
2. What are the acute ischemic stroke symptoms?
Acute ischemic stroke symptoms vary depending on the severity and location of the stroke in the brain. Some people have no symptoms, while others have only one or two. However, the majority of people experience a combination of symptoms. Acute ischemic stroke symptoms may include paralysis on one side of the body, dizziness or loss of balance, vision problems, and so on.
3. How is acute ischemic stroke diagnosed?
History and physical examination remain the pillars of diagnosing acute ischemic stroke. The most common historical feature of an ischemic stroke is its sudden onset; the most common physical manifestations of an ischemic stroke are focal weakness and speech disturbance.
4. What are the current acute ischemic stroke treatment options?
Acute ischemic stroke treatment consists of a multidisciplinary approach that more than ever requires the involvement of the critical care specialist. Antiplatelet therapy is an important component of stroke and transient ischemic attack prevention (TIAs). Because it is relatively safe, inexpensive, and widely available, aspirin is the most commonly used agent. The Food and Drug Administration has approved tissue plasminogen activator (r-tPA) (also known as alteplase) to treat ischemic stroke.
5. How many therapies are in development for acute ischemic stroke treatment?
Key players, such as Athersys (MultiStem), Abbvie (Elezanumab), Bristol-Myers Squibb (BMS986177), Lumosa Therapeutics (LT-3001), Teijin Pharma Limited, Daiichi Sankyo, and others are involved in developing drugs for acute ischemic stroke treatment.