Clostridium difficile Infection (CDI), one of the most common nosocomial and community-acquired infections globally, is a major public health challenge. The Clostridium difficile bacteria are a toxin-producing pathogen that produces two types of toxins: toxin A (an enterotoxin) and toxin B (a cytotoxin). This toxin-producing ability is the reason that Clostridium difficile can produce a range of disease severities. Clostridium difficile Infection severity can range from mild to moderate and severe to even fatal, and it is observed to be a common cause of hospital- and community-acquired diarrhea.
According to DelveInsight's estimates, there were approximately 668,729 incident cases of CDI in the 7MM, in 2021, with the United States accounting for nearly 70% of all the cases. Of these, healthcare-associated cases were approximately 60%.
The clinical symptoms of Clostridium difficile Infection are heterogeneous and range from very mild diarrhea to fulminant colitis, accompanied by complications such as toxic megacolon, bowel perforation, sepsis, and death. Extracolonic manifestations of Clostridium difficile Infection are rare and most commonly involve small intestine infiltration, reactive arthritis, and bacteremia.
Antibiotics like vancomycin, fidaxomicin, and metronidazole are prescribed as the standard of care across lines of therapy; however, this regimen, is constrictive and challenging. The comprehensive and prolonged use of antibiotics depletes the gut microbiota and worsens dysbiosis, only exacerbating the condition associated with CDI. The treatment is further complicated by rising antibiotic resistance. While the current standard therapy of antibiotics is therapeutic, the most effective way to cure CDI completely would be to re-populate the normal colonic flora.
Current and Emerging Therapies in the Clostridium Difficile Infection (CDI) Therapeutics Market
Globally, several major and biotech giants are actively working in the Clostridium Difficile Infection (CDI) therapeutics market to improve the treatment scenario. Live biotherapeutics are being developed to treat CDI and restore healthy gut microbiota. Various whole-stool fecal microbiota transplantation (FMT) products like REBYOTA (RBX2660), VE303, CP101, and RBX7455, as well as FMT-derived mixtures of fecal bacterial spores such as SER-109 and NTCD-M3 are in the late stages of development. They primarily entail precise fecal bacterial strain engraftment and comprehensive fecal microbiota transplantation.
Ferring Pharmaceuticals' REBYOTA (RBX2660), a first-in-class microbiota-based live biotherapeutic product has recently been approved by the US FDA for the prevention of recurrence of CDI in individuals 18 years of age and older, following antibiotic treatment for recurrent CDI. A broad consortium of diverse microbes, the drug is to be administered rectally as a single-dose enema. It is prepared from the stool donated by qualified individuals. The FDA approval was based on the results from PUNCH CD Phase III trials, wherein REBYOTA had a 71% success rate in preventing recurrent infections compared to 57.5% for placebo recipients after eight weeks.
This approval of Ferring's REBYOTA is a milestone for microbiome-based drug research, which has drawn significant interest from large drugmakers and biotech companies in recent years but has also met with several setbacks. It culminates decades of research and clinical development in CDI treatment giving Ferring a major first-mover advantage in the treatment space which already has a robust pipeline of drugs.
Despite the pluses, Ferring is expected to face tough competition from Seres Therapeutics which is developing SER-109, a multifunctional consortium of commensal bacteria composed of purified Firmicutes spores. With an excellent safety profile, it is accepted for Priority Review by the US FDA with a Prescription Drug User Fee Act (PDUFA) action date set for April 2023. In the Phase III study, subjects treated with SER-109 had a recurrence rate of 8.7% at 8 weeks, which indicated a 91.3% sustained clinical response, compared to 75% in the case of REBYOTA. With an expected market entry by 2023, , SER-109 is expected to capture a larger market with a faster uptake than REBYOTA, possibly attaining a peak share of ~12% in the first 5 years.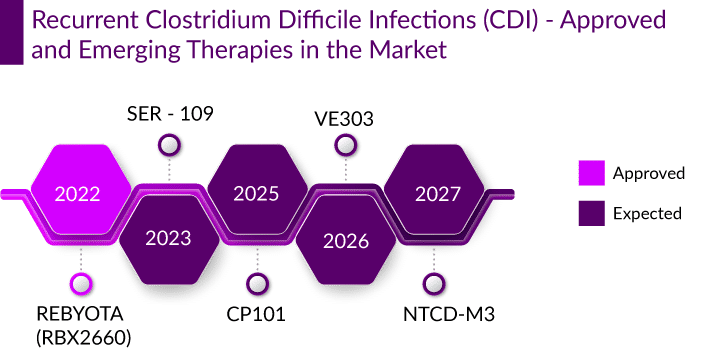 Other products in different developmental stages like Destiny Pharma's NTCD-M3 and Adiso Therapeutics' ADS024 are novel derivatives to watch out for. NTCD-M3, a non-toxigenic strain of C. difficile bacteria- strain M3, has demonstrated efficacy in reducing rCDI with a strong safety profile. It is a simple-to-administer solid capsule with low dosing, long shelf life, and lower treatment costs, making it an ideal treatment drug. ADS024, an oral single-strain live biotherapeutic product for the prevention of C. difficile recurrence with a selective killing capability and limited impact on other strains, inhibits the growth of C. difficile and degrades the toxin, which makes it an ideal adjunct to the standard of care. However, the need for funding to conduct late-stage trials may delay the market entry of these drugs.
Live biotherapeutics are expected to be used as add-ons to antibiotics to restore gut flora, thus reducing recurrence of CDI.
Key Companies in the Clostridium Difficile Infection (CDI) Market
Apart from the above-mentioned companies, several other players are actively working in the Clostridium Difficile Infection (CDI) Therapeutics Market, with their drug candidates in various stages of clinical development. Some of the prominenet companies in the market include Pfizer's vaccine (PF-06425090), Finch Therapeutics (CP101), Vedanta Biosciences (VE303), Summit Therapeutics (Ridinilazole), and MGB Biopharma (MGB-BP-3), and others.
Clostridium Difficile Infection (CDI) Market Dynamics and Future Perspective
Over the years, there has been a dramatic transition in the epidemiology of clostridium difficile infection (CDI), noted by a substantial increase in incidence and severity, occurring at a disproportionately higher frequency in older patients. Moreover, it is being observed that the incidence of CDI has been increasing, even in populations previously thought to be at low risk, including children. Currently, there is an unmet need for promising therapies that can provide optimum results to treat mild to moderate CDI, recurrent cases of CDI, age-specific, and targeting other factors. The market of CDI is facing some unmet needs as well, which can be considered as a bundle of opportunities for other pharma and biotech giants.
To fulfill the unmet need and grab the market share, several major pharma giants such as Acurx Pharmaceuticals, Adiso Therapeutics, Biovertis AG, Crestone, Deinove, Destiny Pharma, Ferring Pharmaceuticals, Finch Therapeutics Group, Lumen Bioscience, MGB Biopharma, Mikrobiomik Healthcare Company S.L., Pfizer, Rebiotix, Seres therapeutics, Summit Therapeutics, Vedanta Biosciences, and others are currently working on to develop novel therapies. Several of the emerging therapies are in the early, middle, and late phases of investigation for the treatment of Clostridium Difficile Infection (CDI), expected to hit the market in the near future.
As per DelveInsight, the Clostridium Difficile Infection market will evolve significantly in the coming years owing to the rise in health care spending worldwide, increasing incident cases of Clostridium difficile infection (CDI), and the  expected launch of upcoming therapies in the coming years. Over the last two decades, with advances in molecular biology techniques, there have been several breakthroughs in understanding the genetic diversity, evolution, epidemiology, and pathogenicity of Clostridium difficile. The ongoing clinical and research activities are expected to continue to overcome the existing barriers in the therapeutics segment in the coming years.