Head and neck cancer is a complex indication and is common among men and people over 50 and accounts for 3–5% of all cancers in the US. As per the assessment done by DelveInsight, there were approximately 158K incident cases of head and neck cancer in the 7MM in 2021. Among the EU5 countries, Germany had the highest number of head and neck cancer incident cases in 2021.
Immunotherapeutic options for treating HNC patients have also been identified. Overall, head and neck cancer treatment options for patients with HNC include surgery, radiation therapy, chemotherapy, targeted therapy, and immunotherapy. Pharmacological therapies are primarily used to destroy cancer cells and are administered either systematically or locally (by a medical oncologist). Chemotherapy, targeted therapy, and immunotherapy are some of the pharmacological head and neck cancer treatments available to HNC patients.
These cancers are easily preventable and can be treated if diagnosed early. But even after so much research and testing, the researchers have come up with only a few drugs.
ERBITUX (cetuximab), an EGFR inhibitor, was approved many years ago. Recently, the first-line therapy for Recurrent/metastatic (R/M)-HNSCC has been revolutionized by introducing immune-checkpoint monoclonal antibodies inhibitors (pembrolizumab). OPDIVO (nivolumab) was also approved for patients who have been treated with chemotherapy that contains platinum, but their head and neck cancer has returned or spread after treatment. The treatment options for R/M HNSCC are limited, especially regarding second-line regimens, mainly referring to chemotherapy, targeted therapy, or a combination of the two.
But despite the introduction of these therapies, the majority of the patients do not respond to them and have managed to achieve an overall survival of a few months, raising the question of how far are we from the breakthrough therapies and what changes can be done in the prior lines to reduce the recurrence in the initial settings?
Surgery or chemoradiation is the standard of care for patients with locoregionally advanced stages, but the recurrence is up to 15–50% even after this approach. Looking at the landscape of head and neck cancer clinical trials, the two major trials (PARADIGM and DeCIDE) failed to demonstrate improved overall survival (OS) with the addition of induction chemotherapy to chemoradiotherapy (CRT). With huge trial failures and no approved therapy in neo/induction and adjuvant settings. There is a high unmet need for effective therapies so that patients can be treated and recurrence can be reduced.
Approval of Immune checkpoint inhibitors has increased curiosity in the neo and adjuvant settings, but the challenge remains the same. There is a lack of evidence to understand the administration of drugs, induction therapies to be used, proper head and neck cancer treatment guidelines, and duration of the treatment. It also seems that tumor-suppressor mutations, including TP53, CDKN2A, NOTCH, and others, have been reported in HNSCC. More understanding of cancer-promoting driver oncogenic mutations needs to be made to develop targeted molecular therapies.
Many immunotherapies are being investigated to come up in different settings. However, drugs showing efficacy in other cancer types failed to meet endpoints for head and neck cancer. Durvalumab is the best example; approved for NSCLC and bladder cancer but failed to achieve its primary endpoint for HNC.
CheckMate-651 trial evaluating OPDIVO (nivolumab) plus YERVOY (ipilimumab) did not meet its primary endpoint; hence, not meeting BMS hopes to bring this combination in the first line. Similarly, KEYNOTE-412 investigated pembrolizumab in newly diagnosed, pathologically proven, treatment-naive LA-HNSCC patients. The drug was associated with a favorable trend towards improved event-free survival (EFS) vs. placebo plus CRT in patients with LA-HNSCC, but the difference in the EFS of the two arms was not statistically significant, adding it to the list of failed studies such as JAVELIN Head and Neck 100 study and others.
With fewer approved head and neck cancer drugs, although companies from different regions, such as China, are also trying to enter the global market, it seems like the US FDA is being strict in terms of approval, as all drugs should be effective in diverse subgroups rather than in a single country group.
The neoadjuvant and adjuvant space of HNC can be challenging, with a need to develop proper treatment. Below are some potential upcoming drugs and their estimated sales in this space.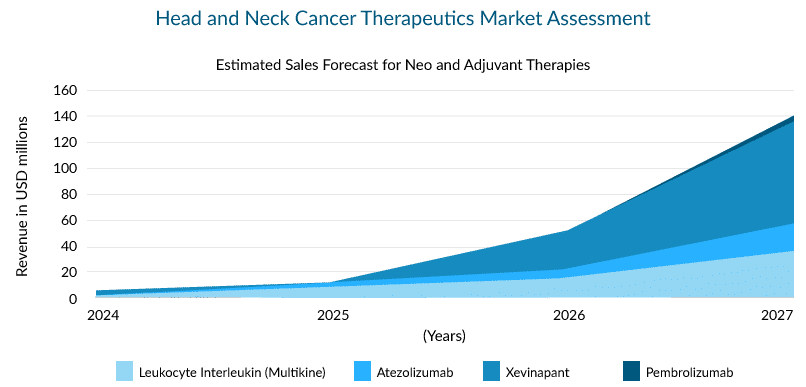 There are a few promising drugs with novel mechanisms of action to be launched in the head and neck cancer treatment market during the forecast period. Xevinapant (antagonist of IAP), leukocyte interleukin (multikine), and LN-145 (tumor-infiltrating lymphocytes) are some of them.
Xevinapant, a first-in-class potent oral antagonist of IAPs (Inhibitor of Apoptosis Proteins), was recently granted Breakthrough Therapy Designation by the USFDA. The Phase II study results of treatment with xevinapant + chemoradiotherapy (CRT) in patients with LA-HNSCC were presented at ESMO 2022. The drug + CRT displayed a five-year overall survival (OS) rate of 53% vs. 28% in the placebo arm, and the risk of death was more than halved. In fact, the drug improved the OS across all the prespecified groups in the study, and the duration of response (DoR) was also prolonged with the addition of xevinapant. The therapy is currently being investigated in the Phase III TrilynX study for previously untreated high-risk LA SCCHN and XRAY VISION study investigating the treatment of high-risk participants with LA-SCCHN who are ineligible to receive cisplatin-based chemoradiation concurrently.

Atezolizumab, Pembrolizumab, and Leukocyte Interleukin (Multikine) are also trying to capture a share in this segment. However, Atezolizumab's trial failed in other indications, such as breast and lung cancer, raising questions about its success in HNC.
What's Ahead in the Head and Neck Cancer Treatment Market?
Head and neck cancer survival is steadily improving, and it is emphasized that a better understanding of tumor pathobiology will lead to better therapies and outcomes in the head and neck cancer market. Clinical trials are being conducted to understand better the role of HPV and the interactions between various therapies. Response rates in HPV+ tumors are higher when chemotherapy is combined with PD-1 inhibitors. These kinds of new insights will undoubtedly help the head and neck cancer treatment market grow in the future.
Due to the scarcity of randomized neoadjuvant trials, an investigation into using newer and more active systemic regimens to treat HNC in the neoadjuvant setting could potentially improve outcomes. In the head and neck cancer treatment market, there is currently no head and neck cancer drug approved in the adjuvant and neoadjuvant settings, making this a lucrative target for pharmaceutical companies.
Despite not many trials looking into genetic changes, these mutations could be used as therapeutic targets, providing a unique opportunity in the head and neck cancer treatment market for future personalized, targeted therapies.