It has become a necessity in our daily lives to get the medications exactly when the body requires them. But at times, we tend to forget or ignore. Taking medications routinely, understanding their effects and side-effects as well as monitoring the outcomes can be tedious. So healthcare professionals and technological organizations came together to create a solution i.e., Medication Management Applications. A recent study involving almost 2k adults indicated that almost 80-85% of people had medication delays. Whereas, 40-45% had forgotten to take medicines in the first place. To combat this issue, many services and products are available in the healthcare market that is out there to ease and simplify the medication-taking regimen. It gets very tricky to take the medications at the proper time when the person is working and also take the medications several times a day. The study mentioned above also found out that more than 25% of people 3 or more medications in a day, whereas 10% take five or more medications per day. This study also highlighted the fact that almost 50% of these adults struggle with the medication regimen that they are prescribed. Additionally, It is observed that the non-adherence to the medication may lead to additional visits to the hospital, and in some cases, it may be the possible reason for the re-hospitalization. With the regular update from the Medication Management Apps, the user can stay informed about his medication cycle which may save money and time.
Some of the leading Medication Management Apps in the market include –
Taking medications frequently and at an appropriate time becomes really difficult, so there are many tools/apps created to let an individual get reminded of the medication regimen. The most commonly used Medication Management Apps are present in the mHealth apps market spaces include:
Round Health
Round Health is a useful medication reminder app that helps users remember to take their medications on time. The app is straightforward to set up and does a good job of reminding people when to take their meds in an inconspicuous manner. Dosing for a wide range of prescription and over-the-counter drugs, as well as vitamins, can be programmed.
One intriguing feature of this app is the ability to set dosing windows rather than times. On the other hand, one disadvantage is that multiple daily doses must be set individually. It would be a nice feature if the user could simply choose twice daily or three times daily dosing as needed.
The process of obtaining medication is rather simple. Patients begin by entering in the name of the medicine. As the user types letters, a drop-down menu appears. One difficulty with the app is that it includes misspelled drug names in the list, such as "metfomin" and "ibupfrofen." Over-the-counter medications are categorized as vitamins, which is a little strange, but it has no bearing on the app's performance.
Dosecast
Dosecast is a medication management app for iOS, Android, and Amazon devices. The user must enter information about each medication s/he take into Dosecast. This includes the medication's name, dosage, and how and when you consider it. Reminders can be set to occur on a daily, weekly, or monthly basis, every few days or weeks, or for a predetermined number of hours or days after the last dose.
The app adapts to the user's changing schedule, allowing the user to take a dose earlier or postpone it for as long as needed. The app tracks remaining quantities and sends refill reminders. In addition, the app keeps track of medication adherence. The Dosecast medication management app is available in two editions: free and pro with CloudSync.
MedHelper
MedHelper is another medication management and tracking app. It is intended to help with the difficulties of sticking to a medication schedule. The app contains a variety of information, such as the name of the medicine, instructions on how to take medicine, side effects, and reactions.
The app sends a notification alert when it's time to take medication. The app keeps track of both prescription medications that must be taken on a regular basis and take-as-needed medications. An inventory displays the remaining quantity of medicine as well as information about the next batch that is required.
A schedule indicates the start date of the medication, any end dates, the dosage required, and the time of day it should be taken. Reminders can be set for a variety of events, such as when medications must be taken, when appointments with medical professionals are due when medical supplies are low, and when medications are about to expire. Moreover, medicine compliance reports can be sent to a medical professional. The app is available for both Android and iOS users, and it has both a free and a paid version.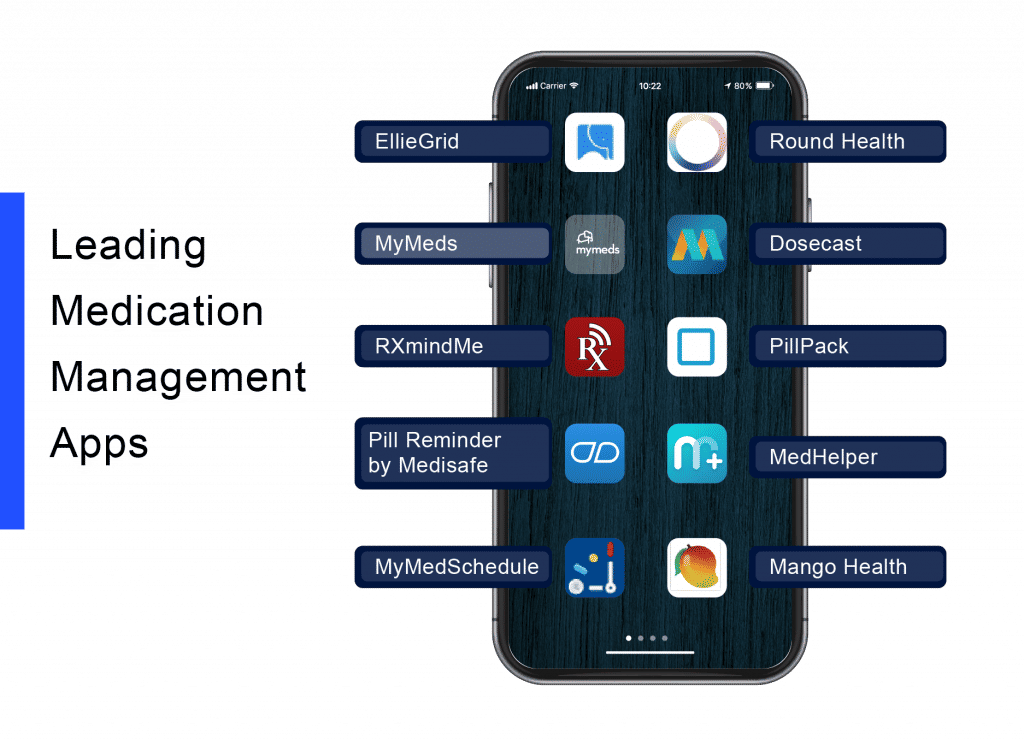 PillPack
The PillPack app is the first of its kind to automatically import a customer's current medication list, regardless of which pharmacy they currently use, and to use geo-tracking sensors to create custom reminders based on location, activity, or time to better fit people's daily routines.
PillPack is an iPhone and Apple Watch medication reminder app. It's designed to alleviate the stress of remembering to take medication. To use the app, a user does not need to be a PillPack pharmacy customer. Users can create custom reminders based on context-specific conditions such as "alert me when I get home," utilizing all of the iPhone's sensors.
With a swipe of a finger, users can also archive medication reminders once they are finished or reschedule alerts if they are too busy. PillPack Medication Reminders automatically imports a user's medication list. The app searches pharmacies in the country for the user's prescription medications and imports them into the app.
Mango Health
Mango Health is a medication management app that assists users in managing medications and developing healthy habits. The Mango Health app allows the user to create a schedule of habits such as taking medication on time, recording the user's weight, checking blood pressure, and so on.
Mango Health notifies the user when it is time to take their medication. The app has a reward system that gives patients points that can be redeemed based on how well they take their medications using the app. It also uses LexiComp drug information to identify drug interactions and provides general medication information to the patient.
EllieGrid
Founded in 2015, EllieGrid is one of the leading Medication Management Apps in the market. EllieGrid's app works along with a smart pillbox that costs nearly $149. The pillbox can sync up with the app and help the user to schedule the pills. It notifies caregivers about missed alarms and also keeps track of their medication adherence. Additionally, it can track health progress over time using sensors.
Pill Reminder by Medisafe
Medisafe Pill & Med Reminder is one of the most trusted Medication Management Apps used by millions of people globally. It is an easy-to-use and free app that can track and control medications. Additionally, it can schedule appointments with doctors. Medisafe comes with a monthly and yearly subscription model with premium features that can track 20+ health measurements such as blood glucose, blood pressure, weight, pulse, and temperature measurement after syncing with the HealthKit app. The paid version also provides a dozen of Mentone reminder voices, the ability to pick color themes and pillbox shapes and and no banner ads.
MyMedSchedule
MyMedSchedule is one of the oldest Medication Management Apps in the market that uses a free web-based program for managing prescriptions. It helps the consumers to create medication schedules, including images of their pills, save and print schedules for themselves and/or family members. Additionally, the user can set up reminders to take pills and follow up appointments, and get a med refill. The major advantage of the MyMedSchedule over other apps in the market is that it is free.
MyMeds
MyMeda was founded in 2012 with the aim to improve users' medication-taking behaviors. MyMeds is not just limited to medication reminders; it can also connect stakeholders such as patients, caregivers, providers, and payors. MyMeds can auto-import the user's meds and set up a med reminder. Along with these beneficial features, it can also chat with a pharmacist and identify better prices for the medications. Therefore, it helps clinicians to keep in sync with the clinical population's health.
RXmindMe
RXmindMe is a free reminder app for medications, vitamins, and supplements. RXmindMe provides an option to enter all the dosage information, set up hourly, daily, weekly, monthly reminders, and ever for specific days. It actively tracks the medicine. Additionally, it has some advanced features such as email prescription history, exploring the entire FDA drug database for a particular drug, historical drug prescriptions, among several others. The user can also take photos of the prescriptions and provide options to easily export the data.
Benefits of Medication Management Apps
Medication management is critical in determining clinical outcomes. Both doctors and their patients can use medication management apps to get the most up-to-date data to make informed judgments and adjustments to their future health care plans. Patients benefit from mHealth apps, specifically medication management applications, because they provide better education and care management, while healthcare practitioners benefit from medication management apps because they gain insight into their patients and can improve care delivery.
Furthermore, medication adherence can be measured and improved at the point of care with the help of medication management apps. Some other advantages of medication management apps include
Increased patient satisfaction by providing easy access to personalized medication histories and management plans in an intuitive format
Patient satisfaction increased as a result of personalized messages tailored to their specific healthcare needs
Patient medication-specific assessments and satisfaction surveys are used to report on the quality of care plans.
Patient care is improved as a result of increased awareness and participation in medication management programs
Major Challenges with the Medication Management Apps
Data privacy & security have always been an issue with the healthcare industry. Over the years, there have been several instances where the HealthTech giants, pharma & biotech firms, and insurance companies have disclosed the healthcare data leak in their organization. The data may include vital and confidential information such as dates of birth, age, email addresses, contact information, and the patients' medical history. The loss of data may be used by a third party to sell the products & services to the user. Additionally, the hacker may use the data to blackmail the user. In the long term, data theft may have a devastating psychological impact on the user.
Similarly, digital illiteracy is also one of the biggest concerns with the mobile health (mHealth) ecosystem. People, especially in the rural areas, and old age are not well aware of digital tools & trends. In most countries, the majority of the population resides in rural areas, who are not aware of smartphone applications. However, it provides a huge potential for the companies in terms of new users acquisition and revenue. Additionally, in rural areas, there is always some issue with internet connectivity, which also hampers the widespread adoption of smartphones. Slow access to data and information management can degrade the quality of users' experience.
Healthcare apps are not regulated by healthcare agencies and the government, so there is always some scope for inaccurate information or inaccuracy. Affordability, resistance, and trust from the user's end are other major challenges in the widespread adoption of Medication Management Apps.
What Lies Ahead in the Future of Medication Management Apps
It is extremely difficult to remember to take the medications throughout the day, especially if you have many to take. The above-stated apps present in smartphones can help in reminding to take the medications regularly. These apps have customizable features in many different ways, and you have to pick the one which is the best suitable for you. Currently, there are many paid versions of these apps, but also there are several Medication Management Apps that are completely free of cost. They can be added as extra support to your medicine-taking regimen.
Medication Management Apps have turned out to be very effective in empowering patients with personalized medicine support and improving treatment compliance for the long-term well-being of a patient. The existent features in Medication Management Apps such as symptoms tracker, data sharing availability, and most importantly, the reminder makes these tools a cumulative solution for all the medication regimen needs. But there are constant studies and experiments going on in order to improve these features and optimize the treatment more based on an individual's personal data. Future developments in Medication Management Apps shall focus on making it even more effortless (easier data entry, more personalized treatment, etc.) and easy to use.