With the advent of new-age healthcare industry trends that are evident as of now, there are new technologies and solutions that are directed towards clinical diagnosis, treatment, and disease management. The world witnessed the COVID-19 pandemic which utilized technology in almost every aspect related to limiting transmission, disinfecting, detecting disease spread, treatment, and immunization. The upcoming trends in the healthcare industry range from Augmented and Virtual Reality for Quality Care, Telemedicine, At Home Diagnostics to accessing Digital Therapeutics and Virtual Clinical Trials. Genome Analysis and Big Data Storage will aid in the development of Precision Medicine. Adopting Artificial Intelligence (AI), the internet of things (IoT), and Robotics will make Hospitals Smarter. Let's dive deep into the upcoming 22 Healthcare Industry Trends & Innovations that will shape the future of healthcare.
Telehealth – Evolved Quickly During Pandemic, Will the Trend Continue in 2022?
Telehealth and Telemedicine hold immense potential to transform the healthcare landscape. Telemedicine has been in use for the past many years, and with the advancement in technologies, day by day, it is reducing the patient-doctor gap and improving the healthcare outcome. Studies conducted over the past few years found that patients are more inclined to engage with physicians via technology, and a considerable number of them have reported higher satisfaction. To the patients, Telemedicine helps them to save their valuable time & expenses in transportation, and to the doctors, it helps them increase practice revenue.
The remote monitoring or virtual care segment registered significant growth during the pandemic. People across different age categories, socioeconomic groups, and geographies had embraced virtual care at a large number. Companies in the segment also observed an increase in sales and a rise in revenue. Similarly, the government and companies operating in the market had also relaxed regulatory guidelines and several reimbursement policies, thus facilitating the growth. As vaccination coverage increases and the situation gets normal, the Telehealth or virtual care segment will observe a slight dip in demand in 2022. To keep the trend continuing like during the pandemic, companies need to roll out lucrative offers, new strategies, and quality care to retain the existing customers and maintain their confidence. Telehealth is likely to grow and evolve in the long term as it provides several unique benefits over traditional in-person care. The key companies expected to dominate the Telehealth market in 2022 include Teladoc Health, Doctor on Demand, Dictum Health, American Well, MDLIVE, Grand Rounds, and OpenTelehealth. Advancement in technology, adoption of smartphones, & rise in investment is likely to stimulate Telehealth market growth in 2022 and the upcoming years.
Healthcare Mobile Apps – How they Are Becoming an Inevitable Par of Life
The technology innovation in portable computation and the growing adoption rate of smartphones is opening a new sphere for the healthcare industry in terms of the quality of healthcare services, efficiency, and cost. mhealth or mobile apps have maintained a higher growth over other healthcare segments. Mobile apps are like portable assistants to improve personal health, get treatment information, transform lifestyle, and fight chronic disease. Patients or users dealing with different diseases are using different types of apps for different purposes, and among all, the younger generation is getting more attention as compared to other groups. To cater to different demands, apps are getting more advance in terms of features and functions.
Mental health has emerged as one of the serious health issues globally, impacting over 1 billion people, and the majority of people in low-income countries do not receive treatment. According to DelveInsight analysis, in the healthcare mobile apps segment, in 2022, the demand for Mobile Wellness (or mental health) Apps is likely to increase significantly compared to other healthcare mobile apps. Similarly, the Diabetes Management Apps Market is also anticipated to observe immense growth, followed by fitness apps, healthy diet app, and women's health app or FemTech Market. North America holds a major market share and will continue to dominate the segment; however, developing countries like India and China are also expected to showcase phenomenal growth. With the rolling out of 5G services, rising use of smartphones, increasing use of wearable devices, rising investments by startups, the global healthcare mobile apps market will evolve in 2022.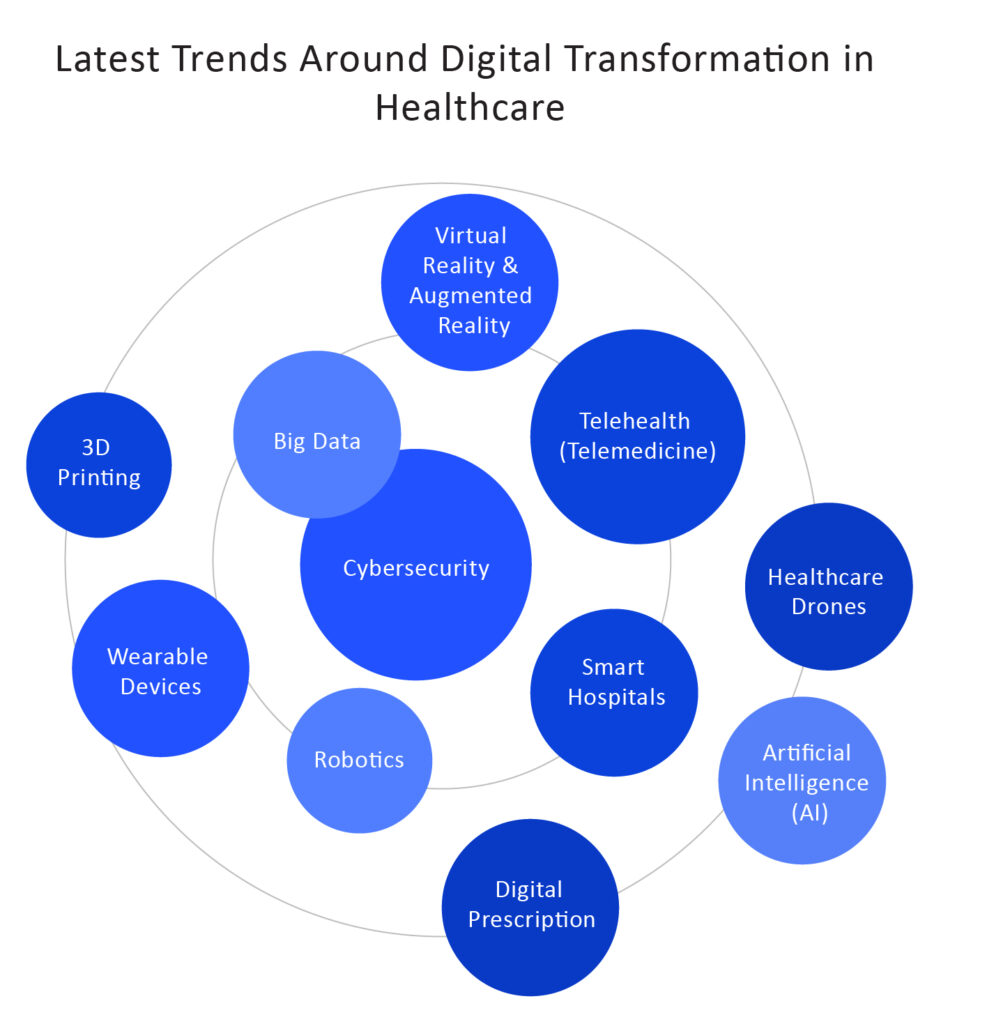 Robotics – Next Generation Healthcare
Robotics is considered to be the future of healthcare. Industries such as manufacturing, supply chain, and food processing are heavily using robotics in their day-to-day operations. It is also emerging as a potential technology in the field of medicine and immensely enhancing the quality of care and health outcomes. Apart from surgery, it is making its way in diagnostics, patient companionship, rehabilitation, clinical transportation, Sterilization & disinfection, digital consultation, and several other domains. During the Covid-19, several countries employed robotics in the healthcare setting for various uses such as medication delivery, cleaning, and disinfecting.
The launch of the robots such as The da Vinci® Surgical Robot, The Xenex Germ-Zapping Robot, The CyberKnife, The PARO Therapeutic Robot, and The TUG have significantly transformed the surgical outcomes and procedure within a short period of their launch. As per studies, more than 1.2 million procedures are performed globally every year. With the growing demand for minimally invasive procedures (especially for neurologic and orthopedic procedures) and technological advancements in AI/machine learning, the healthcare robotics market is also expected to grow. However, high establishment costs and reimbursement policies are expected to impact the market growth.
The major participants in the healthcare robotics market include Neocis, Renishaw, Riverfield, Auris Health, Stryker, Smith & Nephew, Stereotaxis, Think Surgical, Titan Medical, Accuray Incorporated, Brainlab, CMR Surgical Limited, Corindus Vascular Robotics, Intuitive Surgical, Medtronic, Medrobotics Corporation, and Zimmer Biomet Robotics.
Wearable Technology – Exciting Developments & Launches to Improve the Users' Experience & Health Outcome
Over the past few years, wearable devices have emerged as one of the most reliable tools for long-term medical and health monitoring. The demand is growing immensely with each passing day, especially among the younger generation and becoming a part of life. As the users' purchasing power and consciousness are growing towards health, so is the demand for real-time personal information data.
With the advancement in semiconductor technology & sensors, increase in users' familiarity with the wearable, and physicians' inclination towards data collected for check-ups, the worldwide health and wellness wearable devices shipment will touch a new high in 2022. However, the high cost, lack of common standards, reliability, validity, privacy, interoperability, and security of personal medical data are major concerns with wearables. Major MedTech players such as Novartis, Abbott Laboratories, Medtronic, Zeiss, Roche Diagnostics, among others, are expected to dominate the healthcare wearable segment. Similarly, tech giants including Fitbit, Apple, Google, and Samsung are also expected to enhance users' experiences with more sophisticated metrics and innovative wearable launches. Smartwatches are anticipated to observe immense growth among different wearable devices.
3D Printing – How is it Adding a New Dimension to the Healthcare Industry?
New tools and technologies are making inroads into the healthcare industry every day. Among other technologies, 3D Printing is one of the most promising technologies expected to revolutionize the healthcare industry in the near future.
3D Printing makes it easier to produce patient-specific implants (prosthetic body parts) and a wide range of medical equipment, devices, and products. In recent years, significant advancement has been observed in a drug-delivery system for chemotherapy, disease modeling, tissue engineering, artificial joints, with the help of 3D Printing. As the demand for implants and organ transplants is increasing, 3D Printing is expected to observe a surge in growth in 2022 and years beyond. Similarly, the growing healthcare expenditure, increasing consumer awareness, and the rise in investment will also significantly impact the 3D Printing market. However, the high cost of 3D printers, safety standards, and strict government regulations affect the growth.
Smart Hospitals – A Seamless & Innovative Environment for Quality Care
Data is a crucial part of today's healthcare setup. The adoption of data can save a valuable life & smart hospitals are one of the growing examples of efficient data utilization. Smart Hospitals aims to utilize cutting-edge tool & technologies such as smart buildings, IoT, Big Data, Artificial Intelligence (AI), Telemedicine, cloud computing, Machine Learning, RFID, robotic surgery, Digital Imaging, EHRs, and Communication System (PACS), to make efficient and effective collaboration between various components of the hospital.
The Smart Hospitals competitive landscape is dominated by key companies such as Koninklijke Philips, McKesson Corporation, Medtronic, Intel Corporation, STANLEY Healthcare, Microsoft Corporation, SAP SE, Siemens Healthineers AG, Adheretech, Capsule Technologies, Cerner Corporation, Allscripts, Honeywell Life Care Solutions, Stanley Healthcare, Qualcomm Life, Cerner Corporation, and GE Healthcare. The increase in telehealth adoption, growth in electronic health records, development in telecommunication infrastructure, and their integration in healthcare are expected to make a significant impact on the Smart Hospitals market growth. However, Interoperability, cybersecurity, Unstructured data, and legacy systems are the key barrier in the Smart Hospitals segment.
North America is dominating the global Smart Hospitals market; however, the Asian countries are also expected to mark a positive growth in the Smart Hospitals segment. In 2021, NBTC and Huawei launched the "first and largest" 5G smart hospitals project in Thailand and the Southeast Asian region. Similarly, the oil-rich Gulf countries are also in line to unveil new Smart Hospitals projects in the region.
At-home Diagnostics & Monitoring Devices – Will it Set a New Trend in the Healthcare Segment?
The COVID-19 has brought unprecedented changes to the healthcare system. The at-home diagnostics and monitoring Devices segment has evolved immensely during the last two years. Even before the advent of the pandemic, some of the diagnostics tests such as fertility, blood samples, glucose levels, cholesterol levels, and urinary tract infections were growing at a moderate rate. But after the Covid-19, the sales for many diagnostic devices have reported a rapid increase along with Covid-19 testing and monitoring kits. With the ongoing innovation and the positive approach by the regulatory authorities, segments such as infectious diseases, diabetes, and heart disease will continue to have new devices in the market.
The At-home diagnostics and monitoring Devices are cost-effective, less time-consuming, and confidential, thus boosting the demand and confidence of the user. The other significant advantage is that the user doesn't need to visit laboratories or doctors, thus saving valuable time. The At-home diagnostics and monitoring Devices market is majorly dominated by global MedTech giants like Becton Dickinson & Company, True Diagnostics, SA Scientific, Sekisui Diagnostics, Siemens Healthineers, ACON Laboratories, BTNX, ARKRAY, TaiDoc Technology Corporation, Thermo Fisher Scientific, Zoetis, Abbott Laboratories, Bionime Corporation, Roche Holding AG, Quidel Corporation, and others. Similarly, several local and tier-2 companies have a strong presence across the US, Europe, and the Asia-Pacific region.
As per DelveInsight, the demand for At-home diagnostics and monitoring Devices is likely to remain high in 2022 due to the prevailing Covid-19 scenario and untapped market, which provides lucrative opportunities for companies to explore and expand in new geographies with high-end technologies.
Artificial Intelligence (AI) – The Future of Healthcare Industry
In recent years, Artificial Intelligence (AI) has been the most talked about topic in the healthcare industry. Artificial Intelligence (AI) in healthcare brings new opportunities to provide a practical conclusion to existing problems in the segment. Several startups have emerged across different countries to provide a wide variety of AI-enabled healthcare solutions, from drug discovery & design to improving healthcare databases and from medical imaging & diagnostics to promoting health equity.

Apart from startups, the pharma and biotech companies are also actively adopting and investing heavily in technologies like artificial intelligence, big data, and machine learning. During the past two years, due to the Covid-19, the Artificial Intelligence (AI) in healthcare has observed a slight decline in investment. However, as the situation gets better, the segment is expected to bounce back. In 2022, AI in healthcare is likely to observe several cross-industry partnerships & collaborations and also significant attention from Venture capital (VC). Despite several positive developments, data privacy, shortage of skilled workforce, regulatory compliance, and resistance among medical practitioners will be the key challenges in Artificial Intelligence in the healthcare market space.
Big Data in Healthcare Could Take Center Stage in 2022
The incorporation of technology into healthcare is an unavoidable match. Healthcare systems around the world will accelerate their digitization journey. Simultaneously, manual processes will accelerate this conversion while also unleashing the power of innovation through solutions such as big data in healthcare. When we talk about big data in healthcare, we're talking about data gathered from patient records and other real-world sources; data that can be used to inform medical practice, measure a product's post-market success and provide a comprehensive picture of how a treatment or illness affects (or could affect) a patient population. Medical data collection is critical during the discovery and R&D stages of the drug development process, and with enough datasets, it is possible to drastically reduce the cost of developing and testing new drugs, as well as prevent significant outbreaks and epidemics among specific populations.
The big data in healthcare trend is going to accelerate as we can expect the amount of data collected from the patient population to increase in 2022, as well as the methods of collection to diversify. Demand for technology that can monitor big data in healthcare is expected to skyrocket in the coming year, and with world leaders in technology such as Google and Amazon already entering the healthcare space, we can expect to see traditional methods of data collection such as in GP practices, during hospital visits, or monitored during trials used alongside data collected from smartwatches, wearable ECGs, biosensors, and other advanced medical devices. As improvements in machine learning, artificial intelligence, and automation open up new opportunities for working with patient data, we may expect to see changes in the way data is examined and processed.
Augmented and Virtual Reality for Quality Care
In surgeries and diagnostics, techniques such as augmented and virtual reality are increasingly being used. Augmented Reality (AR) and Virtual Reality (VR) are among the key healthcare trends driving the medical devices market in recent years. This healthcare trend is expected to continue to increase in the coming years. AR in healthcare can help patients with transportation. Various types of telehealth solutions may necessitate varying levels of training. Tailored apps are already assisting in determining the best ways to treat patients. Smart glasses, dentist tools, and vein scanners are all examples of augmented reality solutions. Other AR tools allow surgeons to remotely project their hands into the display of a surgeon on-site wearing the AR technology, obtain guidance during procedures, display 3D models, and more. Such software includes EchoPixel, BioFlightVR, Vipaar, and others. Leading manufacturers in the global AR/VR market include Samsung, Sony, Google, HP, Microsoft, AMD, Carl Zeiss, and others. Still, many more players are entering the AR and VR market that will change the dynamics of AR and VR in healthcare shortly. Furthermore, some top AR/VR development platforms such as Apple ARKit, Wikitude, Unity, Vuforia, Kudan, Maya, Google ARCore, and others are expected to gain prominence in 2022.
Explore our whitepaper to know more about the Role of Virtual Patients in the Future: Connecting the Dots between Virtual Reality and Augmented Reality in the World of Healthcare
The Future of Healthcare Lies in the Subscription-based Services
Many of these new technologies and working practices, such as telehealth and remote appointments, stay as we enter the next chapter in healthcare delivery. The door to innovation has been opened, and as a result, the expectations of those providing and receiving medical services have changed forever. Healthtech companies and healthcare providers are now shifting towards subscription-based services or subscription-based models in healthcare. Subscription-based services aim to increase access to disease-curing medicines and make them more affordable. If subscription-based services are used correctly, they have the potential to significantly improve outcomes and improve the patient experience in the coming years. They may even allow healthcare providers to personalize their services regardless of whether an appointment is held virtually or in person. This is because subscriptions enable businesses to securely collect a large amount of usage data on each individual.
Furthermore, subscription companies can learn who their customers are and what they want by analyzing this data. As a result, they may modify their services to meet demand, promoting long-term commitment and assuring the best possible care for their patients. The outlook of subscription-based services is looking promising and can emerge as a game-changer in the healthcare domain.
Digital Prescription: A New Way of Prescribing Medicines
Digital Prescription is one example of an invention reshaping the healthcare sector. A digital version of a paper prescription generated by healthcare practitioners utilizing digital means/software is known as an e-Rx. Furthermore, digital prescriptions aid in the creation of digital health records for patients, which improves patient outcomes by reducing the odds of human mistakes in interpreting incorrect drugs. E-Rx is advantageous to both patients and physicians. The year 2022 is expected to see a significant increase in the usage of electronic prescriptions to reduce paperwork and increase storage lifespan.

The Boom of Medical Tourism
Over the last decade, India's medical tourism business has expanded quickly, and the country has emerged as one of the world's foremost medical tourism destinations. Increased international awareness of India's economic healthcare, qualified healthcare professional base, investment in healthcare infrastructure, and privately funded healthcare have contributed to growth.
Similarly, the Middle East's strategic position is one of the most essential elements that make it an attractive medical tourism destination. For example, the United Arab Emirates is only an eight-hour flight away from two-thirds of the world's population. This is one of the reasons why the country, particularly its commercial capital, Dubai, is on pace to become a worldwide medical tourism destination.
Moreover, medical tourism, which is primarily reliant on overseas travel, was severely impacted by the Covid-19 outbreak. However, the medical tourism business is gradually rebounding. Medical tourism companies and hospitals that serve overseas patients are restarting operations and adjusting to the new normal. Apart from India and UAE, Mexico, Turkey, Costa Rica, Ukraine, Thailand, and others are among the popular countries for medical tourism. As the number of patients seeking treatment in other countries is rising, many more countries are in a race to become popular countries for medical tourism destinations. As a result, we will witness a boom in medical tourism in the coming years.
Medical Drones for Healthcare Delivery
Medical drones have shown to be quite beneficial in the healthcare industry. Drones might transfer medications and supplies to patients who are receiving care at home rather than in a hospital. Outpatient and even home-based therapy will become more widespread in the future, eventually supplanting hospital-based care. Medical drone technology might make delivering home-based care more accessible and safer in many circumstances. When a practitioner visits a patient at home, blood may be drawn and flown to a lab for testing via a medical drone. Medication, antibiotics, and treatments recommended by the provider might be delivered to the patient's home via a medical drone. Medical drones will most certainly take over many jobs in healthcare that are now performed by humans in the near future, lowering unpredictability, expense, and error.
Several companies across the globe are moving forward with plans to use medical drones for healthcare delivery services commercially. Zipline, Novant Health, Vayu, Matternet, SZ DJI Technology, Embention, Flirtey, Flirtey, Ehang, Tu Delft, Project Wing, HiRO (Healthcare Integrated Rescue Operations), and others are among the market leaders in medical drone delivery. Based on market potential, numerous new companies are projected to enter the medical drone market in the upcoming years with more novel and sophisticated applications.
Growing Concern of Healthcare Privacy and Security
The medical data obtained in breaches are becoming more sensitive. Medical records include sensitive information on their own. However, providers are increasingly adopting wearable devices or even sensors implanted in the human body to acquire even more sensitive data that isn't necessarily medical in nature. These gadgets, for example, might offer information on the person's movements.
Medical themes will always be attractive as bait in cybercrime scams. Since the pandemic's beginning, a growing number of medical services have gone online, either partially or entirely. Hence, patients are increasingly looking for notifications concerning test results and doctor communications. As a result, a letter posing as an essential "medical" notification can be just as effective as bogus bank communications in catching people off guard.
The increased incidence of data leaks, ransomware attacks, and cyber attacks on the healthcare industry demonstrates, among other things, a lack of information security understanding among healthcare professionals. If there is no large-scale training mechanism in place by 2022 and none is predicted at the moment, we will see sustained growth in the sort of healthcare cyber attacks in concern.
Visit our whitepaper to understand more about the Increasing Trends of Cybersecurity Threats for Medical Devices
Leaning Into Value-Based Healthcare
Until now, the transition to value-based care has been sluggish. The pandemic underlined the need for hybrid in-person and virtual care models, reigniting concerns for providers to be appropriately rewarded for these models. As these care models gain popularity, it is clear that they will play an essential role in the success of proactive, outcomes-focused care. The pandemic's fast developments in health care further reinforced the necessity for providers to shift toward value-based healthcare. Aside from the attractiveness of consistent income streams, new regulatory flexibilities and care delivery innovation allow providers to enjoy a faster rate of return on their investment in value-based healthcare by growing the amount of their business that is reimbursed for value-based healthcare. New care models, such as hybrid models that integrate both virtual and in-person engagement, provide complete continuous care that will enable more fairness while also making outcomes-focused care and payment parity a priority for providers.
The Future of Clinical Trials – Virtual Clinical Trials
A virtual clinical trial is a digitally empowered clinical trial process. A relatively new model of clinical trials in terms of adoption was underutilized till now but this method of conducting clinical research will be observed more frequently as the world is moving towards virtual reality. And after the COVID-19 pandemic, many companies are scrambling to implement this new approach of clinical trials. Virtual clinical trials have the potential to drive significant digital alterations in clinical research methodologies to create an improved patient-centric ecosystem. These accommodate utilizing benefits of technology, online social engagement platforms, advanced applications, artificial intelligence, electronic devices, robotic process automation, machine learning, among others.
Above mentioned applications like telehealth as well as digital technology such as wearable medical devices, will be included in virtual clinical trials for virtual patient monitoring. Virtual clinical trials will significantly widen the pool of clinical trial participants and volunteers, extend patient retention, and expected better data quality with a holistic patient-centric experience. They will also increase site staff recruitment, safety monitoring, data verification, pre-screening, and patient education. In addition to these factors, cost efficiency is significant with virtual clinical trials as the overall cost of conducting virtual clinical trials is lower than the conventional clinical trial methods due to remote visit set-ups.
Some of the key benefits of virtual clinical trials incorporation includes-
Ease to use due to the widespread availability of smartphones, computers, tablets
Patients and investigators use Program-Centric Bluetooth Peripherals
Immediate query solving by live video conferencing
Daily vital captures
Actionable data and threshold monitoring
Electronic visit verification
Gateway and sensor development
Artificial intelligence for appointment scheduling
Virtual clinical trials focus on patient-centric care delivery, exclusive cost-saving, and offer a plethora of benefits for CROs, sponsors, sites, and every stakeholder involved in the study trials. Major contributions by tech companies in virtual clinical trials include names like Syneos, Deep 6 AI, SubjectWell, Tempus, CLINPAL, VIRTRIAL, Lightship, Science 37 PRA Health, Curavit Clinical Research, and several others.

Role of Digital Therapeutics in Shaping the Healthcare
Digital therapeutics (DTx) is a part of the digital health category where the delivery of evidence-based therapeutic interventions is provided to patients which are driven by high-quality software programs to manage, prevent, or treat a medical disorder. Digital therapeutics are extremely distinct from digital or online medicines which would require prescription medication with an ingestible sensor.
The increasing advances and recent use of mobile technology and artificial intelligence in the everyday life of people have broadened the role of Digital therapeutics in healthcare. Historically, Digital therapeutics was focused on by academics and other technological companies but nowadays the potential of Digital therapeutics is widely acclaimed in medicines in order to improve health outcomes. Names of Digital therapeutics companies such as MindDoc Health GmbH, Sanvello Health, Happify, Otsuka, Roble Ridge Software LLC, Cervelli, Touchkin, Neurolief Ltd., and many others have started their enormous ventures into the DTx space. This will create opportunities in increasing patients' awareness of health and their ability to play a more active role in managing the disease. Digital therapeutics treatment relies on lifestyle and behavioral changes collected by a number of digital impetuses. Due to the digital nature of the methodology, data can be collected and analyzed as both a progress report and a preventative measure. Digital therapeutics will play an important role in the coming years for the prevention and management of a wide variety of diseases and conditions, including type II diabetes, congestive heart failure, obesity, Alzheimer's disease, dementia, asthma, substance abuse, ADHD, hypertension, anxiety, depression, and several others. It is starting to grow immensely in the field of mental health as several Digital Therapeutics mental health apps, games, and wearable devices are entering the market to work out depression, anxiety, and stress.
Surely Digital therapeutics are not as widespread as traditional therapies, but they are definitely to look out for in the near future specifically with the role they have to offer in the field of mental health management.
Genomics Research & Development
Genomics will be incorporated increasingly with other biological studies, such as studies of evolution, transcriptomics, comparative genomics, and other omics as well as large-scale functional studies. Some structural genomics will increasingly involve the comparison of multiple genomes rather than single-species genomics. Evolution of genes and genome-wide analysis of evolutionary questions, likewise gene studies that are important for development or physiology or studies of the genome evolution of human diseases that have a complex genetic basis, such as diabetes and heart disease.
The Human Genome Project which aims at mapping every gene and spell out letter by letter the literal thread of life. The complete DNA sequencing of more and more organisms, including humans, has been revolutionizing biology and medicine and will continue to do so in coming years, where genomics is going to play an essential role. Genome sequencing will be able to answer many questions such as how organisms have evolved over the years, whether synthetic life is possible ever, or the most common way to treat a wide range of medical disorders. The Human Genome Project will continue to generate a large amount of information including the units of DNA (bases). It will elucidate the genes that encode for proteins and how they are expressed, how genes vary within species and how DNA sequences translate into observable characteristics. DNA sequencing will provide layers of information that will fuel the advances in biology for at least the next century.
Future Potential of the Precision medicine
Precision medicine is considered a fast-growing field of medicine focusing on finding treatments and interventions that are targeted towards people's genetic makeup rather than the symptoms. Above mentioned trends of artificial intelligence is a much-utilized aspect in Precision medicine, allowing advanced diagnostics for better tailoring and economically personalized treatments. For high volume of data analysis under Precision medicine, machine learning and AI have the potential to revolutionize the field of medicine. It will surely provide challenges in aspects such as data storage, processing, exchange, and curation, but once completed it will ultimately provide a better understanding of biology, giving customized and personalized treatment to patients. Precision medicine companies include drug giants such as Merck, Novartis, AstraZeneca, Roche, and many others have initiated their investments in this advanced field.
Precision medicine can be termed as a specific and personalized medicine enhanced by technology. In the past personalization meant considering factors such as age, body-mass index, comorbidities which constituted for providing a drug dosage. However, most medicines that were produced were simply given to all masses, following the 'one-size-fits-all' paradigm. But now as the technology has evolved, using advanced technical medical procedures such as high throughput sequencing, mass spectrometry, microfluidics, and imaging, in addition to these are the detailed pictures of molecular and cellular alterations which cause numerous diseases will aid in conducting complex measurements on clinical samples. It will in return provide data that can reveal the variability between individuals and patients at a certain molecular and cellular level. These results can help create a more personalized or 'precision' approach to medicine, where molecular and cellular markers assist in tailoring the drugs in correspondence to each diseased individual.
The Rise of the MedTech Industry
Undoubtedly, there was a downturn faced by the MedTech industry, due to the COVID-19 pandemic, but a certain acceleration in trends towards the end of the pandemic in the usage of the medical device was also observed. Rapid advancements in technological aspects such as AI device connectivity, data collection, and remote monitoring have enabled MedTech companies to respond to the demand for critical products in the COVID-19 era including personal protective equipment (PPE) and ventilators. The MedTech industry was able to swiftly scale up the R&D and manufacturing efforts and came up with fulfilling the demand for specialist equipment and remained resilient during the time of adversity.

Owing to the long-term trends which are expected to occur, there is an obvious rise in the use of wearable medical devices and virtual technologies that will no doubt keep on accelerating further throughout the 2020s directly influencing the MedTech outlook. With the advent of integrating medical devices into the Internet of Things (IoT), large medical device companies such as Medtronic, Zimmer Biomet, Abbott, J&J, Boston Scientific, in collaboration with regulatory bodies, are continuously working to drive better patient outcomes at lower costs. The advancement of technologies such as smart devices and smart sensors is increasingly bringing medical devices that capture data into existing care pathways through the Internet of Things. It is a giant system of interconnected, Internet-based devices that collect and transfer huge amounts of data across a wireless network. The expansion of device-based connectivity will serve as an opportunity for MedTech companies to offer value-based service to patients. Furthermore, the integration of Medtech platforms into the monitoring and diagnosis of disease will aid in cost-cutting, improve patient outcomes and increase end-to-end efficiency.
Last, But Not the Least, Future Outlook of COVID-19
Biological, technological, and chemical sciences all together have unraveled a lot of complex information about the SARS-CoV-2 virus and also made unprecedented and extraordinary progress in the development and manufacturing of COVID-19 vaccines, but there still remains great uncertainty as the pandemic continues to evolve giving researchers and scientists a lot more to explore. Huge sums of vaccines have been rolled out in almost every country present today but still, it does not mean that the crisis is over, only that we are in a new phase of experiencing the pandemic. The emerging trend will solely remain on the factor as to how the SARS-CoV-2 virus is going to evolve. In response to which the decisions will be taken by governments and other stakeholders, and the progress of vaccine development and treatments. Vaccines alone will not be able to end the pandemic. Measures such as mask-wearing, hand hygiene, and social distancing will always have to be incorporated as regular preventive measures and not relaxed anyhow. Vaccine hesitancy or misinformation regarding COVID-19 vaccines can compromise the global COVID-19 response.
It is observed by scientists that the repeated outbreaks and recurrences of SARS-CoV-2 variants, it shall probably never be permanently eradicated from the world, because of its presence in many animals (including cats and dogs), and also factors like incomplete vaccine coverage and variable degrees of immunological protection. The world is likely to have many more years of COVID-19 decision-making ahead and as of now, there is no quick solution available.
Where is the Future of Healthcare Headed Next?
The most essential and dynamic industry of today – Healthcare, demands constant up-gradation, innovation, and improvement in accessibility, affordability, and quality of care, making healthcare full of new opportunities. The healthcare industry is witnessing so many new and innovative trends that will transform the sector 360 degrees in the coming years. The healthcare industry will pave the way for more success owing to the technological advancements and their applications, the collaboration between organizations, digitalization, and innovation in the medical space.