Neoantigen based Personalized Cancer Therapeutic Vaccines Market is advancing owing to bioinformatics-technological advancements, improved diagnosis, and a strong pipeline.
Cancer therapeutic vaccines, unlike prophylactic vaccines, form a therapeutic option for the late-stage cancer patients in which the body's immune cells target the cancerous cells. Therapeutic vaccines use weakened or inactive pathogens including virus, bacterium and others to create an immune response against the pathogens in the bod- directing the immune system to recognize, attack and destroy cancer cells. Neoantigen-based Personalized Cancer therapeutic Vaccines are one way to utilize the body's immune system to fight cancer.
Neoantigens
Neoantigens are non-autologous proteins which are specific to individuals and are a result of non-synonymous mutations in the tumor cell genome. Their lack of expression in healthy tissues and strong immunogenicity have always attracted the attention of scientist to be explored as the promising targets for cancer immunotherapies, including cancer vaccine as they activate CD4+ and CD8+ T cells. The feature of neoantigens to only express in tumor cells and not in healthy tissues is what gives then advantage over other antigens being explored for cancer immunotherapy.
However; the development of such advanced therapies required advanced technologies as well. A conflux of a wide range of bioinformatics-technological advancements such as next-generation DNA sequencing technology to scan and differentiate between tumor and healthy cells, identify mutations and discrepancies; sophisticated computer algorithms, and manufacturing advances have made it feasible to leverage the use of neoantigens as cancer targets.
Marketed Therapeutic Cancer Vaccines
Several challenges remain while developing therapeutic cancer vaccines despite significant challenges that come across. However, the US FDA approval two Cancer therapeutic Vaccines, till date, proves to be encouraging as Cancer therapeutic vaccines market witnessed an influx of the pharma and biotech players and formation of several collaborations to advance the market.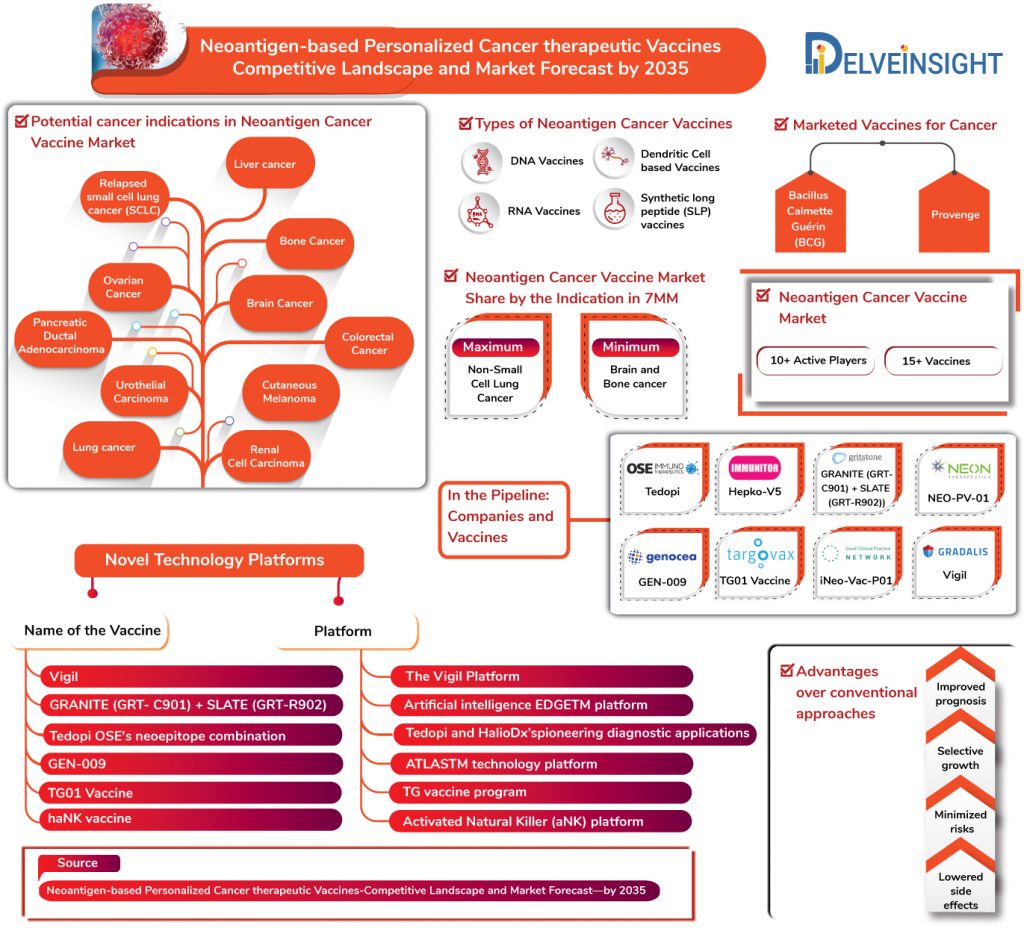 In the very first, BCG – the only human tuberculosis (TB) vaccine – was approved by the FDA in 1990 as a vaccine for early-stage bladder cancer, which later-on emerged as the most successful treatment of a non-muscle invasive form of bladder cancer (NMIBC). The vaccine reduces the risks of NMIBC recurrence, and progression of NMIBC into muscle-invasive bladder cancer. Despite being the most promising immunotherapeutic agents, the therapy is accompanied by several setbacks and drawbacks in the form of treatment failure, side effects, and the short residence of the instilled BCG in the urothelial lumen due to frequent bladder emptying.
Nonetheless, recent advances in cancer immunology and invigorating results from the trials have led the FDA to approve the use of Dendreon's Provenge (Sipuleucel-T) for prostate cancer in 2010 as the first therapeutic cancer vaccine. The vaccine is autologous cellular immunotherapy indicated for the treatment of asymptomatic or minimally symptomatic metastatic castrate-resistant (hormone-refractory) prostate cancer.
However, it is not a Neoantigen based Cancer Vaccines; and it is not to be skipped that till date, no neo-antigen based personalized vaccine has received any regulatory approval.
Neoantigen based Personalized Cancer Therapeutic Vaccines Market: In the Pipeline
Neoantigen-based cancer vaccines have recently showed marked therapeutic potential in both preclinical and early-phase as well as late-phase clinical studies.
A spectrum of therapeutic vaccination and strategies to cope up with the increasing cancer burden are under development or being evaluated in clinical trials. Classified based on cell vaccines (tumor or immune cell), protein/peptide vaccines, and genetic (DNA, RNA and viral) vaccines, several Neoantigen-based Personalized Cancer therapeutic Vaccines are expected to enter the market by 2035 that shall increase the market size.
The emerging products in the Neoantigen-based Personalized Cancer therapeutic Vaccines market appear to be quite promising with different vaccines in different stages of clinical development.
Several key players such as Gradalis, OSE Immunotherapeutics, Immunitor, Gritstone Oncology, Genocea, Targovax, Hangzhou Neoantigen Therapeutics, Neon Therapeutics along with many others are robustly involved in fuelling Neoantigen-based Personalized Cancer therapeutic Vaccines market. Neoantigen-based Personalized Cancer therapeutic Vaccines that are in the pipeline comprise of potential and promising products including Vigil (Gradalis), Tedopi (OSE Immunotherapeutics), Hepko-V5 (Immunitor), GRANITE (GRT-C901) + SLATE (GRT-R902) (Gritstone Oncology), GEN-009 (Genocea), TG01 Vaccine (Targovax), iNeo-Vac-P01 (Hangzhou Neoantigen Therapeutics), NEO-PV-01 (Neon Therapeutics) and many others.
Neoantigen based Personalized Cancer therapeutic Vaccines Market Segmentation
Neoantigen-based Personalized Cancer therapeutic Vaccines are under evaluation for several types of cancers including Lung cancers, Bone Cancer, Pancreatic Ductal Adenocarcinoma, Colorectal Cancer, Urothelial Carcinoma, Cutaneous Melanoma, Renal Cell Carcinoma and others, each with their respective sub-types.
In terms of indications, the most substantial chunk of Neoantigen-based Personalized Cancer therapeutic Vaccines Market share shall be occupied by the Non-small cell lung cancer (NSCLC) with various Neoantigen based cancer vaccines in the pipeline for the indication in the 7MM expected to be launched by 2035.
DelveInsight estimates that NSCLC shall account for 36.7% of Neoantigen-based personalized cancer therapeutic vaccines market share by 2035 in the United States in the 7MM. In addition to NSCLC, Melanoma, and Bladder cancer shall also account for significant Neoantigen-based personalized cancer therapeutic vaccines market share with Brain and Bone cancer anticipated to occupy the lowest share.
Moreover, the cancer indications that will witness significant advancements during the forecast period concerning a good number of upcoming vaccines are Ewing Sarcoma, Ovarian Cancer, melanoma – with Gradalis working to advance the market, NSCLC market fuelled by OSE Immunotherapeutics, and Hepatocellular Carcinoma therapy market advanced by Immunitor along with others.
Market drivers
Owing to the launch of upcoming therapies, ongoing research and development, and a shift towards personalized treatment approach neoantigen-based personalized cancer therapeutic vaccines market size shall increase during the forecast period by 2035 in the 7MM.
Additionally, assisted by an increase in the diagnosed incident population of several cancer indications and the advancements in treatment options makes it irrefutable that upcoming cancer vaccine is majorly expected to boom the overall therapeutic market in the oncology sector by acting as an adjuvant therapy to the already existing Standard of care therapies (SOC).
Thus, therapeutic cancer vaccines – especially, Neoantigen based – shows a bright future in cases where cancer recurs or relapses, which would not only provide hope in the form of new treatment modality for cancer management but also pave the way for optimizing vaccines.