Peripheral nerve injuries were historically became known to mankind on the battlefield during Second World War. With technological advancements over the years, peripheral nerve injuries (PNI) have become more common which can be attributed to various reasons such as traumatic injuries, gunshot wounds, rising prevalence of lifestyle disorders such as diabetes among others. Global Nerve Repair and Regeneration Market is indicative of growth due to the increase in demand for nerve repair and regeneration products are predominantly attributed to the increasing incidence of nerve injuries, rising prevalence of lifestyle disorders such as diabetes and hypertension.
It is a well-established fact that nerve repair and regeneration in the Central Nervous System is extremely limited or non-existent due to the presence of numerous factors that limit the nerve repair and regenerative potential of the nerves in the Central Nervous System (CNS).
However, it has been widely studied and reported that axonal regeneration and nerve repair can be achieved in the Peripheral Nervous System (PNS). It is due to the stimulatory PNS environment which is highly conducive to PNI repair due to the presence of various growth-stimulatory factors. After the injury, the distal portion of the axon, which is disassociated from the cell body, undergoes Wallerian degeneration, eventually allowing the proximal axons to regenerate and re-innervate their targets, subsequently helping in gaining of function.
Types of Peripheral Nerve Injuries
Sir Herbert Seddon presented the Peripheral Nerve Injury (PNI) Classification System to determine the type of nerve injury.
Need for Nerve Repair and Regeneration
As the majority of nerve injuries occur in the working-age population due to numerous factors, nerve injuries are said to have significant socio-economic implications. Peripheral nerves provide the path for all types of axons that compose the Peripheral Nervous System (PNS), (e.g., motor and sensory axons). Compared to the Central Nervous System (CNS), injuries to the nerves located in the PNS are fairly common due to their scarce physical protection and their superficial location throughout the human body.
The need for peripheral nerve injury repair and regeneration appears to be urgent in nature as it can lead to disability in patients with peripheral nerve disorders such as entrapment neuropathies, acute nerve injuries, and nerve sheath tumors. As the peripheral nerves play a monumental role in linking the commands from the CNS to other parts of the body, injury in the peripheral nerve system can disrupt this channel of communication, thereby affecting the functionality of the affected person.
Management of Nerve Injuries
The strategies employed in nerve repair and regeneration depend on the type and degree of nerve damage involved.
Direct Nerve Repair
This method is considered a gold-standard technique when it is employed with microsurgical techniques in treating nerve injuries that are classified as axonotmesis and neurotmesis. This method is conducted wherein direct suture repair without grafting is done and is employed in cases where there are short nerve defects of less than 5mm to be treated.
Nerve Grafting
Nerve grafting is another technique that is employed in the repair of peripheral nerve injuries wherein nerve defects of longer length are present. These are done using different types of grafts which differ in the source of origin.
Nerve Repair and Regeneration Products
Nerve repair and regeneration products such as nerve conduits are essentially artificial nerve grafts that help lay the path for axonal regrowth thereby aiding in nerve repair and regrowth. These conduits such as NEUROLAC (Integra Lifesciences Corporation) and Revolvnerv (Orthomed S.A.S.) offer an added advantage of negating the problems associated with cross innervation of sensory and motor bundles.
Other products include nerve protectors, nerve connectors, and nerve wraps. Nerve protectors such as VIVOSORB (Polyganics) and NeuraWrap™ Nerve Protector (Integra Lifesciences Corporation) are surgical implants that are used to protect the injured nerves and safeguard against soft tissue attachments. Nerve connectors such as axoguard nerve connectors (Axogen Corporation) such as Neuro-shield Chitosan nerve wrap (Checkpoint Surgical, Inc.) and Versa Wrap (Alafair Biosciences Inc.) are a type of short-length nerve conduits and are employed in facilitating nerve alignment by entubulating and directing the approximation of nerve ends.
Market Growth Driving Factors for the Nerve Repair and Regeneration
One of the key driving factors responsible for the increase in product demand is the surge in the incidence of peripheral nerve injuries (PNIs) across the globe. PNIs are multifactorial in nature and can occur due to a myriad of reasons such as trauma injuries, increased probability of falls due to decline in neurological function, sports-related injuries, and occupation-related injuries among other causes.
For instance, the World Health Organization (2021) reported that an estimated 684,000 fatal falls occur each year, making it the second-most prominent cause of unintentional injury death, after road traffic injuries. In another factsheet, the WHO (2021) stated that nearly 1.3 million people die as a result of road traffic crashes each year. The data further stated that between 20 and 50 million people are inflicted with non-fatal injuries which often result in a disability.
Furthermore, data stated by the International Labor Organization (2021) mentioned that in 2016, 1.9 million deaths across the globe were due to work-related diseases and injuries out of which occupation injuries accounted for 19% of these deaths.

The Global Nerve Repair and Regeneration Market was valued at USD 7,774.24 million in 2020, growing at a CAGR of 9.24% during the forecast period from 2021 to 2026, in order to reach USD 13,004.44 million by 2026.
Additionally, technological advancements in terms of improvement in product design such as the development of biodegradable nerve conduits filled with nerve growth-promoting factors, injectable gels aimed at filling nerve gaps are also key factors driving the market growth. Along with the previously mentioned factors, ongoing research focused on exploring the potential of various medical devices in nerve repair is also providing another avenue of market growth for manufacturers operating in the domain, for instance, in May 2020, Epineuron Technologies Inc received financing support for the nerve regeneration device which had earlier received the 'breakthrough device' designation by the US Food and Drug Administration.
Key Players in the Nerve Repair and Regeneration Market
As per Delveinsight analysis in the report titled "Nerve Repair and Regeneration- Market Insight, Competitive Landscape and Market Forecast, 2026", the global key players in the market are as follows:
Axogen Corporation – Florida, United States
Axogen Corporation is one of the key market leaders with over 10 years of experience in providing surgical solutions for peripheral nerve repair. The stronghold of the company in the nerve repair and regeneration market can be understood with the comprehensive product offering of the company which caters to a large number of peripheral nerve defects. Furthermore, the company has heavily invested in developing and licensing regenerative medicine technologies. The products offered by Axogen help cater to a wide range of applications such as simple laceration in extremity to more complex injuries such as brachial plexus injury as well as nerve injuries falling under other therapy areas such as orthopedic, dental, and other surgical repair of nerve procedures.
Integra LifeSciences Holdings Corporation – New Jersey, United States
Integra LifeSciences is another prominent player in the nerve repair and regeneration market. The company was established in 1989 and acquired the engineered collagen technology platform employed for tissue repair and regeneration. The company majorly has two business segments- Codman Specialty Surgical and Orthopedics and Tissue Technologies. The latter segment comprises differentiated regenerative technology products for soft tissue repair and tissue regeneration products and surgical reconstruction. In the peripheral nerve regeneration product domain, Integra LifeSciences is the market leader in the United States.
TOYOBO CO. LTD – Osaka, Japan
Toyobo Co. Ltd is a Japan-based company that was founded as a textile company in 1882. The company base its growth on their key technologies in procedures such as modification, polymerization, processing, and biotechnology to further boost the growth of their business. The company operates in four business segments namely film & functional polymers, industrial materials, healthcare, and textile. The healthcare market is segmented into categories like bioproducts, pharmaceuticals, medical membranes, equipment, and devices, and water treatment membranes. Even though Toyobo has only one product in the nerve repair and regeneration portfolio, their product- Nerbridge is a preferred product in Japan.
Polyganics – Groningen, The Netherlands
Polyganics is a privately-owned medical technology company focused on the development, manufacturing, and commercialization of bioresorbable devices to facilitate tissue repair and regeneration. The company had two major business segments- ear, nose, and throat which the company sold to Stryker in 2014. The current portfolio of Polyganics includes peripheral nerve repair (PNR) products. The company spun out of the University of Groningen in 1999. Polyganics has a diverse technology platform based on proprietary adhesives and polymers. The PNR products of the company are based on a unique proprietary Caprolactone co-polyester material. The proprietary ratio between Lactide and Caprolactone in the polymer enables a favorable resorption profile compared to other Lactide Caprolactone-based polymers.
Collagen Matrix Inc – New Jersey, United States
Collagen Matrix Inc is a US-based private medical company focused on developing and manufacturing advanced mineral- and collagen-based medical devices that leverage the body's natural ability to regenerate.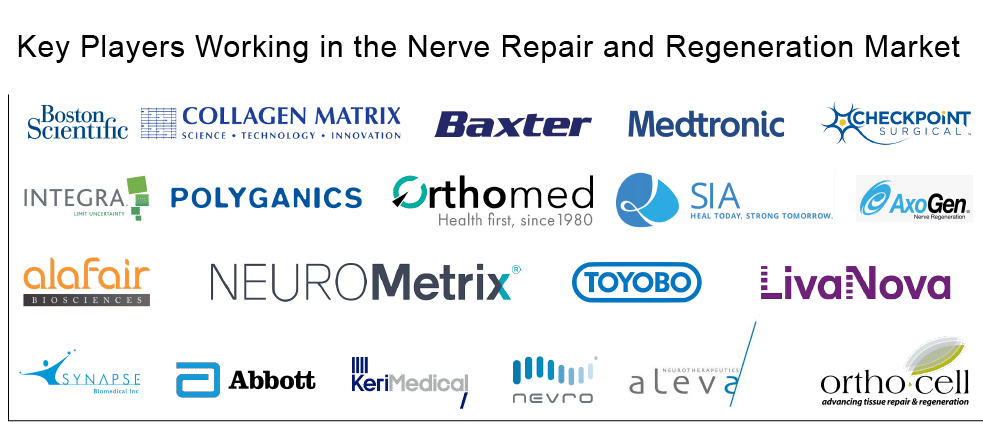 The company has five proprietary tissue engineering technologies which they utilize in developing products in the areas of the spine, dental, orthopedic, nerve repair, and dural repair among other application areas. The company was founded in 1997 and entered the nerve repair and regeneration domain in 2004 with its two products namely Neuroflex and NeuroMatrix conduit. The company has a strong worldwide distribution network of product sales with Stryker being one of the key product distributors for the company for nerve repair and regeneration products.
Conclusion
The global nerve repair and regeneration market is competitive as well as fragmented in terms of the presence of market players. With the presence of certain key players on a global scale such as Integra LifeSciences and Axogen Corporation, the trend for leading market players has been dynamic presenting different market leaders on a country/regional level. For instance, Toyobo Co. Ltd is one of the preferred manufacturers of nerve repair and regeneration products in Japan, and Integra LifeSciences is the market leader in the nerve repair and regeneration product portfolio in the United States.

According to DelveInsight analysis, the nerve repair and regeneration market would grow at a medium pace. This can be attributed to various factors such as the increasing product demand due to the increasing incidence of peripheral nerve injuries. The growing product demand in itself is a major factor that stimulated strategic partnerships and acquisitions by various companies to improve their market reach and access. For instance, in 2017, Kerimedical partnered with Medovent GmbH and acquired licensing rights for the product line Reaxon® for orthopedic care. In another example, in October 2020, Monarch Medical, now part of Checkpoint Surgical, entered into a distribution agreement with Merlin Med (Pty) Ltd for Neuroshield in South Africa. Furthermore, the product development activities such as regulatory approvals also act as a synergistic factor to the nerve repair and regeneration market. For instance, in September 2020, Alafair Biosciences received regulatory approval from the US Food and Drug Administration clearance for nerve protector- VersaWrap. In another example, in April 2018, Medovent GmbH (now acquired by KeriMedical) received FDA approval for Reaxon Plus, a nerve regrowth, and protection tube. Such product development activities also help in establishing product credibility among end-users and present a positive growth outlook among end-users, thereby supporting the growth aspects of the nerve repair and regeneration market.