Treatment for pancreatic cancer patients is challenging and not well defined, especially for patients with disease progression or adverse events seen after initial treatment. Studies suggest that, after diagnosis, about 22% of pancreatic cancer patients, regardless of their clinical stage of cancer, receive no treatment.
The incidence of pancreatic cancer is increasing worldwide, and the cases are seen to double compared to the past few decades. Compared to other major cancers, the mortality rate is very high due to the late diagnosis and higher progression rate.
The overall 5-year survival is less than 5% for pancreatic patients in advanced or metastatic stages. No adequate diagnosis is present to detect this condition in the early stages as the current imaging technique has many limitations. Patients diagnosed in advanced cases, are already so weak that they fail to sustain the therapies given to them. Most patients diagnosed in the early stages tend to relapse even after surgical interventions.
This condition has biological challenges as well; there is an inherited complexity of the tumor with complex molecular characteristics, most notably KRAS driver mutation, which leads to metabolic dysregulation. A desmoplastic tumor microenvironment also acts as a barrier to the treatment. The microenvironment of pancreatic cancer is immunosuppressive with positive tumor-infiltrating T cells and an abundance of myeloid-derived suppressor cells.
Grey areas still exist from adjuvant/neoadjuvat setting to second and more lines of treatment with a low success rate of clinical trials
Despite the severity of the disease, the current treatment rate for distant/metastatic pancreatic cancer is low, which could be due to many reasons such as older age, patients affected by poverty, nihilism surrounding disease diagnosis, poor performance status, or ECOG value.
Many potential clinical trials investigating their respective products failed to mark their presence by showing negative results. The inability of the drug to demonstrate expected efficacy is the biggest reason for the trial failure, and this could be because of the complex nature of the disease; some examples are PEGPH20 by Holozyme Therapeutics, Johnson & Johnson's Imbruvica (ibrutinib), and many more. Another reason could be the limited participants available for the trial, financial burden, distance from the cancer center, strict eligibility criteria, fear of randomization or placebo, concerns about risks, and AEs have been observed to act as a significant barrier to participation.
Many companies have already tried to develop an effective treatment in a different line of therapy for pancreatic cancer, but ultimately, the results were not as per their expectations. There is a high unmet need for a diagnosis technique to detect the disease in the initial stages of the condition and the proper understanding of the condition is yet to be achieved.
Approval of few targeted therapies AstraZeneca's PARP inhibitor, Lynparza, targeting a small population with BRCA mutation (5–10%), had already taken a firm position in ovarian cancer, Merck's Pembrolizumab, targeting MSI-H, DMMR (1–2%), Bayer's VITRAKVI and Roche's Rozlytrek targeting NTRK gene fusion (0.8–1%) made us believe that biomarker can play an important role or can be proved as a milestone in the development of therapies in pancreatic cancer.
Good to see the silver lining in the dark – Potential upcoming therapies!
Many drug developments and investigations are underway which shows the possibilities to enhance anti-tumor immunity in pancreatic cancer. There has been no breakthrough therapy for long in pancreatic cancer; however, many trials are running by combining different therapies, which may generate meaningful clinical responses in this area.
Connective tissue growth factor inhibitor (anti-CTGF) – Pamrevlumab and gene-transfected tumor cell vaccine – GVAX has attracted the most attention in the neoadjuvant and adjuvant settings.
Although combination therapies with GVAX have flunked in the previous trials conducted with CRS207 for metastatic settings. Despite failing to show superior effects compared to standard chemotherapeutic therapies, the GVAX vaccination did induce an adaptive immune response against PDAC, thereby demonstrating a potential to convert a non-immunogenic tumor microenvironment into an immunogenic one and putatively turning PDAC patients into better candidates for immune checkpoint blockade therapy T cell activity is the potential strategy to overcome immunotherapy resistance. In line with these notions, anti-PD-1 therapy in combination with GVAX improved overall survival compared to the respective monotherapies in preclinical models. This therapy is currently being investigated in Phase I/II.
Lokon Pharma is investigating a unique product, 'LOAd703,' an oncolytic adenovirus modified to include additional immune system stimulators. This therapy is expected to be a potential product in the future for pancreatic cancer patients in first-line settings and is anticipated to reach more than USD 100 million by 2032.
Second-line treatment for pancreatic cancer is quite challenging, and the landscape is unclear. The selection of second-line chemotherapy depends on the previous treatment. This challenge associated with pancreatic cancer is mainly due to the difficulty faced by most organizations in finalizing or concluding the outcome of trials due to different parameters such as the small number of participants, premature closure due to limited accuracy, high progression rate, etc. Also, lack of prognostic parameters is one of the main reasons for unawareness of outcome and tolerability of second-line chemotherapy for advanced staged patients in real life, and only a small subset of patients gain benefit from second-line treatment as the clinical benefits are not substantial and are associated with an increased adverse event.
Many therapies, such as Motixafortide, Zenocutuzumab, Niraparib, and others, are expected to launch during the later years of our forecast period. However, there is still a need to wait for the results of the investigated trials. In the past, many drugs failed to show efficacy in the later phases despite achieving good results initially, as drug development in pancreatic cancer is challenging. The overall success rate for drugs in phase III trials for pancreatic cancer is low, i.e., 10%. Most of the drugs considered are in the initial phases. Even after a scenario of uncertainty, if launched, analyst estimates GlaxoSmithKline's Niraparib in combination with Ipilimumab or Nivolumab to reach US peak sales of more than USD 300 million in 2032 in the second line setting.
Merck, GlaxoSmithKline, Bristol Myers Squibb, Amgen, Bayer, and Roche are a few of the leading players in the pancreatic cancer space.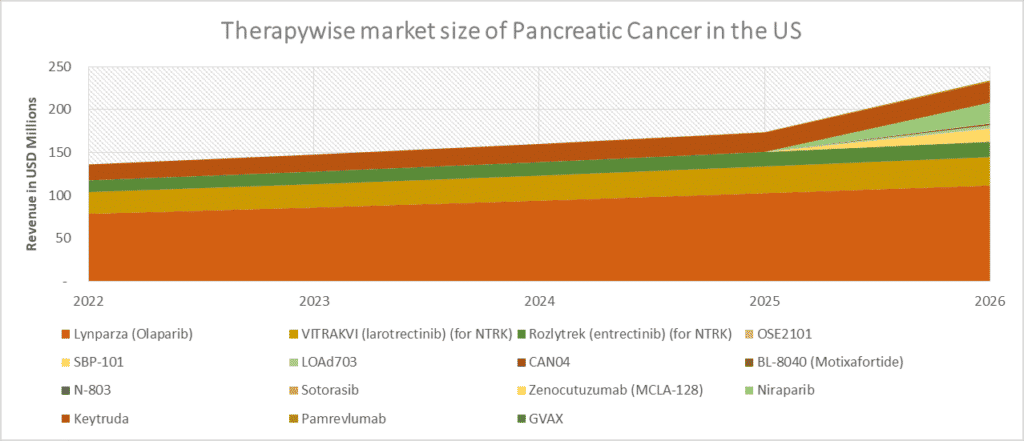 The scenario of the treatment landscape of pancreatic cancer remains challenging due to multiple failures in the advanced pancreatic cancer trials; however, we still believe that upcoming therapies may change the current dynamics of pancreatic cancer. Therefore, DelveInsight estimates that these therapies, if successful, can take the pancreatic cancer market up to USD 2.5 billion in sales in the United States by 2032. Pancreatic Cancer – Market Insights, Epidemiology, and Market Forecast – 2032 can be referred for further insights.
Doors remained open for developing novel combinations and effective treatment as, over the past few years, very little progress has been made in the survival of pancreatic cancer. DelveInsight analysts expect that changes in the ongoing trials and study designs by incorporating biomarkers as a component will redefine or restructure the treatment approach of pancreatic cancer in the future as the role of targeted therapies is still evolving for pancreatic cancer.
The emergence of optimized and cost-effective treatment to improve the survival of pancreatic cancer patients is currently the top priority for this worrisome cancer.