An Intraocular Lens implant is a synthetic, artificial lens placed inside the eye that replaces the focusing power of a natural lens that is surgically removed, usually as part of cataract surgery. Most Intraocular Lenses (IOL) are made of silicone, acrylic, or other plastic compositions and are also coated with a special material to help protect the eyes from the sun's harmful ultraviolet (UV) rays such as silicone oil Intraocular Lens. Intraocular Lens are approved by the FDA for implantation for those eighteen years and older and are used off-label for children under the age of 18 years.
Intraocular Lenses have been used for decades for correcting larger errors in near-sighted, far-sighted, and astigmatic eyes. This type of IOL is also called a Phakic Intraocular Lens (PIOL), as it is implanted without removing the patient's natural crystalline lens. More commonly, Intraocular Lens are implanted via Clear Lens Extraction And Replacement (CLEAR) surgery. During CLEAR, the crystalline lens is extracted, and an Intraocular Lens replaces it in a process similar to cataract surgery: both involve lens replacement, local anesthesia, last approximately 30 minutes, and require making a small incision in the eye for lens insertion.
Recent Developments in the Intraocular Lens Market
There are no direct substitutes for Intraocular Lens. IOLs have been recommended for many disease areas, including presbyopia, myopia, and astigmatism, and are getting approved every year. These are lenses that help to restore both near and distant visions and replace the diseased lens. Several developments have taken place in the field of the Intraocular Lens market by active participants:
On April 25, 2023, ZEISS Medical Technology announced that the US Food and Drug Administration (FDA) has approved the CT LUCIA® 621P Monofocal IOL from ZEISS, an aspheric, mono-focal, single-piece C-loop IOL that features patented ZEISS Optic (ZO) Asphericity Concept. The IOL is designed to compensate for a wide range of spherical aberrations and at the same time optimize visual outcomes in the event of potential decentration and lens misalignments.
On January 17, 2023, Bausch + Lomb Corporation and AcuFocus, Inc. ("AcuFocus"), announced that an affiliate of Bausch + Lomb has acquired AcuFocus, under a merger transaction with the parent company of AcuFocus. The acquisition will enhance Bausch + Lomb's Surgical Portfolio with IC-8® Apthera™ Intraocular Lens. 
On July 25, 2022, AcuFocus that the US FDA approved its IC-8 Apthera intraocular lens (IOL) for cataract treatment.
On September 21, 2021, at ZEISS Innovation Week, ZEISS Medical Technology introduced the new ZEISS CT LUCIA 621* monofocal Intraocular Lens, and it featured the patented ZEISS Optic (ZO) Asphericity Concept with its uniquely forgiving design to deliver excellent visual outcomes for a broad range of patients and surgical situations.
On January 07, 2021, Alcon commercially launched the first and only non-diffractive extended depth of focus Intraocular Lens (IOL) in the US – the AcrySof® IQ VivityTM IOL (Vivity).
The Intraocular Lens market is expected to be driven by the approval of new products such as the AcrySof™ IQ Vivity™ Extended Vision Intraocular Lens, which became the second extended depth of focus lens to be FDA approved in the United States in March 2020, and was commercially launched in February 2021. Vivity uses a novel non-diffractive design, called X-WAVE™ technology.
In December 2020, Johnson & Johnson Vision introduced TECNIS Toric II 1-Piece IOL as a new monofocal option for cataract patients with astigmatism and launched multi-center, post-market clinical trials across the US.
On October 27, 2020, Bausch + Lomb introduced the SimplifEYE™ Intraocular Lens (IOL) delivery system, which is available exclusively for the enVista® MX60PL and the enVista® toric MX60PT, the first preloaded toric Intraocular Lens available in the United States.
Intraocular Lens Market Driving Forces
With worldwide and regional companies present in many countries, the global industry is fiercely competitive. Some of the major factors driving the growth of the global Intraocular Lens market are the rising prevalence of eye diseases such as refractive errors, age-related macular degeneration, cataract, diabetic retinopathy, and glaucoma among others. Moreover, the increasing number of cataract surgeries, growing capital investment in research and development for technologically advanced products, and the launching of several government initiatives for cataract elimination, are further driving the demand for Intraocular Lens and are expected to present a positive market environment for the growth of Intraocular Lens market size during the forecast period.

Visual impairment is a global health concern that harms physical and mental health. Visually impaired individuals are at particularly high risk for chronic health conditions, accidents, social withdrawal, depression, and mortality. As per the World Health Organization (2023), globally, at least 2.2 billion people have a near or distance vision impairment
Moreover, the increase in the prevalence of eye diseases has led to the launch of various awareness and initiatives by many governments across the world to control and treat blindness. India launched the National Programme for Control of Blindness (NPCB) to reduce the prevalence of blindness to 0.3% by 2020 in 2018. The Indian government planned the 5-year program to free India from the cataract that causes an economic loss of at least approx 105 million USD every year. The government had proposed a 10 million USD program by enhancing the budgetary allocation towards the National Programme for Control of Blindness has seen limited success so far. The aim is to target 7860 million people for cataract surgery. The increase in the number of cataract surgery will boost the demand for IOLs and drive the Intraocular Lens market growth.
Furthermore, in recent years, there has been an increase in the elderly population as life expectancy and overall health has dramatically improved. But visual impairment and blindness in the elderly present an obstacle to the healthcare system. In the elderly, cataracts, age-related macular degeneration (AMD), and glaucoma are major causes of vision loss, and each of these conditions can be either treated or slowed if diagnosed early. The Centers for Disease Control and Prevention (CDC) 2023 has estimated that by 2050 there will be around 5.4 million cases of Age-related macular degeneration (AMD) in the United States. The same source has mentioned that the cases of glaucoma are expected to rise to 6.3 million by 2050 in the US. This will increase the demand for eye care further driving the demand for IOLs in the country and directly boosting the Intraocular Lens market.
Another key opportunity for key Intraocular Lens market players operating in the domain is expanding their focus toward tapping the market potential presented by emerging markets. For instance, In October 2019, Johnson & Johnson Vision launched the TECNIS Eyhance™ Intraocular Lens (IOL). It is a superior monofocal Johnson and Johnson was approved by the Central Drugs Standard Control Organization (CDSCO). This was launched in the month of World Sight Day in 2019. Many global Intraocular Lens market players are expanding their business with the introduction of new products and entering into a partnership with local players for capturing the Intraocular Lens market share.
Leading Players in the Intraocular Lens Market
According to DelveInsight's – 'Intraocular Lens Market Insights' report, below mentioned are the top leading players actively involved in this arena.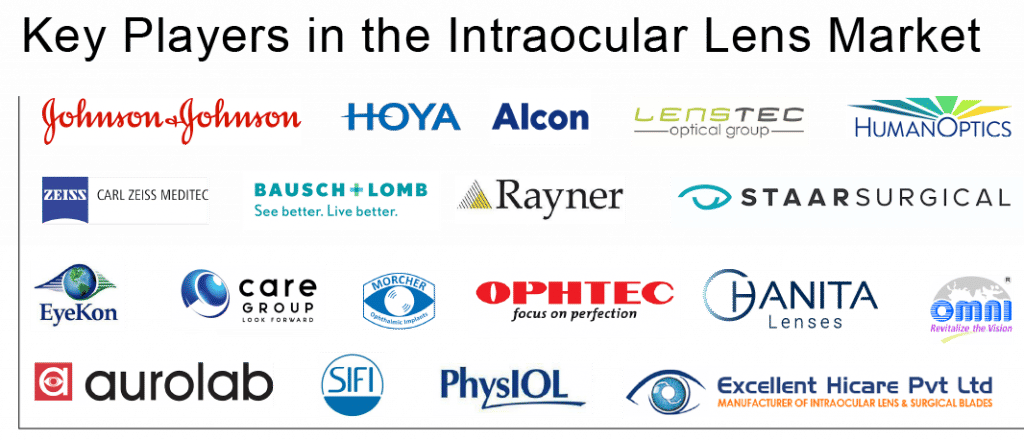 Johnson & Johnson
Johnson & Johnson Vision Care, dual headquartered in Jacksonville, Florida, and Santa Ana, California, introduced the world's first disposable soft contact lens in 1987 and has been helping patients see better through their world-leading ACUVUE® Brand Contact Lenses portfolio. The company has a robust product portfolio that includes contact lenses, Intraocular Lenses, eye care management solutions, and drops, medical device technology for dry eye, and LASIK refractive instruments for Intraocular Lens refractive surgery. In 2017, it acquired Abbott Medical Optics, Inc. and expanded its business. Some of the products have been listed in the table:
Alcon
Alcon- located in Switzerland, is the global leader in eye care and is dedicated to helping people see brilliantly. With a 70-plus-year heritage, the company is the largest eye care device company in the world – with complementary businesses in Surgical and Vision Care. Being a truly global company, it works in over 70 countries and serves patients in more than 140 countries. The company has a long history of industry firsts, and each year commits a substantial amount to Research and Development to meet customer needs and patient demands. The company's strong pipeline includes more than 100 projects in process and more than 1,200 associates worldwide, researching and developing treatments for vision conditions and eye diseases.
Hoya Corp.
Hoya Corp. is a global med-tech company and a leading supplier of innovative high-tech and medical products. It was founded in 1941 and has over 160 offices and subsidiaries worldwide. Hoya Corporation is a Japan-based company manufacturing optical products such as eyeglasses, medical endoscopes, Intraocular Lenses, optical lenses, as well as key components for semiconductor devices, LCD panels, and HDDs. HOYA Vision Care employs over 36,571 employees worldwide with mass production facilities in Asia & Europe and over 40 local Rx laboratories globally and has a presence in over 50 countries.
Bausch Healthcare
Bausch + Lomb, a division of Bausch Health Companies Inc., is one of the best-known and most respected healthcare brands globally, offering the widest and finest range of eye health products, including contact lenses and lens care products, pharmaceuticals, Intraocular Lenses, and other eye surgery products. Over the last 165 years, Bausch + Lomb has become a global hallmark for innovation and quality.
Carl Zeiss Meditec Ag
The ZEISS Group develops, produces, and sells semiconductor manufacturing equipment, measuring technology, microscopes, medical technology, eyeglass lenses as well as camera and cine lenses, binoculars, and planetarium technology. The company conducts extensive ongoing research and development in optical science and collaborates closely with eye care professionals. It has more than 38,000 worldwide who work at around 30 production sites, 60 sales and service locations, and 27 research and development facilities. It manufactures tools for eye examinations and medical lasers as well as solutions for neurosurgery, dentistry, gynecology, and oncology. Some of the products have been listed in the table:
Way Ahead For Intraocular Lens Market
Significant competition exists between the key players in the Intraocular Lens market for developing and marketing new products. All the market players are actively looking for every opportunity to gain the upper hand in the Intraocular Lens market. Companies are continuously working to introduce Intraocular Lens designed in various materials, shapes, and sizes to address problems such as postoperative glistening and postoperative posterior capsule opacification (PCO). These advances have been made through various state-of-the-art IOLs and led to the introduction of the lens with new designs, including Blue-light blocking IOLs, Aberration-free IOLs, and Toric IOLs.
It can be anticipated that none of the new players entering the Intraocular Lens market can compete with these players because these have a higher geographical presence, a large product portfolio, and these brands are highly trusted by doctors and patients. However, other Intraocular Lens companies like Rayner Intraocular Lenses Limited, Lenstec, STAAR Surgical Company, Care Group, SIFI S.p.A, among others are also available in the domain and might impact the Intraocular Lens market size in the coming years. Lucrative growth opportunities owing to the rising prevalence of eye diseases globally, strong government support, and favorable reimbursement in countries, more and more patients undergoing cataract surgery leading to the adoption of intraocular cataract lenses is expected to drive the entry of players in the Intraocular Lens market.
Additionally, initiatives to decrease the prevalence of cataracts and an increasing number of NGOs providing free eye examinations and surgery in many developing countries will positively impact the Intraocular Lens market growth. Hence, increasing awareness of the Intraocular Lens and the untapped potential of emerging markets are expected to further drive the entry of new players into the Intraocular Lens market.

FAQs
Can an Intraocular Lens be removed and replaced?
It isn't necessary all the time, but the Intraocular lens can be removed and replaced. Although the need to remove the lens is very unusual, the most common reason would be that the power is incorrect, despite all of the preliminary calculations. Another reason would be if the IOL shifted out of position inside the eye.
What is a monofocal Intraocular Lens?
A monofocal Intraocular Lens is a lens with a fixed focus for one distance. 
How long do Intraocular Lens implants last?
Unlike natural lenses, Intraocular Lens do not break down over a person's lifetime and do not need to be replaced.