Within a three-day period, Phathom Pharmaceuticals achieves dual FDA approvals for Voquezna, its groundbreaking heartburn medication. The first approval on 30 October involves the reformulation of Voquezna to address Helicobacter pylori infection, followed by a second approval on 01 November for treating gastroesophageal reflux disease erosive esophagitis (erosive GERD) and associated heartburn.
The recent FDA approval heralds a monumental leap in the US erosive GERD treatment landscape, which hadn't seen substantial innovation for over 30 years. Within a single week, Phathom managed to secure two approvals for the same compound—a rare occurrence. Voquezna initially gained FDA endorsement for H. pylori treatment in May of the previous year. However, the discovery of trace amounts of a cancer-causing agent in the treatment's commercial batches prompted the FDA to pause Phathom's launch plans, ultimately resulting in the rescission of the initial approval.
Amidst the impurity-related setback, the FDA halted Phathom's bid for approval in managing erosive GERD. By April, after receiving complete response letters for both applications, Phathom communicated to the FDA with stability data, demonstrating that Voquezna tablets could consistently stay below an acceptable daily intake threshold for the nitrosamine N-nitro-vonoprazan.
"Phathom's dedication to transforming the GI treatment landscape is underscored by this approval, heralding the first major advancement in the US Erosive GERD market in more than three decades," remarked Terrie Curran, Phathom's President and Chief Executive Officer. "The impact of Erosive GERD on patients is substantial, causing considerable pain. Research indicates widespread dissatisfaction among patients and healthcare providers with current treatments. We are thrilled about the approval of this pioneering treatment option that holds the promise to address a significant unmet medical need."
Erosive GERD, also known as Erosive Esophagitis or Acid Reflux, is a prevalent form of GERD impacting around 20 million individuals in the United States. Beyond the discomfort of persistent heartburn, individuals with insufficiently managed Erosive GERD may face the risk of developing more serious conditions, such as Barrett's esophagus. This condition involves changes in esophageal tissue that can advance to cancer. As per DelveInsight analysis, the observable portrayal of GERD reveals two primary phenotypic patterns: erosive reflux disease (ERD) characterized by erosion, and non-erosive reflux disease (NERD), which encompasses the majority of GERD patients.
This regulatory green light stems from the encouraging outcomes observed in the Phase III PHALCON-EE trial (NCT04124926). This pivotal study, featuring a randomized, double-blind, multicenter design, enlisted 1,024 participants diagnosed with Erosive GERD across the US and Europe. The trial systematically evaluated VOQUEZNA against the PPI lansoprazole, assessing its efficacy in both the healing process and the sustained maintenance of Erosive GERD, along with providing relief from associated heartburn symptoms.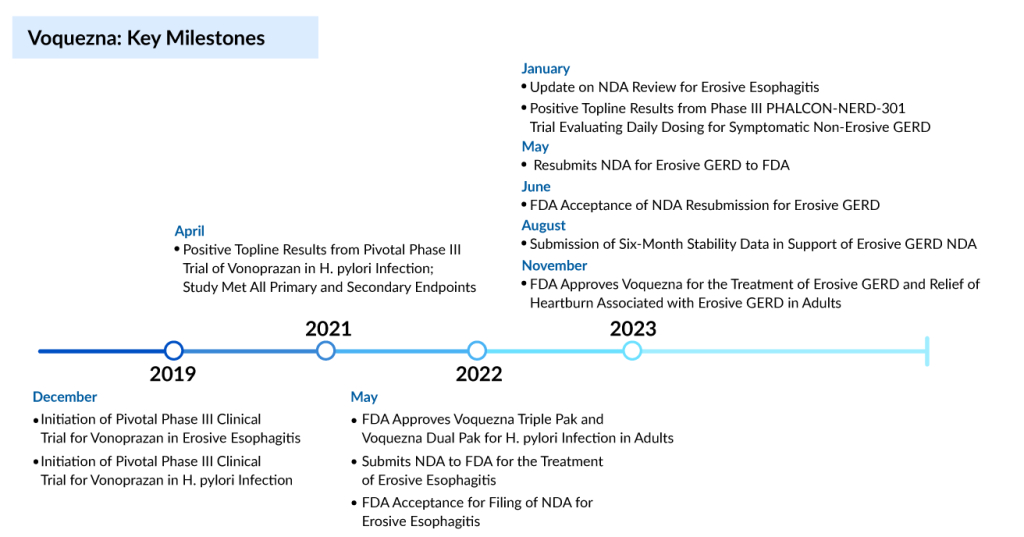 Results indicate that VOQUEZNA 20 mg met the primary endpoint of non-inferiority (p<0.0001) for achieving complete healing by Week 8 in patients with all grades of Erosive GERD, showing a healing rate of 93%, compared to 85% for lansoprazole 30 mg. Notably, superior healing rates were observed in a secondary endpoint among patients with moderate-to-severe disease (LA Grade C/D) at Week 2, with VOQUEZNA 20 mg at 70% and lansoprazole 30 mg at 53% (p=0.0008).
Moreover, VOQUEZNA 20 mg demonstrated non-inferiority to lansoprazole 30 mg in the mean percentage of 24-hour heartburn-free days throughout the healing period. During the maintenance phase of the trial, VOQUEZNA 10 mg exhibited superiority over lansoprazole 15 mg in sustaining healing at six months for all randomized patients (79% vs. 72%) and within the subset of patients with moderate-to-severe Erosive GERD (75% vs. 61%) (p=0.0490). Additionally, as a secondary endpoint, VOQUEZNA 10 mg was assessed for relief of heartburn in Erosive GERD patients, demonstrating non-inferiority to lansoprazole 15 mg over the six months.
The incidences of adverse events (AEs) with VOQUEZNA were in line with those observed with lansoprazole during the trial. Predominant AEs during the healing phase (≥ 2% in the VOQUEZNA treatment group) included gastritis (3.0% with VOQUEZNA 20 mg and 2.0% with lansoprazole 30 mg), diarrhea (2.0% with VOQUEZNA 20 mg and 3.0% with lansoprazole 30 mg), abdominal distension (2.0% with VOQUEZNA 20 mg and 1.0% with lansoprazole 30 mg), abdominal pain (2.0% with VOQUEZNA 20 mg and 1.0% with lansoprazole 30 mg), and nausea (2.0% with VOQUEZNA 20 mg and 1.0% with lansoprazole 30 mg). Noteworthy AEs during the maintenance phase (≥ 3% in the VOQUEZNA 10 mg group versus lansoprazole 15 mg) comprised gastritis (6.0% vs. 3.0%), abdominal pain (4.0% vs. 2.0%), dyspepsia (4.0% vs. 3.0%), hypertension (3.0% vs. 2.0%), and urinary tract infection (3.0% vs. 2.0%). These identified adverse events do not encompass all potential side effects associated with VOQUEZNA. For a comprehensive understanding of safety considerations, please refer to the Important Safety Information provided below and review the complete Prescribing Information for VOQUEZNA.
Colin W. Howden, MD, Professor Emeritus, University of Tennessee College of Medicine, remarked, "The FDA approval of VOQUEZNA (vonoprazan) provides healthcare providers with a new first-in-class therapeutic option. VOQUEZNA demonstrated faster healing in the more challenging-to-treat GERD patients with Erosive Esophagitis. Furthermore, it showcased superior maintenance of healing across all grades of Erosive Esophagitis compared to the commonly prescribed PPI, lansoprazole, and delivered 24-hour heartburn relief on most days in the trial."
Phathom Pharmaceuticals is pursuing another indication for VOQUEZNA—non-erosive GERD. The company anticipates an FDA decision on this indication in the second half of the coming year. According to estimates from the company, the peak sales potential for this additional indication exceeds $3 billion. Despite the availability of over-the-counter alternatives, Phathom notes that 85% of proton pump inhibitor (PPI) sales volume is attributed to prescriptions.
VOQUEZNA is anticipated to be accessible in the US by December 2023 and will be exclusively promoted by Phathom Pharmaceuticals. The pricing for a 30-dose bottle of the GERD treatment, encompassing both the 20-mg (healing) and 10-mg (maintenance) doses, is set at $650. Following the terms of Phathom's revenue interest financing agreement, the FDA endorsement of VOQUEZNA for Erosive GERD also qualifies the company to receive a payment of $175 million. This non-dilutive capital infusion will support the financial aspects of the commercial launch.