Molluscum contagiosum, which affects around 6 million individuals in the United States, predominantly children, is a highly contagious viral skin disease characterized by unique, raised pinkish lesions that are irritating and often painful. These lumps can also cause inflammation and raise the risk of infection in some circumstances. Molluscum contagiosum is caused by a pox virus that can be spread through fomites or direct skin-to-skin contact. When left untreated, the condition, though usually moderate or benign, can last for months or years.
According to DelveInsight's estimates, the total prevalent cases of molluscum contagiosum associated in 7MM countries was around 12.5 million in 2021. In 2021, the total prevalent cases of molluscum contagiosum were highest in the US. These numbers are further anticipated to increase by 2032. Moreover, as per DelveInsight's epidemiology model, the molluscum contagiosum prevalent cases were higher in females than males in 2021 in the US.
As there are no approved therapies for molluscum contagiosum treatment, the current treatments are symptomatic rather than curative. Thus, there is no single standard of care for molluscum contagiosum treatment. This creates a problem for immunodeficient patients who are often affected by severe to persistent molluscum.

YCANTH Approval Gives an Upper Hand to Verrica
The wait for Verrica and millions of patients for an effective molluscum contagiosum treatment is over. As on 21 July 2023, the FDA has approved YCANTH (VP-102) topical solution for molluscum contagiosum treatment in adult and pediatric patients 2 years of age and older. This was Verrica's third attempt to have VP-102 approved. The first was shattered in September 2021, when the FDA denied its New Drug Application owing to flaws at a contract manufacturing organization (CMO) facility. These issues were not directly tied to the production of VP-102, but rather to more general quality issues at the company. Verrica's second submission was again hindered by CMO issues, which the FDA rejected in May 2022.
"We are proud to bring patients and carers the first FDA-approved treatment for molluscum, which is one of the most significant unmet needs in medical dermatology," said Ted White, President and CEO of Verrica. "Verrica is the first company to develop a proprietary applicator and GMP-formulation of cantharidin that allows for safe, effective, and precise topical administration, and the first company to successfully gain FDA approval after conducting rigorous clinical trials to evaluate the safe and effective use of a cantharidin-based product for the treatment of molluscum. We would like to thank the almost 500 patients and carers who took part in the key Phase III trials, as well as the investigators and healthcare professionals at more than 30 clinical sites. Our commercial team is hard at work preparing for the commercial launch, and we are excited to collaborate with healthcare providers to bring YCANTH to patients and carers by September 2023."
YCANTH is a drug-device combination product that contains a GMP-controlled formulation of cantharidin (0.7% w/v) given via a single-use applicator, allowing for precise topical dosing and targeted administration. The approval is based on favorable results from two identical Phase III randomized, double-blind, multicenter molluscum contagiosum clinical trials (CAMP-1 and CAMP-2) that compared the safety and efficacy of VP-102 (YCANTH) to placebo in molluscum patients aged two years and older. A clinically and statistically substantial number of individuals treated with VP-102 achieved the primary goal of complete eradication of all treatable molluscum lesions in both trials. In CAMP-1, 46% of participants treated with VP-102 had complete clearance of molluscum lesions compared to 18% in the vehicle group (p0.0001); in CAMP-2, 54% of participants treated with VP-102 had complete clearance compared to 13% in the vehicle group (p0.0001).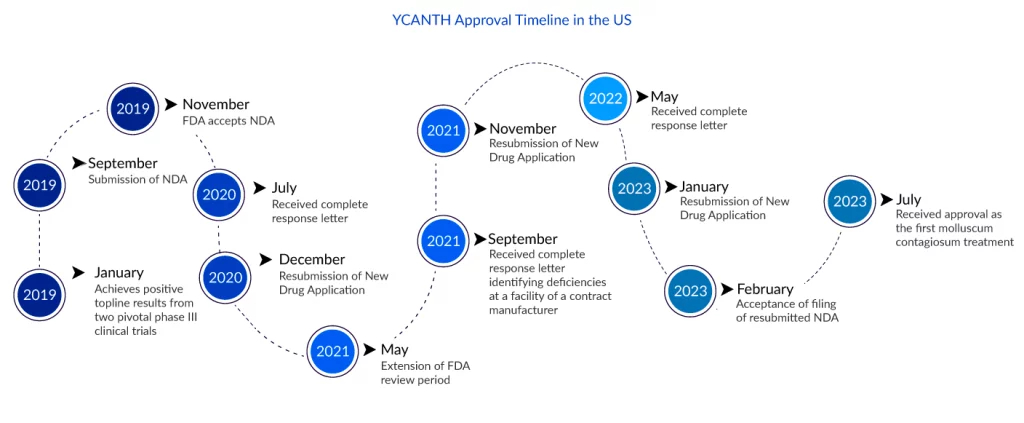 Additional CAMP trial post-hoc analysis revealed that complete clearance of all lesions was statistically substantially higher in the VP-102 group than in the vehicle group across all body locations, including those rated most susceptible. An additional post-hoc analysis revealed that the percentage of participants with complete molluscum clearance at the end of the study was statistically substantially greater for VP-102-treated subjects than for vehicle-treated subjects across all age categories. In the trials, no major adverse effects were reported. The majority of adverse responses were mild to severe. The rate of discontinuation due to an adverse reaction was 2.3% in the YCANTH group and 0.5% in the vehicle group.
Promising Competitors to Verrica in the Molluscum Contagiosum Treatment Space
To counter unmet market needs and provide better molluscum contagiosum treatment choices, market players are working robustly either on single-agent novel molecules or on combination and dose modification of standard therapies. Several therapies are expected to be launched in the study period, likely to drive molluscum contagiosum treatment market growth during the study period. As the molluscum contagiosum pipeline is scarce, so, only a limited number of companies are working in the treatment space. The key players developing novel molluscum contagiosum therapies include Novan/Ligand Pharma (SB206) and Veloce Biopharma (VB4-245).
SB206 is a nitric oxide–based topical gel for treating viral skin infections with special attention to molluscum contagiosum. Novan innovative NITRICIL technology platform is the first macromolecular platform to achieve stable, tunable, and druggable nitric oxide delivery. Based on this technology, SB206 is being developed as a topical nitric oxide product. Nitric oxide has varied biological activity within the body, affecting the immune, cardio/pulmonary, and neurological systems. Depending on the dose and release kinetics, nitric oxide can have agonistic or antagonistic effects. Novan has designed the B-SIMPLE (berdazimer sodium in molluscum patients with lesions) studies, such as B-SIMPLE1 and B-SIMPLE2. They are Phase III programs that are multicenter, randomized, double-blind, vehicle-controlled studies to evaluate the efficacy and safety of SB206 for the treatment of molluscum contagiosum.
VBP-245 (Povidone-iodine) is a topical gel under development by Veloce Biopharma to treat molluscum contagiosum. Povidone-iodine is a resistance-free, broad-spectrum antimicrobial agent that eradicates micro-organisms, including bacteria, viruses, yeasts, molds, fungi, and protozoa. The topical formulation has completed Phase II trials at three sites in the US for the treatment of molluscum contagiosum. However, the results are not yet disclosed by Veloce Biopharma.

The expected launch of these therapies is likely to spur molluscum contagiosum treatment market growth in the near future. DelveInsight's analysts estimate that the molluscum contagiosum market is expected to show positive growth growing from USD 2 billion in 2021 at a significant CAGR during the study period (2019–2032). Moreover, the increasing demand for therapy with ease of administration and a longer time of action is likely to boost the molluscum contagiosum treatment market uptake of new therapies.
FAQs
1. What is molluscum contagiosum?
Molluscum contagiosum, often known as water warts, is a common superficial skin disease caused by the poxvirus. The molluscum contagiosum virus (MCV) is one of the world's 50 most common diseases. It mostly affects school-aged children, sexually active young adults, and immunocompromised people. 
2. What are the symptoms of molluscum contagiosum?
Molluscum contagiosum symptoms include raised, round, skin-colored bumps, itchy, pink bumps, bumps on the face, trunk, arms, or legs of children, and others.
3. What is the current treatment for molluscum contagiosum?
Physical destruction, immunomodulation, and antiviral medicines are the most common molluscum contagiosum treatment techniques used and combinations of these therapies may be used. Cryotherapy, curettage, laser, salicylic acid, and other molluscum contagiosum treatments can be used to physically destroy lesions; however, these operations can be unpleasant and leave scars.
4. What are the causes of molluscum contagiosum?
Molluscum contagiosum causes include the spread of the virus through skin contact, sexual contact, scratching or rubbing the bumps, and contact with infected objects, among others.