Highlights:
The key challenges in the clinical trials processes such as slow recruitment, data management, lack of diversity, compliance with several rules and regulations, and others faced by the organizations.
The impact of technology in clinical trials from recruiting more quickly to remote monitoring and improving patient experience.
The impact of non-traditional data sets such as wearables and RWE in clinical trials and their future.
The use of technology in clinical trial processes is not a novel concept; it has been debated for decades. The conventional clinical trials have four phases i.e., Phase I, II, III, and IV. Each stage of a clinical trial serves a distinct purpose in ensuring that a treatment is safe and effective for general use. But an organization has to go through several challenges from slow patient recruitment to managing the data of the patients in conducting the conventional clinical trials. However, due to the global restrictions imposed during the COVID-19 pandemic, digital tools and technologies were forced to scale quickly, uniting regulators, pharma companies, and the technology industry to ensure clinical trials continue and treatments were brought to market. With the rise of wearable devices and mobile technologies, as well as cloud technology, Artificial Intelligence, and related platforms, it is now possible to collect frequent, specific, and multidimensional data throughout the duration of clinical trials. These digital technologies in clinical trials have the potential to improve novel trial designs, improve patient experience, serve as recruitment and retention tools, and establish new endpoints in clinical studies. Large amounts of data are collected using these technologies in clinical trials. While implementation issues persist, it is clear that the use of technology in clinical trials will continue and will be scaled up in the future.
What are the key challenges in clinical trial operations?
Setting up a new clinical trial is no easy task, and keeping it running smoothly necessitates a well-planned project management strategy. Preparing for the worst also entails planning for the best: anticipating the challenges of carrying out a trial is critical to its success. Some of the challenges faced by the organizations during the clinical trial processes are: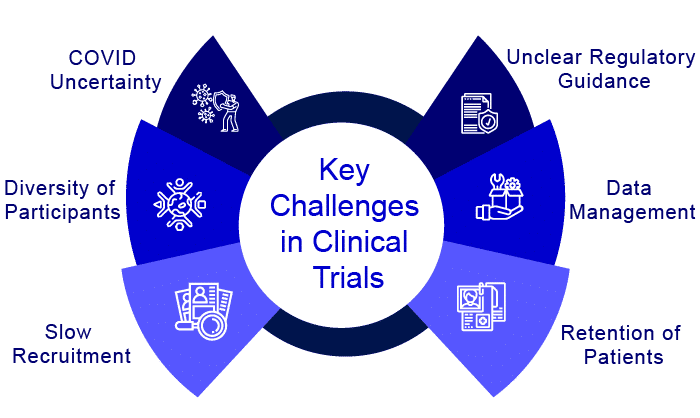 Slow recruitment and retention
Patient recruiting is one of the most difficult challenges that arise right before the start of clinical studies. This stage often determines whether or not the clinical trial will begin successfully. Most of the studies are either halted or even terminated due to a lack of patient recruitment. One of the reasons for this is the trial's specific requirements in terms of inclusion and exclusion criteria. For example, the trial requires patients to have a specific condition, but patients also have other conditions that could lead to complications – finding the right patients proves to be quite difficult.
Lack of diversity of participants
Clinical trials' lack of diversity is a moral, scientific, and medical concern. When trial participants are homogeneous (e.g., primarily of the same gender, race/ethnicity, or age group), findings may be skewed, resulting in a body of clinical knowledge that is not generalizable. Incorporating a diverse group of people into clinical research could lead to more robust and full data, which further lead to a better understanding of racial and ethnic variances in treatment responses and fewer discrepancies in outcomes.
Compliance with several rules and regulations
Overcoming the patient recruitment challenge is only the beginning of a herculean task. Compliance with the rules and regulations must be maintained throughout the trial, as the trial cannot be completed successfully unless it adheres to the rules and regulations. Coordination among sites, partners, vendors, and other stakeholders is unquestionably a recipe for a complex and tangled web of compliance regulations. Approval of protocols and materials by institutional review boards (IRBs) takes time, and each entity may have its own pace at which things are approved. It is critical to include this in the clinical trial timeline to allow for potential delays.
Data Management
When clinical trials are in progress, one of the most essential tasks of trial administration is to ensure that locations are well-monitored and data is appropriately collected. Ensuring patient compliance and completion of the clinical trial protocol necessitates dynamic data analysis and monitoring, including monitoring of endpoint data, deviations, and any adverse events. Manually updating information and aggregating data from multiple sources and across different systems platforms, as many pharma companies still do, results in difficulties updating information quickly and aggregating data from various sources and across different systems platforms. It is challenging to integrate lab results, imaging, and health records rapidly, especially when site directors rely on manual spreadsheet methods.
Effect of COVID
The global outbreak of COVID-19 has had a significant impact on scientific research around the world. Many clinical trials were halted or terminated during the pandemic. Many key regulatory agencies, such as the FDA and EMEA, have promoted guidelines and measures to ensure the integrity of trials that attempt to guarantee the rights, safety, and wellbeing of patients and healthcare staff during the COVID-19 pandemic, but maintaining clinical trials and keeping them on track has been extremely difficult for them as well. However, the future of clinical trials is shifting, and the COVID-19 pandemic has emphasized the urgent need for clinical trials powered by next-generation technologies, in addition to scientific advancements. We will witness changes in clinical trial processes at an unpredictable rate.
Impact of technology in clinical trials
Technology in clinical trials plays a crucial role in drug development and the R&D value chain by modernizing clinical trials and lowering the failure rate. Due to the ambiguity surrounding this domain and a highly fragmented supply market, pharmaceutical companies have been sluggish to adopt breakthrough technologies in clinical trials, even as technology supply has increased and regulation of innovative ways has eased. Increased clinical trial expenditures, as well as a higher rate of trial failures and a rise in patient-centric trials, have fueled a surge in demand for technology in clinical trials. Below are some of the challenges in clinical trials eased by technologies: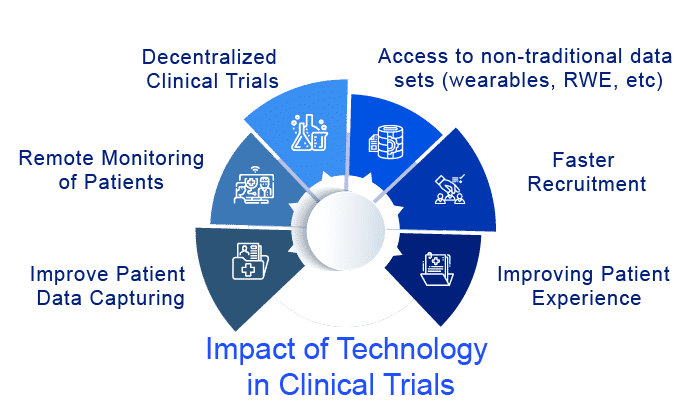 Patient Recruitment
Patient recruiting is still a big problem in clinical trials. But patient recruitment in clinical trials has been aided by mobile communications, which has helped overcome the challenge of distance. Because of the technological advancements in transportation options, the influence of distance has been reduced. The globalization of transportation apps like UBER has made private transportation more accessible, especially in isolated locations where alternative transportation providers are gaining traction. Patient enrollment has been aided by other digital technologies in clinical trials. In addition, digital technologies in clinical trials including electronic informed consent (eICF), electronic data capture (EDC), electronic clinical outcome assessment (eCOA), and connected medical equipment enable to improve patient enrolment from far-flung places and countries.
Patient-Centric Trials
In clinical trials, a substantial amount of money is being invested in digital technology to produce patient-centric solutions that will encourage patient participation. Smaller trials have been made possible by disruptive technologies in clinical trials such as wearables, mHealth, and RWE. Everything is handled through a phone supplied to trial participants, from patient enrollment to medicine administration and follow-ups. Patient engagement solutions will continue to prioritize mobile health, electronic health records, and patient-generated data. With the rising acceptance of customer-centric well-being goods, these solutions have a high adoption rate. Suppliers are innovating to find better and more efficient ways to engage patients, which is driving growth in the supply sector.
Patient Data Capturing
Capturing patient data has become easier because of advances in technology in clinical trials such as mobile and wearable devices. In clinical trials, patient data is at the forefront of decision-making. Wearable technology is proven to be an excellent tool for automating patient monitoring. These technologies in clinical trials also allow the clinical research organization to keep a statistical eye on the data and provide virtual access to data across study locations. By enhancing patient engagement and improving clinical data management, such technology in clinical trials will increase the overall efficiency of clinical trials. Synthetic biology, virtual reality, and the Internet of Things are some other examples of exponential technology in clinical trials.
Remote Monitoring
The continuous move to remote clinical trial monitoring has been expedited by the COVID-19 pandemic. Remote site access and monitoring tools have become an important part of the clinical trial process, serving as a link between the sponsor, clinical research organization (CRO), and the research site. Sponsors and CROs are currently satisfying the needs of research sites in one of two ways: by connecting to the site's existing technology infrastructure or by implementing an Electronic Investigator Site File (eISF) system that connects to the sponsor's Electronic Trial Master File (eTMF). These technologies have the potential to make clinical trials more efficient and less demanding for participants while also giving a more meaningful and thorough picture of patients' conditions and reactions.
Decentralized Clinical Trials
Next-generation clinical trials are unquestionably linked to the technological advancements represented by decentralized clinical trials. Sponsors and Clinical Research Organizations have begun collaborating with sites to conduct clinical trials in a hybrid fashion by participating in decentralized clinical trials, also known as virtual trials, in which some study visits are conducted remotely. Remote visits are completed in the comfort of the patient's home using mobile technology that both sites and patients can access from a designated mobile phone or computer. Decentralized clinical trials (DCTs) will demand considerable adjustments to the traditional clinical trial rules. They carry uncontrolled risks, such as patient compliance at home and the variability of a patient's technological experience, which may limit their use in some patient populations. However, decentralized clinical trials provide a one-of-a-kind opportunity in which the distance between a patient's home and a clinical site, transportation costs and logistics, and access to remote areas are no longer barriers to the global expansion of clinical trials. Despite the fact that we are still in the early stages of digital transformation, technology in clinical trials unquestionably provides for larger-scale clinical studies.
Find out more about the current scenario of virtual clinical trials in the pharmaceutical and medical device industry
Impact and Future of Wearable Devices and RWE in Clinical Trials
Remote care via telehealth and wearables devices has become an essential aspect of health operations during the pandemic and is predicted to be a useful tool for physicians and patients. The amount of innovation and growth in wearable devices in recent years has led to an increased usage of this technology in clinical trials and healthcare settings. A plethora of wearable gadgets are presently available for purchase on the market, with many more in the works, with intriguing implications for both general health and cost-effectiveness. The use of health monitoring devices in clinical research is proven to be a crucial factor in allowing certain trials to continue during this period of a worldwide pandemic. Wearable technology gadgets, which were initially designed with consumers in mind, have opened up a world of possibilities for the pharmaceutical sector. With the FDA relaxing monitoring criteria in response to the COVID-19 pandemic, wearable devices provide clinical researchers with additional flexibility in completing regulatory and reporting standards while enhancing the trial process for participants. Furthermore, the growing use of artificial intelligence in clinical trial data processing will make it easier to spot key patterns in massive datasets acquired from these devices.
Another intriguing development is the increased use of non-traditional RWD to create RWE, such as purpose-built linked data (such as clinical data connected to molecular data) and data generated by patients' wearables or health applications. Evidence derived from various sources has the potential to give faster and more in-depth insights into disease development, treatment paths, and patient benefit. Over time, this tendency may open up new avenues for collaboration with health systems, patient advocacy organizations, digital health start-ups, and even patients themselves.
For decades, pharmaceutical firms have used RWE to inform their decision-making, respond to demands from external stakeholders, and enhance the market positioning of their medications. More recently, expanding regulatory acceptability, greater demand from payers and physicians, and more familiarity with digital and analytics have enabled certain businesses to reap far-reaching benefits from RWE.
Real-world data (RWD) and real-world evidence (RWE) are increasingly important in healthcare choices. Computers, wearables, mobile devices, and biosensors are all helping researchers collect and store massive volumes of health-related data. RWD and RWE are being utilized by medication developers to support clinical trial designs and observational research to discover novel therapeutic methods. Regulatory agencies have started embracing these data.
In this evolving context, RWE insights are becoming increasingly crucial in offering the correct therapy to the right patient at the right time, monitoring outcomes, and showing the value of treatments, and will continue to do so in future. RWE is more prevalent than it has been in the past, owing to the considerable interruption to RCTs and the need to immediately identify burden by patient subtype, as well as the necessity to uncover possible COVID-19 medicines. Furthermore, researchers will continue to evaluate and confirm the viability of wearables devices in studies. Sponsors will also continue to collaborate with wearable device manufacturers to improve endpoint data collection and validation. Both RWE and wearable devices will continue to contribute to clinical trial operations in the future too. Moreover, companies are planning ahead of time to guarantee that their operations are future-ready.

Does Industry Consortia play any role in Clinical Trials?
In recent years, industry consortia have seen a considerable surge in R&D-focused collaborations such as the Clinical Trial Transformation Initiative (CTTI) and TransCelerate. Such collaborations have aided in the understanding of complex conditions and novel biomarkers and in improving our ability to track disease progression and investigate the clinical benefits of combination treatments. Consortia are a good model for activities that require industry-wide consensus, such as standard development and providing regulators with a collective voice in shaping regulatory guidance on new issues. Some of the potential advantages of industry consortiums for technology in clinical trials development include risk reduction through joint investment in joint projects, the inclusion of multiple stakeholder perspectives (patients, investigators, treating clinicians, payers, regulators), obtaining interdisciplinary expertise in analytics, and endpoint validation. Furthermore, consortia are also developing more tangible solutions that will accelerate the drug development process by leveraging advanced technologies in clinical trials. Moreover, consortia-led data-sharing initiatives will make it easier and more accessible to previously difficult-to-obtain information. Industry consortia are mobilizing support for changes that will improve overall clinical trial processes, such as decentralized clinical trials that will allow for more diverse participants.
Way Ahead
The clinical trial landscape is continually changing and becoming more decentralized. Wearables, mHealth, and RWE, among other disruptive technologies in clinical trials that are opening the way for small, controlled clinical trials. From patient enrollment to medicine administration and follow-ups, everything is handled through a phone given to study participants. Given their transformative influence over the R&D process and cost reductions, pharma companies have recently expanded their spending on AI and Big Data analytics. Fear of market rivalry, as well as company transformation and agility, are driving significant expenditures in R&D technology. Furthermore, the use of wearable devices and remote sample collection in clinical trials provides a safer and more convenient experience for participants, which can stimulate patient enrollment and participation in future studies.
FAQs
1. What are the major challenges in clinical trials?
The key challenges faced by the organizations during the clinical trial processes include slow recruitment, patient retention, lack of diversity of participants, COVID uncertainties, data management, compliance with several rules and regulations, and many more.
2. What is the impact of technology on clinical trials?
Many challenges in clinical trials are eased by technologies such as faster recruitment, patient-centric trials, decentralized trials, patient data capturing, remote monitoring, access to non-traditional data sets, and many more.
3. What is the advantage of industry consortiums in clinical trials?
Some of the potential advantages of industry consortiums for technology in clinical trials development include risk reduction through joint investment in joint projects, the inclusion of multiple stakeholder perspectives (patients, investigators, treating clinicians, payers, regulators), obtaining interdisciplinary expertise in analytics, endpoint validation. 
4. What are the benefits of decentralized clinical trials?
The primary goal of decentralization is to make clinical trial participation as simple as possible, allowing participants to go about their daily lives with minimal disruption. Furthermore, decentralized trials take a patient-centered approach, addressing a wide range of patient needs that are frequently unmet in traditional designs.