Triglycerides, the energy-providing lipids consumed from fat-containing food, have been known to cause severe health conditions in high levels, including acute pancreatitis. It is also associated with apolipoprotein C-III (APOCIII) and high probability of coronary artery disease (CAD). Triglyceride levels above a certain level are termed as severe hypertriglyceridemia (sHTG). Elevated triglycerides may also result from genetic factors, Familial chylomicronemia syndrome (FCS) is one such disorder.
What are APOC III Inhibitors?
Long-recognized APOC III is a small protein that functions as a key regulator of triglyceride metabolism by inhibiting lipoprotein lipase (LPL). ApoC-III may cause a rise in plasma triglycerides and a buildup of triglyceride-rich lipoproteins (TRL) remnant particles through several different pathways, including poor clearance of TRL leftovers and suppression of LPL-mediated lipolysis of TRLs. Researchers understand that apoC-III is a complex protein with significant physiological importance. In addition to controlling triglyceride metabolism, it is also believed to be involved in the pathological processes leading to atherosclerosis.
Severe Hypertriglyceridemia and Familial Chylomicronemia Syndrome Burden
While hypertriglyceridemia (HTG) is a common condition defined as a high level of triglycerides (>150 mg/dL), severe hypertriglyceridemia (sHTG) is defined as triglyceride levels more than three times the normal level, i.e., >500 mg/dL. Familial chylomicronemia syndrome, an ultra-rare genetic lipid disorder, accumulates chylomicrons in the blood and lymphatic fluid due to LPL or apo C-II deficiency, where triglyceride levels go upto >1,000 mg/dL.
The prevalence of severe hypertriglyceridemia (SHTG) has increased manifolds in recent years, and as per DelveInsight's latest "Severe Hypertriglyceridemia Epidemiology Forecast" report, there were nearly 3.4 million diagnosed prevalent cases of SHTG in the 7MM in 2022. Severe hypertriglyceridemia can be caused due to secondary factors, but nearly 45% of cases are due to genetic predisposition, where familial chylomicronemia syndrome is a significant condition. Due to overlapping blood triglyceride levels and comparable symptoms, it is challenging to identify familial chylomicronemia syndrome distinctly. As per DelveInsight's latest "Familial Chylomicronemia Syndrome Epidemiology Forecast" report, familial chylomicronemia syndrome prevalence ranges from 1–4 per million, with around 2,082 cases diagnosed prevalent cases in the 7MM in 2022. Accurate diagnosis is essential for effective disease management as acute and potentially fatal episodes of pancreatitis due to familial chylomicronemia syndrome are common.
Wonder what will be the patient pool by 2032? Find out at Familial Chylomicronemia Syndrome Market Landscape
Severe Hypertriglyceridemia and Familial Chylomicronemia Syndrome Treatment-related Gaps
The treatment for severe hypertriglyceridemia and familial chylomicronemia syndrome aims to reduce triglyceride levels to reduce the risk of CVD and acute pancreatitis. Incorporating a very low-fat diet of less than 20 g per day (15% of total energy needs) is essential, but not everyone can maintain this diet, and triglyceride-lowering drugs such as fibrates, omega-3 fatty acids, statins, niacin, etc. may be required. In individuals with polygenic hypertriglyceridemia, treatment with fibrates, niacin, or fish oil is often estimated to result in at least 20% decrease in triglycerides; however, a similar benefit is typically not seen in patients with familial chylomicronemia syndrome. Several severe hypertriglyceridemia drugs have been approved in each of these classes, and their generics are available in the severe hypertriglyceridemia treatment market, although many patients remain ineligible for these therapies or have side effects. The only approved drug for familial chylomicronemia syndrome is Waylivra which is approved only in Europe.
Depending on baseline TG levels, statins are currently the most effective TG-reducing medicines—TG reduction of up to 50% has been observed in severe hypertriglyceridemia patients—capturing a market of nearly 60% of the total severe hypertriglyceridemia treatment market worth USD 2.4 billion in 2022. In the case of familial chylomicronemia syndrome, omega-3 fatty acids are the more popular choice of familial chylomicronemia syndrome treatment (~USD 1 million in 2022), even though lipid-lowering agents are ineffective in controlling chronic chylomicronaemia.
Novel drugs are being developed to reduce triglyceride and chylomicron levels effectively. ApoC-III inhibitors are one such class that is poised to play a pivotal role in future severe hypertriglyceridemia and familial chylomicronemia syndrome market dynamics.
Ionis Pharmaceutical's WAYLIVRA, an ApoC-III inhibitor that inhibits LPL, was approved for familial chylomicronemia syndrome treatment by the EMA in 2019 and captured a total familial chylomicronemia syndrome treatment market of ~USD 10 million in EU4 and the UK in 2020. The drug was granted ODD by the US FDA and EMA but failed to get approval in the US due to adverse events. Although no ApoC-III inhibitor has been approved for severe hypertriglyceridemia treatment, the emerging treatment pipeline includes a few drugs targeting ApoC-III for both severe hypertriglyceridemia and familial chylomicronemia syndrome.
Keen about what is in store for the SHTG market? Visit, Severe Hypertriglyceridemia Market Outlook
Emerging APOCIII Inhibitors Market Analysis
While an essential cofactor for LPL activation is apoC-II, apoC-I and apoC-III affect the lipolysis process adversely. ApoC-III inhibiting therapies will enjoy a great demand to tackle the unmet need associated with both severe hypertriglyceridemia and familial chylomicronemia syndrome. Two such drugs, Olezarsen (Ionis Pharmaceuticals, Inc.) and ARO-APOC3 (Arrowhead Pharmaceuticals), are expected to enter the treatment market during the forecast period (2023–2032).
Having missed the opportunity to enter the US market with WAYLIVRA, Ionis Pharmaceuticals with Akcea Therapeutics' are developing another APOCIII inhibiting molecule Olezarsen (formerly known as AKCEA-APOCIII-LRx). The drug is in Phase III for familial chylomicronemia syndrome and severe hypertriglyceridemia treatment and is expected to launch by 2024 and 2025, respectively. This RNA-like antisense oligonucleotide molecule has been granted Fast Track Designation by the US FDA, allowing it to fasten the development process and become the first approved therapy for familial chylomicronemia syndrome in the US also the first APOCIII inhibitor therapy for severe hypertriglyceridemia. Although clinical trial results have been promising, further Phase III results are expected by the end of 2023, which would strengthen drug potential.
Additionally, Arrowhead Pharmaceuticals Phase III emerging drug ARO-APOC3—in line for anticipated approval by 2025 for familial chylomicronemia syndrome treatment and later for severe hypertriglyceridemia treatment—would provide tough competition. The subcutaneously administered RNAi APOCIII inhibitor is being studied in Phase III clinical trials for familial chylomicronemia syndrome treatment and Phase II clinical trials for severe hypertriglyceridemia treatment, having shown to be a promising molecule with TG reduction of more than 85%. The trial results showed that it is well tolerated, with no reports of treatment-related severe adverse events. Having been granted orphan drug designation, ARO-APOC3 possesses the advantage of receiving incentives during the development process and marketing. The drug has impressive results but may face challenges in reaching a high uptake for familial chylomicronemia syndrome, considering Ionis's strong position and experience in the market with WAYLIVRA for familial chylomicronemia syndrome patients.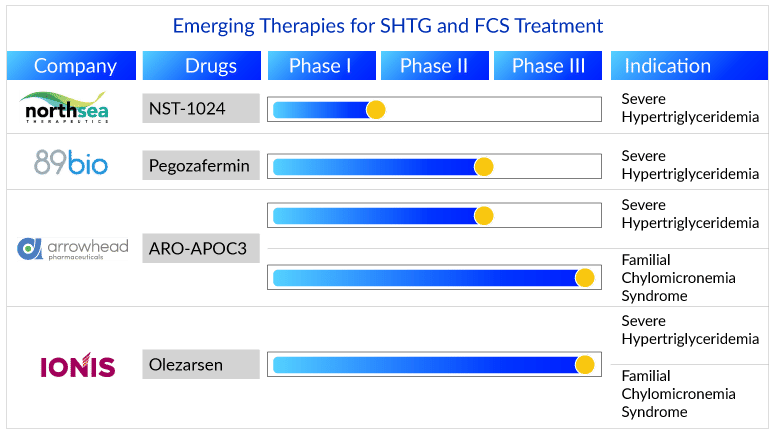 Challenges in the Severe Hypertriglyceridemia and Familial Chylomicronemia Syndrome Treatment Market
It is a well-known fact that companies aim first to launch drugs in high-value indications having smaller patient populations and then obtain label expansion in indications with higher patient pools. This enables them to anchor drug prices to the indication with the highest value and boost revenues and profits.
A similar kind of situation is being seen in the two disease spaces, where companies are targeting FCS first. As per our analysis, as mentioned in the article by DelveInsight, "Rejections and Withdrawals: Familial Chylomicronemia Syndrome Market Needs a Therapy Effective Enough, Affordable Enough," the lack of success of GLYBERA and WAYLIVRA has shown that drug developers need to keep a close eye on drug cost as this may prevent the drug from taking off. Severe hypertriglyceridemia presents a huge market opportunity, and the currently prescribed medications for severe hypertriglyceridemia treatment are priced very low. Thus, these companies would need to come up with effective price strategies for their therapies to achieve a significant market share.
The APOCIII inhibitors are anticipated to shift the treatment market positively. As both drugs have similar mechanisms of action and will be subcutaneously administered, their success will be greatly determined by their cost-effectiveness ratio, among other things.
FAQs
1. What is severe hypertriglyceridemia?
High levels of triglycerides are a defining feature of the disease Hypertriglyceridemia. Triglyceride levels in patients with severe hypertriglyceridemia (SHTG) are more than three times normal. It causes various severe conditions, including cardiovascular disease (CVD) and acute pancreatitis.
2. What is familial chylomicronemia syndrome (FCS)?
Familial chylomicronemia syndrome (FCS) is a severe, rare genetic disorder that prevents the body from breaking down dietary fats, also known as triglycerides. These triglycerides are carried in the blood by large structures known as chylomicrons, which aid in the transport of triglycerides to various body parts where they are required for energy and fat storage.
3. What are severe hypertriglyceridemia symptoms?
Severe hypertriglyceridemia doesn't show any severe hypertriglyceridemia symptoms; however, people with extremely high triglyceride levels (more than 2,000 mg/dL) can have persistent abdominal pain, nausea, vomiting, xanthomas (yellow skin lumps), and severe pancreatitis.
4. What are familial chylomicronemia syndrome symptoms?
Although the signs and symptoms of this genetic condition can appear as early as infancy or childhood, it is more prevalent in adolescents. Several may not start to show familial chylomicronemia syndrome symptoms till they are adults. The most typical familial chylomicronemia syndrome symptoms include bloating, asthenia, and indigestion in addition to Lipemia Retinalis, Eruptive xanthomas, and severe abdominal discomfort, frequently accompanied by back pain.
5. How is familial chylomicronemia syndrome diagnosed?
The familial chylomicronemia syndrome diagnosis is clinical, requiring an in-depth understanding of past medical and family history. In addition to checking for the milky appearance of blood, a fasting lipid profile assay is performed for diagnosis to determine triglyceride levels. A serum lipase assay, computed tomography, and ultrasound are also performed.
6. What are the current severe hypertriglyceridemia treatment options?
Dietary restrictions and lipid-lowering drugs such as medium-chain triglycerides (MCT), fibrates, omega-3-fatty acids (omega-3-FA), and nicotinic acid are used for severe hypertriglyceridemia treatment. Some of the approved severe hypertriglyceridemia treatment drugs on the market include fenofibrate, lovaza, and vascepa.
7. What are the current familial chylomicronemia syndrome treatment options?
FCS cannot be cured, but it can be managed. FCS is typically managed by an interprofessional team that includes an endocrinologist or lipidologist, a dietician, a patient support group, and primary care. Dietary changes are the mainstay familial chylomicronemia syndrome treatment. Fibrates, niacin, and omega-3 fatty acids play little to no role in the treatment because they lower VLDL or increase LPL activity. Both mechanisms have no effect on FCS chylomicrons.