The expiration of many biologic drugs patents has sparked biosimilar development and boosted the biosimilar market growth. Biosimilars are alternative versions of innovator biologic drugs. These are biological products that are similar replicas of the biopharmaceuticals that inspired them. Biosimilars are sometimes confused with the "biological generics" due to biopharmaceuticals' structural and manufacturing complexities. But biosimilars are rather unique molecules with limited data at the time of approval, and there are concerns about their safety and efficacy. Though they are less expensive drugs with comparable safety and toxicity profiles and no clinically meaningful differences when compared to their reference biologics. As a result, biosimilars reduce healthcare costs while increasing patients' access to novel treatment options.
Biosimilars have just lately begun to acquire momentum throughout the pharma value chain. The establishment of uniform regulatory procedures has already started to entice pharmaceutical and biotech firms to participate in biosimilar markets. Several factors are driving the biosimilar market currently, including the expiration of patents on blockbuster pharmaceuticals, decreasing pricing, the increased prevalence of chronic diseases, and cost-cutting initiatives by governments and third-party payers. Many pharmaceutical giants such as Samsung Bioepis, Amgen, Mylan Pharmaceuticals, Pfizer, Sandoz, Celltrion, Boehringer Ingelheim Pharmaceuticals, and others are currently dominating the biosimilar market.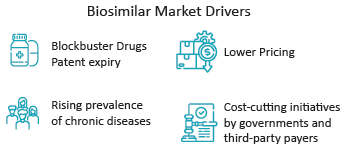 How many Biosimilars are Available in the Market?
With the approval of Omnitrope (Somatropin) by Sandoz in 2006, the European biosimilar market became the first to emerge. Since then, the usage of biosimilars for the number of therapeutic conditions such as cancer, arthritis, blood disorders, auto-immune disorders, and others has increased dramatically throughout Europe. Currently, Europe has around 69 authorized biosimilars, of which 54 are currently accessible on the market. In comparison, the US biosimilar market has 31 FDA-approved biosimilars to date.
Furthermore, the biosimilar market landscape will continue to evolve as consumers and governments become more interested in biosimilars.
How does the Biosimilar Approval in the US Differ from Europe?
According to the World Health Organization, compatibility and characterization studies for comparative evaluation of physicochemical properties, stability, impurities, and biological activity are required to demonstrate biosimilarity between biologics and their respective biosimilars. Both the FDA and the EMA have strict guidelines for demonstrating biosimilarity using in vitro and in vivo data. The CHMP of the European Medicines Agency created a framework for the licencing of biosimilars in the EU in 2003, and specific guidelines were established in 2005. Biologics are regulated in the United States under the Biologics Price Competition and Innovation Act (BPCI Act) to ensure their purity, safety, and efficacy. In terms of biosimilars, the FDA is authorized by the Biologics Price Competition and Innovation Act of 2009, which was implemented to eliminate unnecessary human and animal studies of biosimilars, resulting in high cost and time savings. Extrapolation of indications, which is permitted if scientifically proven and supported by adequate clinical data, is typically left to clinical judgment.
Biosimilar Market Analysis
The United States biosimilar market is currently well-established and expanding across numerous therapeutic categories. The Food and Drug Administration (FDA) authorized 7 biosimilars in 2018, bringing the total number of approvals to 16. In 2019, the FDA authorized 10 biosimilars, increasing the total number of biosimilars approved in the United States to 26. The continually increasing number demonstrates the growing power of biosimilars in the United States. In 2020, the FDA approved three biosimilars.
Furthermore, patients will have access to more biosimilars in the future as the number of biosimilars becoming available in the market is increasing. By the end of 2018, there were only 6 biosimilars that are available in the US market. In 2019, 6 more biosimilars became available in the US market, followed by another 7 and 2 in 2020 and 2021, respectively.
In addition, during a comparable period, the US biosimilar market landscape is progressing quicker than the European Union (EU) biosimilar market landscape. There were 11 authorized biosimilars in the six years after the EU's approval of the first biosimilar (2006). In comparison, in the first six years, after the first biosimilar was licensed in the United States, there were 29 approved biosimilars, more than double the number in the EU.
However, since the reimbursement aspect is more robust in the EU, and the governments across EU countries are more involved in assessing healthcare costs related to diseases, switching patients from biologic to biosimilars is accessible in Europe.
Prescribers are asked to switch patients to a cheaper medicine alternative from the government as biosimilars are included in the reimbursement lists to a greater degree once they come out, compared to their biologic counterparts.
This aspect is somewhat more challenging in the US due to disproportionate healthcare coverage across the country and more lax pricing and reimbursement policies.
Biden Government and Biosimilar Pricing
Legislators at the federal levels reviewed several biologics and biosimilars-related legislative measures in 2020 to improve patient access, encourage commercialization, and lower costs. President Biden signed a second COVID-19 stimulus package on December 27, 2020, which contained revisions to the BPCIA and improvements to the Purple Book, which contains FDA-licensed biological goods and their reference products, including approved biosimilar and interchangeable products. The changes move the Purple Book closer to the Orange Book, which regulates small molecule medications. As part of the patent dance, reference product sponsors (RPSs) must provide copies of any patent lists, including patent expiration dates, to the FDA within 30 days of when they were initially supplied to biosimilar applicants.
Furthermore, Senators Martha McSally (R-AZ) and Doug Jones (D-AL) introduced the ACCESS for Biosimilars Act of 2020 (S. 3466) in March 2020. This bill would have eliminated all out-of-pocket costs for biosimilar products for Medicare Part B beneficiaries for the first five years a biosimilar is on the market.
Moreover, Representative Glenn Grothman (R-WI) introduced a new bill, the Biosimilar Insulin Access Act of 2020 (H.R. 8190), in September 2020, that would have allowed biosimilar insulins to be automatically granted interchangeability designations to their reference products.
In addition, the Advancing Education on Biosimilars Act was signed into law by President Biden in April 2021. The act, which received bipartisan support, directs the government to provide educational materials, such as infographics, continuing education programmes, and webinars, to doctors and the general public to raise awareness and knowledge about biosimilar drugs. Supporters hope that educating providers and patients about biosimilar products will increase confidence in the drugs' safety and effectiveness, leading to an increase in biosimilar prescribing, which could ultimately help lower overall drug costs.
Furthermore, multiple brand names are given to 1 biosimilar by their manufacturing company to develop greater market share. For example, the biosimilars of Infliximab are sold under two different brand names, Inflectra (in the US) and Remsima (in Europe). Similarly, the biosimilars of blockbuster drug Adalimumab are sold under various brand names, Hyrimoz, Halimatoz, and Hefiya (by Sandoz) and Solymbic and Amgevita (by Amgen). Likewise, the biosimilars of Rituximab, Rixathon and Riximyo (by Sandoz), Blitzima, Ritemvia, and Truxima (by Celltrion), and biosimilars of Bevacizumab, Onbevzi and Aybintio (by Samsung Bioepis) are also sold under different brand names to generate maximum biosimilar market share.
Some Biosimilars of Top Biologic Drugs in the US Biosimilar Market
Currently, there are 9 reference products that have approved biosimilars, of which 7 are available in the US biosimilar market.
Neupogen (Filgrastim) Biosimilars
Zarxio (filgrastim-sndz), a biosimilar to Amgen's Neupogen, manufactured by Sandoz, was the first biosimilar authorized for the US biosimilar market by the FDA in March 2015. Neupogen is a recombinant granulocyte colony-stimulating factor that is used to replace white blood cells that have been reduced as a result of cancer treatment. Zarxio is quite comparable to Neupogen and has no clinically significant safety, purity, and potency variations. In July 2018, the FDA approved Pfizer's Nivestym (filgrastim-aafi), another biosimilar of Neupogen.
Remicade (Infliximab) Biosimilars
Following Zarxio, Celltrion's Inflectra (infliximab-dyyb) was the second biosimilar approved in the United States by the FDA in April 2016. Inflectra, a tumour necrosis factor (TNF) inhibitor, is biosimilar to Remicade (infliximab), which was authorized by Janssen in 1998. Rheumatoid arthritis, Crohn's disease, Ankylosing Spondylitis, Ulcerative Colitis, Psoriatic Arthritis, and Plaque Psoriasis are among the conditions for which Inflectra can be prescribed. In April 2017, Renflexis (infliximab-abda), by Samsung Bioepis, was the second biosimilar of Remicade, approved by the FDA. The third and fourth biosimilars for Remicade, Pfizer's Ixifi and Amgen's Avsola (infliximab-axxq) were approved by the FDA in December 2017 and 2019, respectively.
Enbrel (Etanercept) Biosimilars
Sandoz's Erelzi (etanercept-szzs) received FDA approval in August 2016. Erelzi is the first licensed biosimilar to Amgen's tumour necrosis factor (TNF) blocker Enbrel and is used for the same five indications as Enbrel, including Polyarticular Juvenile Idiopathic Arthritis, Psoriatic Arthritis, Ankylosing Spondylitis, Plaque Psoriasis, and Rheumatoid Arthritis. The FDA authorized the second biosimilar to Enbrel, Eticovo (etanercept-ykro) from Samsung Bioepis in April 2019 for the same indications.
Humira (Adalimumab) Biosimilars
In September 2016, Amgen's Amjevita (adalimumab-atto) became the first biosimilar authorized in the United States biosimilar market for Humira (Adalimumab). Amjevita is a monoclonal anti-TNF antibody with the same amino acid sequence as Humira. It's used to treat inflammatory conditions like Rheumatoid Arthritis, Ulcerative Colitis, Crohn's Disease, Plaque Psoriasis, and more. The other Humira biosimilars are Cyltezo (adalimumab-adbm), Hyrimoz (adalimumab-adaz), Hadlima (adalimumab-bwwd), Abrilada (adalimumab-afzb), and Hulio (adalimumab-fkjp). However, there are six biosimilars approved by the FDA, but currently, there aren't any biosimilars to Humira available in the US biosimilar market.
Avastin (Bevacizumab) Biosimilars
The FDA approved Amgen's Mvasi (bevacizumab-awwb), a biosimilar to Genentech's Avastin (bevacizumab), as the first biosimilar for any cancer indication in the United States in September 2017. Pfizer's Zirabev (bevacizumab-bvzr), approved in June 2019, was the second biosimilar of Avastin after Mvasi. Mvasi and Zirabev have been approved by the FDA for the treatment of Metastatic Colorectal Cancer, Non-Squamous Non-Small Cell Lung Cancer, Brain Cancer, Metastatic Renal Cell Carcinoma, Cervical Cancer, and Primary Peritoneal Cancer in adults. Avastin, on the other hand, has been approved for Hepatocellular Carcinoma (HCC) treatment, which Mvasi and Zirabev do not. Moreover, Avastin and its biosimilars are often used as off label drugs for Wet Age-related Macular Degeneration treatment.
Rituxan (Rituximab) Biosimilars
The FDA authorized Truxima (rituximab-abbs) injection from Celltrion in November 2018 as the first biosimilar of Rituxan (rituximab) for the treatment of CD20-positive, B-cell non-Hodgkin's lymphoma (NHL) in adults. Rituxan, manufactured by Genentech, is used to treat non- Hodgkin's lymphoma as well as numerous other diseases in adults, including Chronic Lymphocytic Leukemia (CLL), Rheumatoid Arthritis (RA), Granulomatosis with Polyangiitis, and Pemphigus Vulgaris (PV). Truxima is also the first biosimilar licensed in the United States for non-Hodgkin's lymphoma treatment.
Pfizer's Ruxience (rituximab-pvvr), the second biosimilar of Rituxan, was approved in July 2019. Following this, the FDA approved Amgen's Riabni (rituximab-arrx) in December 2020.
Unlike Rituxan, biosimilar products are not yet licensed for moderate-to-severe pemphigus vulgaris treatment in adults. Riabni has not yet been approved for Rheumatoid Arthritis treatment. But Rituximab has been used as off-label to treat various conditions, including Systemic Lupus Erythematosus (SLE), Sjögren's Syndrome, Idiopathic Thrombocytopenic Purpura (ITP), Systemic Vasculitides, Bullous dermatologic diseases, and others.
Lucentis (Ranibizumab) Biosimilars
Byooviz (ranibizumab-nuna), a biosimilar to Genentech's Lucentis for vascular endothelial growth factor (VEGF), was authorised by the FDA in September 2021. Byooviz is manufactured by Samsung Bioepis and will not be commercially accessible until June 2022. Byooviz is the first US-approved biosimilar for eye conditions. It is given once a month as an injection into the eye.
Byooviz is licensed to treat three ophthalmic diseases, including Wet Age-related Macular Degeneration, Macular Edema, and Myopic Choroidal Neovascularization. Byooviz, unlike Lucentis, is not licensed to treat Diabetic Macular Edema (DME) or Diabetic Retinopathy (DR).
What Lies Ahead?
The demand for healthcare is increasing. So is the novel approach to treating conditions. As a result, there have been many stringent changes in the way biosimilars are approved. The recent expiration of biologic drugs will provide a boost to the biosimilar market's growth. Many pharmaceutical companies have been entering the biosimilar market as a result of this. Biosimilars are more likely to become increasingly established in the US and European biosimilar markets in the upcoming years.
The main aspect is pricing, as it drives down costs of biologics, which are generally very expensive. The healthcare burden of many indications is increasing due to increasing prevalence. Thus, it is imperative from both patients' and healthcare authorities' aspects to have cost-effective medicines.
Moreover, it nurtures competition in the said indication and drives companies to bring out novel therapies in other indications, which drives R&D across the healthcare industry.
FAQs
1. What are biosimilar drugs?
Biosimilars are biological products that are exact replicas of the biopharmaceuticals that inspired them. Biosimilars are sometimes confused with the "biological generics" due to biopharmaceuticals' structural and manufacturing complexities.
2. How many biosimilars are approved?
Currently, Europe has around 69 authorized biosimilars, of which 54 are currently accessible on the market. In comparison, the US biosimilar market has 31 FDA-approved biosimilars to date. 
3. What is the difference between biologics and biosimilars?
Biologic drugs are large, complex proteins that are created from living cells using highly complex manufacturing processes. A biosimilar, as opposed to a generic drug, is a copy of a biologic medicine that is similar but not identical to the original medicine.
4. How many pharma companies are working in the biosimilar market?
Many pharmaceutical giants such as Samsung Bioepis, Amgen, Mylan Pharmaceuticals, Pfizer, Sandoz, Celltrion, Boehringer Ingelheim Pharmaceuticals, and others are currently dominating the biosimilar market.