The uncontrolled outbreaks of Covid-19 have brought unprecedented challenges to the world community. It has created an imbalance in mental, social, and economic well-being. Apart from this, it has changed the overall way of living and has created fear and anxiety among people. Countries are experiencing peaks, one after another, with a high death rate especially the countries with a large and dense population. Looking at the current condition, it is still difficult to analyze how long it will take to completely stabilize the situation. However, amid the difficult circumstance, the pharmaceutical industry acted calmly and promptly and played a crucial role in developing medications and vaccines.
Taking a close look at the vaccine armamentarium, over a short period of time, a number of vaccines have been developed and approved in different countries for emergency use and marketing with many others in the pipeline. Pharmaceutical companies such as Pfizer (Comirnaty), AstraZeneca (Vaxzevria/Covishield), Moderna (mRNA-1273), Janssen (Ad26.COV2.S), Gamaleya Research Institute (Sputnik V), Sinovac (CoronaVac), CanSino Biologics (Convidicea (Ad5-nCoV)), and several others have responded to the pandemic with a gamut of options to fight coronavirus pandemic at a rapid scale and speed.
As of today, more than 100 vaccines based on the different delivery platforms including viral vector-based vaccines, protein-based vaccines, genetic vaccines, and attenuated vaccines, are in the various stages of development. Through this article, we have reviewed some of the Covid-19 vaccines that have reached Phase II and Phase III stages of the development (some of the vaccines included in the list are already approved for emergency use) –
Comirnaty (BNT162b2)
Comirnaty (BNT162b2) is being developed by Pfizer, BioNTech, and Fosun Pharma. It is an mRNA-based vaccine and is found to be 95% effective against Covid-19. It is given in two doses with a gap of 3 weeks, and only a mild to moderate side effect has been observed that lasts for just a few days.
Comirnaty has been authorized for emergency use by the FDA under the Emergency Use Authorization (EUA) for use in individuals 16 years of age and older. Recently, the FDA has expanded the EUA vaccine to include individuals 12 to 15 years of age. Similarly, the European Medicines Agency has also granted conditional marketing authorization. In a recent development, Pfizer and BioNTech have announced plans to supply the European Union with up to 1.8 Billion additional doses.
mRNA-1273
Moderna's mRNA-1273 vaccine is a lipid nanoparticle–encapsulated mRNA-based vaccine that encodes the prefusion stabilized full-length spike protein of the severe acute respiratory syndrome coronavirus 2 (SARS-CoV-2), the virus that causes Covid-19. Phase 3 study of the vaccine registered an efficacy of 94.1%. The vaccine is administered by intramuscular (IM) injection and requires two doses (of 100 µg) given 28 days apart.
In December 2020, the U.S. Food and Drug Administration issued an emergency use authorization (EUA) for the vaccine to be distributed in the U.S for use in individuals 18 years of age and older. Apart from the FDA, various regulatory authorities including EMA, and Health Canada have granted the use of mRNA-1273.
Vaxzevria (Covishield)
Vaxzevria is being developed by AstraZeneca in collaboration with the University of Oxford. The vaccine is made from a virus (ChAdOx1), a weakened version of a common cold virus (adenovirus family), and modified to contain the gene for making a protein from SARS-CoV-2. Vaxzevria is administered in two injections, with the second dose given between 4 to 12 weeks. The Phase III trial of the vaccine in the US has an efficacy of 79% at preventing symptomatic COVID-19 and 100% efficacy at preventing severe disease and hospitalization. To date, around 78 countries have granted authorizations to the vaccine, including Canada, Brazil, and the EU. The government of India has also granted emergency approval for the vaccine under the brand name Covishield.
JNJ-78436735/ Ad26.COV2.S
The single-dose COVID-19 vaccine by Janssen Biotech (Johnson & Johnson) is based on AdVac and PER.C6 technologies. The eligible age for the vaccine is 18 years and above. The vaccine has an efficacy of 85% against severe COVID-19 globally.
The vaccine requires a storage temperature of 2°C to 8°C for 3 months. The possible side effects are mild to moderate and last 2 to 3 days including headache, fatigue, injection site, muscle aches, and nausea. The Vaccine is approved in 41 countries so far. To fulfill the demand, Johnson & Johnson has collaborated with Sanofi, Merck, and other pharma giants to step up the manufacture of the COVID-19 vaccine.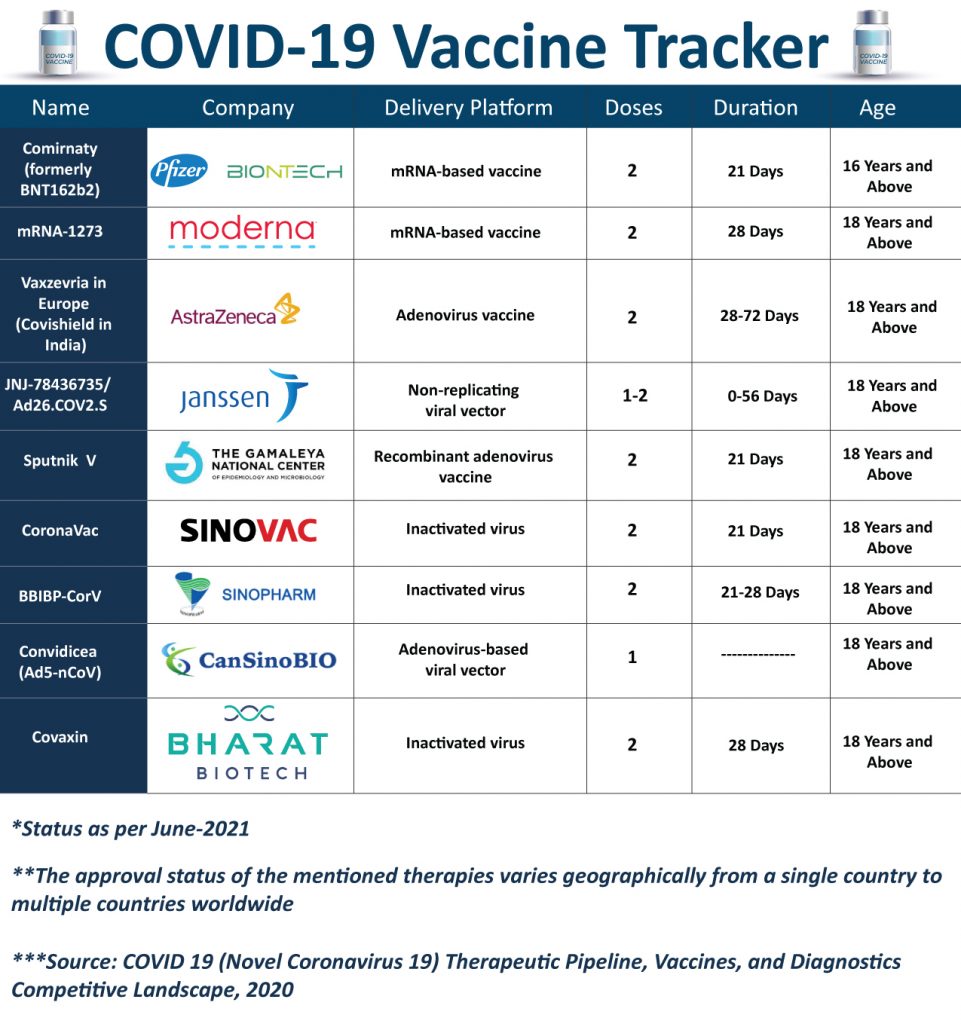 Sputnik V
Sputnik V is the first vaccine against Covid-19. It is based on a human adenoviral vector platform and as per the Phase, 3 results the reported efficacy is around 91.6%. The vaccine requires a temperature of +2 to +8 degrees Celsius for storage. The vaccine is administered in two doses with a gap of 21 days.
The vaccine is being developed by the Gamaleya Research Institute of Epidemiology and Microbiology. Sputnik V is already registered in more than 60 countries for restricted emergency use and many countries have received the initial doses. RDIF has collaborated with countries and regional companies including India, Brazil, China, South Korea, and others for the production of the vaccine.
CoronaVac
Sinovac Biotech's covid-19 vaccine is a formalin-inactivated and alum-adjuvanted vaccine. The vaccine is administered in two doses with a gap of 21 days. Many counties have approved the emergency use of CoronaVac, however varying efficacy rates have been reported across clinical trials. As per the Sinovac, high levels of safety and immunogenicity are registered in clinical trials across countries including Brazil, Indonesia, Turkey, and Chile. The company claimed the vaccine's protective efficacy is 100% against severe cases and hospitalization.
BBIBP-CorV
Sinopharm in collaboration with the Beijing Institute of Biological Product is working on BBIBP-CorV. The vaccine is administered in two-dose with a gap of three to four weeks. On 7th May, the WHO approved the BBIBP-CorV for emergency use. The vaccine is recommended for use in adults 18 years and older. The efficacy of BBIBP-CorV for symptomatic and hospitalized diseases is estimated at around 79% for all age groups combined.
Convidicea (Ad5-nCoV)
CanSino Biologics and the Beijing Institute of Biotechnology are working on Convidicea, a single-dose vaccine but in trials, two doses are also investigated. The vaccine is based on CanSinoBIO's adenovirus-based viral vector vaccine technology platform and people 18 years old and above are eligible for the vaccination. With an efficacy of 90.07%, Ad5-nCoV is effective in preventing severe disease 28 days after single-dose vaccination and after 14 days it is 95.47% effective. In February 2021, CanSino Biologics received conditional marketing authorization from the NMPA.
Covaxin (BBV152)
Covaxin is India's indigenous vaccine against Covid-19 developed by Bharat Biotech in collaboration with the Indian Council of Medical Research (ICMR). It is an inactivated vaccine administered in two doses with a gap of 28 days. Around 81% interim efficacy is registered after the second dose in person without prior infection. Covaxin is found to be effective against the UK variant strains and other heterologous strains. The vaccine was approved for emergency use in India. Bharat Biotech is in the process to conduct clinical trials in other countries as well.
Other approved vaccines within limited geographies –
EpiVacCorona (Federal Budgetary Research Institution State Research Center of Virology and Biotechnology)
WIBP-CorV (Wuhan Institute of Biological Products, (Sinopharm))
CoviVac (Chumakov Federal Scientific Center for Research and Development of Immune and Biological Products)
ZF2001 (Anhui Zhifei Longcom Biopharmaceutical, Institute of Microbiology of the Chinese Academy of Sciences)
Potential therapies in the pipeline –
NVX-CoV2373: Novavax
ZyCoV-D: Zydus Cadila
CVnCoV: CureVac and GSK
INO-4800: Inovio Pharmaceuticals
The approval of the few vaccines has definitely provided a big relief to the government and health bodies worldwide. However, there are still many challenges that are needed to overcome to reduce the impact and the risk of Covid-19. Meeting the global vaccine demand is one of the key challenges. The production and distribution of billions of doses of vaccine, storage requirements, and dissemination and allocation of vaccines especially to the developing countries are some other challenges. Similarly, the effectiveness of the vaccine to the new mutant variant can be a major concern.