Cutaneous T-cell lymphomas (CTCLs) constitute a group of non-Hodgkin lymphomas of the skin. CTCL has an annual age-adjusted incidence of approximately 6 cases per million people. In the United States, approximately 1,000 new cases of skin lymphoma are diagnosed each year. CTCL affects males twice as females. Moreover, CTCL is more likely to affect people between the ages of 40 and 60. However, less likely, but 5% of all cutaneous T-cell lymphoma cases occur in children, as per National Organization for Rare Disorders (NORD). Also, It has been observed that African-Americans are more prone to catching the disease than any other geography.
As per the DelveInsight assessment, amongst the seven major geographies, the total incident population of the cutaneous T-cell lymphoma market was approximately 7.4K cases in 2021. In the United States, the CTCL population was projected to be more than 3K cases, accounting for the largest proportion in the seven major geographies in 2021.
The most prominent type of CTCL is mycosis fungoides, accounting for the maximum number of CTCL cases in the United States and other countries. Several factors determine a patient's CTCL treatment plan. The type and extent of skin lesions present (patches, plaques, or tumors), the number of Sézary cells in the blood, and transformation to large cell type or folliculotropic cancer (involving the hair follicles) all influence cutaneous T-cell lymphoma treatment options.
Current Cutaneous T-cell Lymphoma Treatment Landscape
The approaches for cutaneous T-cell lymphoma treatment (Mycosis fungoides and Sezary Syndrome) depends upon the disease stage. There are four major stages of disease progression, and different stages have different severity.
The early stages require topical treatment due to less severity. The therapies majorly include corticosteroids, retinoids, imiquimod (Aldara), Psoralen Plus Ultraviolet-An Irradiation (PUVA), and total skin electron beam therapy.
In later stages, systemic therapies are preferred as the disease is widespread and resistant to topical treatment. Systemic therapies are majorly introduced inside the body via IV, transplants, and chemotherapy. The drugs used for cutaneous T- cell lymphoma treatment include interferon-alpha injections, stem cell transplants, alemtuzumab (MabCampath), and other chemotherapy regimens.
The duration of action of most of the therapies does not persist for a longer period, and therefore most of the drugs for CTCL treatment possess a shorter half-life.
Presently, the FDA-approved drugs for CTCL treatment include Istodax (romidepsin), Valchlor (mechlorethamine), Uvadex (methoxsalen), Targretin (bexarotene), Adcetris (brentuximab vedotin), Poteligo (mogamulizumab) and Zolinza (vorinostat).
Moreover, several leading pharmaceutical giants, including Soligenix, Philogen, Merck Sharp & Dohme Corp, 4SC AG, Medivir, Innate Pharma, BeiGene, Galderma R&D, Angimmun, Codiak BioSciences, Astex Pharmaceuticals, Otsuka Pharmaceuticals, Equilliumand, and others are also involved in developing novel therapies for CTCL treatment.
FDA-approved Therapies Available in the Cutaneous T-cell Lymphoma Market
Uvadex (Methoxsalen): Mallinckrodt Pharmaceuticals
Methoxsalen is a naturally occurring photoactive substance found in the seeds of the Ammi majus (Umbelliferae) plant. It belongs to a group of compounds known as psoralens or furocoumarins. In February 1999, FDA approved Uvadex for the palliative treatment of the skin manifestations of CTCL that is unresponsive to other forms of treatment. In December 2021, Mallinckrodt announced the results of a retrospective, observational medical chart review study assessing real-world treatment outcomes among CTCL patients who initiated therapy with extracorporeal photopheresis.
Targretin (Bexarotene): Valeant Pharmaceuticals/ Bausch Health
Targretin (bexarotene) is a member of a subclass of retinoids that selectively activate retinoid X receptors (RXRs). In December 1999, FDA granted marketing approval for Targretin (bexarotene) capsules for treating cutaneous manifestations of CTCL in patients who are refractory to at least one prior systemic therapy. In March 2001, Targretin received a marketing authorization valid throughout the EU. In January 2016, Minophagen Pharmaceutical announced that Targretin Capsules (bexarotene) 75 mg had been approved in Japan by the Ministry of Health, Labour and Welfare for the CTCL treatment.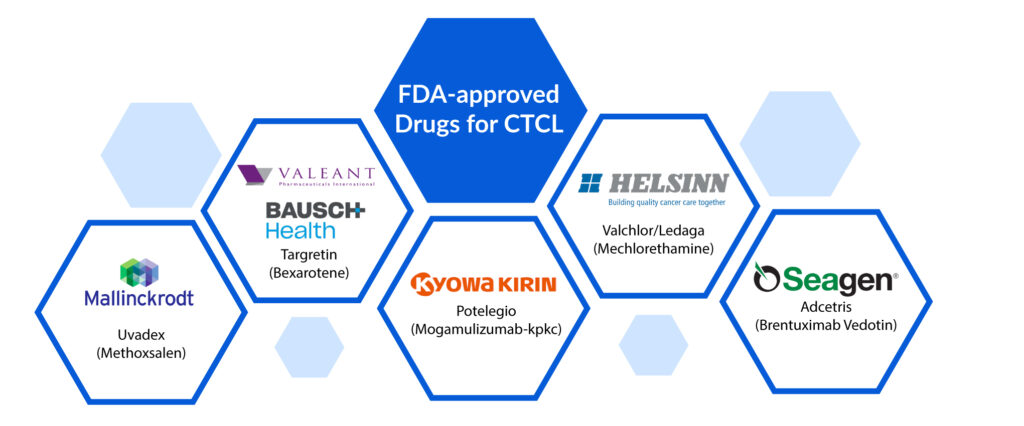 Potelegio (Mogamulizumab-kpkc): Kyowa Hakko Kirin
Poteligeo is used to treat adult patients with relapsed or refractory mycosis fungoides (MF) or sezary syndrome (SS) after at least one prior systemic therapy. It is marketed in Japan for relapsed or refractory CTCL treatment. Mogamulizumab is a recombinant humanized monoclonal antibody composed of complementarity-determining regions derived from mouse anti-human CC chemokine receptor 4 monoclonal antibody and framework regions and constant regions derived from human IgG1. In August 2018, the FDA approved mogamulizumab-kpkc (Poteligeo) for treating patients with CTCL who have received at least 1 prior systemic therapy. The approval is specifically for patients with mycosis fungoides or sezary syndrome, two subtypes of CTCL. The FDA based its decision on results from the Phase III MAVORIC study. In November 2018, the European Commission decided to grant marketing authorization to Poteligo.
Valchlor/Ledaga (Mechlorethamine): Helsinn Therapeutics
Valchlor is an alkylating drug indicated for the topical treatment of Stage IA and IB mycosis fungoides‐type CTCL in patients who have received prior skin‐directed therapy. Mechlorethamine HCl is a white to off-white solid that is very soluble in water and methanol, partially soluble in acetone, and generally not soluble in organic solvents. Mechlorethamine, also known as nitrogen mustard, is an alkylating agent which inhibits rapidly proliferating cells. In August 2013, the FDA approved Valchlor to treat stage IA/IB mycosis fungoides-type CTCL. In March 2017, the European Commission granted marketing authorization to use the drug under the brand name Ledaga (chlormethine gel) for mycosis fungoides-type cutaneous T-cell lymphoma treatment.
Adcetris (Brentuximab Vedotin): Seagen
Adcetris (Brentuximab vedotin) targets CD30 using our proprietary antibody-drug conjugate (ADC) technology. CD30 is found on the surface of most classical Hodgkin lymphoma cells and in several types of non-Hodgkin lymphoma but is not commonly found in healthy cells. In November 2017, FDA approved Adcetris (brentuximab vedotin) to treat adult patients with pcALCL and CD30-expressing MF who have received prior systemic therapy. In January 2018, Takeda Pharmaceutical announced that the European Commission extended the current conditional marketing authorization of Adcetris (brentuximab vedotin) and approved Adcetris for treating adult patients with CD30-positive CTCL after at least one prior systemic therapy.
Expected Roadblocks in the Cutaneous T-cell Lymphoma Market
The disease is progressive and leads to life-threatening complications despite genetic advancements. Therefore it is quite difficult to understand the root causes and produce treatment pipelines. As CTCL comes under rare diseases, it becomes difficult for a company to conduct appropriate tests and trials.
Despite limited clinical trials and understanding of the CTCL population, many competitors in the drug development space are working on different classes of therapeutics. Therefore, therapy should stand out regarding cost, efficacy, and other relevant parameters to impact the skin neoplasms market.
What Lies Ahead in the CTCL Treatment Market?
Several pharmaceutical companies are working to develop an effective and affordable therapy for CTCL treatment. The anticipated launch of these therapies will boost the cutaneous T-cell lymphoma market. In addition, the lack of curative treatment also presents an excellent opportunity for companies to develop CTCL therapies that will drive the cutaneous T-cell lymphoma market.
According to the latest published report by DelveInsight, the cutaneous T-cell lymphoma market size in the seven major markets [US, EU5 (France, Germany, Spain, Italy, and UK), and Japan] was estimated to be USD 399 million in 2021, which is further anticipated to increase by 2032. Moreover, the expected growth in the United States is stagnant and can grow at a CAGR of 3.7% during the forecast period (2022–2032).
Furthermore, compared to other indications, CTCL has a favorable prognosis, which aids in preventing treatment-related complications. The disease tends to develop resistance to medications, necessitating the development of a more efficacious drug that will significantly boost the cutaneous T-cell lymphoma market in the coming years.

FAQs
What is Cutaneous T-cell lymphoma?
Cutaneous T-cell lymphoma (CTCL) is a rare type of blood cancer. It begins in a type of white blood cell called the T-lymphocyte (T-cell). T-cells help prevent infections and other diseases.
What are the Cutaneous T-cell lymphoma symptoms? 
Cutaneous T-cell lymphoma symptoms include the formation of patches and lumps on the skin, enlarged lymph nodes, hair loss, thickening of the skin on the palms of the hands and soles of the feet, and rash-like skin redness over the entire body that is intensely itchy.
What are the Cutaneous T-cell lymphoma treatment options? 
Cutaneous T-cell lymphoma treatment options include topical chemotherapy, radiation therapy, photo-chemotherapy, vitamin A derivatives (retinoids), and chemotherapy. These treatments may be used alone or in varied combinations.
What is the cutaneous T-cell lymphoma market size? 
In the seven major geographies, the cutaneous T-cell lymphoma market size is estimated to be approximately USD 399 million in 2021. 
How many drugs are approved by the FDA for CTCL treatment?
Currently, the FDA-approved drugs available in the cutaneous T-cell lymphoma market include SGX301 (Soligenix), WP1220 (Moleculin Biotech), and Lacutamab (Innate Pharma).