"If a market is growing enormously, you need to understand what's nourishing it"
DelveInsight has launched its Reports under two brands Pharm Delve and Pharm Insights.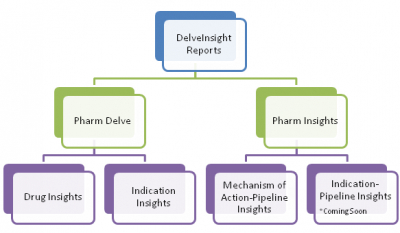 Pharm Delve reports are known for its extensive detailed information of the Marketed drugs– Global Market, API Market & Manufacturers across the US, Europe and Asia specifically China and India and Phase III Pipeline drugs information. These reports provide whole list of companies interested in your business. It gives you the most up to date information on drug marketed data, patent data, upcoming API with lots of potential in market, interested Generic Drug Companies, Active Pharmaceutical Ingredient (API) Manufacturers to determine which companies and therapies are emerging leaders while understanding the market needs.
Pharm Insights covers the pipeline reports. Mechanism of Action Reports launched has become the most known and on demand amongst the clients. The report has highlighted all the under development drugs falling under the specific MOA with the comparative analysis at various stages and therapeutics assessment by monotherapy and combination products and molecule type drug information. The reports have covered each and every detail of the drugs while chemical information and company profile are considered thoroughly.
Five worth Reason for Spending on these Reports
Track your closest Competitors
Identifying potential customers
Prioritizing new drug intermediates to add to the portfolio
Uncovering opportunities Globally
Organic as well as Inorganic Growth
Who can buy these Reports?
Pharma Companies
Drug Development Companies
Generic Manufacturing Companies
API Manufacturers
Institutions/Universities
Where to buy?
You can buy these reports from here: Healthcare Market Research Reports
About DelveInsight
DelveInsight is a Business consultant and Knowledge Partner and have extensive experience across the value chain of pharmaceutical industry. We provide cutting-edge market and pipeline analysis and API intelligence to the Pharma and Biotech sector, helping clients to quantify market events and evaluate their impact on the valuation of products, portfolios and companies.
At DelveInsight, we believe what we do matters. We are passionate about our work, inspired by the impact it has on our business and our customers. As a team, we believe in winning as one – collaborating to reach shared goals, and developing through challenging and meaningful experiences. The pharmaceuticals market is in its growth stage and we are uniquely positioned to successfully endeavor the dimensions of the fast growing market by providing clear and forthright business recommendations to help clients evaluate potential paths and make vital decisions at all stages of a product's lifecycle and across multiple business and therapeutic areas.