Contract Development and Manufacturing Organisation (CDMO) is a term for organizations providing extensive services and solutions to the pharmaceutical and biotech industry starting from the drug development process to packaging of the product. These companies deliver a broad range of services, such as clinical research and development, formulation guidance, smooth manufacturing process, analytical and regulatory support, and efficient packaging services, among others.
Pharma or Biotech companies require years of work and resources to develop and commercially launch a new drug product in the marketplace. Before being available to patients, these therapies need to undergo long clinical trials, regulatory approval based on expert suggestions and opinions, costly manufacturing and launch procedures, to finally enter the market. Once on the market, the process then involves effective marketing and promotion, and processes involving strategies to extend the lifecycle of the therapy or expand its geographic reach to more countries and regions.
For these reasons, pharmaceutical or biotech companies have a lot on their plate; herein, CDMOs and CMOs emerge as a one-stop solution for these companies to help in clinical development and manufacturing part of the process. CDMOs also have the ability to troubleshoot clinical development issues, provide base of operations with minimal capital investment, and helps in scaling- up the production for companies so that the process of therapy development is cost-effective and efficacious.
In the past couple of decades, there has been an evolution in the pharmaceutical and biotech industry to invest more into research to help develop a robust pipeline of drugs and related products to grow and stay in the competition, which has directly influenced increasing opportunities for the CDMO sector. Pharmaceutical companies are taking outsourcing partners as a strategic way to accelerate their drug development and products. This reliability on the CDMOs has led the outsourcing partners to be agile in meeting customized demands and thereby increasing their existing services, research, and development departments. Moreover, the trend of increasing innovation has amplified the need to recruit more experts for meeting demands, and thus, has increased revenue in both industries.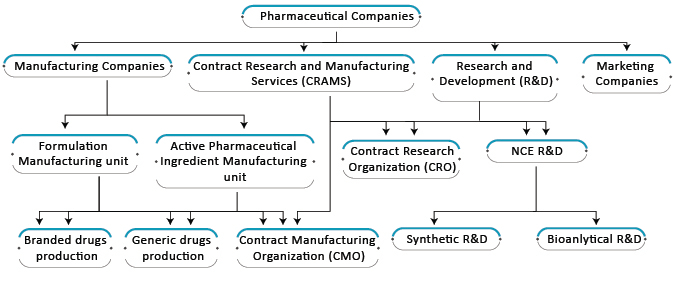 The pandemic posed operational challenges for the pharmaceutical industry and its ability to continue to supply essential medicines. At the same time, it presented opportunities for the CDMO industry to be an important part of the solution in terms of providing COVID-19 treatment and vaccines. With growing pressure to develop and supply drugs to meet ever-increasing global demand, pharmaceutical companies are increasingly finding outsourcing opportunities to help manage complexity while reducing time to market, costs, and risk.
For years, CDMOs have tried to deepen relationships by building more-robust development, manufacturing, and relationship or account management capabilities. But efforts have historically had little success, with around 80% of declared strategic partnerships faltering after a few years. The true strategic partnership remains rare in pharmaceutical development and manufacturing, creating a very dynamic market scenario in the API CDMO space. New entrants, evolving partnerships make it difficult to anticipate the market share of any one company for the long run.
Benefits of CDMOs:-
Scalability
CDMOs play a fundamental role in the scaling of pharmaceutical and biotech companies. There is a greater risk involved when there are drug variations and shifts in large volume production of drugs and related products. To avoid these risks, partnering with a CDMO seems an efficient option. Both small and large scale companies benefit from the opportunity to scale from the stage of drug development to manufacturing with lower costs.
Expertise
To bring new innovative products to the market, companies require well-experienced, talented, and specialized professionals. Competition in the market has made CDMOs invest highly in skilled Engineers, Research and Development Professionals, Chemists, and manufacturing professionals. Because of this reason CDMOs provide companies with expertise, capability, and flexibility in the drug development process and other aspects of drug development.
Equipment and Technology
The pharmaceutical and biotech companies require equipment and technology in the manufacturing and development process. But to incur these costs it needs more investment in these areas which the companies might not be able to afford. Outsourcing a CDMO in this aspect helps companies to take advantage of equipment and technology without ownership in its hand.
Cost-Effectiveness
The increasing costs of Research and Development and poor productivity has provided an opportunity for CDMOs to come into effect. Outsourcing CDMOs helps to save around 30-35% of the overall costs of the drug development to the manufacturing process. Moreover, this reduces the cost of the companies in huge capital investments.
CDMO Services
The segmentation of pharmaceutical services is broadly categorized into three categories which are CRO services, CDMO services, and CPO services. While the related services comprise cell line development, upstream and downstream processes, analytical/bioanalytical methods, formulations and quality assessment, and regulatory assistance.
CRO Services – Contract Research Organisations (CROs) provide drug discovery and development support to pharmaceutical companies facing challenges in technological advancement. Its facilities include identification, optimization, and discovery of the lead molecule, support for preclinical in-vitro and in-vivo trials, and formulation development of the drug products.
CDMO services – Pharmaceutical and Biotech companies are currently more relied on Contract Development Manufacturing Organisations (CDMOs) to stay in the competition and have a support system in innovations. Tasks outsourced to CDMOs by pharmaceutical companies include drug development, API production, and formulation requirements. Activities in sub-segment comprise cell line development, scale-up process, process analytical development, extraction, synthesis, fermentation of small and big molecules, formulation requirements of solids, semi-solids, non-sterile and sterile liquids, and other finished dosage forms.
CPO services – For delivering drugs with tighter margins by pharmaceutical and biotech firms, the Contract Packaging Organisations (CPOs) seems the viable and beneficial business strategy for cost savings at the packaging end. The CPOs provide end-to-end services and include primary, secondary and tertiary packaging to the customers.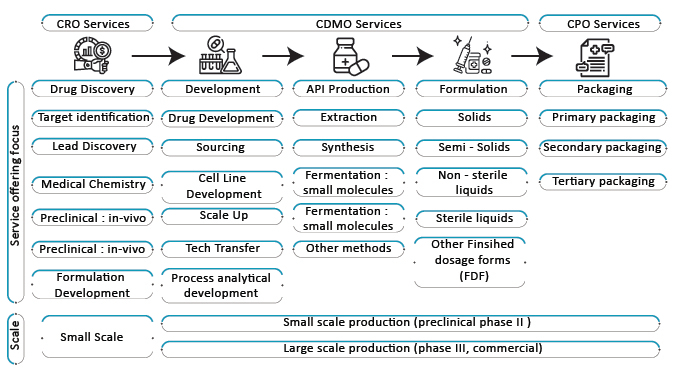 CDMO Services- By Stages
Unveiling new and innovative drug products for a broad range of ailments is the main objective of pharmaceutical and biotech firms to survive and generate revenue. These firms focus to be perpetual in delivering products and remain competitive for the long run in the industry. When it comes to manufacturing and drug development of drugs pharmaceutical and biotech firms don't want to lag behind other firms and thereby, CDMOs come to the rescue. Recently, many CDMOs have come up with a one-stop-shop at all Research and Developmental stages. Moreover, it provides clinical trials support from sample preparation of Phase I to manufacturing at various levels for life extension. It further helps in processes like lab development, process optimization, analytical development, safety studies, process, and analytical validation, filing of Drug Master File, the launch of the drug product, and cost reduction.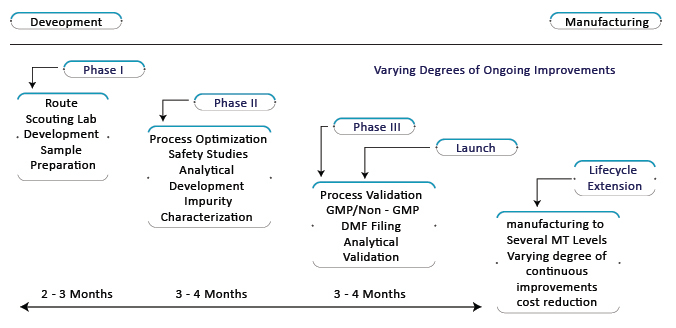 Market Scenario for CDMO Players
As per the researchers at the Tufts Center for the Study of Drug Development, on average, the research and development (R&D) journey costs USD 2.6 billion to develop one new medicine, comprising the cost of failures, and only 12% of new drug candidates that enter clinical trials win US FDA approval. The drug developers are associating with Contract Development and Manufacturing Organizations (CDMOs) and Contract Research Organizations (CROs) in the development process to assist in overcoming critical challenges and attain greater efficiencies across the drug development field.
The shift is also seen because of numerous pharma and biopharma trends contributing to increased outsourcing of R&D activities. The industry has been exploring more towards complex small molecules and biologics needing highly specific drug technologies and knowledge to handle highly potent and targeted therapies, specifically, cell and gene therapies, cytotoxic/Highly Potent Active Pharmaceutical Ingredients (HPAPIs), and antibody-drug conjugates (ADCs).
HPAPIs development and manufacturing have seen an increase in demand because of targeted medicines in the oncology field. Many CDMOs are offering the facility such as Lonza, Piramal, MilliporeSigma, and Cambrex.
Increasing demand for biologics in development is also expected to boost the demand for CDMOs as biologics require high-tech development and manufacturing solutions. DeleInsight estimates that the Global Biologic Drug Substance Manufacturing market was valued at USD 303.95 billion in 2020 and will grow at a CAGR of 9.59% during the forecast period from 2021 to 2026. It is estimated that around 26% of the biologics are outsourced for manufacturing to CDMOs/CMOs. Some of the major factors driving the growth of the global biologics drug substance manufacturing market are better therapeutic effects of biologics when compared to small molecules, increasing demand for biologic drugs in different indications, demand for COVID-19 vaccines, growing capital investment in biologics manufacturing, and surging interest in the development of personalized medicines in form of gene therapy for rising cancer and rare indications.
According to DelveInsight's analysis in CDMO market assessment, the Small Molecules segment has the larger share (88%), as compared to Large Molecules in 2020. Moreover, the Europe API CDMO market accounted for the largest market share of around 33% in 2020. This is because of the large presence of CDMO in the region and the ability of large pharmaceutical companies to rely on outsourced facilities and smaller companies with a lack of in-house production sites. Healthcare market assessment is considered to be a key asset in analyzing the dynamics of new product development and launches.
As per DelveInsight's analysis, the overall small molecules and biologics market is growing at a CAGR of around 8.50% and 9.63% respectively. Many biopharmaceuticals companies are choosing CDMO for the manufacturing of their products owing to the technological benefits related to them, therefore boosting the demand for the CDMO market.
Players Operating in the CDMO Market
It is seen that the global CDMO market is highly fragmented with a large number of companies operating in the segment as either pureplay CDMOs or companies with some CDMO services or abilities. Though the top 10 players hold less than 20% of the total market share but generate a revenue of more than USD 500 million every year. These companies are a mixture of public, private, and private equity-backed companies, most of the largest players are European headquartered CDMOs. Lonza remains the world's largest CDMO even in 2020 with almost being twice the size of its competitors.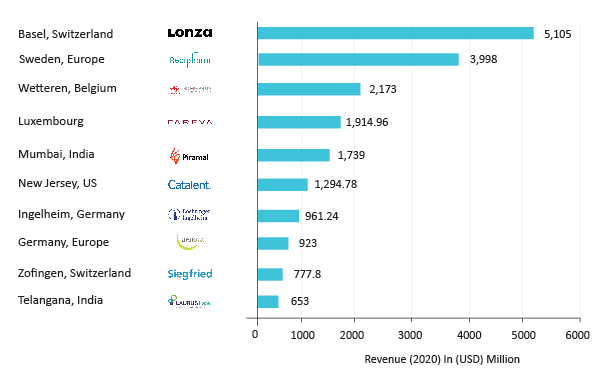 Captive CDMOs are a segment of CDMOs that is often overlooked. These are CDMOs of the pharmaceutical companies, which use unused in-house manufacturing capacity to offer third-party manufacturing services. Large pharma companies have well-capitalized manufacturing networks, which present a significant fixed asset and cost base that cannot be easily bent with changing product demands.
These big pharma companies are using the captive CDMO model to generate supplementary revenue with little or no capital investment. Some examples of this include Pfizer's CentreOne, Boehringer Ingelheim's BioXellence, and Baxter's BioPharma Solutions among others. It is difficult to estimate the size of captive CDMOs as companies do not report revenues separately. However, it is estimated some of the larger businesses earn between USD 200 million and USD 500 million annually from their outsourcing business.
Top CDMO companies operating in the market include Cambrex Corporation, CARBOGEN AMCIS, CordenPharma, Dipharma Francis Srl, Flamma Group, Formosa Laboratories Inc, Frontage Laboratories Inc, Fujifilm Diosynth Biotechnologies, Hovione, Jubilant Biosys Limited, Laurus Labs, Laviana Pharma Co, Ltd, LEBSA, Lonza Group AG, Neuland Laboratories Ltd, NextPharma GmbH, Northway Biotech, Novasep, Syngene International Limited, Wavelength Pharmaceuticals, and Windlas Biotech, among others.
Recent Developments in the CDMO Market
In the last few years, there has been an upward trend in the acquisitions and investments in the contract manufacturing sector, notably Thermo Fisher Scientific's acquisition of Patheon in 2017 and Lonza's purchase of Capsugel in 2016 for USD 5.5 billion. There has been growth in large deals as well as small deals. This trend was seen even in 2021 as biomanufacturing, including for cell- and gene-therapies remains to be an active target for mergers and acquisitions, with the largest deal seen so far being Thermo Fisher's acquisition of CRO, PPD in USD 20.9-billion (cash and debt) in April 2021.
Continuous investments are made by CDMO's to upgrade their R&D facilities to avoid any risks. Several R&D developments in CDMO companies, such as acquiring technology platforms, or expanding their cell culture libraries, are prompting sponsor corporations to outsource the development and manufacturing of their assets to CDMOs, including API development and manufacturing.
All players are actively looking for every opportunity in the global healthcare market to gain the upper hand either by expanding their capacity, through mergers and acquisitions, or takeovers which are further intensifying the competition in the market.
The COVID-19 pandemic has accompanied a drive for externalization, be its research, development, or manufacturing. It is expected that CDMOs and CROs will continue to spend more on new capabilities, acquire or build new manufacturing sites, with demand for externalization expected to exceed the current supply. It is expected that the introduction of antibody-drug conjugates (ADC) and other highly potent APIs (HPAPIs), along with next-generation medicines such as cell and gene therapies, will create the need for contract service providers with specialized expertise.
Conclusion
CDMOs in a position to offer integrated solutions over the lifecycle of a drug can benefit from strong, strategic partnerships with the growing number of smaller companies who are taking their products through the clinical pipeline and on to the market. These can provide a wide range of manufacturing chemistries and technologies, and have the capability and flexibility to manufacture clinical and commercial volumes.
In the last few years, CDMOs have invested in new technologies, facilities, containment capabilities, and staff expertise according to the need of their customers. They have also established in-house market intelligence groups to monitor and measure industry trends and adapt to fulfill the markets' needs.
The production of all medicines, from complex therapies to common pharmaceuticals like painkillers and antibiotics, relies on secure access to active pharmaceutical ingredients (APIs) supply chain. According to the US Council of Foreign Affairs (2019), 80% of the APIs used to make drugs in the United States are said to come from China, India, and other countries. Even India acquires raw material from China (68%) and supplies more than 40% of generics to the US. Thus, there is a need to support the supply chain for better manufacturing.

CDMOs are adopting continuous or flexible manufacturing methods as they reduce chances of error because of less human involvement. The adoption of continuous manufacturing (CM) technology has several key advantages over batch manufacturing, including a 50-70% reduction in workforce, a 15-30% reduction in production costs, a 50% decline in product difference, a 40% decline in energy usage, a 50-70% decline in footprint requirement, and an accelerated scale-up. CM reduces the API waste, time of manufacturing, offers better scale-up efficiencies, ensures a greater assurance of quality, and responds well to the changes in market demand, and will help the market to grow during the forecast period at a healthy growth rate. CDMOs that have invested in flow technology from the beginning are benefiting hugely from this innovative technology. They now can deliver pharmaceutical products more efficiently to their clients when compared with older companies who are locked into existing assets. Thus, companies are investing heavily to meet the market demand.
Various companies have been offering continuous manufacturing technological platforms such as SymphonX™ (FUJIFILM Diosynth Biotechnologies), WuXiUPTM technology platform (WuXi Biologics), OptiMelt® Hot Melt Extrusion (Catalent), among others. With the use of such technologies, the market is rising with time as the demand for CM is also rising owing to the key benefits associated with it and helping in expanding the CDMO market.
Therefore, CDMOs are emerging to be immensely advantageous to the biotechnology and pharmaceutical sectors, as they offer potential capabilities and cost reductions over in-house production.