Get informed about the Current Drugs in Pipeline with DelveInsight "'Ebola Viral Infections–Pipeline Insights, 2014′, Report
About Virus

Ebola virus disease (formerly known as Ebola haemorrhagic fever) is a severe, often fatal illness, with a case fatality rate of up to 90%. Ebola first appeared in 1976 in 2 simultaneous outbreaks, in Nzara, Sudan, and in Yambuku, Democratic Republic of Congo. The latter was in a village situated near the Ebola River, from which the disease takes its name.
The 2014 Ebola outbreak is one of the largest Ebola outbreaks in history and the first in West Africa. It is affecting four countries in West Africa: Guinea, Liberia, Nigeria, and Sierra Leone.
Disease update
Confirmed, probable, and suspect cases and deaths from Ebola virus disease in Guinea, Liberia, Nigeria, and Sierra Leone, as of 16 August 2014
Total Cases in West Africa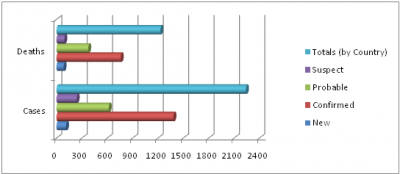 Cases and Death by Country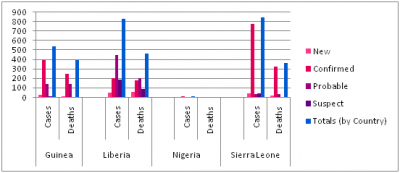 Vaccine and treatment
No licensed vaccine for EVD is available. Several vaccines are being tested, but none are available for clinical use.
Fast Track Drugs in Pipeline
Tekmira
In March 5, 2014, U.S. Food and Drug Administration (FDA) has granted Fast Track designation for the development of TKM-Ebola, an anti-Ebola viral therapeutic of Tekmira Pharmaceuticals Corporation.
The TKM-Ebola drug is being developed by Tekmira and the U.S. Department of Defense's medical countermeasure systems biodefense therapeutics joint product management office under a $140 million contract.
The anti-Ebola virus RNAi therapeutic has been used in preclinical studies to treat previously infected "non-human primates", with results showing 100 percent protection from an otherwise lethal dose of Zaire Ebola virus.
In January 2014, Tekmira commenced a Phase I clinical trial using TKM-Ebola. The TKM-Ebola Phase I clinical trial is a randomized, single-blind, placebo-controlled study involving single ascending doses and multiple ascending doses of TKM-Ebola. The study will assess the safety, tolerability and pharmacokinetics of administering TKM-Ebola to healthy adult subjects.
RISK
KM-Ebola may not prove to be an effective anti-viral therapy for hemorrhagic fever viruses; data from the TKM-Ebola Phase I human clinical trial may not be available as currently anticipated, or at all; the U.S. Department of Defense may suspend or terminate its participation in the TKM-Ebola program; the Fast Track designation from the FDA may not result in faster development times or earlier approvals; and Tekmira's products may not prove to be effective or as potent as currently believed.
AVI-7537
On Sep 18, 2012, U.S. Food and Drug Administration (FDA) has granted Fast Track status for the development of Sarepta Therapeutic's lead infectious disease drug candidate, AVI-7537, a different type modified RNA molecule. AVI-7537 is directed against one of the three Ebolavirus genes (VP24). The chemistry platform utilized for development is PMOplus. AVI-7537 also works via a different mechanism to block the viral protein from being made.
Sarepta had been conducting Phase 1 safety trials with the drug alone and together another Ebola-directed PMOplus molecule (AVI-7539, with the combination called AVI-6002).
Currently Given Non-Licensed Drug
ZMapp
American missionary Ebola patients, Dr. Kent Brantly and Nancy Writebol are given biotech product, called ZMapp, are indeed still experimental – it's not yet approved for human use, and not yet even in phase I clinical trials.
The ZMapp three-antibody cocktail isn't a vaccine. Instead, it provides an artifical immune response against sugar-tagged proteins on the outside of the Ebolavirus.
ZMappTM is composed of three "humanized" monoclonal antibodies manufactured in, specifically Nicotiana. It is an optimized cocktail combining the best components of MB-003 (Mapp) and ZMAb (Defyrus/PHAC). ZMappTM was first identified as a drug candidate in January 2014 and has not yet been evaluated for safety in humans.
WHAT'S IN THE PIPELINE?
There are about a half dozen Ebola drugs and vaccines in development, several of which have received funding from the U.S.
For more information on Pipeline drugs of Ebola Virus get the DelveInsight's Report 'Ebola Viral Infections-Pipeline Insights, 2014′ in just $1250.
For more information contact info@delveinsight.com
Or
Access the Ebola Viral Infections Pipeline Insights report here: Healthcare Market Research Reports