HIV-1 is the most prevalent HIV infection worldwide, whereas HIV-2 is not so common and is found mostly in Western Africa. There is a difference of more than 55% genetic material in both of them. Where HIV-1 has a very high transmission rate, HIV-2 has very lower transmissibility. This leads to contact with AIDS many-fold higher in HIV-1 infected people than HIV-2 infected. Immunoassays available nowadays help in the diagnosis and differentiation of the type of HIV infection caused. More than 90% of people living with HIV have HIV-1. HIV-1 is further subcategorized into groups: M, N, O, and P. Among these groups, group M is most common, further divided into nine subtypes (from A to K except E and I).
It can be diagnosed using several laboratory tests which include – antigen/antibody tests, Nucleic Acid Tests, and other antibody tests like Enzyme immunoassays (EIAs). HIV-2 constitutes 2 subtypes namely A and B.
DelveInsight estimates that the HIV-1 market size in seven major markets was USD 22,663 million in 2020, which is further expected to increase by 2030 at a Compound Annual Growth Rate of 4.60%.
As per DelveInsight's recent report on HIV epidemiology, HIV prevalent cases in the 7MM were found to be 1,926,925 in 2020. The diagnosed prevalent cases of HIV in the 7MM were found to be 1,597,714 in 2020. Assessments as per DelveInsight's analysts indicate that the majority of HIV cases are observed in males when compared with females.
Over time, if left untreated HIV will potentially lead to AIDS (Acquired Immunodeficiency Syndrome) which is a human immune system deteriorating and a progressive life-threatening condition. Currently, there is no effective cure for HIV and HIV treatment only focuses on reducing the viral load which can act as a controlling factor for the spread of the disease.
HIV treatment drugs currently include mostly antiretroviral therapy (ART) based treatment drugs. Till date, many HIV drugs have been approved in ART. Antiretroviral therapy involves taking a combination of HIV medicines (called an HIV treatment regimen) every day. Nucleoside reverse transcriptase inhibitors were the first class that came into existence. After that Invirase, a protease inhibitor was approved in 1995. Other than these classes, there are many approved classes of ART. Each class has a significant role in the treatment of HIV.
The main goal of HIV treatment is to reduce a person's viral load to an undetectable level. An undetectable viral load means that the level of HIV in the blood is too low to be detected by a viral load test. People with HIV who maintain an undetectable viral load have effectively no risk of transmitting HIV to their HIV-negative partners through intercourse.
There are more than 45 approved therapies available for Human Immunodeficiency Virus. The market is already crowded and the peak of efficacy in the HIV-1 is achieved by Biktarvy, so emerging therapies have to show excellent safety and patient compliance to sustain in the market. These currently marketed HIV drugs are categorized based on how they interfere with the virus life cycle and are divided into different classes: nucleoside reverse transcriptase inhibitors (NRTIs), non-nucleoside reverse transcriptase inhibitors (NNRTIs), protease inhibitors (PIs), fusion inhibitors, CCR5 antagonists, postattachment inhibitors, attachment inhibitors, and integrase strand transfer inhibitors (INSTIs). Fusion inhibitors, CCR5 antagonists, attachment inhibitors, and postattachment inhibitors are called entry inhibitors, as they prevent the entry of HIV into the CD4 cells. The current and marketed HIV treatment drugs available include Biktarvy, Symtuza, Delstrigo, Pifeltro, Temixys, Dovato, Vocabria, Cabenuva, Juluca, and several others.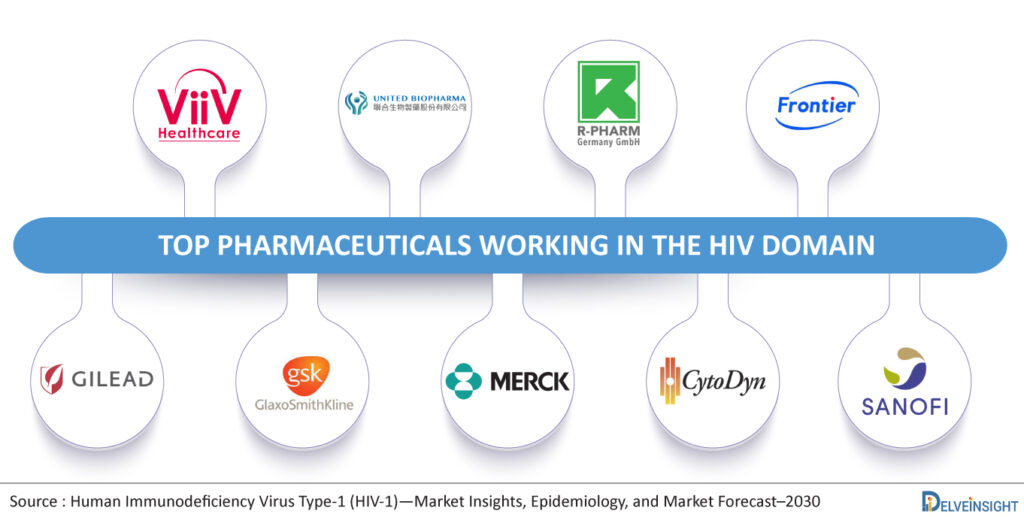 Although life-saving yes, but currently the HIV drugs in the market can cause certain unwanted side effects like skin rashes, weight gain, nausea, fatigue, and insomnia. Some problems might not even occur after several months of HIV medicine intake that include high cholesterol which eventually leads to an increased risk of heart disease, and a person already weak in immunity can not take risk of such a serious disorder. Some specific HIV medications may lead to renal toxicity, including proximal tubulopathy and acute or chronic renal insufficiency, especially when combined with pharmacologic boosters. Osteomalacia has also been reported as a consequence of proximal tubulopathy.
Patients have to take a combination of HIV drugs to reduce the chances of drug resistance and maintain viral suppression. The emergence of single treatment regimens (STRs) has reduced the pill burden and now with the approval of Cabenuva (cabotegravir extended-release injectable suspension; rilpivirine extended-release injectable suspension) the era of long-acting regimens is started. The newly found mRNA technology (similar to Pfizer and Moderna's COVID-19 vaccine), is considered to be extremely effective in clinical trials for HIV with the ability to stimulate the production of rare immune cells necessary to create antibodies against the HIV virus in 97% of patient-participants providing the need and hope required for the treatment of HIV in the near future.
Not much progress has been made since the novel HIV treatment therapies were taken under consideration in the 1980s making the latest developments and new discoveries nowadays in HIV treatment more profound. Current researches are focusing more on the reduction of new infection numbers, reducing life-threatening side effects, and HIV-related health disparities. Long-acting drugs, broadly neutralizing antibodies, therapeutic HIV vaccines are some of the principal mechanisms of action in the upcoming class of HIV drugs.
| S.No. | Mechanism of Action | Marketed Drug Name |
| --- | --- | --- |
| 1. | Nucleoside reverse transcriptase inhibitors (NRTIs) | Truvada*, Descovy* |
| 2. | Non-nucleoside reverse transcriptase inhibitor (NNRTI) | Pifeltro |
| 3. | Integrase strand transfer inhibitor (INSTI) | Isentress, Cabenuva*, Genvoya*, Dovato* |
| 4. | Protease inhibitor | Prezista |
| 5. | Entry inhibitors | Trogarzo |
Top Marketed HIV Drugs Classification (*Fixed-dose combination)
HIV Emerging Drugs
The choice of an HIV drug depends on a person's individual needs. When choosing an HIV treatment drug, people with HIV and their health care providers consider many factors, including possible side effects of HIV medicines and potential HIV drug interactions. Taking HIV drugs keeps people with HIV healthy by viral suppression and prevents HIV transmission. Treatment adherence and correct dosing also reduce the risk of HIV drug resistance.
Due to an increase in population and decrease in the mortality rate among the HIV population, the prevalent population of HIV has risen. The rise in prevalence of HIV stimulates the research and development of the drug, as it is likely to provide an appropriate environment for newer products to be profitable. The US FDA and EMA are supporting the HIV-1 therapeutics pipeline by encouraging the drug development process through different types of designations like Breakthrough Therapy or Fast track designations. Funding for the HIV response has increased significantly throughout the epidemic. Primarily, this growth has been driven by increased spending on mandatory domestic care and treatment programs; as more people live with HIV in the US, greater investments are needed to combat HIV in low and middle-income countries.
The current antiretroviral drugs can be partially or fully inactive because of the emergence of drug-resistant virus strains. Among the emerging HIV-1 therapies for treatment naïve or experienced patients Lenacapavir (biannual dosing) is expected to get the highest market share (11%) by 2025. For the prophylaxis of HIV-1, Islatravir is expected to dominate the market followed by Lenacapavir and Vocabria (Cabotegravir LA).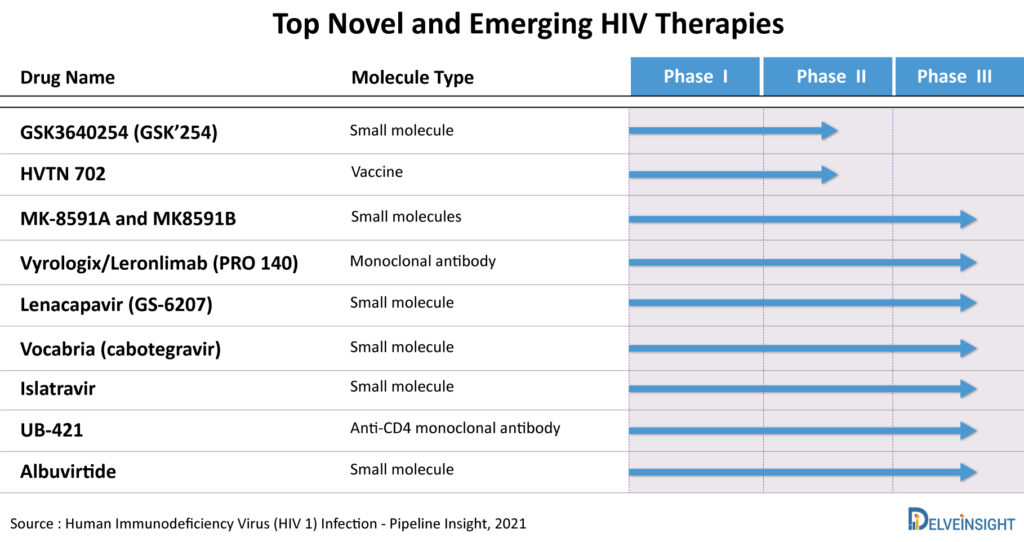 According to DelveInsight's HIV market report, the emerging therapies in the late phase of the clinical trial include MK-8591A (Merck & Co.), Lenacapavir (Gilead Sciences), Vyrologix (CytoDyn), GSK3640254 (GlaxoSmithKline/ViiV Healthcare), MK8591B (Merck & Co.), UB-421 (United Biopharma), Albuvirtide (Frontier Biotechnologies), Islatravir (Merck & Co.), VAC89220/Ad26.Mos4.HIV vaccine (Janssen Pharmaceuticals), and others.
Potential HIV treatment drugs that are under clinical trials and are soon expected to launch include drugs like –
Lenacapavir (GS-6207)
Lenacapavir by Gilead Sciences is a potential first-in-class, long-acting HIV treatment drug. It is a capsid inhibitor in development to treat and prevent HIV-1 infection. The new drug application (NDA) of Lenacapavir is filled for MDR HIV-1, and it is also being evaluated in Phase III to prevent HIV-1 and Phase II for treatment-naïve patients. At the same time, Islatravir is being assessed as a monotherapy to prevent HIV-1 in high-risk groups. In combination, it is being evaluated for MDR HIV-1 (Islatravir/doravirine) and treatment naïve patients (Islatravir/doravirine; islatravir + MK-8507). This could expand the armamentarium of long-acting prevention options. Its multi-stage mechanism of action is distinguishable from currently approved classes of antiviral agents and is designed to provide a new avenue for developing long-acting therapy options for people living with or at risk for developing HIV-1. It is a small molecule drug that is administered subcutaneously and orally in patients aged 12 years and older. While most antivirals act on just one stage of viral replication, Lenacapavir is designed to inhibit HIV-1 at multiple stages of its lifecycle and has no known cross-resistance to other existing drug classes which is a major reason it received Breakthrough Therapy Designation from the FDA, it is supposed to be launched by 2022 for MDR HIV-1, in 2025 for Treatment Naïve or Experienced HIV-1 patients and pre-exposure prophylaxis of HIV-1.
Islatravir by Merck & Co. is being assessed as a monotherapy HIV prevention drug to treat high-risk groups. It is a Phase III small molecule which is orally administered. It is contemplated to be launched by 2026 as monotherapy for pre-exposure prophylaxis of HIV-1. In combination, it is being evaluated for MDR HIV-1 (Islatravir/doravirine) and treatment naïve patients (Islatravir/doravirine; islatravir + MK-8507).
GSK3640254 (GSK'254)
GSK3640254 by GlaxoSmithKline/ViiV Healthcare is a next-generation, small-molecule potential HIV treatment drug which acts as a Maturation Inhibitor (MI) that acts during the last step of the HIV lifecycle. GSK3640254 binds to HIV-1 Gag, inhibiting the final protease-mediated cleavage event between capsid (CA) protein p24 and spacer peptide 1 (SP1) within the Gag polyprotein. Prevention of Gag polyprotein separation to its component proteins p24/CA and SP1 results in the release of immature, noninfectious virions. The orally administered potential HIV drug is currently being investigated in the Phase II trial and is expected to be launched in 2026.
Merck Sharp & Dohme Corp. is evaluating MK-8591A (Islatravir/Doravirine; DOR/ISL), a combination of Islatravir – the company's investigational oral nucleoside reverse transcriptase translocation inhibitor (NRTTI) – and Doravirine (Pifeltro), as an HIV treatment drug. The combinational is currently being evaluated in Phase III clinical studies for treatment naive and experienced patients and for MDR HIV-1. It is a small molecule type HIV drug which is administered orally and is expected to be launched in 2024 for treatment naive and experienced HIV-1 patients and in 2025 for MDR HIV-1.
MK8591B (Islatravir + MK-8507) is another potential HIV treatment drug being investigated by Merck & Co. It is a combination of Islatravir plus MK-8507 being evaluated in Phase II clinical trial for the treatment of naïve or experienced HIV-1 patients. The novel once-weekly oral combination is in development as an HIV treatment drug, with an aim to decrease pill burden and dosing frequency. ISL is a first-in-class NRTTI for the treatment and prevention of HIV-1. MK-8507, a novel NNRTI, achieved robust viral load declines for at least a week post-dose in treatment-naive people living with HIV (PLWH). It is expected to reach the US market in 2025.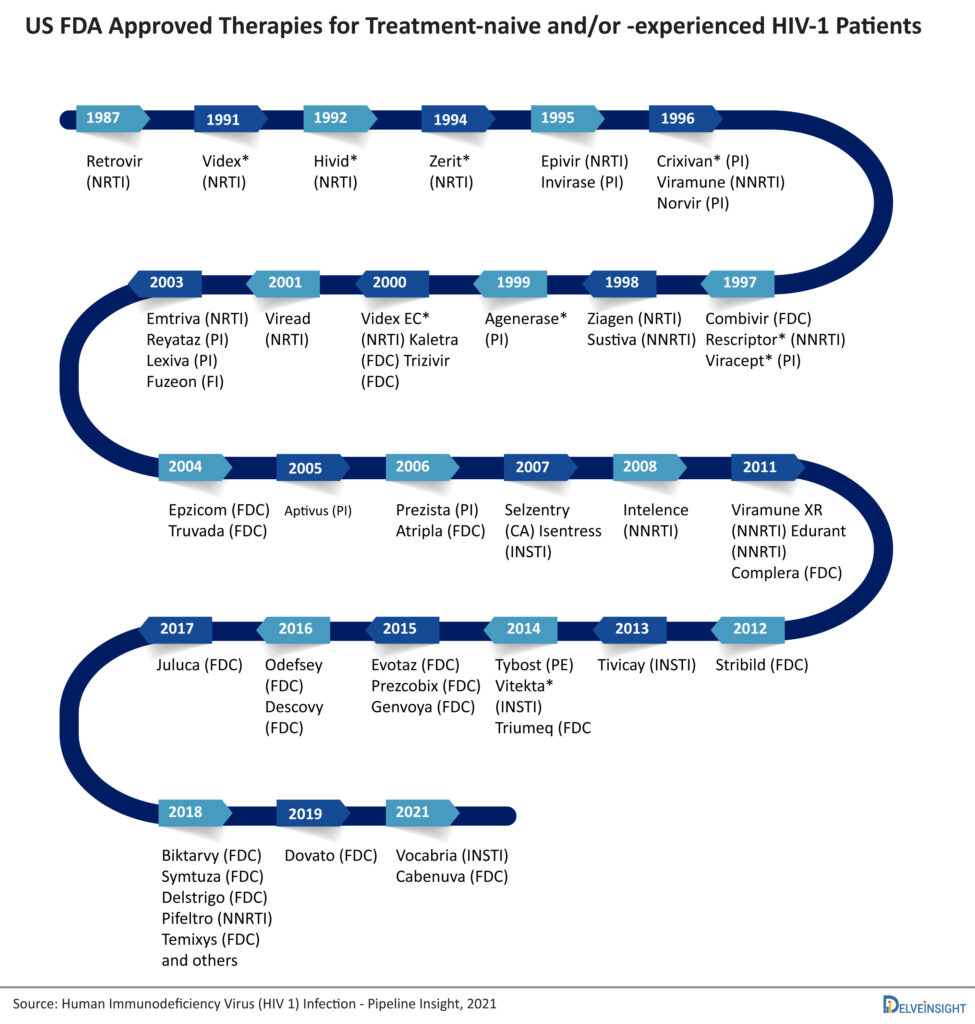 VAC89220
Janssen Pharmaceuticals is investigating an HIV vaccine namely VAC89220 in a Phase III clinical trial. However, recently, J&J reported the failure of the vaccine in the Phase IIb trial in the sub-Saharan African population. While J&J is stopping this particular study (Phase IIb), the Phase III trial of a related vaccine regimen is continuing in the US.
Vyrologix/Leronlimab (PRO 140)
CytoDyn's lead product, Vyrologix/Leronlimab, is a monoclonal antibody that belongs to a new HIV AIDS therapeutics class that protects healthy cells from viral infection. HAART (highly active antiretroviral therapy), the current standard of care for HIV treatment, waits until the Human Immunodeficiency Virus enters the cell and begins replicating before it attacks the virus. Leronlimab is a self-injectable, subcutaneous injection for HIV treatment. Advantages over the current standard of care, HAART, include no serious side effects and no serious adverse events (SAE's) related to Leronlimab with exposure to over 800 patients, enhanced compliance, and longer half-life. Seventy-six percent of patients have resistance to at least one drug with HAART. The FDA has granted Fast Track designation and recently granted Rolling Review for Leronlimab. The company has initiated the resubmission of its Biologics License Application for HIV under rolling review consistent with guidance from the US FDA. The emerging drug is expected to launch in 2022.
Vocabria (cabotegravir)
Vocabria (cabotegravir) by ViiV Healthcare is an HIV-1 integrase strand transfer inhibitor (INSTI) indicated in combination with Edurant (rilpivirine) for short-term treatment of HIV-1 infection in adults who are virologically suppressed (HIV-1 RNA less than 50 copies/mL) on a stable antiretroviral regimen with no history of treatment failure and with no known or suspected resistance to either cabotegravir or rilpivirine, for use as an oral lead-in to assess the tolerability of cabotegravir prior to administration of Cabenuva (cabotegravir; rilpivirine) extended-release injectable suspensions. Cabotegravir inhibits HIV integrase by binding to the integrase active site and blocking the strand transfer step of retroviral deoxyribonucleic acid (DNA) integration which is essential for the HIV replication cycle. Vocabria is currently being investigated in Phase III of clinical trials for the pre-exposure prophylaxis (PrEP) of HIV-1. This HIV drug received a Breakthrough Therapy Designation for the PrEP of HIV-1 and is anticipated to be launched in the year 2023.
UB-421 and Albuvirtide
UB-421 by United BioPharma (CD4 attachment inhibitor) and Albuvirtide by R-Pharm Group and Frontier Biotechnologies (fusion inhibitor) is currently being evaluated in Phase III clinical trials for MDR-HIV-1 and treatment-experienced HIV-1, respectively.
Emerging Drug
Company Name
Molecule Type
MoA
RoA
Expected Launch
Lenacapavir (GS-6207)
Gilead Sciences
Small molecule
HIV-1 Capsid protein inhibitor
Subcutaneous and oral
2022 (MDR HIV-1), 2025 (Treatment Naïve or Experienced HIV-1), 2025 (PrEP)
GSK3640254
GlaxoSmithKline/ViiV Healthcare
Small molecule
HIV-1 Maturation Inhibitor
Oral
2026
MK-8591A and MK8591B
Merck Sharp & Dohme Corp.
Small molecules
Islatravir: Nucleoside reverse transcriptase translocation inhibitor (NRTTI)
Doravirine: Non-nucleoside reverse transcriptase inhibitor (NNRTI)
MK-8507: NNRTI
Oral
MK-8591A: 2024 (Treatment Naïve or Experienced), 2025 (MDR HIV-1)
MK8591B: 2025
Vyrologix/Leronlimab (PRO 140)
CytoDyn
Monoclonal antibody
CCR5 antagonist
Subcutaneous
2022
Vocabria (cabotegravir)
ViiV Healthcare
Small molecule
Long-acting Integrase Strand Transfer Inhibitor (INSTIs)
Intramuscular injection
2023 (PrEP)
Islatravir
Merck
Small molecule
NRTTI
Oral
2026 (PrEP)
UB-421
United BioPharma
Anti-CD4 monoclonal antibody
CD4 attachment inhibitor
Intravenous injection
–
Albuvirtide
R-Pharm Group and Frontier Biotechnologies
Small molecule
Fusion inhibitor
Intravenous injection
–
HIV Pipeline Therapies
Future Directions of HIV Drugs
Potential HIV drugs have come a long way since it's first detection around 40 years ago. HIV AIDS was considered a life-threatening disease, with no treatment at all. Nowadays not only is HIV treatment available to a good extent but even HIV preventive drugs are under investigation by drug giants like Gilead, Merch, and ViiV Healthcare.
As per DelveInsight reports, there has been a 30% declination observed in HIV infections since 2010. With increasing awareness regarding the disease among both the patients and healthcare providers, an anticipated possibility of long-term cure with limited side effects, direct towards a confident future for the HIV treatment domain. New and emerging HIV drugs may even serve as potential life-saving HIV treatment therapies. The current understanding of HIV-1 related awareness and funding will definitely lead to increased research and development in the HIV domain. Long-acting HIV treatment drugs are the latest in the market which will completely change the once-daily administration to once-monthly or even biannual dosage. Great strides have been made in the past and will continue in the future for HIV treatment, testing and prevention as well.
Despite advances in our scientific understanding of HIV and its prevention and treatment as well as years of significant effort by the global health community and leading government and civil society organizations, too many people with HIV or at risk for HIV still do not have access to prevention, care, and treatment, and there is still no cure.
FAQs
Q1: How many pills do HIV patients take in a day? Do HIV patients take HIV drugs every day?
Earlier patients have to take multiple pills in a day, however, after the approval of STRs, the pill burden is reduced and usually, patients have to take a single pill in a day. A long-acting regimen such as Cabenuva has to be taken once every month or once every two months. 
Q2: Does HIV drug have side effects?
There are several short-term and non-serious side effects of HIV drugs like skin rashes, renal toxicity, decreased bone mineral density, weight gain, etc.
Q3: Do all people with HIV have AIDS?
The answer is no, a person diagnosed with HIV doesn't necessarily have AIDS. Only after diagnosis of a lower CD4 cell count or the initiation of opportunistic infections (OI) indicate the presence of AIDS.