Endoscopy helps surgeons and clinicians to diagnose and perform surgery for various chronic and acute diseases in a proper and standard manner. During the procedure, both internal and external surfaces of endoscopes are exposed to body fluids. The need for an Endoscopy fluid management system arose due to the presence of body fluids that hinder the proper working of these endoscopes.
The endoscopic fluid management system is used to improve visibility during endoscopic surgeries by providing precise fluid pressure to internal cavities. Endoscopy is done extensively for proper diagnosis and detection of various disorders related to the body organs, which are not accessible by clinicians very easily. This system is used for various types of endoscopic surgeries, including hysteroscopy, laparoscopy, and others.
Irrigation pumps are the most common type of Endoscopy fluid management systems. A complete fluid management system consists of a suction irrigation pump, reusable and disposables tubing sets, reusable and disposable jars, calibration kit, and stand.
Endoscopy Fluid Management Systems: Application
Endoscopic fluid management is needed in all the procedures of endoscopy, including hysteroscopy, laparoscopy, arthroscopy, and urology.
Laparoscopy– Laparoscopy is a surgical, diagnostic procedure conducted using a laparoscope and is used to evaluate the organs inside the abdomen. It's a low-risk, minimally invasive procedure that requires only small incisions.
Hysteroscopy– During hysteroscopy, systemic absorption of uterine distension fluid occurs largely through disrupted endometrial and myometrial venous sinuses as a result of the pressure gradient between the uterine cavity and open sinuses or vessels. The increased fluid absorption is linked with higher intrauterine pressure, longer procedure duration, deep myometrial penetration, and large uteri.
Urology– Urology endoscopies are performed to diagnose the problems related to the urinary tract. The endoscopies come in two forms: cystoscopy and ureteroscopy. A cystoscopy uses a cystoscope to look inside the urethra and bladder, whereas a ureteroscopy uses a ureteroscope to look inside the ureters and kidneys. With advancements in technology, it is possible to conduct urological minimally invasive surgeries. They are characterized by high efficiency and a lower risk of complications. An excellent example of such may be the removal of kidney stones through a urethra. A medical fluid pump is designed to deliver fluid under a given pressure to an operating area during endoscopy.
Arthroscopy – According to the National High School Sports-Related Injury Surveillance Study 2018-2019, 1,307,414 cases of sport-related were recorded in high schools in the U.S. (Program for Injury Prevention, 2019). Arthroscopy helps in the treatment of anterior cruciate ligament (ACL) injury, a major injury in professional sports. Fluid management system pressure is set as low as possible or as is needed to obtain a view (usual starting pressure 50mm Hg).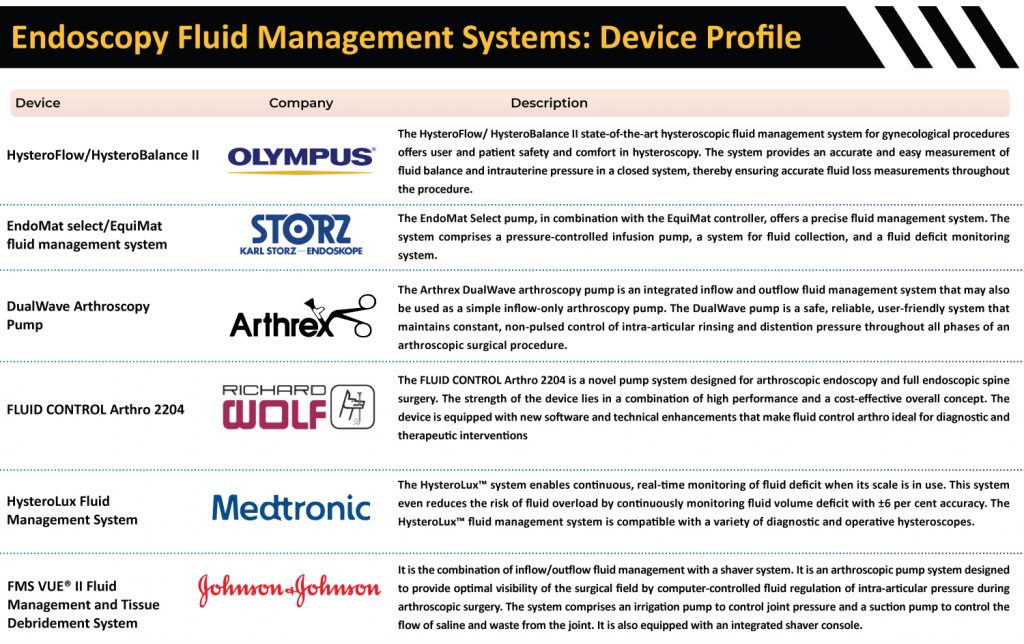 Endoscopy Fluid Management Systems: Advantages
These devices assure good visibility and a clean operating site.
They reduce tissue adhesion on endoscopic instruments.
System conducting irrigation using saline solution increases tissue conductivity and provides faster electrosurgical effects.
Cost-effective when compared to other procedures.
Endoscopy Fluid Management Systems: Disadvantages
Fluid absorption is an unpredictable consequence of Endoscopic surgery.
Each pump operates at a dangerously higher or lower pressure than the device's specifications.
The proposed back-flow component and the shut-off mechanism may cause problems.
Endoscopy-related infections can be dangerous and cause physicians and patients to be concerned about these procedures.
Endoscopy Fluid Management Systems Market Dynamics
The Endoscopy fluid management systems market is estimated to increase with the rise in demand for endoscopy in fields like gastroenterology, urology, dentistry, gynecology, neurology, arthroscopy, laparoscopy, cardiology, bronchoscopy, and others. A total of 203, 970 patients underwent laparoscopic, hysteroscopic, and fluoroscopic surgery for three years, 2014–2016. The boost in Endoscopy acceptance among patients is expected to boost the Endoscopy fluid management system market.
Furthermore, an increase in the prevalence of gastrointestinal cancer globally, making it the fifth most commonly diagnosed cancer in the world and the seventh most prevalent one, is another factor swelling the Endoscopy fluid management system market growth.
Along with this, the globally growing geriatric population and technological advancements are other major factors responsible for the growth of the Endoscopy fluid management systems market.
However, the lack of skilled professionals, no proper training, availability of local manufacturers, and stringent approval process can dissuade the market growth in the coming years. There is also a dearth of skilled professionals to conduct minimally invasive procedures like endoscopy.
According to DelveInsight's Endoscopy fluid management systems market analysis, which is segmented by application type, modality type, and end-user, the market is dominated by Endoscopy fluid management for Hysteroscopy (45%) followed by Laparoscopy and Arthroscopy. The majority of the available products are of the Bench Top model taking up 82% of the market share, followed by floor-standing models.
Endoscopy Fluid Management Systems Market Players
The MedTech companies operating in the Endoscopy Fluid Management Systems market include Arthrex Inc., B. Braun, Cantel Medical Systems, Comeg Medical Technologies, Conmed Corporation, Endomed Systems, Fujifilm Corporation, Gimmi GmbH, Hologic Inc., Johnson & Johnson, KARL STORZ SE & Co. K.G., Medtronic Inc., Olympus Medical Corporation, Richard Wolf Company, Serres, Smith & Nephew, Steris, Stryker, Thermedx, and Vimex Sp. z o.o.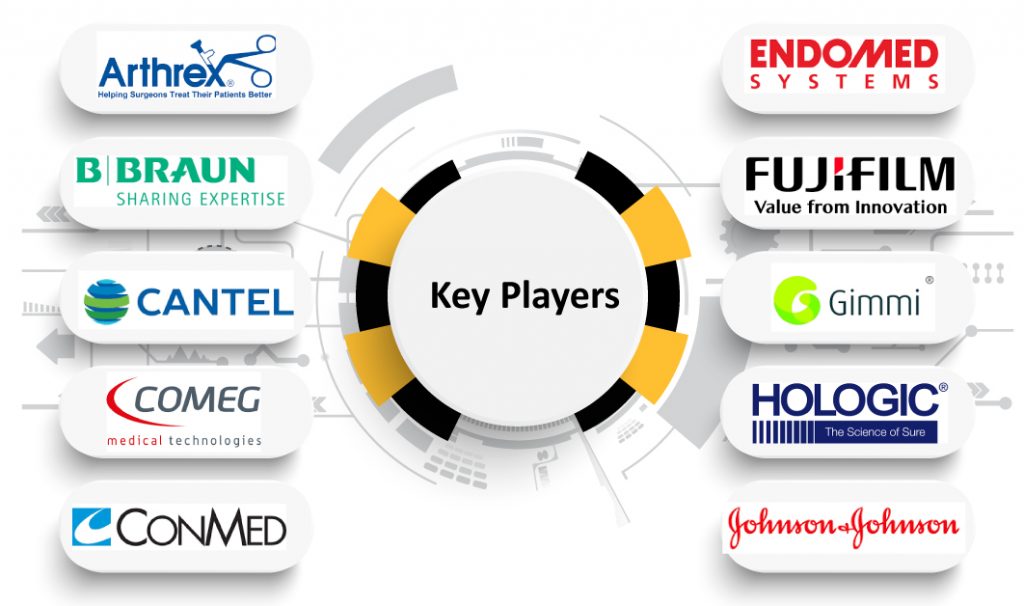 Endoscopy Fluid Management Systems: Developmental Activities
On January 12, 2021, STERIS plc signed a definitive agreement to acquire Cantel, through a U.S. subsidiary.
On December 7, 2020, Cantel Medical Corp and Censis Technologies announced a new long-term partnership to combine Cantel's leading infection prevention endoscope reprocessing workflow portfolio with the surgical asset management and instrument tracking solutions from Censis. DelveInsight estimates that the move would surely add to the market share of Cantel Medical Corp.
The FDA approved the Stryker CrossFlow Integrated Arthroscopy Pump on July 12, 2019. This product is C.E. marked according to the European Medical Device Directive.
On August 3, 2018, Hologic Inc. had announced that the fluent fluid management system had been approved by the Food and Drug Administration.
On October 08, 2018, U.S. Endoscopy announced the release of the Torrent™ irrigation pump, completing the existing line of Torrent® irrigation solutions (including the 24-h Torrent® irrigation tubing and single-patient use scope connectors).
Endoscopy Fluid Management Systems Market: Way Ahead
The Endoscopic fluid management system is used to improve visibility during endoscopic surgeries by providing precise fluid pressure to internal cavities. To dilate the operating area and wash away debris and blood, many endoscopic surgical procedures involve the use of irrigating fluid.
Endoscopy is the most commonly performed gastrointestinal procedure worldwide. There are around 75 million Endoscopies performed annually in the United States and approximately 2 million procedures performed each year in the United Kingdom. About 500 endoscopy units are registered with the Joint Advisory Group on G.I. Endoscopy (JAG).
Another study based in Japan states that in 2017, 248,743 patients underwent endoscopic surgery in all surgical domains, such as abdominal, thoracic, mammary and thyroid gland, cardiovascular, obstetrics and gynecology, urologic, orthopedic, and plastic surgery.
This increasing number of Endoscopy surgery around the world drives the market for the need for endoscopic fluid management systems.