Infections due to respiratory syncytial virus (RSV) have seriously troubled drug makers for decades and the need for a vaccine was on since the 1960s. According to the assessment done by DelveInsight on the latest published "Respiratory Syncytial Virus Epidemiology Report," it is estimated to affect approximately 5 million cases this year in the United States and 2.5 million cases in the EU4 countries and the United Kingdom. As per the analysis, the highest RSV incident cases were comprised of mild cases (~70%), in children, whereas, in adults, the highest RSV incident cases were found to be moderate (~64%), in 2022 in the US.
Despite many clinically failed attempts, GSK finally came up with a breakthrough therapy addressing the biggest unmet of all time. GSK is all set to launch Arexvy (RSVPreF3), the first preventive respiratory syncytial virus vaccine for the age group 60 years and above. The US FDA gave the green signal to the drug on the 3rd of May 2023 and it was also recommended by the EMA for approval.
The respiratory syncytial virus vaccine is estimated to cost between USD 60-200 per shot in the United States, with an expected rollout in the market in this upcoming RSV season. The company is also working rigorously to smoothen the supply, availability, and reimbursement possibilities.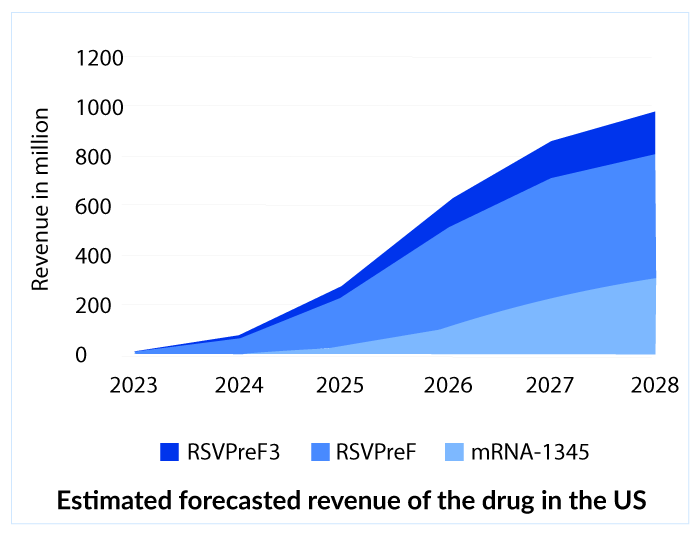 GSK shots are all set to target a respiratory syncytial virus treatment market of approximately 900 million by 2027 covering approximately 4.7 million patients in the same year. It is great to see RSV's remarkable development, but GSK may not be the only preventive shot as Pfizer (RSVpreF) and Moderna (mRNA-1345) is next in the race.
While Pfizer's regulatory decision is quite close and the PDUFA date is set to be in this month only. The respiratory syncytial virus vaccine also showed positive results and is most likely to be approved. In February 2023, the Food and Drug Administration's independent panel of advisors voted for Pfizer's and GSK's respiratory syncytial virus vaccines. The Pfizer respiratory syncytial virus vaccine gained a 7-4, in favor of the committee for the safety and efficacy assessment while GSK's respiratory syncytial virus vaccine was given 10-2 in favor of safety and unanimously for efficacy.
GSK respiratory syncytial virus vaccine outperformed the Pfizer respiratory syncytial virus vaccine with strong efficacy results in the 60 years and older category, but Pfizer is also investigating the maternal respiratory syncytial virus vaccine, where GSK failed. The FDA has set a Prescription Drug User Fee Act (PDUFA) action date of August 2023 for the maternal respiratory syncytial virus vaccine.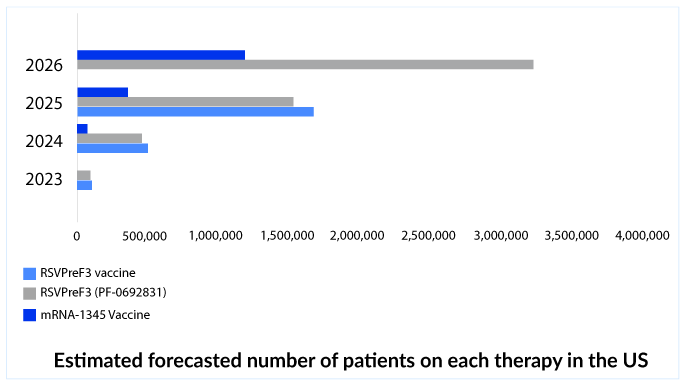 It will be really interesting to see the uptake and performances of both RSV drugs in this respiratory syncytial virus treatment market. GSK could snap the limelight from Pfizer and its competitor because of its better results and first entry into the respiratory syncytial virus treatment market for the older adult segment, while Pfizer also has an advantage of maternal immunization. We also have Moderna which may be third in the respiratory syncytial virus treatment market. Moderna is also focusing on a combination vaccine targeting, RSV, influenza, and Covid.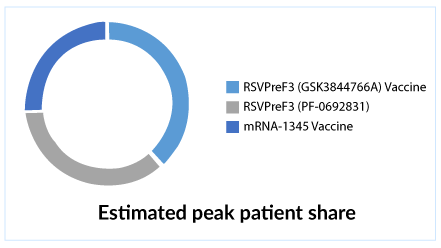 Bavrian Nordic (MVA-BN-RSV Vaccine), Beyfortus (nirsevimab) by Astra Zeneca/Sanofi are also in the respiratory syncytial virus pipeline. Beyfortus was recently granted approval by the European Commission, the US approval is still awaited. Recently Johnson & Johnson seems to have backed out from this race by deciding to discontinue its Phase III EVERGREEN study, which was being investigated in adults aged 60 years and older.
FAQs
1. What is a respiratory syncytial virus?
The respiratory syncytial virus (RSV) is a highly contagious respiratory virus. It belongs to the genus Pneumovirus, which is part of the family Paramyxoviridae. Virus particles are enveloped and pleomorphic, forming irregular spherical particles with diameters of 100-350 nm and long filamentous fibers with diameters of 60-200 nm and lengths of 10 mm.
2. What are respiratory syncytial virus symptoms?
Signs and symptoms of respiratory syncytial virus infection typically appear 46 days after virus exposure. RSV typically causes mild cold-like symptoms in adults and older children. These respiratory syncytial virus symptoms may include a stuffy or runny nose, a dry cough, a low-grade fever, sore throat, sneezing, and a headache. 
3. How is respiratory syncytial virus diagnosed?
RSV testing is not always necessary. Several types of laboratory tests are used for respiratory syncytial virus diagnosis if required. The rapid diagnostic test is the most commonly used.
4. What are the current respiratory syncytial virus treatment options?
The mainstay respiratory syncytial virus treatment for bronchiolitis is supportive care. Most infants may be treated at home, but those who appear unwell, are dehydrated, have poor feeding or apnea, suffer respiratory distress, or require supplemental oxygen should be hospitalized. The average length of stay in the hospital is 3-7 days.