Respiratory syncytial virus is estimated to affect approximately 5 million cases this year in the United States and 2.5 million RSV cases in the EU4 countries and the United Kingdom. As per Delveinsight analysis on the latest published "Respiratory Syncytial Virus Epidemiology Report," the US comprised ~70%, ~27%, and ~3% of the total number of mild, moderate, and severe cases of respiratory syncytial virus in children, respectively, in 2022. Whereas ~17%, ~64%, and ~19% of the mild, moderate, and severe cases of respiratory syncytial virus in adults, respectively, in 2022.
Despite such a high number of incident cases, there is still a high unmet need for effective respiratory syncytial virus treatment. This condition seems to have troubled drug makers for decades. Many clinical attempts failed miserably, raising a question about understanding the disease and its mechanism.
Current respiratory syncytial virus therapies, their challenges, and upcoming therapies
The respiratory syncytial virus treatment is majorly supportive, with no approved drug for adults; in infants, Ribavirin and Synagis (palivizumab) were approved by the US FDA for respiratory syncytial virus treatment.
Synagis is only used prophylactically for high-risk groups and comes up with many challenges, such as high cost, frequent administrations, and many more. After tremendous hard work, Sanofi and AstraZeneca's Beyfortus (nirsevimab) got approved by the European Union to prevent RSV lower respiratory tract disease in newborns and infants. The respiratory syncytial virus vaccine addressed the challenges which were there with palivizumab.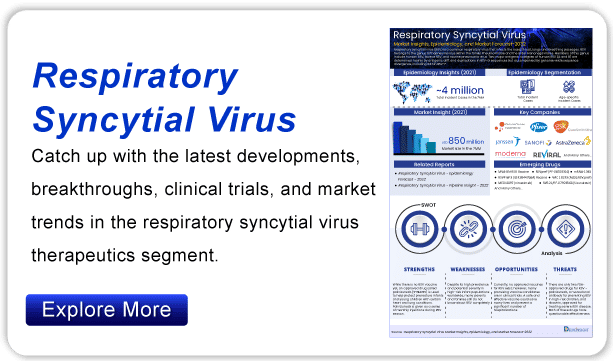 A single dose of Beyfortus is required for the entire RSV season, making it a more convenient option than Synagis, which requires monthly administration for the entire RSV season. As per the DelveInsight analyst, the drug is estimated to cost ~USD 200–350 per patient, which is very low compared to palivizumab, thus addressing the cost barrier. This immunization technique will change the preventive regime and focus on the broad newborn and infant population, which was a limitation in Synagis.
"Beyfortus is estimated to gain a peak patient share of 50% in the United States with an estimated 4 million patients to be treated at its peak". – Delveinsight Analysts
The adult respiratory syncytial virus treatment market is lucrative enough to be eyed on
With a potential immunization technique for infants, the adult respiratory syncytial virus treatment market seems very lucrative and can become bigger in the upcoming years. RSV in adults is managed by supportive respiratory syncytial virus treatment and tends to affect the older population adversely; this is because the older adult has comorbidities that stir up the RSV response and increases hospitalization.
To address these challenges, big pharma companies such as GSK and Pfizer are soon bringing the first respiratory syncytial virus vaccine to the older adult population.
GSK respiratory syncytial virus vaccine outperformed the Pfizer respiratory syncytial virus vaccine with strong efficacy results. In severe RSV-associated lower respiratory tract illness (LRTI-RSV), there was a 94.1% reduction in the infection. In participants with pre-existing comorbidities, such as underlying cardiorespiratory and endocrine metabolic conditions, vaccine efficacy was 94.6%, with 93.8% efficacy observed in adults aged 70–79. Pfizer's RSVpreF vaccine showed an efficacy of 66.7% in patients with LRTI-RSV defined by two or more symptoms; in more severe diseases where endpoints of LRTI-RSV defined by three or more symptoms, the vaccine showed an efficacy of 85.7%.
Both respiratory syncytial virus vaccines showed enough promising results to get likely approval from the US FDA later this year.
FDA advisers in favor of GSK's Product?
The PDUFA date of May 2023 is set for both Pfizer and GSK, and they are all set to launch the respiratory syncytial virus drug with no supply issues as soon as it gets approval. The drug maker has also applied for approval in the European Union and Japan.
As per the latest Food and Drug Administration's independent panel of advisors, the Pfizer vaccine gained a 7–4 in favor of the committee for the safety and efficacy assessment. GSK's vaccine was given 10–2 in favor of safety and unanimously for efficacy.
The high efficacy results in patients with underlying conditions may have given GSK's product an additional edge over others. The respiratory syncytial virus vaccine also showed good efficacy when administered with the Flu vaccine.
The potential risk factors and challenges of these respiratory syncytial virus vaccines
With so much going around their approval, both respiratory syncytial virus vaccines have shown some serious cases of Guillain–Barre syndrome, a serious health concern; therefore, post-marketing data and additional safety studies are required to undercover the additional safety concerns.
With so many promises being done, the efficacy of the respiratory syncytial virus vaccines in 80 years and the above population is also something to be looked for. GSK's respiratory syncytial virus vaccines have not shown very promising results in this age group, and Pfizer's detailed results are still awaited; hence there still lies an unmet need, as most patients are at high risk of RSV and have many comorbidities.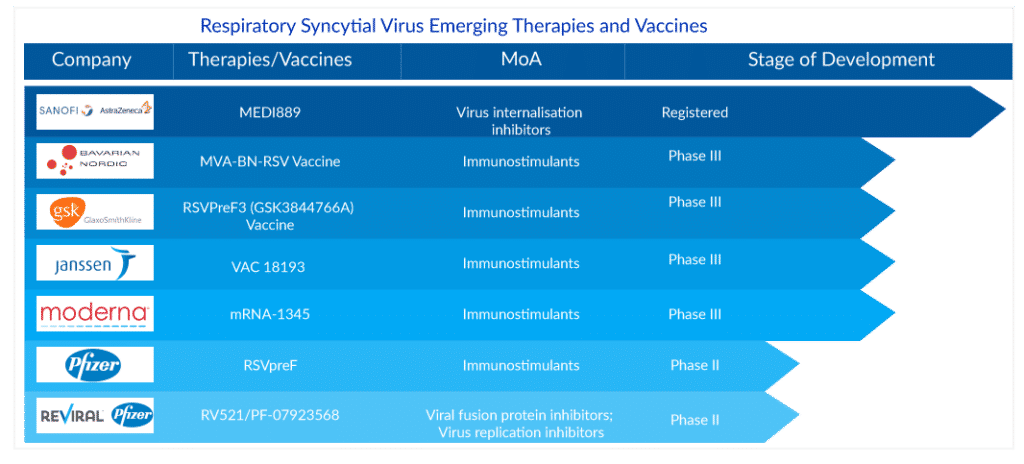 With such tough competition, seeing these respiratory syncytial virus drugs' uptake and response in the upcoming years would be interesting. We have Moderna and a few other companies in the queue. Moderna has recently announced the Phase III topline data results with a vaccine efficacy of 83.7%. The company is yet to submit for regulatory approval.
GSK and Pfizer have already set some high bars for the upcoming vaccines to capture the respiratory syncytial virus treatment market worth billions. Companies must have exceptional safety and efficacy results and may fill safety and efficacy loopholes in the existing players to make their product a blockbuster.
Delveinsight estimates suggest that the RSVPreF3 vaccine is estimated to generate a revenue of more than 1 billion at its peak, while RSVPreF could be anywhere between USD 800 million to 1 billion for the same in the United States.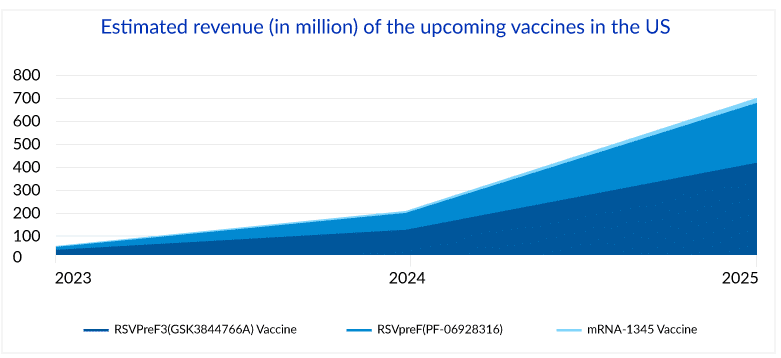 As per the estimates, once approved, GSK's vaccine is estimated to capture a market of 24% in the next 10 years, with approximately 5 million patients can be vaccinated by it in the United States alone.

FAQs
1. What is a respiratory syncytial virus?
The respiratory syncytial virus (RSV) is a highly contagious respiratory virus. It belongs to the genus Pneumovirus, which is part of the family Paramyxoviridae. Virus particles are enveloped and pleomorphic, forming irregular spherical particles with diameters of 100-350 nm and long filamentous fibers with diameters of 60-200 nm and lengths of 10 mm.
2. What are respiratory syncytial virus symptoms?
Signs and symptoms of respiratory syncytial virus infection typically appear 46 days after virus exposure. RSV typically causes mild cold-like symptoms in adults and older children. These respiratory syncytial virus symptoms may include a stuffy or runny nose, a dry cough, a low-grade fever, sore throat, sneezing, and a headache. 
3. How is respiratory syncytial virus diagnosed?
RSV testing is not always necessary. Several types of laboratory tests are used for respiratory syncytial virus diagnosis if required. The rapid diagnostic test is the most commonly used.
4. What are the current respiratory syncytial virus treatment options?
The mainstay respiratory syncytial virus treatment for bronchiolitis is supportive care. Most infants may be treated at home, but those who appear unwell, are dehydrated, have poor feeding or apnea, suffer respiratory distress, or require supplemental oxygen should be hospitalized. The average length of stay in the hospital is 3-7 days.