Alzheimer's disease is the most common type of dementia, accounting for more than 60% of all cases, and is characterized by a gradual decline in cognitive and functional abilities. It represents a global health crisis that is increasing with the increasing geriatric population. It represents a global health crisis that is increasing with the increasing geriatric population.
According to various studies among patients aged >65 years, Alzheimer's disease was the fifth leading cause of death. According to the World Health Organization (WHO), approximately 50 million people worldwide have dementia. In the United States, it is estimated that more than 6 million people have Alzheimer's disease. Alzheimer's disease is the sixth leading cause of death in the United States. As the global population ages, the prevalence of Alzheimer's disease is expected to rise significantly. By 2050, it is projected that the number of people with dementia worldwide will reach 152 million.
As per DelveInsight analysis, the total diagnosed prevalent cases of Alzheimer's disease in the 7MM were found to be approximately 15 million cases in 2022, which are expected to increase by 2032 at CAGR of 2.4% during the study period (2019 ─2032). The US accounted for nearly 41% of the total diagnosed prevalent cases of Alzheimer's disease in the 7MM in the year 2022, which are expected to increase further by 2032.
Many of the drugs currently available to treat dementia symptoms work by increasing the activity levels of some brain neurotransmitters, such as acetylcholine, serotonin, and noradrenaline, or decreasing the activity of others, such as glutamate and dopamine. It is also prohibited due to the accompanying negative effects. It is critical to personalize dementia symptomatic medicines by taking into account individuals' comorbidities and their associated therapies. The effects on cardiac function, medication elimination, and other interactions should be evaluated on a case-by-case basis.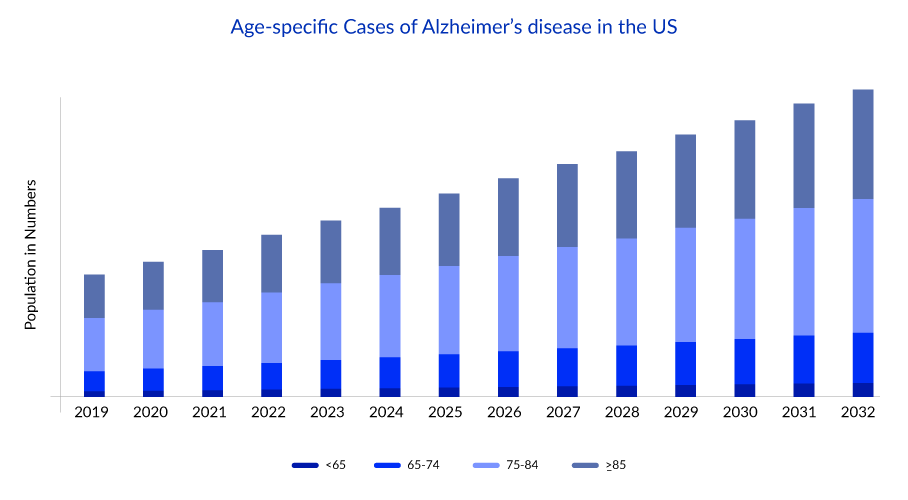 In June 2021, the US FDA granted accelerated approval to Biogen and Eisai's ADUHELM (aducanumab) for the treatment of people living with early Alzheimer's disease, including people with mild cognitive impairment due to Alzheimer's disease, making it the first available disease-modifying treatment to address Alzheimer's disease pathology by targeting amyloid plaques. However, the drug is not available globally because it was not approved by the EMA or MHLW, and the Alzheimer's disease community is still awaiting additional trial data to support its approval.
FDA Approval of Leqembi: Major Milestone in Alzheimer's Disease Treatment Space
In the most awaited regulatory decision of the summer, the FDA approved Eisai and Biogen's Leqembi (lecanemab) as the first anti-amyloid antibody—and the first disease-altering drug—for Alzheimer's disease treatment. According to the FDA's announcement, the approval was obtained based on a confirmatory trial that demonstrated therapeutic benefit. According to the Clinical Dementia Rating-Sum of Boxes (CDR-SB) assessment, treatment with Leqembi reduced clinical decline by 27% compared to placebo after 18 months in the Phase III Clarity-AD trial.
"Today marks a breakthrough in Alzheimer's disease treatment, and we are proud to be at the forefront of ushering in a new era of advances for a disease that was previously thought to be incurable." "We would like to express our heartfelt gratitude to those who have worked tirelessly to find a cure for this intractable disease, without whom this progress would not have been possible," stated Christopher A. Viehbacher, President and Chief Executive Officer of Biogen. "Our focus is now on the path forward, collaborating with Eisai to make LEQEMBI available to eligible patients as soon as possible."
Leqembi received fast approval from the FDA in January, but it was only available to a restricted number of patients since the Centres for Medicare and Medicaid Services (CMS) would only pay for the drug as part of a clinical trial. CMS affirmed in June that Leqembi will be covered "in appropriate settings" upon conventional approval, with the necessity of a patient registry to obtain real-world data on the utility of anti-amyloid antibodies in this indication.
The result was largely anticipated after an advisory group overwhelmingly approved Leqembi last month. The FDA's Peripheral and Central Nervous System Drugs Advisory Committee approved 6-0 on June 9 to convert the accelerated approval to full clearance. The FDA is not required to follow the advice of its experts, but it frequently does—as it did on July 6.
While Leqembi's fast approval was welcomed as a success for a space that has seen few victories, experts were cautious in their enthusiasm, with Marwan Sabbagh of the Barrow Neurological Institute and a Clarity-AD investigator calling it a "modest victory." There are also unanswered uncertainties about the anti-amyloid antibody class's safety.
Promising Candidates in the Pipeline for Alzheimer's Disease Treatment
As the prevalence of Alzheimer's disease continues to rise, there is a pressing need for effective treatments and interventions. Numerous companies are actively engaged in research and development efforts to combat Alzheimer's disease, focusing on various approaches and therapeutic strategies.
Expected launch of emerging Alzheimer's disease therapies, such Athira Pharma's fosgonimeton (ATH-1017), BioVie's NE3107, AB Science's masitinib (AB1010), Eli Lilly's donanemab (LY3002813) and remternetug (LY3372993), Cassava Sciences' simufilam (PTI-125), Novo Nordisk's semaglutide, Eisai's E2814, and others shall create a positive impact on the Alzheimer's disease treatment market.
NE3107 is being developed by BioVie's, is an oral, small molecule, blood-brain permeable, anti-inflammatory, insulin sensitizer that binds to extracellular signal-regulated kinase (ERK) and selectively inhibits inflammation. NE3107 is believed to inhibit extracellular ERK/NFkB activation and TNF production stimulated by inflammatory mediators, such as lipopolysaccharides and Inhibits of NFkB activation and TNF production. The drug is also being developed by BioVie for treating Parkinson's disease, multiple myeloma, and prostate cancer. The company is currently conducting Phase III trials for the treatment of mild to moderate Alzheimer's disease.
Donanemab (LY3002813), developed by Eli Lilly and Company, is a humanized IgG1 monoclonal antibody N3pG, developed from mouse mE8-IgG2a that identifies and destroys Aβ proteins, excess abnormal proteins that bind together to create brain plaques in Alzheimer's disease patients. Given via the IV administration route, its Phase III trial was recently completed. The confirmatory Phase III TRAILBLAZER-ALZ 2 trial is ongoing.
Semaglutide (NN6535), being developed by Novo Nordisk is a long-acting glucagon-like peptide-1 receptor agonist (GLP-1 RA) for the once-daily treatment of Alzheimer's disease. GLP‐1 is an established neurotransmitter, and receptors for GLP‐1 are expressed in numerous brain regions, including the striatum, nucleus accumbens, and hippocampus. Additionally, oral semaglutide is marketed as RYBELSUS (7 mg and 14 mg) and is approved as an adjunct to diet and exercise to improve glycaemic control in adults with type 2 diabetes in the US, EU, and Japan. The drug is being investigated in two Phase III trials in subjects with early Alzheimer's disease.
E2814, being developed by Eisai is a humanized, high-affinity monoclonal IgG1 antibody that recognizes the anti-microtubule binding region (MTBR) tau drug. The antibody binds to extracellular tau, prevents cell-to-cell propagation of pathogenic species, and mediates clearance by microglia. E2814 is designed to prevent the spreading of tau seeds within the brains of affected individuals. The Dominantly Inherited Alzheimer Network Trials Unit (DIAN-TU) has selected E2814 as the first investigational medicine among anti-tau drugs for their DIAN-TU tau study, and Phase Ib/II study and Phase II/III Tau NexGen study for dominantly inherited Alzheimer's disease are underway.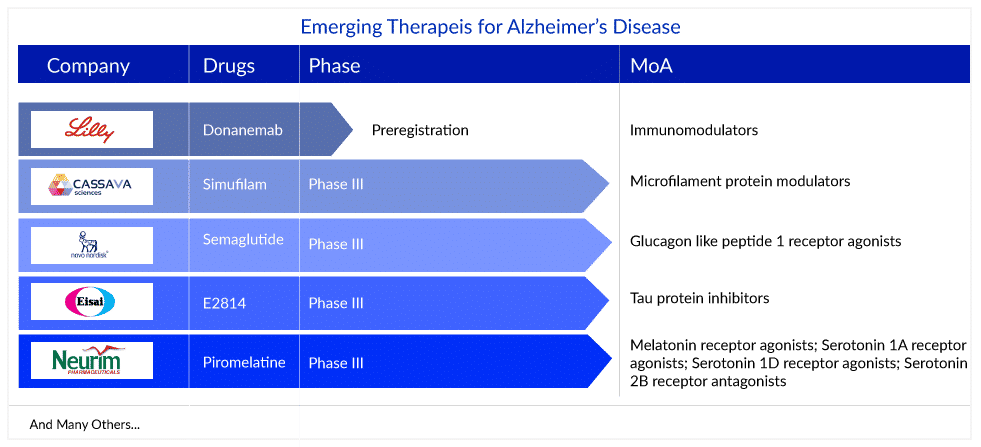 Remternetug (LY3372993), developed by Eli Lilly and Company is a monoclonal antibody being studied to treat early Alzheimer's disease. It is being investigated to administer through IV/SC route and targets N3pG beta-amyloid (amyloid precursor protein). Remternetug is an antibody protein designed to target toxic amyloid plaques linked to the onset of Alzheimer's disease. The drug has completed a Phase I trial and is being investigated in other Phase I and III studies to treat early Alzheimer's disease.
Other Alzheimer's disease drugs like Nilotinib BE/ KFRX01 (KeifeRx), ALZ-801 (Alzheon), Buntanetap/ANVS401/Posiphen (Annovis Bio), AADvac1 (Axon Neuroscience), Neflamapimod (EIP Pharma), and others are also being developed for Alzheimer's disease treatment.
Promising Future Outlook of Alzheimer's Disease Treatment
The future outlook for Alzheimer's disease treatment appears promising, with ongoing research efforts and advancements in various areas. One significant focus of research is the development of more accurate and accessible diagnostic tools to identify Alzheimer's disease at an early stage. Advances in imaging techniques, such as positron emission tomography (PET) scans, may allow for the detection of Alzheimer's-related brain changes before symptoms manifest.
Researchers are exploring personalized approaches to Alzheimer's disease treatment by considering individual genetic factors, lifestyle choices, and other variables. This may lead to tailored treatment plans and interventions that are more effective in slowing down or preventing the progression of the disease.
Moreover, technology may play a crucial role in the future management of Alzheimer's disease. Wearable devices, smart homes, and digital health platforms could assist in monitoring patients, providing cognitive support, and detecting changes in behavior or health status. Artificial intelligence and machine learning algorithms may contribute to better prediction models and personalized treatment approaches.
FAQs
1. What is Alzheimer's disease?
Alzheimer's disease (AD) is a slowly progressive brain disease that manifests itself many years before symptoms appear. It is the leading cause of dementia, accounting for 60% to 80% of cases. The accumulation of the protein fragment beta-amyloid (plaques) outside neurons in the brain and twisted strands of the protein tau (tangles) inside neurons are the hallmark pathologies of Alzheimer's disease.
2. What are the Alzheimer's disease symptoms?
Alzheimer's disease is progressive, so the symptoms worsen over time. Memory loss is a key feature, and it is often one of the first Alzheimer's disease symptoms to appear. The other Alzheimer's disease symptoms include cognitive deficits, problems with recognition, problems with spatial awareness, and others.
3. How is Alzheimer's disease diagnosed?
A thorough clinical evaluation, a detailed patient history, and various specialized tests are used to make an Alzheimer's disease diagnosis. Clinical Alzheimer's disease diagnosis, which is usually made during the early stages of the disease, lumbar puncture, and imaging studies are all methods of diagnosing Alzheimer's disease.
4. What are the current Alzheimer's disease treatment options?
Alzheimer's disease treatment includes options that may alleviate symptoms and improve quality of life. To treat cognitive symptoms, the FDA has approved two types of medications to treat cognitive Alzheimer's disease symptoms: cholinesterase inhibitors (Aricept, Exelon, Razadyne) and memantine (Namenda). Other non-pharmacological therapies are also used to maintain or improve cognitive function, daily living ability, or overall quality of life.