Osteoporosis can be characterized by a decrease in the density of bone, resulting in fragile bones which can decrease its strength. Osteoporosis leads to an extent of abnormally porous bones that are observed to be very compressible, just like a sponge. This skeleton disorder cripples the bones and consequently result in frequent fractures (breaks) in the bones. Osteoporosis can be present without any symptoms for many years because Osteoporosis symptoms aren't caused until the bone breaks (fractures).
Osteoporosis risk factors include genetics, lack of calcium, lack of exercise, and vitamin D, personal history of fracture as an adult, excessive alcohol consumption, cigarette smoking, low body weight, history of rheumatoid arthritis, and family history of osteoporosis. Also, long-term usage of corticosteroids (such as prednisone, prednisolone, and cortisone) can be a sign of the disease. X-rays (dual-energy X-ray absorptiometry scan -DXA/DEXA) is considered to be the standard Osteoporosis diagnosis tool. This test typically measures the bone density in the hip, forearm, and spine.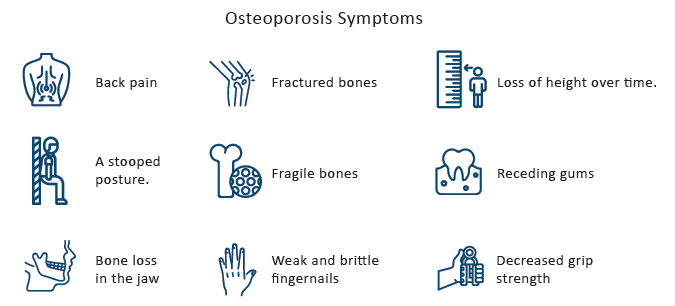 As per DelveInsight analysis, the total diagnosed prevalent population of Osteoporosis in the 7MM was found to be 28,097,783 cases in 2017. While the total diagnosed prevalent population of Osteoporosis in the United States was found to be 6,380,754 cases in 2017, which is expected to increase by 2030.
DelveInsight estimates that the global Osteoporosis market accounted for USD 7,657 million in 2018, is anticipated to change at a CAGR of 3.9% by 2026. Many key pharmaceuticals are proactively working to develop Osteoporosis therapies including companies like Amgen Inc., Novartis AG, Eli Lilly and Company, Pfizer Inc., Radius Health, Teva Pharmaceuticals, Jiangsu HengRui Medicine, Haoma Medica, Enteris Biopharma, Entera Bio, Qilu Pharmaceutical, Celltrion, and several others.

Osteoporosis Treatment
The goal of the treatment for Osteoporosis is mainly prevention of bone fractures by reducing bone loss or, preferably, by increasing bone density and strength. Even though early detection, as well as a timely treatment, can substantially result in a decrease in the risk of future fractures, none of the available treatments for Osteoporosis can be considered a complete cure.
The following mentioned are a few of the Osteoporosis prevention and treatment measures for optimal health of the bone.
Lifestyle changes, including quitting cigarette smoking, curtailing excessive alcohol intake, exercising regularly, and consuming a balanced diet with adequate calcium and vitamin D.
Osteoporosis medications that stop bone loss and increase bone strength, such as alendronate (Fosamax), raloxifene (Evista), risedronate (Actonel), ibandronate (Boniva), calcitonin (Calcimar), zoledronate (Reclast), and denosumab (Prolia). Medications that increase bone formation such as teriparatide (Forteo).
Exercise has a wide variety of beneficial health effects. However, exercise does not bring about substantial increases in bone density. Osteoporosis exercises usually help in decreasing the risk of falls.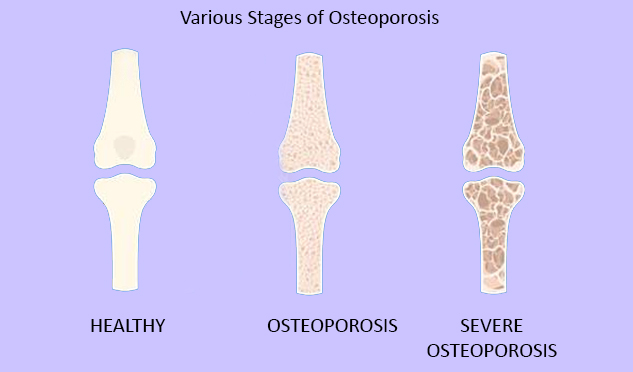 Various Emerging, Novel and Effective Drugs in Osteoporosis
The most effective FDA-approved Osteoporosis medication includes a class of antiresorptive agents. They assist in decreasing the removal of calcium from the bones. The antiresorptive class of drugs aims at ensuring adequate bone remodelling, it provides reparation of microdamage of bone and also increases the overall bone strength. They inhibit the resorption of bone resulting in favour of bone rebuilding and increasing bone density. Hormone replacement therapy (HRT) is one of the best examples of an antiresorptive agent. Others include alendronate (Fosamax), raloxifene (Evista), risedronate (Actonel), ibandronate (Boniva), zoledronate (Reclast), calcitonin (Calcimar), and denosumab (Prolia).
Below mentioned are some of the most anticipated Osteoporosis drugs to be launched in the upcoming years –
TVB-009 (Teva Pharmaceuticals)
Teva Pharmaceuticals in March 2021, initiated "A Randomized, Double-Blind, Multinational,Multicenter Study to Compare Efficacy, Safety, and Immunogenicity of TVB-009 and Denosumab (Prolia®) in postmenopausal women with Osteoporosis". TVB-009 is an inhibitor of the RANK ligand. It is a biosimilar of Denosumab. It is currently in the Phase III stage of the development pipeline for Osteoporosis. The trial is currently active with 326 enrolled participants and is estimated to get completed by December 2023.
NaQuinate (Haoma Medica)
NaQuinate is being developed by Haoma Medica, which is considered a novel therapeutic, the drug works in both Osteoporosis and Osteopenia, which is a compound that has a new mechanism of action compared with existing treatments and is designed for low-dose oral administration. The company has completed its Phase I first-in-human (FIH) clinical study in healthy subjects and Phase Ib study in healthy postmenopausal women has been initiated. Haoma Medica initiated the Phase II program for Osteoporosis later in 2020.
SHR-1222 (Jiangsu HengRui Medicine)
Jiangsu HengRui Medicine is running a phase I trial of SHR-1222 in postmenopausal Osteoporosis patients in China. SHR-1222 is a humanized monoclonal antibody targeting sclerostin and has the potential to promote bone formation and reduce bone resorption. The primary objective of this study is to investigate the safety and tolerability of a range of subcutaneous SHR-1222 in postmenopausal women with Osteoporosis.
HS-20090-2 (Shanghai Hansoh Biomedical)
Shanghai Hansoh Biomedical initiated a Phase I, single-centre, randomized, single-blind, and parallel-group clinical trial study to compare the pharmacokinetics, safety, and immunogenicity of HS-20090-2 and Prolia® in healthy adults. The primary objective of this study is to assess the pharmacokinetic similarity of single subcutaneously injection of HS-20090-2 or Prolia® in healthy volunteers whereas the secondary objectives are to assess the clinical safety and immunogenicity. The study is currently in a recruiting stage with research revolving around postmenopausal women with Osteoporosis. The first clinical trials were started in June 2021 and volunteers recruited are aged between 18-50 years.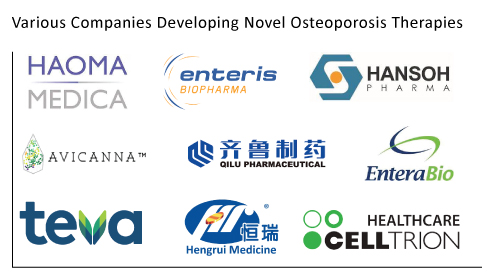 Oral PTH Analogs (Enteris Biopharma)
Enteris BioPharma's oral peptide and small molecule delivery technology has been applied to a range of molecules across multiple therapeutic areas. The technology is the subject of several active externally sponsored pre-clinical and clinical development programs, the most advanced of which include R-Pharm's TBRIA, oral calcitonin for postmenopausal women with Osteoporosis.
EB613 (Entera Bio)
The Phase 2 clinical trial of EB613 by Entera Bio is an oral formulation of human parathyroid hormone (PTH) (1-34), for the treatment of Osteoporosis. It met the primary and key secondary endpoints, positioning it to be the first oral bone building (anabolic) product to treat Osteoporosis patients. This Phase 2 Dose-Ranging study in Osteoporosis showed clinically significant changes in increases in BMD at the spine, femoral neck, and total hip. These BMD changes were associated with an increase in P1NP and a decrease in the serum CTX biomarker. A difference between the increase in P1NP, a marker of bone formation and the change in CTX, a marker of bone resorption, usually indicates an increase in bone mass, and is sometimes referred to as an "anabolic window."
QL1206 (Qilu Pharmaceutical)
Qilu Pharmaceutical initiated a randomized, double-blind, two-group parallel, placebo-controlled clinical Phase III trial to compare the efficacy and safety of QL1206 and placebo in postmenopausal women with Osteoporosis at high risk of fracture. The primary objective is to evaluate the effect of QL1206 treatment compared with placebo in Chinese postmenopausal women with Osteoporosis at high risk of fracture. The secondary objective is to evaluate the clinical safety, immunogenicity, and pharmacokinetics (PK) characteristics of QL1206 in women with osteoporosis at high risk of postmenopausal fracture. The estimated primary completion was done by August 31, 2021, whereas secondary completion is supposed to be completed by December 2021. Volunteers in this study are aged between 50 to 85 Years (Adult, Older Adult).
CT-P41 (Celltrion)
Celltrion commenced a double-blind, randomized, active-controlled, Phase 3 Study to Compare Efficacy, Pharmacokinetics, Pharmacodynamics, and Safety of CT-P41 and US-licensed Prolia in Postmenopausal Women with Osteoporosis. All patients will also receive daily supplementation containing at least 1,000 mg of elemental calcium and at least 400 IU vitamin D from randomization to EOS visit and the data will be collected via the patient's diary. The study is currently in the active, not recruiting stage and the patients who participated are around 50 to 80 years of age.
What Lies in the Future of Osteoporosis
The current market scenario of Osteoporosis is heavily dominated by biosimilars and generics, which are quite promising and potential for the treatment of osteoporosis. However, the upcoming pipeline for Osteoporosis holds many significant therapies that are developed by key pharma players. The current pipeline of Osteoporosis marks a significant unmet need due to the availability of only a few products. There is an immediate requirement of developing new and efficient drugs in the Osteoporosis pipeline so that the emerging drugs market of Osteoporosis can flourish.

Frequently Asked Questions
What are the most commonly prescribed drugs for Osteoporosis?
Bisphosphonates are the most commonly prescribed Osteoporosis drugs which include Alendronate (Fosamax, Binosto), Risedronate (Actonel, Atelvia), Ibandronate (Boniva) and Zoledronic acid (Reclast, Zometa).
What are the side effects of taking medications for Osteoporosis?
Some of the side effects for all the bisphosphonates include bone, muscle or joint pain. Other side effects may include nausea, heartburn, difficulty in swallowing, irritation of the oesophagus, and gastric ulcer.
What is Osteoporosis life expectancy?
The life expectancy of Osteoporosis patients is in excess of around 15 years in both women and men but younger than 75 years and  60 years respectively.