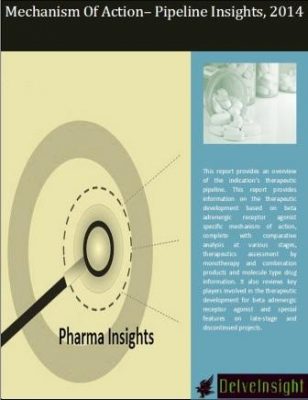 DelveInsight's Mechanism of Action Reports has become the Success Reason for the Leading Pharma Companies
In this competitive world, everybody wants to get aware of what others are doing in their sectors and what strategic drivers are followed by the others for the successful future milestones. But the drug future is only dependent on one thing and that is how much efficacy it is showing through its mechanism of action to improve the medical condition. So utilizing the most effective targets and technology, the drug can do million dollar business.
DelveInsight released Mechanism of Action reports provides the targets-mode of action based information-across all the therapy under research work, pipeline products across all the companies, current technology, molecule type, stage, company finances, comparative analysis and therapeutic assessment at every step. These Reports propose specific strategies that could have the most substantial impact in improving R&D productivity.
"We are really happy that our reports are showing potential in the market. We have become a strategic partner for the Pharma Companies worldwide" said Dr. B.K. Agrawal, Managing Partner at DelveInsight Business Research.
These Reports highlights therapeutic targets and their mode of action; for instance Inflammatory targets: Reversible Anticholinesterases, Sphingosine 1-Phosphate (S1P) Inhibitors, c-jun-N-Terminal Kinase (JNK) inhibitors, Cancer Targets: Gamma Secretase inhibitors, IL-13 Receptor Antagonists and many more…..
DelveInsight's Mechanism of Action reports is not only gaining importance but also has become the most known among the clients.
These reports are available with many resellers like Report Linkers, Report Buyers, Research moz, ASD Reports, Report Stack, Bharat Book Bureau and Market Reports.
Ask for sample reports now!
For more information please contact info@delveinsight.com