Nuclear Medicine is an integral part of today's healthcare delivery system and provides an immense benefit to patient care. Over the past four-five decades, there has been intense growth in the Nuclear Medicine Market owing to the development of various radionuclide and radio-labeled compounds and equipment. The application of Nuclear Medicine is growing with each passing day in various healthcare segments such as diagnosis, management, treatment, and prevention of several serious diseases. The ongoing intense research and development activities (R&D) activities and increased funding are improving the imaging capabilities and efficiencies of the Radiopharmaceuticals products and equipment. Moreover, the growing awareness about early disease diagnosis and rising awareness about Radiopharmaceuticals products is also stimulating a higher demand for these products for various diagnostic and therapeutic needs. More specifically, the use of radioisotope applications in therapeutic areas like oncology, cardiovascular and neurological disorders, pulmonary, nephrology, inflammation, thyroid gland, and others are progressing significantly. Several major pharma and MedTech giants are also actively working towards manufacturing various diagnostic products and equipment.
Clinical Applications of Nuclear Medicine
Nuclear medicine uses a minute amount of radioactive materials (or tracers) in products and procedures and helps in diagnosing and treating a variety of illnesses. Iodine-131 was the first radionuclide used for medical applications. Afterward, several other radionuclides and isotopes were developed for diagnostic purposes. Today, several radioisotopes are being produced and distributed for various medical purposes in the market. Cancer and cardiovascular disease are the two major types of conditions for which Nuclear Medicine holds immense potential. Similarly, it has applications across various diseases, such as nephro-urology, orthopedics, rheumatology, and neuropsychiatry.
Nuclear Medicine Products in the Therapeutics and Diagnostics Field
The diagnostic and therapeutic applications are based on the kind of radiation used. The diagnostics market, based on product types, is segmented into SPECT and PET. The SPECT market is further segmented based on isotopes such as Technetium (Tc-99m), Thallium (Tl-201), Gallium (Ga-67), Iodine (I-123), Xenon (Xe-133), Rhenium (Re-186) and others. SPECT stands for single-photon emission computerized tomography, and it assists in analyzing the body's organs, tissue, and bones. A SPECT scan is a type of nuclear imaging test which uses a radioactive substance (radioactive tracers) and a special camera to create 3D pictures. It can show how blood flows to tissues and organs. SPECT has potential benefits in various therapeutic areas such as cardiology, pulmonary, oncology, nephrology, neurology, inflammation, thyroid gland, and others.
Similarly, PET stands for "positron emission tomography." PET is a nuclear medicine imaging test that uses tiny amounts of radioactive substances known as radiotracers to visualize and measure changes in metabolic processes and other physiological activities in the body. A PET scan can find abnormal activity and test the blood flow, regional chemical composition, and absorption. PET can be done along with a CT scan. PET has a huge prospect in cancer treatment. Some of the most common isotopes used in PET include Fluorodeoxyglucose (18F-FDG), Gallium (Ga-68), Rubidium (Rb-82), and others. PET isotopes have clinical applications in therapeutic areas like oncology, neurology, cardiology, inflammation, and others.

The therapeutic nuclear medicine market is segmented by radiation types such as alpha radiation, beta radiation, and brachytherapy. Beta radiation is particulate radiation that consists of high-speed electrons, which are rapidly attenuated by biological tissues. Beta radiation is very useful for superficial radiation treatments where deep tissue penetration is undesirable. Beta particles are also capable of penetrating the skin. Beta emission from radioisotopes can kill tumor cells, but there are chances that it can also kill normal cells. Beta radiation therapy based on isotopes is segmented as Y-90, I-131, Lu-177, Sm-153, Re-186, Sr-89, Er-169, and others. Alpha emitter radiation therapy has immense benefits in the oncology segment as they have the ability to selectively target tumor cells even if they are spread throughout the body. Alpha radiation, in particular, is used to treat prostate cancer that has spread to the bone. Similarly, Alpha radiation is being studied in treating other types of cancer. Brachytherapy is also a type of radiation therapy that uses isotopes of low-energy gamma rays. Some of the most common Brachytherapy isotopes include I-125, Cs-131, Ir-192, Pd-103, and others. Brachytherapy helps treat cancer. In particular, it is being used as an effective treatment for cancer such as cervical, prostate, breast, and skin cancer. It places radioactive sources inside the patient to kill cancer cells and shrink tumors.
Benefits and Issues With Nuclear Medicine
There are several benefits of using Nuclear Medicine in the diagnosis and therapeutic segment. Accuracy and precise details are the key factors in Nuclear Medicine in diagnostics. Nuclear Medicine can provide in-depth examination and analysis of how organs, tissues, and cells work, while the usage of other common imaging procedures only shows the structures. Moreover, Nuclear medicine imaging procedures can identify abnormalities at the very early stage of the disease compared to other diagnostic tools such as x-ray, ultrasound, or any other diagnostic test., which allows a disease to be treated early in its course, which can lead to a better prognosis. Although nuclear medicine is commonly used for diagnostic purposes, it also has valuable therapeutic applications, such as treating cancer, hyperthyroidism, blood imbalances, and any bony pain from certain types of cancer. In the therapeutic segment, nuclear medicine can be used as a targeted treatment to kill or damage harmful or cancerous cells with much more precision. Nuclear medicine can reduce the size of tumors or diminish pain. Despite several benefits, there are some challenges associated with the usage of Nuclear Medicine. The radiation from nuclear medicine products can be harmful. In diagnostics and testing, the radiation doses are usually higher than in common imaging techniques like x-rays, which increases the possibility of cancer later in life. Similarly, they can cause some allergic reactions. Allergic reactions are very rare, but the risk can't be neglected at any stage of treatment. Moreover, Nuclear Medicine products and equipment are expensive and require heavy expenditure. Apart from equipment purchase costs, Nuclear Medicine needs investment, such as setting up costs, operations, and maintenance costs.
Key Companies in the Nuclear Medicine Market
Globally, several key players are active in the nuclear medicine market, some of which include, Lantheus., Cardinal Health., GE Healthcare, Curium Pharma, Nihon Medi-Physics Co., Ltd., Novartis (Advanced Accelerator Applications), Cambridge Isotope Laboratories, Inc, Sotera Health LLC, Bracco Imaging SpA, Jubilant Pharma Limited, Necsa, IBA Radiopharma Solutions, Bayer AG, Norgine, Eczacıbaşı-Monrol, NorthStar Medical Radioisotopes, LLC., Eckert & Ziegler., Telix Pharmaceuticals Limited, ITM Isotope Technologies Munich SE, Mallinckrodt PLC, and others. Several new players are anticipated to enter the nuclear medicine market in the coming years, owing to favorable opportunities and conducive growth environments such as high returns and greater demand from the consumer side for nuclear medicine procedures for diagnosing and treating certain illnesses.

As per DelveInsight, among all the regions, North America is expected to dominate the global nuclear medicine market in the upcoming years. Some of the key factors such as the growing incidence of cancer, cardiovascular disorders, and others in the region, the presence of key domicile players in the region, the rising burden of the geriatric population prone to chronic diseases, favorable reimbursement scenario for radiopharmaceuticals in the United States, are anticipated to contribute to the growth of the nuclear medicine/radiopharmaceuticals market in the region.
Nuclear Medicine Market Dynamics
The nuclear medicine market is evolving significantly owing to several underlying factors. Nuclear medicines are used in cancer treatment, such as radiotherapy, leading to an increased demand for nuclear medicine. In the case of cardiovascular disorders (CVDs), single photon emission computerized tomography (SPECT) is utilized to provide metabolic and functional information about the heart. The mortality rate from CVD can be reduced by making a proper diagnosis using nuclear medicine at an apt time. Moreover, it diagnoses many neuroendocrine tumors, prostate cancer, and other oncologic malignancies. Thus, the increasing prevalence of cancer, and cardiovascular diseases, among others, worldwide is one of the key factors driving the demand for Nuclear Medicine products for various clinical and diagnostic uses.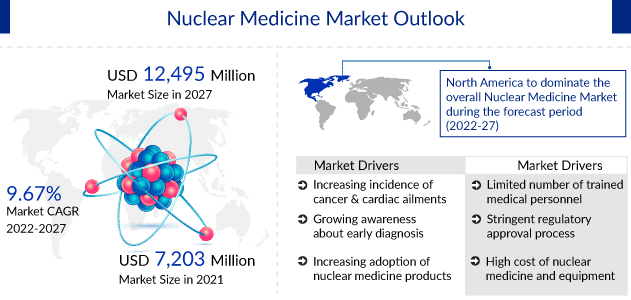 Furthermore, the increasing technological advancements pertaining to the diagnosis and treatment of diseases and the growth in the approval of new nuclear medicine-based devices to aid in addressing patients' treatment needs are among other key factors stimulating the nuclear medicine market growth. However, some of the key aspects related to Nuclear Medicine, such as the high cost of nuclear medicine and equipment involved in the procedure, and the stringent regulatory approval process, are the major roadblocks in the market growth.
Nuclear Medicine Market – Recent Breakthroughs and Key Developments
Over the past few years, several major clinical, commercial, and regulatory developments have been registered in the nuclear medicine market. Some of the key developments in the segment from recent years are –
In May 2022, Penang Adventist Hospital (PAH), located in Pulau Pinang, Malaysia, launched a full-fledged private nuclear medicine center in northern Malaysia. The new facility offers diagnostic and treatment procedures for specific conditions and diseases such as hyperthyroidism, thyroid cancer, lymphomas, and bone pain caused by different types of cancer.
In March 2022, Bracco Imaging launched Blue Earth Therapeutics to advance the development of therapeutic radiopharmaceutical technology. Blue Earth Therapeutics is building a pipeline of precision-targeted therapeutic radiopharmaceuticals, initially focused on prostate cancer, with plans to expand into additional disease areas in oncology.
In February 2022, Applied Molecular Therapies launched 177Lu PSMATherapy, a molecularly targeted radiopharmaceutical, for treating prostate cancer.
In February 2022, Cerveau Technologies, Inc. and Nihon Medi-Physics announced that they signed a manufacturing service agreement in which Cerveau grants NMP the right to manufacture [18F] MK-6240, a next generation investigational Positron Emission Tomography (PET) imaging agent.
In October 2021, the U.S. FDA issued a Study May Proceed letter to Curium to begin its Phase-III trial with lutetium Lu 177 PSMA I&T, its investigational product. It is a therapeutic radiopharmaceutical that binds to the Prostate-Specific Membrane Antigen (PSMA) protein.
In September 2021, GE Healthcare announced the launch of a novel nuclear medicine scanner with a new automated workflow feature that offers an exceptional view of cardiac anatomy and pathology to help physicians to decide the right treatment for a patient.
Nuclear Medicine Market – Way Ahead
As per DelveInsight's assessment, the global Nuclear Medicine/Radiopharmaceuticals market was valued at USD 7,203.62 million in 2021 and is estimated to grow at a CAGR of 9.67% during the forecast period from 2022 to 2027 to reach USD 12,495 million by 2027. Some of the key factors, such as the growing prevalence of cancer, cardiovascular, and other chronic diseases (owing to the inactive routine), and the increasing number of the geriatric population prone to chronic diseases, are anticipated to propel the demand for image-guided procedures and diagnostics across the world in the coming years.
The presence of robust products in the pipeline, research collaborations, partnerships among the major industry players, favorable government initiatives to improve access to nuclear medicine, and the presence of key players in the market will also aid in driving the global nuclear medicine market. Furthermore, the ongoing research & developmental activities, along with the surging nuclear medicine approvals and launches, is also expected to widen the role of Nuclear Medicine for various diagnostic and therapeutic purposes in the coming years.