Cancer diagnostics is an umbrella term that encompasses all diagnostics modalities such as imaging, molecular diagnostics, and biopsy employed in drawing conclusions regarding cancer diagnosis and devising prognostic strategies.
Liquid Biopsy is comparatively a new technique in the cancer diagnosis and therapy management arena, which is witnessing a surge in popularity in clinical settings as new data is being unveiled related to its advantages in oncology. Liquid biopsies of cancer could assist diagnosis, prognosis, and treatment selection and hold great potential to complement current surveillance strategies to monitor disease evolution and treatment response in real-time.
Recent Developments in the Market:
Liquid Biopsy market has the potential to be the gold standard in the future considering its various advantages over conventional cancer diagnostic approaches and vast liquid biopsy products in the pipeline.
The developments that have taken place in the field of liquid biopsy cancer diagnostics comprise of the next-generation sequencing panel, NuProbe; Liquid Biopsy Test for Prostate Cancer OncoCell MDx Inc., and Liquid biopsy RAS biomarker test Merck/AmoyDx.

Moreover, there have been some additional recent advances in the industry by active liquid biopsy companies.
In October 2021, Sysmex Inostics developed a new CLIA-validated liquid biopsy test for the detection of Minimal Residual Disease (MRD) in Acute Myeloid Leukemia (AML). This new test, AML-MRD-SEQ, adds to the portfolio of ultra-sensitive Plasma-Safe-SeqS technology NGS tests available through Sysmex Inostics' CLIA lab services in Baltimore, Maryland.
In May 2021, Biocartis Group NV received a EUR 1.4 million grant from VLAIO, the Flanders organization for Innovation & Entrepreneurship, for the ongoing development of a new generation technology that will be deployed on the easy-to-use and fully automated molecular diagnostics platform Idylla™. The VLAIO grant is intended to support the ongoing development of a new Idylla™ technology, which will enable the offline customization of the Idylla™ cartridge.
In January 2021, Myriad Genetics, Inc. entered into a strategic collaboration with Illumina, Inc., for Illumina to create a kit-based version of the myChoice® companion diagnostic (CDx) test for international markets.
The Market's Driving Forces
With worldwide and regional companies present in many countries, the global industry is fiercely competitive. Some of the major factors driving the growth of the global liquid biopsy in the cancer diagnostics market are the rising prevalence of various cancers across the globe, increasing lifestyle disorders such as diabetes, hypertension, and obesity, growing prominence of precision medicine, among others. Moreover, numerous products specific to liquid biopsy in development with the scope of entering the market in coming years, are further expected to present a positive market environment for the liquid biopsy in the cancer diagnostics market during the forecast period.
Top manufacturers provide a diverse range of products based on various technologies. Acquisitions and partnerships are two important strategies used by most of the industry participants. With intermittent spurts of rivalry from local producers, the providers are continuously striving for the top spot. The market participants' competitive strength is determined by a variety of aspects, including product precision, price, measurement speed, and product durability and flexibility. Another key opportunity for market players operating in the liquid biopsy in the cancer diagnostics market is expanding their focus towards tapping the market potential presented by emerging markets. The countries such as China, India, Brazil, and South Korea have significant 'at-risk' populations for various cancers and offer a great opportunity to expand the liquid biopsy portfolio.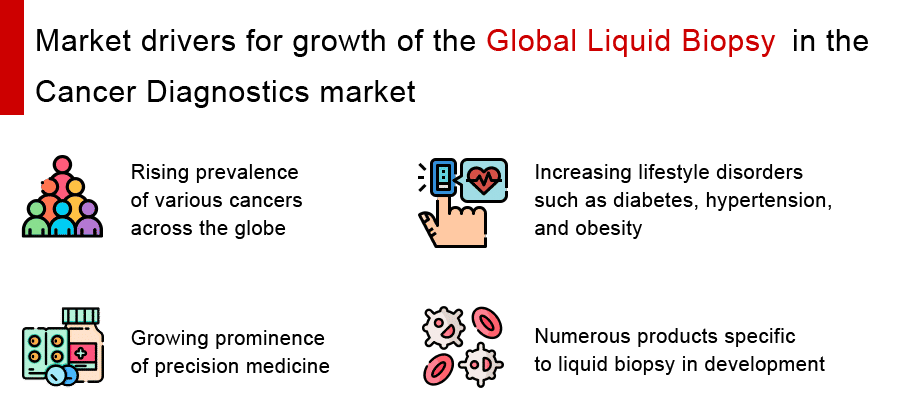 Leading Players
According to DelveInsight's – "Liquid Biopsy in Cancer Diagnostics – Global Market Forecast" report, below-mentioned are the top leading liquid biopsy companies actively involved in this domain.
Guardant Health – Guardant Health, headquartered in the United States, is one of the major precision oncology companies with the key focus area of helping conquer cancer through their proprietary blood tests, vast data sets, and advanced analytics. Their main interest area is to develop a solution through tests that require only a blood sample and enable timely therapy selection.
| | | |
| --- | --- | --- |
| S.No | Product | Description |
| 1. | Guardant Reveal™ test | It is a blood-only liquid biopsy test that detects residual and recurrent disease in 7 days from a simple blood draw. |
| 2. | Guardant360 Response™ test | It is the first blood-only liquid biopsy that detects changes in ctDNA levels to provide oncologists an early indication of a patient's response to treatment. |
| 3. | Guardant OMNI | It is indicated to use as a comprehensive genomic profiling tool to help accelerate clinical development programs in immuno-oncology and targeted therapy. |
| 4. | Guardant360 LDT | It offers the same technology as the approved Guardant360 CDx test, with 80+ genes and full coverage of NTRK1-3 fusions, HRR-related genes, and blood tumor mutational burden (bTMB). |
| 5. | Guardant360® CDx test | It is a 55 gene FDA approved test that supports treatment selection for advanced-stage cancer patients with solid tumors. |
F. Hoffmann-La Roche Ltd. – Roche located in Switzerland, is the world's largest biotech company, with truly differentiated medicines in oncology, immunology, infectious diseases, ophthalmology, diseases of the central nervous system, diabetes management as well as in-vitro diagnostics. The company has a strong product pipeline comprising biopharmaceuticals that enable them to deliver better-targeted therapies. For over 50 years, the company has been at the forefront of cancer research and treatment.
| | | |
| --- | --- | --- |
| S.No | Product | Description |
| 1. | AVENIO ctDNA Analysis Kits (RUO) | It is a portfolio of three NGS liquid biopsy assays for oncology research. It is a 17 gene (81kb) pan-cancer assay containing genes in NCCN guidelines and optimized for lung cancer and colorectal cancer research. |
| 2. | KRAS Mutation Test v2 | It is an allele-specific, real-time PCR test for the qualitative detection and identification of 28 mutations in exons 2, 3, and 4 in the v-Ki-ras2 Kirsten rat sarcoma viral oncogene homolog (KRAS) gene. |
| 3. | BRAF/NRAS Mutation Test | It is an allele-specific, real-time PCR test for the qualitative detection and identification of exons 11 and 15 mutations in the proto-oncogene B-Raf (BRAF) gene, and exons 2, 3, and 4 mutations in the neuroblastoma RAS (NRAS) viral oncogenes. |
| 4. | Foundation One®Liquid CDx | These are a comprehensive genomic profiling test that analyses more than 300 cancer-related genes and multiple genomic signatures from a single blood draw to help make informed treatment decisions for all solid tumor cancers. |
| 5. | cobas® EGFR Mutation Test v2 | It is a real-time PCR test that identifies 42 mutations in exons 18, 19, 20, and 21 of the epidermal growth factor receptor (EGFR) gene, including the T790M resistance mutation. |
Illumina – headquartered in the United States, is a global leader in sequencing- and array-based solutions for genetic and genomic analysis. The company portfolio includes integrated sequencing and microarray systems, consumables, and analysis tools are designed to accelerate and simplify genetic analysis.
| | | |
| --- | --- | --- |
| S.No | Product | Description |
| 1. | TruSight Oncology 500 ctDNA | It is a pan-cancer next-generation sequencing (NGS) assay that enables in-house comprehensive genomic profiling (CGP) from blood plasma. |
| 2. | NextSeq 1000 and 2000 Systems | It supports emerging and mid-throughput sequencing applications as well as a broad range of methods such as exome sequencing, target enrichment, single-cell profiling, transcriptome sequencing, and more. |
| 3. | NextSeq 550 system | It combines tried-and-true NGS and array capabilities with tunable outputs, enabling both small and large labs to scale to meet their needs. |
| 4. | NextSeq 550Dx instrument | It is FDA regulated and CE-in Vitro diagnostic (IVD) marked, enabling clinical laboratories to develop and perform a wide range of applications, from NGS IVD assays using targeted panels, to clinical research applications that include methods from targeted panels to whole genomes. |
| 5. | TruSight Hereditary Cancer Panel | This was created as a modular panel that uses Illumina DNA Prep with Enrichment for library preparation. |
Qiagen – QIAGEN is a leading healthcare company serving more than 500,000 customers around the globe with a core product portfolio of kits, instruments, and bioinformatics, headquartered in Germany. The product portfolio of the company supports the customers across the continuum of molecular testing in molecular diagnostics and life sciences. QIAGEN is the leading global provider of sample to insight solutions that enable customers to gain valuable molecular insights from samples containing the building blocks of life.
| | | |
| --- | --- | --- |
| S.No | Product | Description |
| 1. | Therascreen PIK3CA Test | Therascreen PIK3CA test is a new diagnostic assay for detection of activating mutations in the phosphatidylinositol3-kinase catalytic subunit alpha (PIK3CA) gene, and the first to enable testing of both DNA from FFPE tissue or plasma specimens. |
| 2. | PAXgene Blood ccfDNA Tube | The PAXgene Blood ccfDNA Tube is a plastic, closed, evacuated tube for the collection, anticoagulation, transport and storage of human whole blood samples and the stabilization of ccfDNA. |
| 3. | QIAsymphony PAXgene Blood | The PAXgene Blood ccfDNA System consists of a blood collection tube (PAXgene Blood ccfDNA kit) and a ccfDNA purification kit for the QIAsymphony(QIAsymphony PAXgene Blood ccfDNA Kit). |
| 4. | QIAamp MinElute ccfDNA Kits | The QIAamp MinElute ccfDNA Kits greatly simplify concentration and purification of free-circulating DNA from plasma or serum. The procedure can be partially automated on the QIAcube Connect. |
| 5. | QIAamp ccfDNA/RNA Kit | The QIAamp ccfDNA/RNA allows co-purification of cell-free DNA and RNA, including vesicular and non-vesicular nucleic acids. |
| 6. | QIAcube Connect | The QIAcube Connect is designed to perform fully automated purification of nucleic acids and proteins in molecular biology applications. |
| 7. | miRNeasy Serum/Plasma Advanced Kit | The miRNeasy Serum/Plasma Advanced Kit allows the isolation of total RNA, including miRNA, from a minimum of 200 µl of sample. |
| 8. | miRNeasy 96 Advanced QIAcube HT Kit | The miRNeasy 96 Advanced QIAcube HT Kit is designed for automated high-throughput purification of cell-free total RNA – primarily miRNA and other small RNA – from small volumes of serum and plasma on the QIAcube HT. |
Moreover, in August 2021, QIAGEN and OncXerna enter into a global master agreement to advance the development of the Xerna™ TME panel as a potential Next Generation Sequencing (NGS) companion diagnostic for OncXerna's Navicixizumab.
Biocept Inc. – Biocept, Inc. is an early-stage molecular oncology diagnostics company with commercialized assays for lung, breast, gastric, colorectal, and prostate cancers, and melanoma located in the United States. The company leverages its proprietary liquid biopsy technology to provide physicians with clinically actionable information for treating and monitoring patients diagnosed with cancer. Biocept's patented Target Selector™ liquid biopsy technology platform captures and analyzes tumor-associated molecular markers in both circulating tumor cells (CTCs) and in circulating tumor DNA (ctDNA). It offers products such as EGFR Mutation Test Kit and BRAF Mutation Test Kit and clinical trial and research services.
| | | |
| --- | --- | --- |
| S.No | Product | Description |
| 1. | EGFR Mutation Test Kit | This kit detects EGFR mutations in DNA derived from blood plasma or FFPE tissue sections to give insight into cancer characteristics and provide Biomarker status of tumors such as non-small cell lung cancer. |
| 2. | BRAF Mutation Test Kit | This kit detects BRAF V600 mutations in DNA derived from blood plasma or FFPE tissue sections to give insight into cancer characteristics and provide Biomarker status of tumors such as melanoma. |
Furthermore, in June 2021, Biocept, Inc. entered into a collaboration with Quest Diagnostics to provide laboratory testing services to Quest patients for its Target Selector™ NGS-based liquid biopsy targeted lung cancer panel.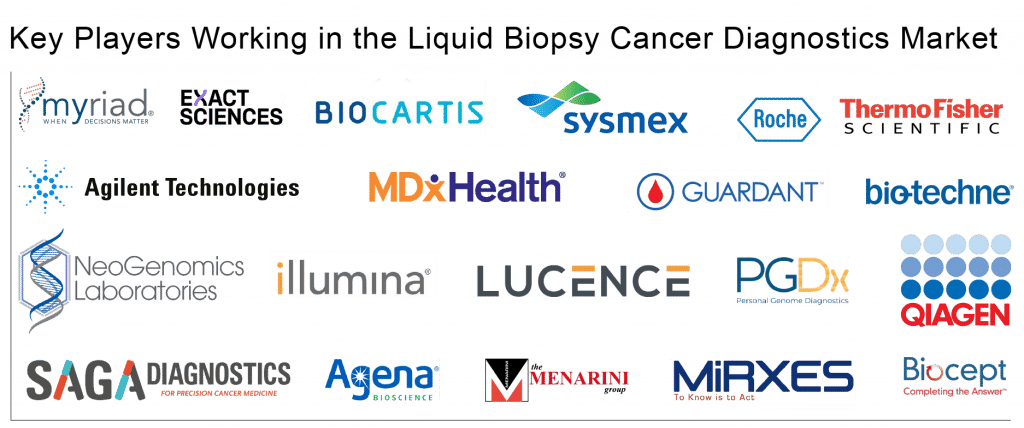 Conclusion
It can be anticipated that none of the new players entering the cancer diagnostics market can compete with these players because these have a higher geographical presence, large product portfolio, and these brands are highly trusted by doctors and patients. However, other liquid biopsy companies like Myriad Genetics Inc., Agilent Technologies Inc., Agena Bioscience, Inc., Sysmex Corporation, Thermo Fisher Scientific Inc., among others are also available in the domain and might impact in the coming years of future.
Furthermore, lucrative growth opportunities owing to the rising global prevalence of cancers, increasing geriatric population, increasing prevalence of risk factors such as hypertension and obesity that contribute to cancer development as well as various initiatives regarding cancer awareness in order to facilitate early diagnosis and therapy management is expected to drive the entry of new players in the cancer diagnostics market.