Blood cancers have seen tremendous advancements in the past few years owing to the dedication of the researchers who are putting their endless efforts just to bring innovation into the lives of suffering patients. These experimentations and their upshots are always brought to us through various platforms, the American Society of Hematology (ASH) being one of them. This content includes the future uptake and competitive landscape of ADCs in DLBCL.
Over the past couple of decades, antibody-drug conjugates have revolutionized the field of oncology. ADCs are composed of 3 parts: an antibody drug, a cytotoxic payload, and a chemical linker protein to hold the 2 parts together. ADCs have the ability to deliver cytotoxic medicines to cancer cells with precision. Many biopharma companies are working on developing ADCs for the treatment of several solid tumors such gynecological, lung, and bladder tumors along with Hematologic malignancies.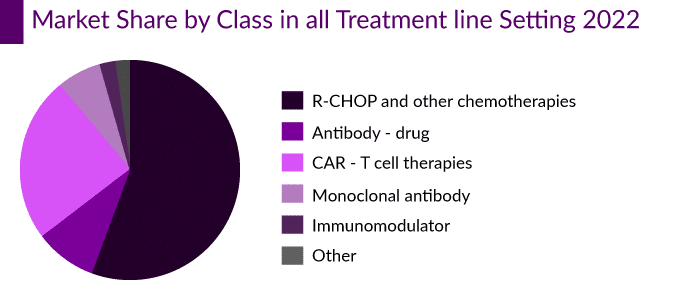 Roche's POLIVY and ADC therapeutics' ZYLNONTA are two ADCs that are currently approved in DLBCL. ZYLNONTA and POLIVY + bendamustine and rituximab (BR) are likely preferable treatments for people with primary resistance.
POLIVY in R/R DLBCL setting
POLIVY is the only ADC in DLBCL targeting CD79b and delivers monomethyl auristatin E, a microtubule inhibitor (MMAE). POLIVY is presently authorized as a widely accessible, fixed-duration therapy option for R/R DLBCL in combination with BR, following at least two prior therapies, in more than 80 nations and regions around the world, including the US and Europe. As a monotherapy or in combination with a regimen containing an anti-CD20 monoclonal antibody, POLIVY has demonstrated encouraging efficacy for R/R DLBCL.
Results from Phase I/II trial comparing POLIVY + BR and BR alone

Phase I/II trial (NCT02257567)

Number of Patients

ORR

CRR

POLIVY + BR

40

45%

40%

BR

40

17.5%

17.5%

Note: ORR: Overall response rate, CRR: Complete response rate
Strong uptake of POLIVY in 1L setting
R-CHOP continues to be challenged in an effort to better patient outcomes through novel drug combinations and therapeutic approaches. To enhance the results in 1L DLBCL, researchers are still searching for novel treatments and drug combinations despite past failures. POLIVY, however, has seen a significant uptake recently because of its effectiveness in enhancing outcomes in patients with DLBCL. Based on the pivotal data from the Phase III POLARIX study, POLIVY + R-CHP was approved in Europe in May 2022 and later in Japan in August 2022 and is expected to alter the future landscape of 1L DLBCL treatment.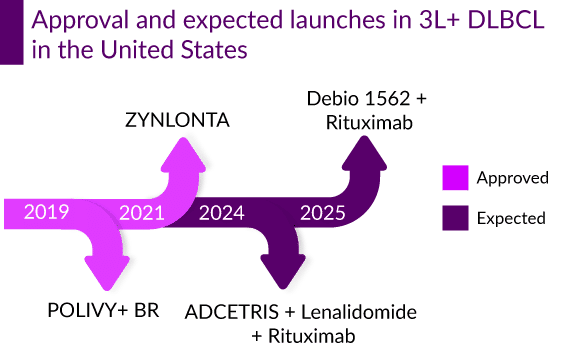 The combo is expected to have a strong uptake and a first-mover advantage in the first line setting with an estimated launch in the United States by 2023, competing with other emerging bi-specific antibodies and CAR-Ts entering later in this line. Therefore, out of all the emerging therapies in 1L DLBCL, Delveinsight expects Polivy +R-CHP combo to lead with a peak revenue of approximately USD 950 million in the United States by 2032. POLIVY in combination with R-CHP in 1L DLBCL has now received approval in more than 50 countries.
Recently Roche presented updated data form POLARIX trial in ASH 2022. POLIVY + R-CHP showing statistically significant reduction in the risk of disease worsening or death compared to R-CHOP after a median follow up of 3 years. According to the POLARIX trial data, POLIVY + R-CHP is showing better PFS than R-CHOP alone, which can give an edge to POLIVY during the approval. POLIVY plus R-CHP response rates are significant. Based on the data from this trial, the FDA is expected to make a decision on approval by April 2, 2023
In the future, the willingness of physicians to prescribe POLIVY with R-CHP as first-line therapy will also be a key factor in winning over patients in the 1L setting. However, POLIVY + R-CHP's acceptance may be effected in first-line treatment due to the lack of an OS benefit.
Results from Phase III trial comparing POLIVY + R-CHP and R-CHOP

Phase III trial

(NCT03274492)

Number of Patients

ORR

CRR

2 years OS

POLIVY + R-CHP

440

85.5%

78.0%

88.7%

R-CHOP

439

83.8%

74.0%

88.6%
ZYNLONTA to likely compete with ADCs, Bi-specific antibodies and Monjuvi in 3L DLBCL?
As POLIVY is undergoing a Phase III trial in first-line setting in combination with R-CHP and is already approved in this setting in Europe and Japan, it is anticipated that POLIVY'S patient share will increase in first-line setting. However, it is projected that POLIVY's patient share would decline in second- and third-line settings, which could help ZYNLONTA maintain a consistent patient share for at least a few years while competition in the 3L+ setting increases. ZYNLONTA may be more tolerable than POLIVY-BR, but both would be effective. ZYNLONTA is approved in the US and currently has a favorable CHMP (Committee for Medicinal Products for Human Use) opinion adopted in Europe. The third line is getting quite crowded, and the only helpful in this situation is outstanding efficacy and safety data, thus ZYNLONTA needs to expand into markets other than the United States and earlier lines. ZYNLONTA is likely to face competition from other ADCs, as well as from upcoming bi-specific antibodies and monoclonal antibodies such as MONJUVI.
ADC Therapeutics is developing a comprehensive program for DLBCL, which includes the Phase III LOTIS-5 study of ZYNLONTA combined with rituximab in 2L non-transplant eligible patients and expected to read out data in mid-2025 and could potentially provide an advantage to ZYNLONTA over MONJUVI. Additionally, ADC therapeutics is conducting a Phase II LOTIS-3 trial of ZYNLONTA in combination with ibrutinib, which has demonstrated encouraging results in non-GCB DLBCL. The data from this trial is anticipated in mid-2025 and could further solidify ZYLONTA's position. 
Comparison of results of ADCs in 3L+

Number of Patients

ORR

CRR

POLIVY+ BR

40

45%

40%

ZYNLONTA

145

48.3%

24.1%
After the approval of POLIVY and ZYNLONTA in 3L+, several companies have shifted their focus on developing ADCs for the treatment of R/R DLBCL such as Debiopharm (Debio 1562 + Rituximab), Seagen/Takeda (ADCETRIS + lenalidomide + rituximab), Merck (Zilovertamab vedotin + BR) and others. In conclusion, as competition intensifies in the field of R/R DLBCL, and CAR-T's moving in earlier lines, ZYNLONTA along with its competitor MONJUVI and are expected to maintain a stable patient share. The release of several new ADCs in the treatment of R/R DLBCL is likely to have an effect on the market share of other unique emerging classes, such as bispecific antibodies, cancer vaccines, and BTK inhibitors.