Urinary Incontinence is a multifactorial syndrome which occurs due to the failure of the storage function of the lower urinary tract and loss of bladder control resulting in leakage of urine.  Embarrassment, isolation, and depression are observed among patients with urinary incontinence. Millions of individuals worldwide are suffering from this problem, and it is most common among the old people.  It increases the chances of developing several medical conditions such as local skin irritation, rashes, and urinary infections. There are around eight types of urinary incontinence, namely, Stress Incontinence; Urge Incontinence; Overflow Incontinence; Functional Incontinence; Mixed Incontinence; Transient Incontinence; Total Incontinence; and Reflex Incontinence.
High prevalence rate is observed in EU 5 Market (United Kingdom, France, Germany, Spain and Italy) as compared to the United States and Japan. An increase in aging and obese population are major factors contributing the increase in prevalence cases of Urinary Incontinence.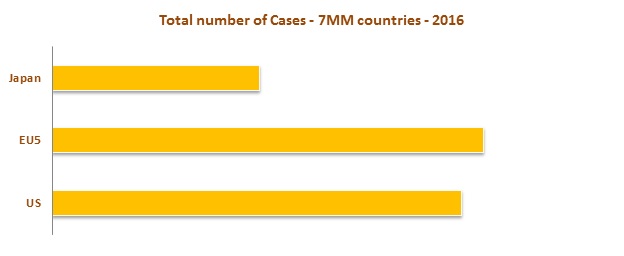 The Urinary incontinence therapeutics market in seven major markets is expected to grow at a USD 7.3 billion by 2023. Among these markets, United States has the largest market share whereas Spain contributes the lowest market share in 2016. Several factors such as socio-economic factors, emerging therapies, and investments in development and research are stimulating the market growth of Urinary Incontinence.
Several tests and techniques such as cystometry, uroflowmetry, cystoscopy, electromyography, and urinalysis are used for diagnosis of urinary incontinence. Treatment of urinary incontinence is based on the use of behavioral methods such as Pelvic floor exercises and bladder training, and pharmaceutical therapies such as Anticholinergics and Alpha-Blockers are used for improving the patients' quality of life. Different types of surgical procedures such as sling procedure and retropubic colposuspension are also used for restoring the bladder neck and urethra to their anatomically correct positions in patients. The pipeline of Urinary Incontinence is robust with the involvement of many promising pharmaceutical therapies. The launch of Emerging therapies such as ICES13 and Autologous Muscle Derived Cell Transplantation for Stress Urinary Incontinence, Vibegron and Mirabegron+solifenacin for Overactive Bladder is expected to drive additional growth within this market.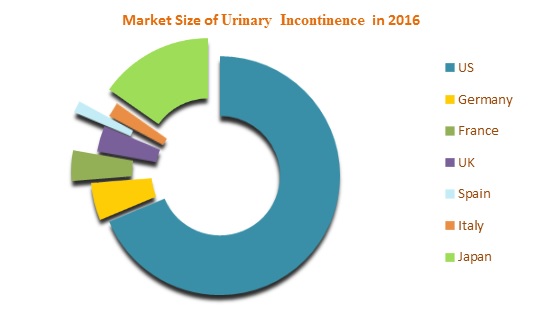 In terms of marketed drugs for this indication, Myrbetriq, Botox, Fesoterodine, Oxybutynin, Darifenacin and Solifenacin Succinate are approved for the treatment of Overactive bladder whereas Duloxetine is approved for the treatment of Stress Incontinence in Europe. VESIcare was approved by US FDA for the treatment of Overactive Bladder in November 2004. A decrease in revenues of VESIcare from 2014 had impacted the current market of Urinary Incontinence. Also, the loss of patents of Detrol in the year 2012 and 2014 for Europe and the US respectively had also impacted the market. Further, the current market of Urinary incontinence is impacted by the Fesoterodine which was approved for the treatment of Overactive Bladder with symptoms of urge urinary incontinence, urgency, and urinary frequency. Botox (onabotulinumtoxinA) from Allergan, which is approved for the treatment of Urinary Incontinence in people with neurologic conditions such as spinal cord injury and Multiple Sclerosis is playing a major role in increasing the market size of Urinary Incontinence.
Insight by:
Anuj Thakur
Analyst
DelveInsight is a leading Business Consulting and Market Research Firm. We help our clients to find answers relevant to their business, facilitating their decision-making. DelveInsight also serves as a knowledge partner for business strategy and market research. We provide comprehensive analytical reports across various therapeutic indications. DelveInsight has a database of 3000+ high-quality analytical reports.